Objectives of the service
The aim of the proposed development for SatADSL was to be in the position to commercially offer a highly competitive High Capacity Networking (HCN) service with enhanced functionalities, latency and monitoring capabilities. The value proposition is based on the use of the SatADSL multi-satellites, multi-technologies, multi-frequencies Cloud-based Service Delivery Platform or C-SDP (see figure 1 below). Thanks to C-SDP SatADSL and its Service Providers Partners are offering IP connectivity services to end users via the cloud. SatADSL's C-SDP includes a Network Management System (NMS) which allows IP traffic to be shaped and routed from and to different hubs, while the online Customer Management Tool (CMT) allows SatADSL Service Providers customers to manage and monitor their own customers. A Billing and Accounting System enables online payments and automatic billing. A Hotspot Management System allows remote hotspot networks to be configured, managed and monitored. The SatADSL CSDP offers a "Virtual Hub" service thanks to which African Service Providers can offer satellite services without having to invest in an expensive Hub infrastructure.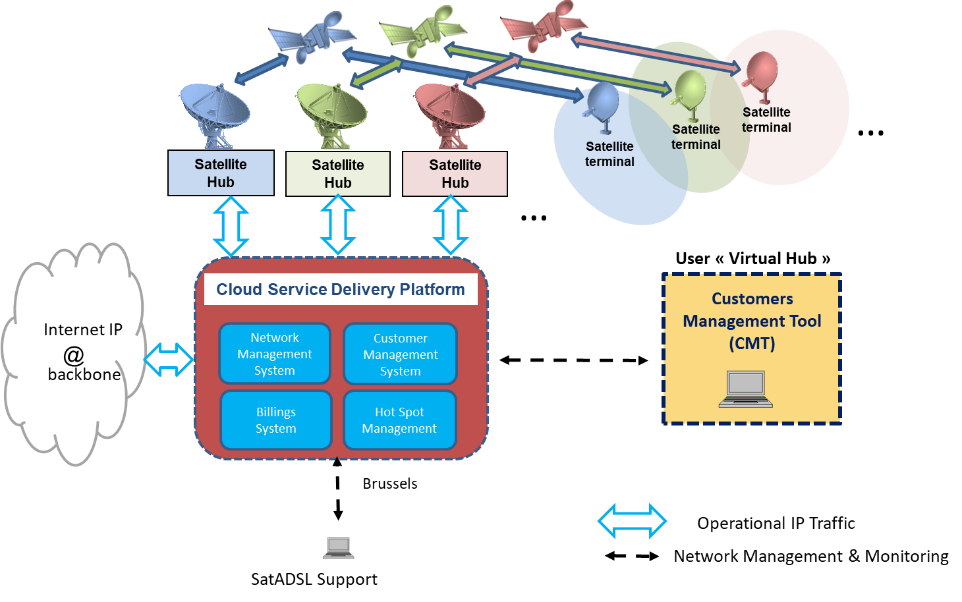 Users and their needs
C-HCN service, with higher ARPU, gives SatADSL the advantage of offering higher ARPU services to corporate end users that reveals to be more stable customers, when compared to with classical broadband access services showing intrinsic volatility. SatADSL wants to increase its market share in High ARPU services and to achieve the economies of scale that are indispensable to get satellite capacity at the best possible price from Hub/Teleport operators.
Thanks to its C-SDP, currently unique on the satcom market, despite intense competition, SatADSL succeeded to ensure a strong market presence in Africa and the Middle East with more than 3000 satellite VSAT terminals installed in over 40 countries. SatADSL presently has a network of 80 local service provider partners.
Service/ system concept
The first objective of the C-HCN project was to develop and validate the High Capacity Networking service (HCN),with its three main features being the VNOFlex, the Backhauling and the Mobility. The validation of the HCN service will be achieved in the context of a the High Capacity Networking Pilot with the commercial aim to increase the sales of high ARPU services to African Corporates and local Service Providers (see figure below).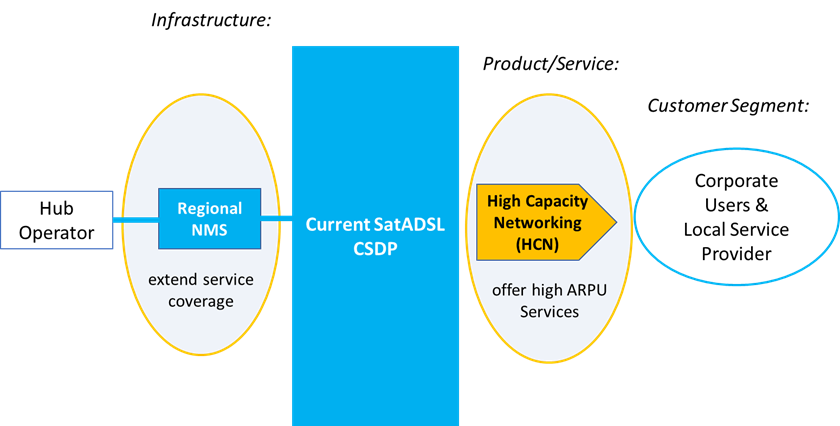 In addition, SatADSL plans to extend its geographical coverage and offer HCN services worldwide with optimal service latency. For that purpose SatADSL plans to commercially operate a global network with a number of regional points of presence (PoP) to be located in Europe, America, Asia and South Africa. The following figure 4 illustrates the future "distributed" C-SDP concept. Thanks to the new Regional NMS, SatADSL will be in the position to connect to many additional Hubs belonging to multiple operators. In order to minimise service latency, customer IP traffic will be processed locally without the need to move customer traffic between continents.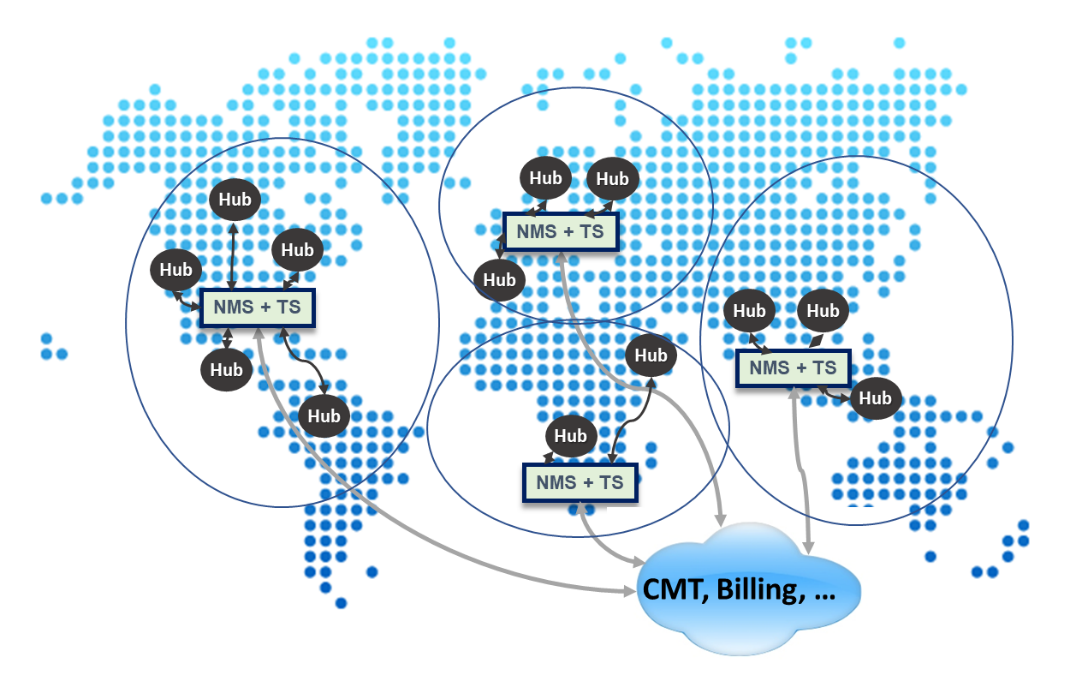 The second objective of the C-HCN project was therefore to develop and validate the new distributed SDP architecture concept. In order to do so a first Regional NMS, in charge of local Traffic Shaping (TS) and routing, had to be installed and validated. This validation exercise will constitute the first cornerstone of SatADSL global service offering strategy.
Space Added Value
SatADSL has become an aggregator of Satellite Capacity around the world, interconnecting HUBs at different teleport, on different technologies and frequency bands.
The figure below illustrates the architecture of SatADSL's core Cloud Service Deliver Platform.
Current Status
Final Review successfully held at ESTEC on 14th of January 2020.
Prime Contractor(s)
Status Date
Updated: 20 February 2020
-
Created: 20 February 2020