Objectives of the service
Car dealers are pushed by massive change to improve their services and create added value in order to remain relevant and prove viable in the market. With Car-lileo, we provide a digital solution to car dealers and their service providers that gives them overview of their stock and insights at the Point of sale.
Process data and insights regarding cars: Indoor and – thanks to Galileo very precise – outdoor location as well as the status of each car.
Interaction with end customers: Information and online sales.
Car-lileo provides additional benefits:
Environment: By monitoring the battery status of a car, we avoid destruction due to total drain, which is preventing a waste of raw materials and money.
Socio-economic aspects: We pave the way into a digital business model by providing the missing link to go hybrid and sell offline via sales personnel or online from the smart device of the end customer.
Enabler of possible future business models: We provide trustful European technology, that can be later used as a core component of business in the fields of retail development or new mobility.q
Users and their needs
Each car dealer loses a lot of money through cars on-site, which are not sold. Typically, between 10 and 30 Euro every day (searching for cars, performing unnecessary technical checks, forgotten "long- standing cars", damages like batteries running flat and rust, etc.). Calculating only very conservatively with 11 Euros/day, Car-lileo can easily save over 10% of those costs. Even for an already very good organized car dealership with 1000 cars on-site and a turn rate of 60 days, savings are over 400,000 Euro per year.
Car-lileo targets car dealers and their service providers worldwide, providing data that helps make processes and sales much more efficient. The bigger business units get, the more they benefit from the solution.
A main USP is simplicity:
Simple installation. Done by anyone in 30 minutes.
Simple usage: Put plug in car – done. The VIN (worldwide unique car ID) is detected automatically and Car-lileo integrates in existing IT systems. Location is updated in real-time.
Independence of make, model or drive type and of manufacturers.
Car-lileo works seamlessly in-/outdoors, is affordable, plug & play retrofitting, simple in usage, independent from brands/models, open to share data with other applications, secure and totally EU- GPDR compatible.
Service/ system concept
The core of Car-lileo is a European Cloud-based software platform (future based on GAIA-X). It will therefore be an open concept with a REST API for data sources (plugs, sensors, etc.) and services. Main services consist of indoor/outdoor localization and process optimization.
The Car-lileo Plug is used to provide the whereabouts of a cars position – outdoors (via Galileo) or indoors. A corresponding service leads a person (e. g. car buyer or staff) to the car and tell, if a person is located in the car enabling heat-mapping etc.
In addition, Car-lileo provides information about people: If someone is sitting in the car or if personnel with a smart device interacts. Car-lileo also collects data about when and where people move on the premises or inside buildings via Car-lileo's Multisensor technology (totally GPDR-compatible).
Space Added Value
Galileo localization is a core element of Car-lileo. For the provided use cases, a high precision positioning technology is needed, because there are many limiting factors, which have to be handled: many cars densely packed, sometimes shielding metal-elements from the architecture and the position of the plug – often deep in the legroom of a car. For seamless indoor/outdoor localization and interacting with people, we use additional technology (Bluetooth, Multisensor/Thermocam, UWB, sensor fusion).
Furthermore, Galileo is a trustful European technology, much more reliable than e. g. GPS.
Apart from Satellite Navigation, Satellite Earth Observation is used in Car-lileo: The map material of the outdoor maps (OSM) of Car-lileo is mainly derived from satellite pictures. The OSMs are extreme important for the users to guide them to "their" car. For employees the map an important to react to "salesperson requests". It is also used to show the actual position of persons, cars and hot/cold spots.
Current Status
The project has been successfully completed. We have built a simplified MVP demo suitcase (see picture below). We could show, that the Car-lileo system works very accurately with Galileo (outdoor) and Bluetooth (indoor). We have collected valuable feedback from potential target groups and, based on our learnings, created a business plan and technical architecture documentation for the full service envisioned.
There is enormous traction from car dealer groups and car detailers. The simplicity of the solution and the many benefits we generate suggest, that Car-lileo has a huge acceptance. We are in serious talks about demo projects where a few hundred plugs will be in use. Ideally the connection of car dealership and car dealer will be modelled.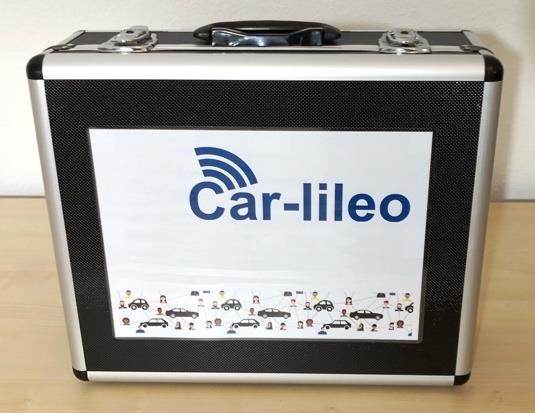 Prime Contractor(s)
Status Date
Updated: 18 December 2020
-
Created: 18 December 2020