Objectives of the service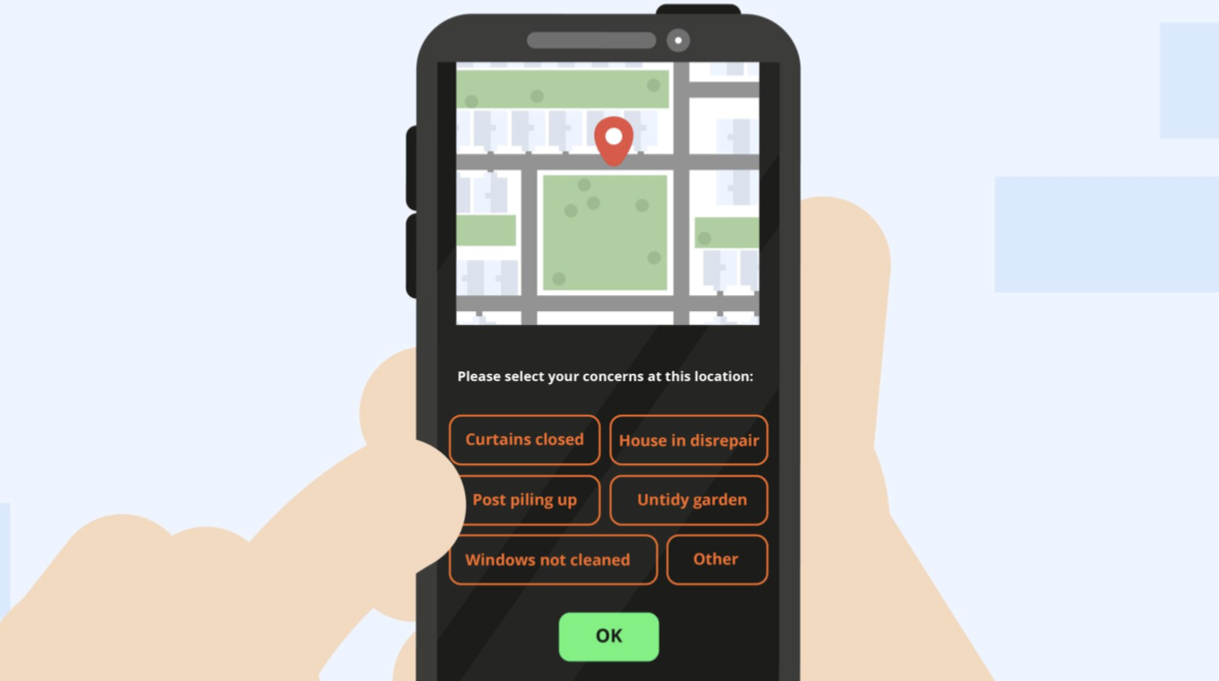 Care View is a web-app that uses GNSS positioning to improve the accuracy of outreach and door-knocking to identify socially isolated residents in a city, helping councils save money. This improves the statistical chances of finding socially isolated residents. Careview was the only non-clinical solution to win an NHS Innovation Award in 2017.
A socially isolated resident is an elderly person who has withdrawn from day-to-day interaction within their local community due to change in circumstances (such as bereavement) or prolonged mental or physical ill-health; or a newly arrived migrant who is unable to access public services.
Careview has two features:
A secure map of social isolation hotspots across a city. This map is generated by council frontline staff who create a location-based alert by tapping the app if they see one of seven signs of social isolation. Outreach teams use this information to plan site visits.
During the visit they use the Careview signposting tool to refer residents to resources like counselling services, housing support and community initiatives to achieve positive outcomes. This signposting tool is up-to-date guidance connected to the local own database.
The Demonstration Project has been a success. It has helped us develop and implement a set of powerful new features which makes the technical and commercial operation Care View more robust. The new features developed and implemented during the Demonstration Project are:
Dynamic ways to update hotspots
Different user types and privacy controls to facilitate cross-agency collaboration
Reduction in duplication of data
Simplified user interface to maintain one-touch ease of use
Future-proofing the platform from a scalability and security standpoint
The project has also helped us validate and fine-tune our commercial strategy. With this clarity, we are now in a position to accelerate our go-to-market plan and focus on customers' acquisition.
Users and their needs
A Careview user is a member of the frontline team of a local authority, voluntary organisation or a Police Community Support Officer (PCSO) who requires an evidence-based reporting and outreach tool to deliver the provision of care. Careview is not open to members of the public.
Careview customers are primarily:
Mid-Large cities in UK and Europe with a significant population of older residents or newly arrived migrants. Public Health and Social Care departments are unable to identify socially isolated residents and deliver the provision of care. Careview's secure heatmap of social isolation hotspots increases the probability of finding residents in need.
Mid-large charities with a regional or national remit to deliver a provision of care to vulnerable residents. Frontline staff within these organisations do not have access to up to date information to locate vulnerable residents or a standardised signposting protocol. This leads to duplication of data and incorrect assessments. The signposting tool enables frontline staff to refer residents to standardised and relevant services.
As a result of the pilots, Care View is now deployed in Leeds City Council and Bury City Council , part of Great Manchester Authorities and AgeUK Wakefield has been trailing it.
Service/ system concept
Reliable operation with GNSS positioning data at its core: Careview is a location based service with a single-step operation – tap the heart icon– to crowdsource location intelligence from users. This is made possible by GNSS positioning data. Our solution offers actionable insight, which is updated in real time and has shown to improve the provision of care as well as create financial savings, thanks also to full integration into local authorities processes and procedures already in place.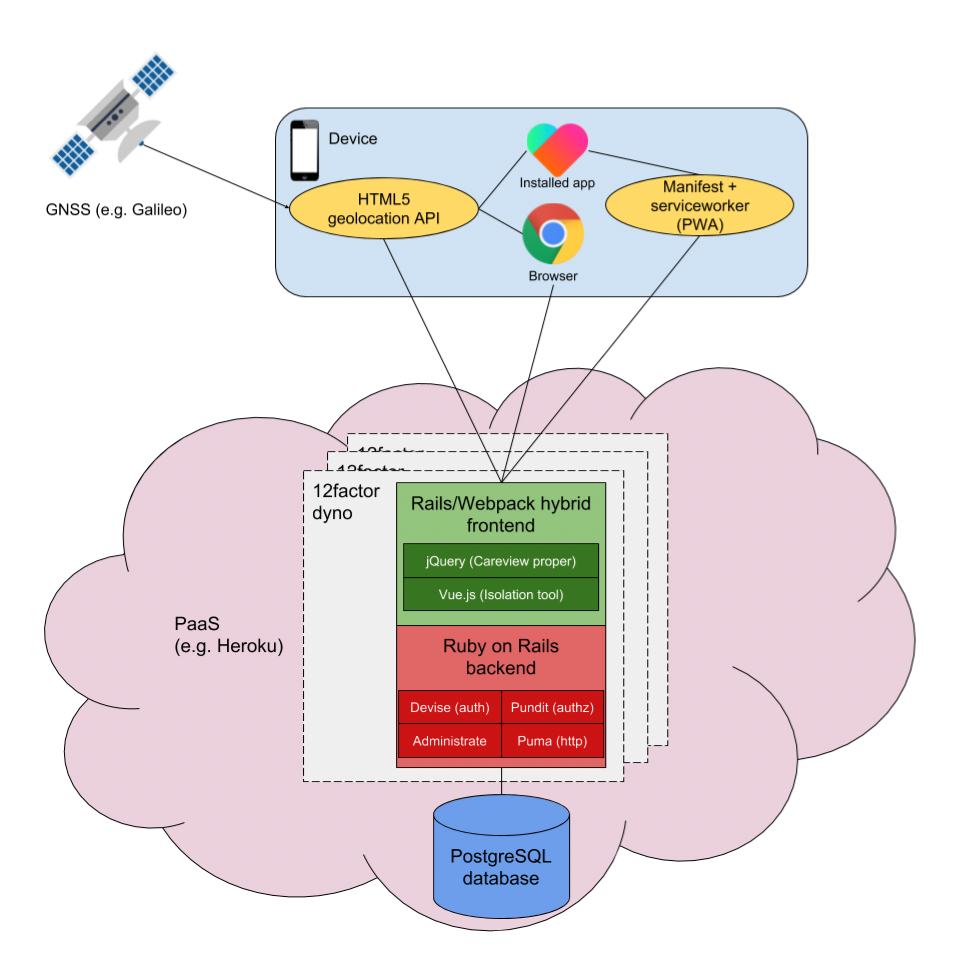 Image credit: Dhyaan Design Limited, Project: Careview
PWA (Progressive Web App) is an application that loads like a regular website but offers functionalities like hardware access on the smart phone. Careview is a 12-factor secure application that's designed to be deployed in a PaaS cloud. 12-Factor is a type of software architecture. Building internet applications to the 12-Factor specification allows them to be scaled horizontally, by keeping things like data storage, configuration and logging away from the application logic. As you don't have to deploy it in a data centre and don't need dedicated staff, Careview has low operating costs. It can be scaled automatically to thousands of users. The backend has a dashboard, which can be customised for specific analytics, and the data can also be exported as a CSV file.
Space Added Value
GNSS location data is used to improve Careview functionality. Careview aggregates user-generated data to show hotspots of social isolation across a city. This information is generated automatically by the device when the user taps the heart icon.. To increase the impact of site visits, after the new developments implemented during the demonstration project, Careview now gives users the ability to improve the original dataset based on their assessment. We use GNSS positioning to automatically update the map based on the user's location to reduce hotspot intensity (if the area needs less attention) and confirm hotspot intensity (if it is indeed a problem).
Current Status
The activity was completed in October 2020. Despite Covid-19 hitting us right during the Care View ESA co-funded Demonstration Project, we managed to wrap-up the pilots, implement all the new features in our pilot customers' live environment and validate them. All new features had met the users' requirements they had been developed towards and score high in the usability tests. We are now accelerating our expansion into Europe. If you are interested in hosting a city pilot, please get in touch and visit Careview web site below. Please note we now trade as Care View.
Prime Contractor(s)
Status Date
Updated: 05 November 2020
-
Created: 08 November 2019