Objectives of the service
We believe that the combination of open satellite images, our mapping technology, and the involvement of the public at the benefit of earth's environment can offer a valuable additional piece of the puzzle towards the realization of REDD+. We therefore aim to develop a service that benefits organization active in REDD+ and the conversation of forests.
The current feasibility study is funded by the European Space Agency (ESA) and will be implemented in the second half of 2015. We aim with this study to lay a foundation to develop a (rain) forest monitoring service based on open satellite data and crowdsourcing in combination with serious gaming which is economically and technically viable.
A small part of this study will be the conducting of a controlled demonstration project using a live crowd already as a first preparation towards large scale future campaigns in which we intend to raise an army of over 200 000 earth citizens safeguarding our rainforests looking down from the sky!
Users and their needs
Sustainable forest management
Reducing Emissions from Deforestation and Forest Degradation (REDD+) is a global initiative with the aim to encourage countries to reduce CO2 emissions and stimulates forest conservation, sustainable management of forests and enhancement of forest carbon stocks. Forest monitoring is crucial for REDD+ to detect illegal logging and observe forest quality. However, monitoring the forest from the ground is time consuming and it is often difficult to cover larger areas, especially in places where there is a shortage of infrastructure and data.
Services
Organizations struggle with monitoring their REDD+ projects and often lack key information about the area of interest which is needed to implement the project successfully. We help those organizations with monitoring and increasing the effectiveness of their projects. Next to REDD+ projects, our technology can also be used for related purposes, such as the detection of (illegal) mining activities and crop monitoring.
For whom
All organizations that are active in the field of forest monitoring and/or REDD+ can benefit from our services. We assist public organizations as well as private organizations. Some organizations have their own remote sensing capability, whereas other organizations haven't used satellite imagery before. Our services are customizable, and we always adapt our approach to the specific needs of the customer. We have added value both for very experienced and for inexperienced organizations.
Service/ system concept
BlackShore has developed an award winning technology to transform satellite imagery into maps through the use of crowdsourcing methods with the goal to benefit society and science. The technology has the capability to generate maps faster and more thorough than experts. The crowd is enabled by providing them with mandatory educational (e-learning) and motivational gaming elements.
This technology is also used for our forest monitoring services. We acquire near-real time and historical satellite imagery that provides the basis for our maps. The images are analysed by the crowd, which consists of thousands of enthusiastic volunteers. The only thing they need to start mapping is an internet connection. The gaming elements we provide ensure that the mapping process is not only useful but also fun for the crowd!
The combination of open satellite imagery, crowdsourcing and serious gaming provides high quality and cost effective results which offers a valuable contribution to the realization of REDD+.
Generating maps
The maps generated by the crowd are uploaded on our Web Mapping System. These maps can be loaded in any available GIS software so people working on the project can use these to better monitor their operations and improve their strategy. Because we make use of the crowd, we are able to generate these maps faster, more thorough and cost efficient. We can provide maps in different levels of detail, using satellites that provide 10m, 5m or 0.5m resolution images.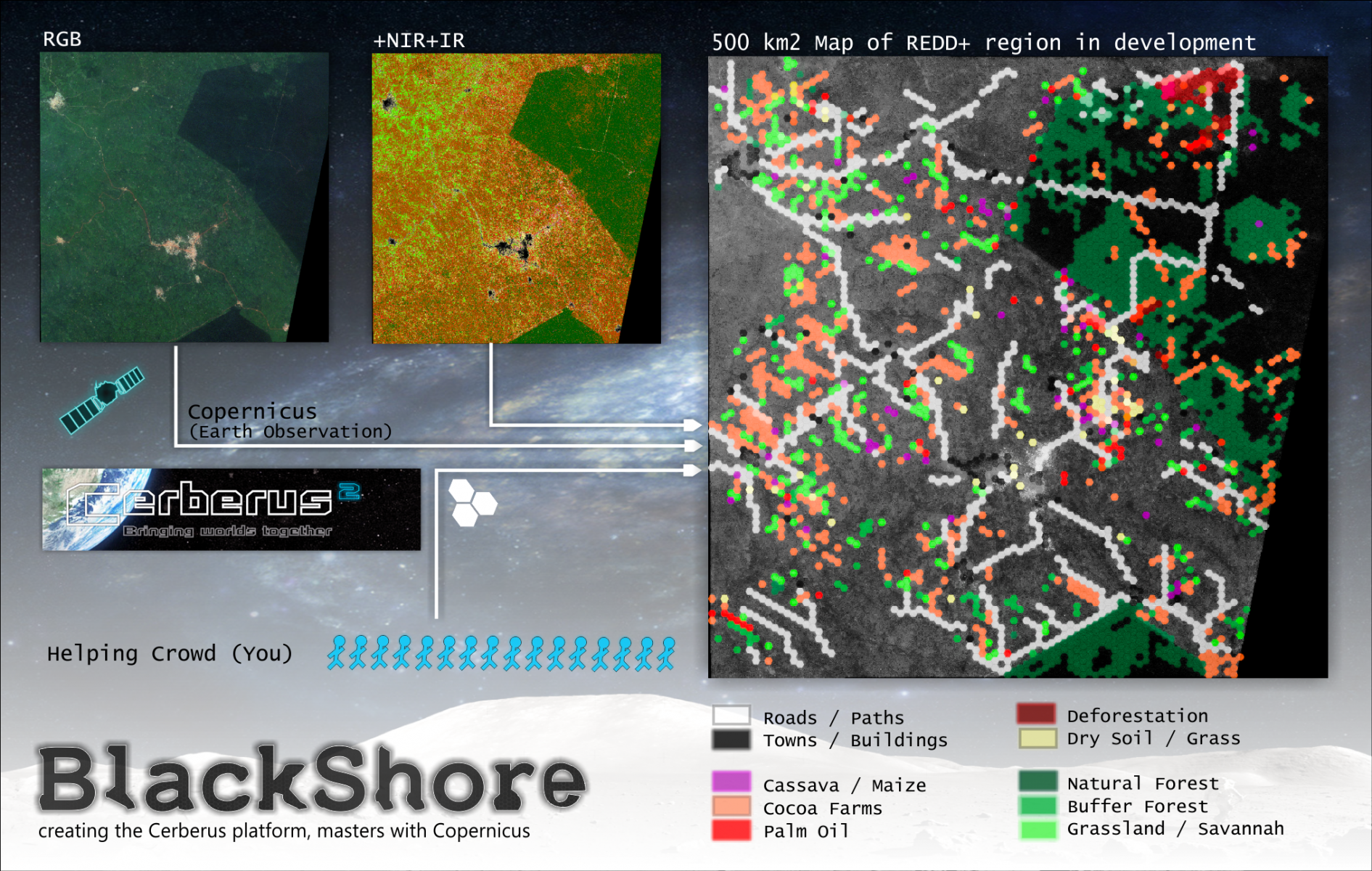 Performance
With Cerberus: Forest Falcon we rely on the general public to generate the maps leading to a common asked question: How does the crowd perform in relation to experts? Based on previous projects and our dedicated REDD+ test, we can confirm that the crowd performs much faster, more thorough and just as precise as experts can do, while being very cost efficient.
How fast the crowd can deliver the maps depends on a number of factors: the size of the crowd we deploy, the size of the map, the resolution of the satellite imagery and the number of features that need to be mapped. In addition, we can enable Cerberus in "rush" mode when there is an immediate crisis doubling mapping speed.
Space Added Value
The base of the system consists of open earth observation data delivered through Europe's Copernicus programme. Of locations where REDD+ projects are implemented, the needed data will be acquired, prepared and be presented to the crowd for processing. We make use of the multispectral capabilities of satellite imagery, which enables us to distinct vegetation types and their quality. Both the colour channels and a visualisation of the multispectral channels are presented to the crowd enabling them to do more in-depth interpretations of the area of interest.
In Cerberus, our gaming platform, the crowd has interaction with the satellite products, which consists of images of the REDD+ project areas. In these areas the crowd maps the features matching the REDD+ requirements and other needs of the customer. Features that are for instance of interest are: the localization of agriculture, rain forests, infrastructure and residential areas. The crowd plays the game because Cerberus has been made interesting for them game-play wise, and because they are helping to realize a good cause which is a motivator in itself. We train the crowd in interpreting the data by providing an extensive tutorial boosting the quality of the output of the crowd.
Satellite navigation is used in situ for both verification and execution of steps locally. Firstly, using navigation we can verify on the ground what has been mapped from space. This is important for the validation of the system. Secondly, organisations working in the field can acquire navigation coordinates and venture there in order to see how they can improve things locally.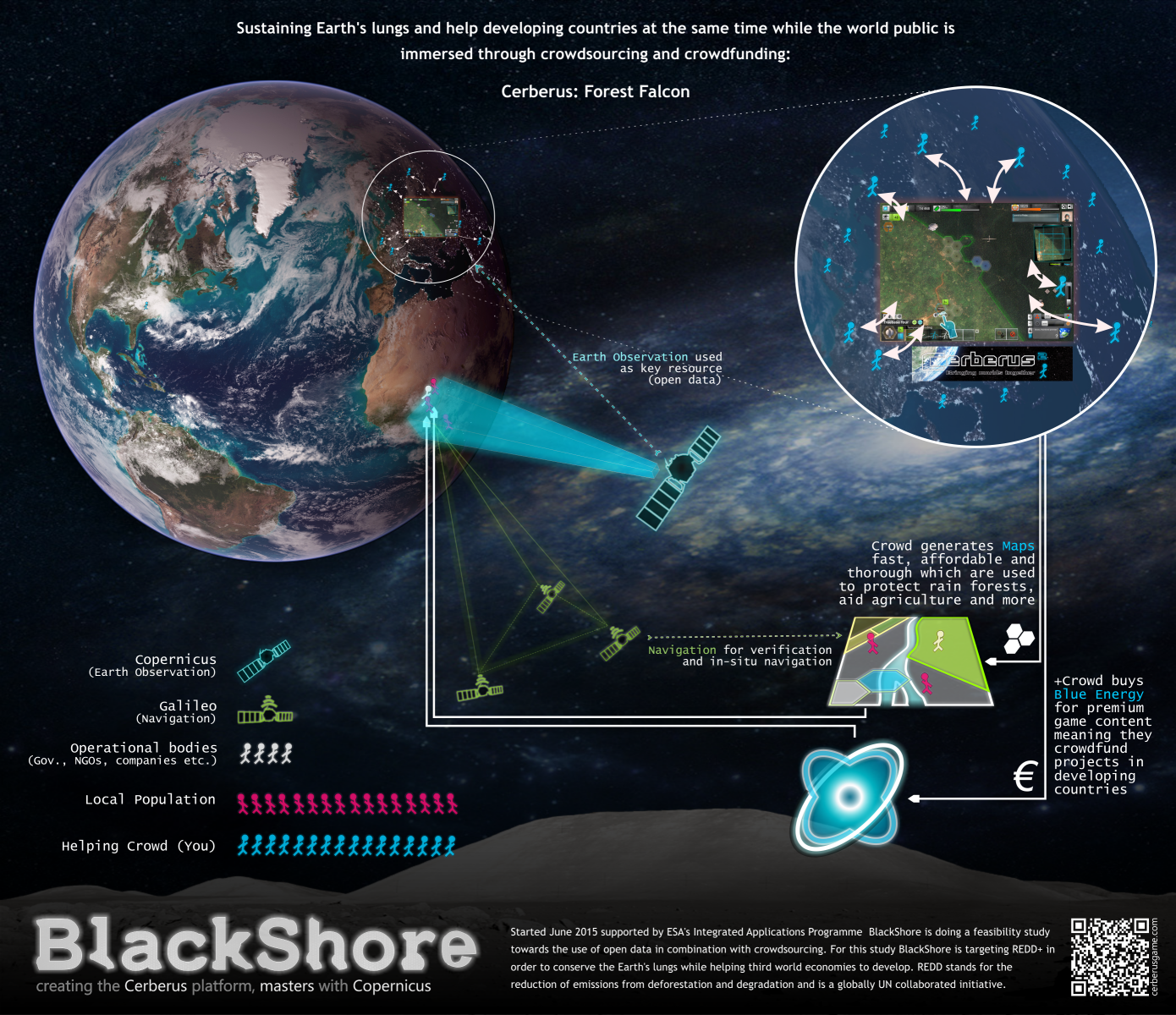 Full res poster: http://www.blackshore.eu/Images/projects/BlackShoreREDD%20infographic%20-%20Poster.png
Current Status
December 2015 we have concluded a feasibility study where we were able to triple- verify BlackShore's crowd results conducing a live experiment in a Ghanaian REDD+ project region. The crowd using open satellite data, experts using very high resolution satellite imagery and operatives in the field made similar discoveries on 26 sample locations which were for example palm oil farms, cocoa farms and deforestation. The conclusion of all this means that the use of open satellite data in the combination with crowdsourcing can benefit REDD+ projects significantly especially because of high performance and low cost.
Next steps are to investigate to deploy Cerberus: Forest Falcon as a real service possibly with help from the European Space Agency doing a demonstration project. During this project, besides business development more technological development will be conducted to increase crowd performance to an even higher potential both measured in precision and quantity. This would be done by evolving into more novel game engines and streamline interfacing with data suppliers.
Showing how Cerberus works: Mapping a REDD+ forest area.
Prime Contractor(s)
Status Date
Updated: 05 January 2016
-
Created: 11 September 2015