Objectives of the service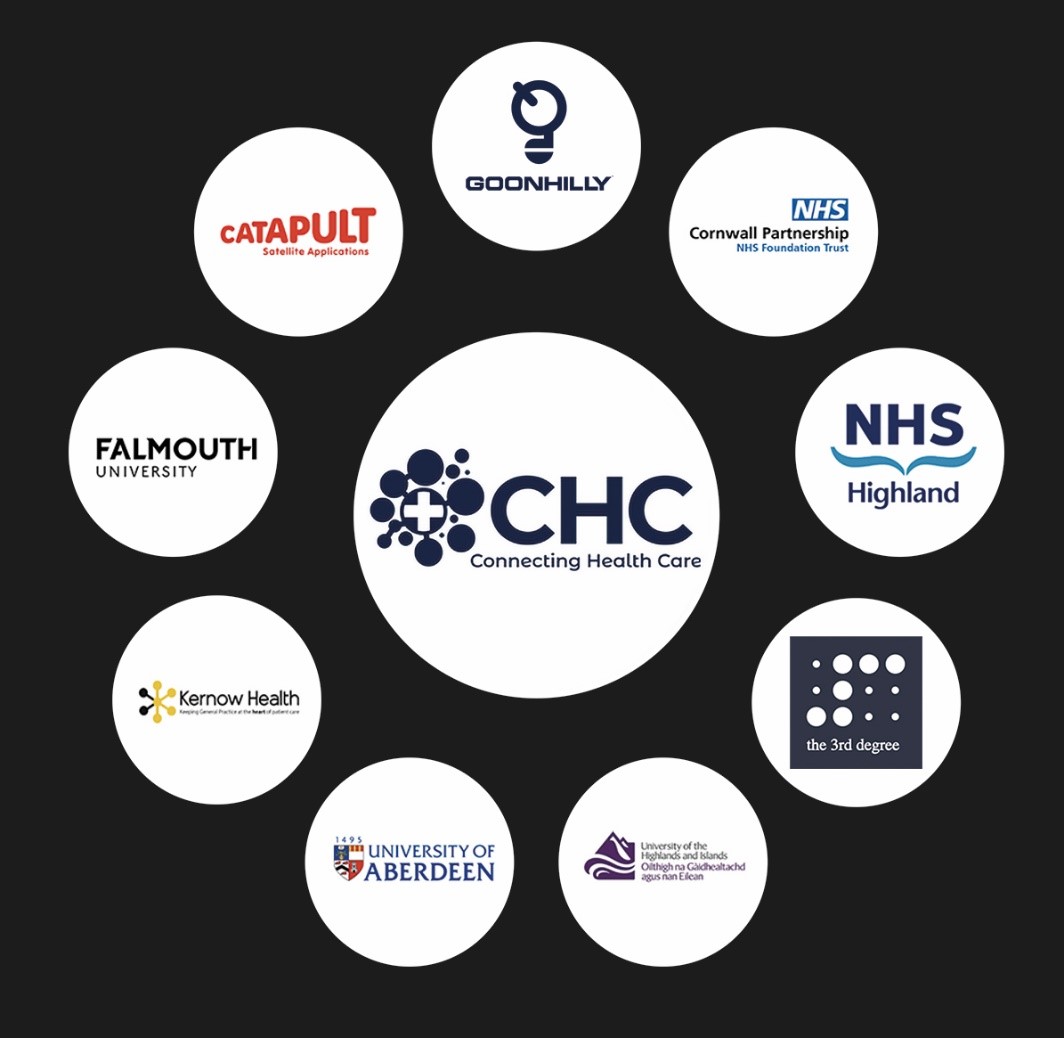 The Connecting Health Care (CHC) Project is a collaboration of healthcare and technology partners in Cornwall and Scottish Highlands, funded by the UK Space Agency (UKSA) via their contribution to the European Space Agency (ESA). Formal project partners are listed below. Academic project external service provision is delivered through Falmouth University, the University of Aberdeen and the University of Highlands & Islands.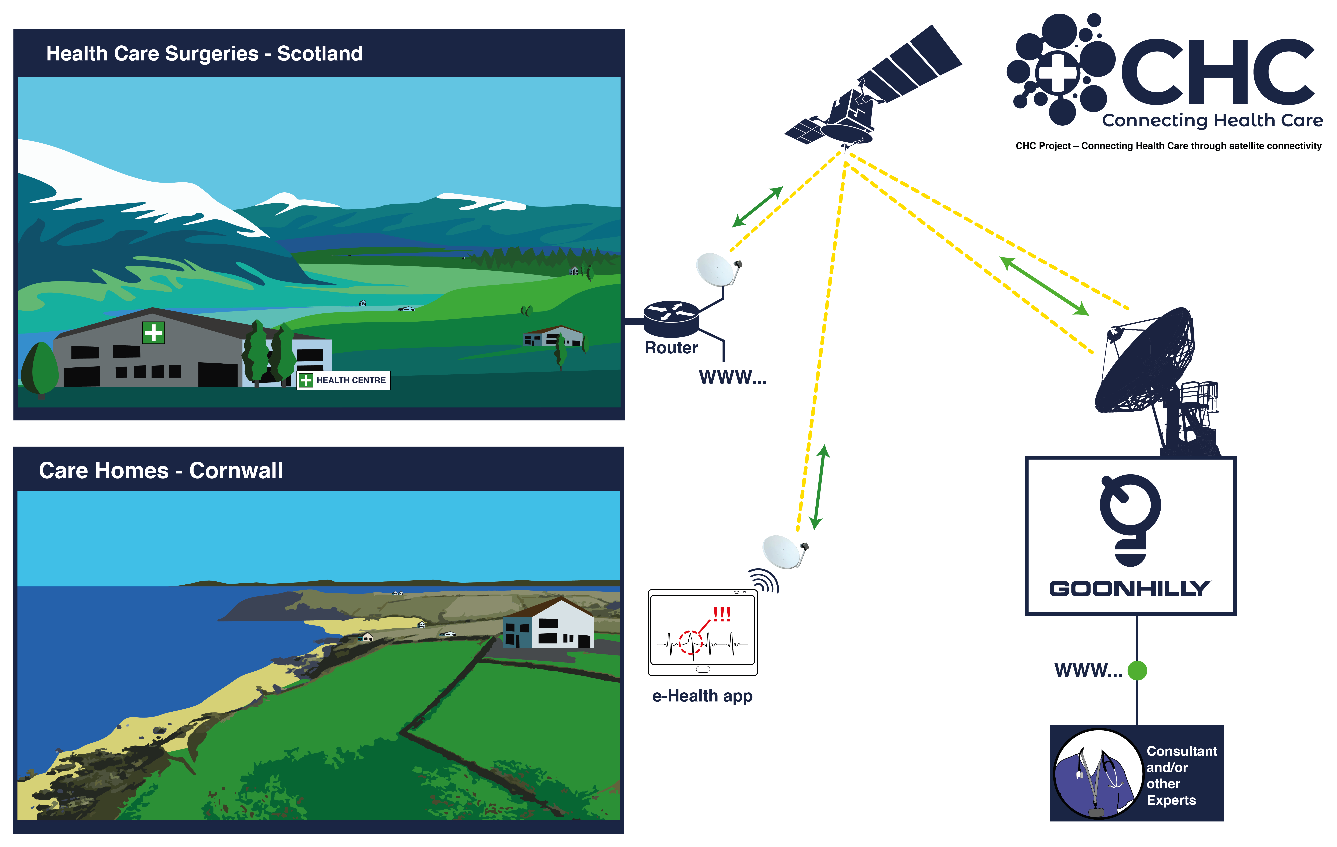 The project delivers satellite connectivity to care homes (Cornwall) and GP practices (Scottish Highlands) that are experiencing connectivity challenges, or where there is potential to validate e-health services and their benefits via a satellite network. The connectivity will remain in place for approximately 10 months to assess the value of such systems. We will be able to facilitate and validate applications such as remote diagnosis, remote monitoring of health metrics, and remote, multidisciplinary video consultations. During this validation period the project team will evaluate the functionality of health sector software platforms on the satellite provided network, and assess benefits of satellite enabled healthcare from several angles (e.g., care home staff, GP and other practitioners, patient experience).
Users and their needs
The users of the system are staff and patients within rural health care settings in Cornwall and Highland Scotland. In particular, there is a focus on care homes in Cornwall, where face to face medical care has been reduced due to Covid-19, and on GP practices in the Scottish Highlands with poor connectivity.
The health care staff, care home residents and patients need a network to transmit data, hold consultations and facilitate clinical education (e.g., due to physical distance between a patient and specialist practitioner, or due to risks around face to face interactions at times of epidemics/pandemic). The main requirements for this network infrastructure are:
Satellite connectivity to provide sufficient bandwidth and other technical parameters for remote patient monitoring and video consultations/applications (secure, resilient, delivered via a local wireless network)
E-health software platforms to enable applications not currently used (e.g., remote patient monitoring in care homes)
Possibly bespoke routing to facilitate the best use of both existing and new networks and the most efficient/secure data transfer depending on individual requirements
Service/ system concept
The system includes a small satellite dish deployed on the roof, side of a building or in a car park close to the care home/GP practices. The satellite dish is connected to a modem inside the building, from which a local network is established.
Within the care homes (Cornwall only), e-health software to facilitate multidisciplinary video consultations and monitoring of health metrics is installed on a tablet, which will be connected to the internet via the satellite network.
Within the GP practices (Scotland only), a router connects local devices to both the existing terrestrial connectivity and the new satellite connectivity, to facilitate best use of both networks depending on network congestion, data encryption requirements and other parameters.
The direct users (care home and GP practice staff) will be able to use the satellite connectivity to deliver enhanced digital health care for their residents (care homes) and for general internet use in addition to their existing, poor terrestrial connectivity (GP practices).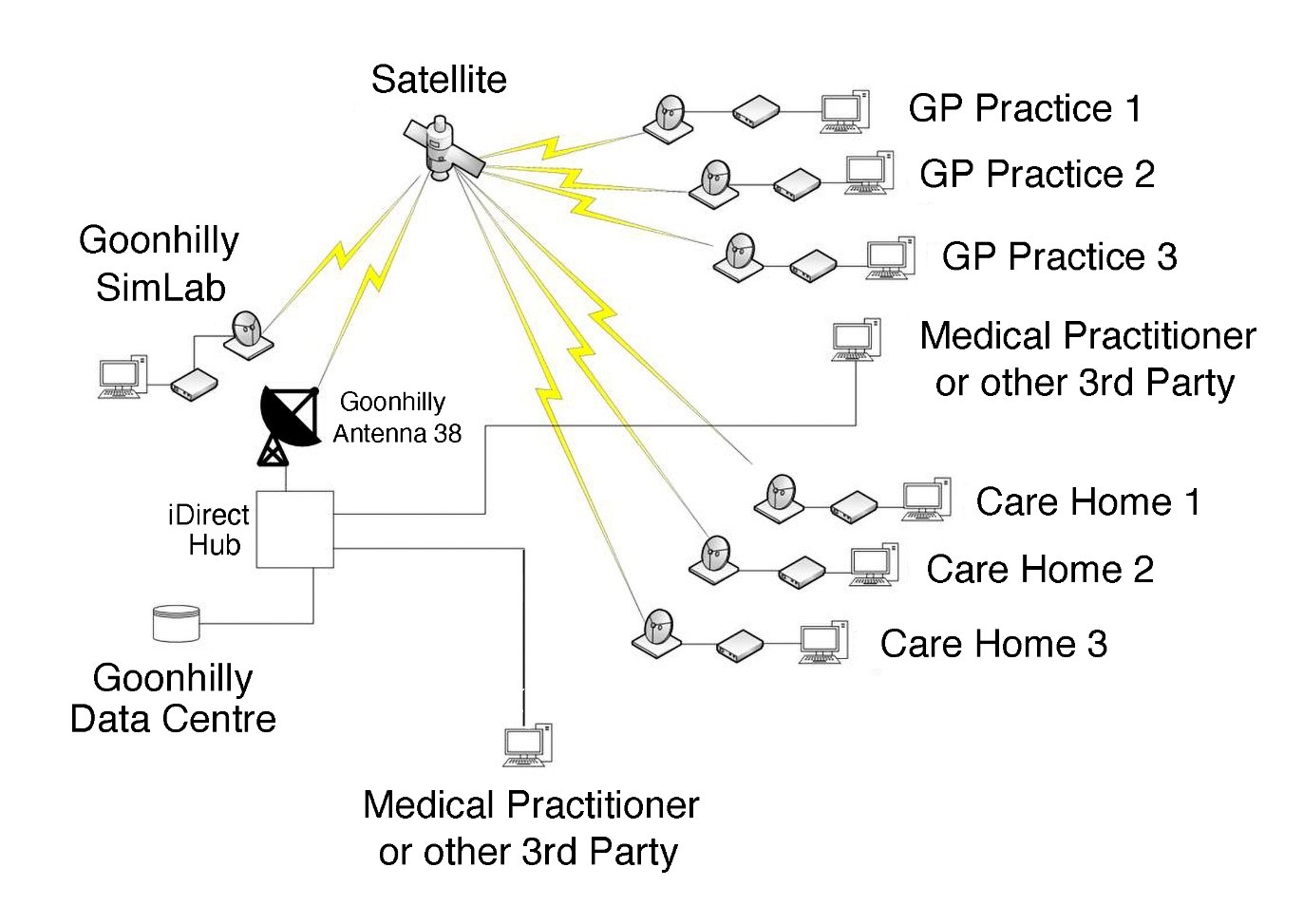 Space Added Value
Satellites can provide independent, secure, and resilient connectivity infrastructure, all of which are crucial for health care. Although connectivity via satellite is not a new concept, it is relatively little used within the health care sector. By validating the connectivity solution specifically within health care settings, the CHC project will be able to assess the suitability of satellite connectivity for a range of health care applications, quantify its benefits with regards to factors such as travel time of specialist staff, identify barriers to uptake and iterate a potential solution if required.
Current Status
After some delays due to the ongoing and unprecedented pressures across the NHS and Care Sectors, the CHC pilot projects at various locations across Cornwall and Scotland are now up and running, and data collection has started.
Unpaid carers: The team are exploring if mobile technology can help to access and amplify the voices of unpaid carers. Compounded by the isolation of lockdown and the economic uncertainty involved in caring for loved ones who are disabled, ill or older and in need of support - the UK's 6.5 million unpaid carers say that social isolation is one of the most challenging aspects of their caring duties. The CHC researchers are now paving the way for better support for carers in some of the UK's most remote locations. To assess the feasibility of using real-time data from unpaid carers using mobile phone short message service (SMS) to theme data using natural language processing. A "dashboard" which presents the data we are collecting from the unpaid carers in real-time has been deployed, both in its raw form as qualitative data in the form of the original comments but also as quantitative data where the comments have been analysed using a machine learning algorithm to code and categorise the data. Access to this dashboard over the satcom link will also be tested. Further details of all these activities can be found on: https://www.falmouth.ac.uk/research/programmes/design-for-mental-health/connected-health-care/#studies
Care Homes: The plan for the CHC project was for 3 care homes from the Cornwall Care group to participate in the study. The continuing pressures on the health and social care system have impacted on the care homes we are working with, and we have lost 2 of the care homes to the project. However, the third home is fully engaged, and we are working around the significant issues and impact created by COVID-19. The remaining care home is utilising the connectivity in a variety of exciting ways – working with specialist health practitioner teams and the local community.
Researchers from The Connected Healthcare Team were pleased to be presenting at the Digital Health REWIRED Conference in London on 15 March 2022. The team show cased the unpaid carers study on the Best Practice Stage. The conference brought together national leaders from health and tech industries to discuss how digitalisation can be harnessed for service improvement and large scale digital transformation.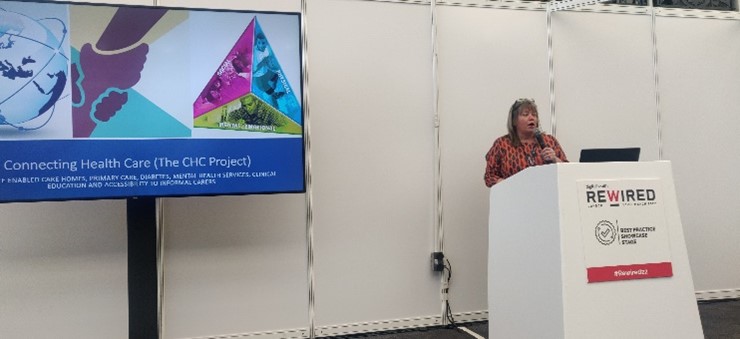 Prime Contractor(s)
Status Date
Updated: 17 February 2022
-
Created: 26 January 2021