Objectives of the service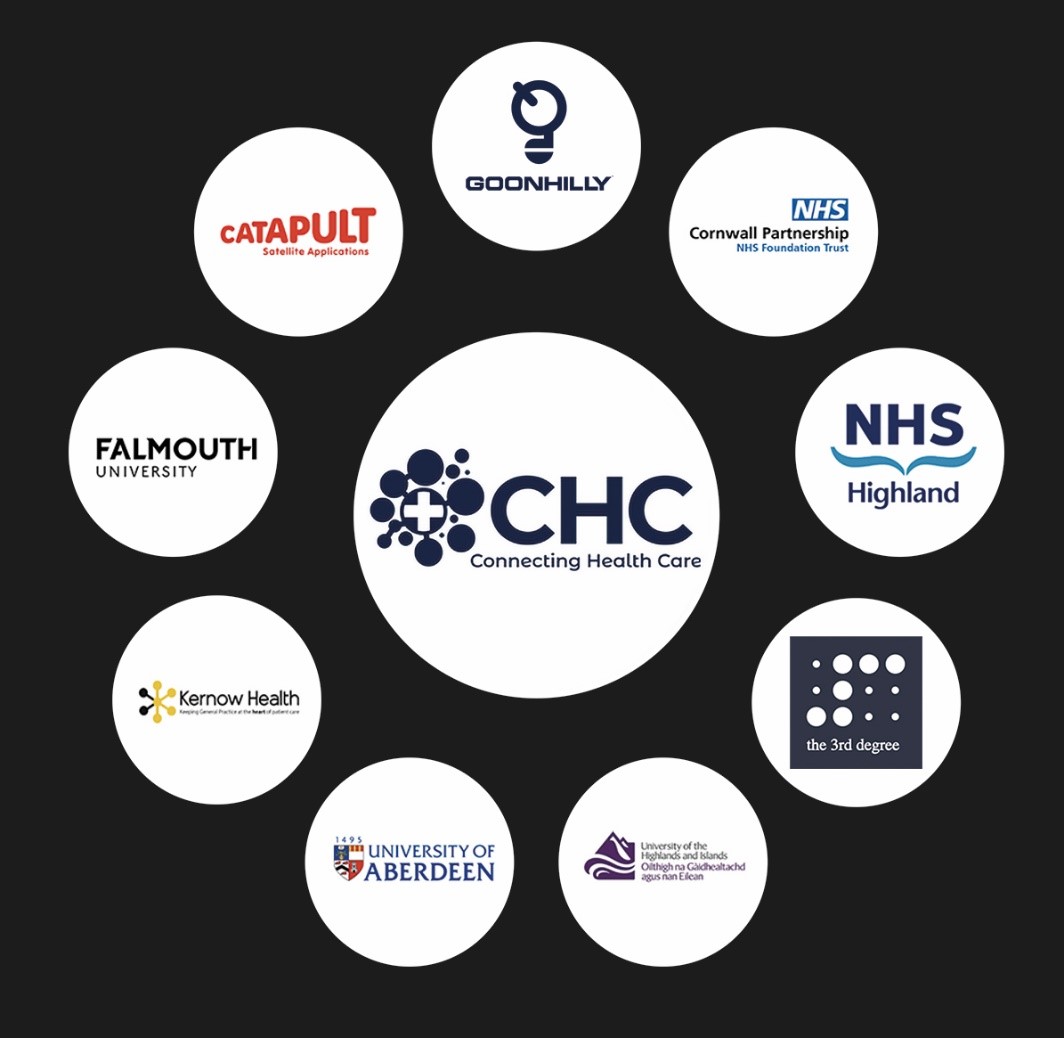 The Connecting Health Care (CHC) Project is a collaboration of healthcare and technology partners in Cornwall and Scottish Highlands, funded by the UK Space Agency (UKSA) via their contribution to the European Space Agency (ESA). Formal project partners are listed below. Academic project external service provision is delivered through Falmouth University, the University of Aberdeen and the University of Highlands & Islands.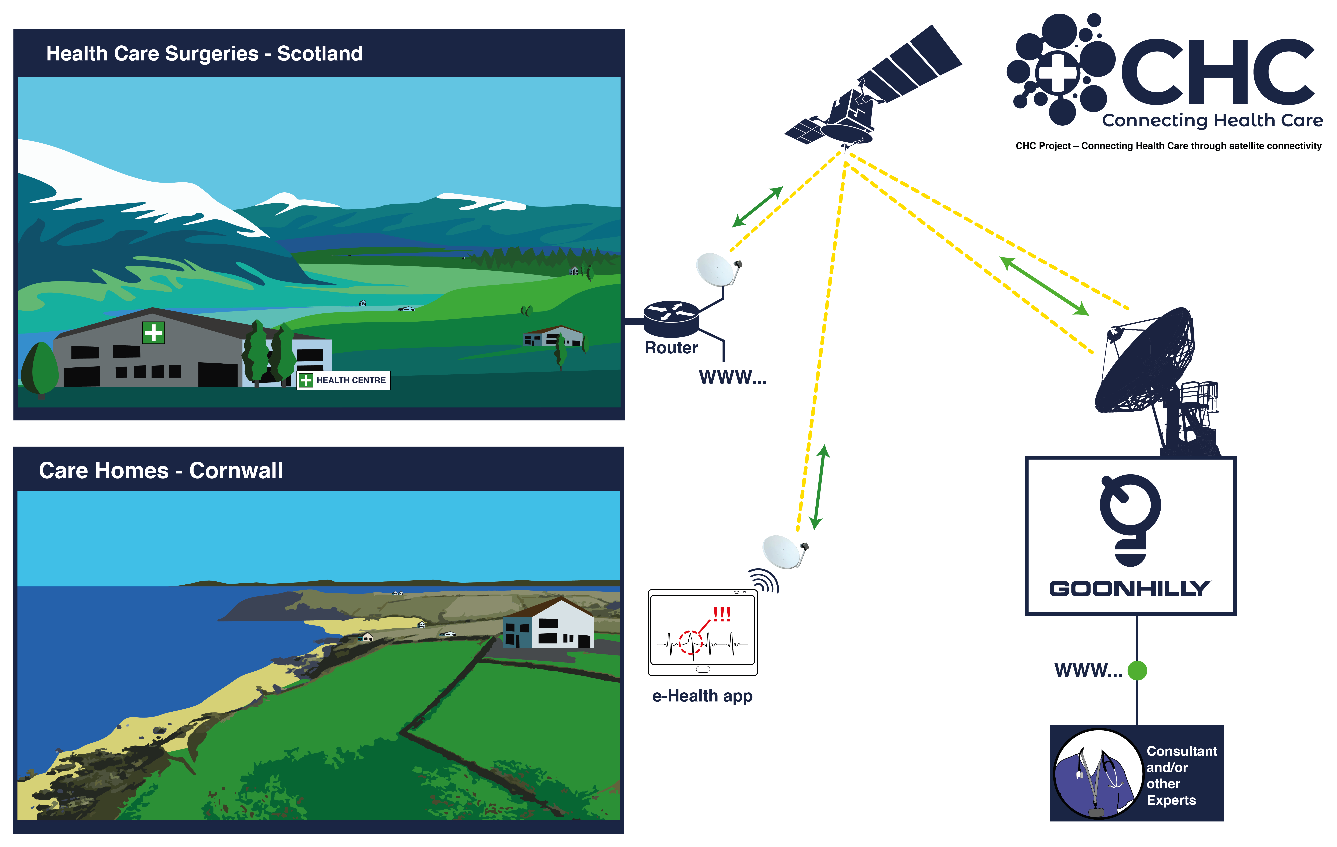 The project delivers satellite connectivity to care homes (Cornwall) and GP practices (Scottish Highlands) that are experiencing connectivity challenges, or where there is potential to validate e-health services and their benefits via a satellite network. The connectivity will remain in place for approximately 10 months to assess the value of such systems. We will be able to facilitate and validate applications such as remote diagnosis, remote monitoring of health metrics, and remote, multidisciplinary video consultations. During this validation period the project team will evaluate the functionality of health sector software platforms on the satellite provided network, and assess benefits of satellite enabled healthcare from several angles (e.g., care home staff, GP and other practitioners, patient experience).
Users and their needs
The users of the system are staff and patients within rural health care settings in Cornwall and Highland Scotland. In particular, there is a focus on care homes in Cornwall, where face to face medical care has been reduced due to Covid-19, and on GP practices in the Scottish Highlands with poor connectivity.
The health care staff, care home residents and patients need a network to transmit data, hold consultations and facilitate clinical education (e.g., due to physical distance between a patient and specialist practitioner, or due to risks around face to face interactions at times of epidemics/pandemic). The main requirements for this network infrastructure are:
Satellite connectivity to provide sufficient bandwidth and other technical parameters for remote patient monitoring and video consultations/applications (secure, resilient, delivered via a local wireless network)
E-health software platforms to enable applications not currently used (e.g., remote patient monitoring in care homes)
Possibly bespoke routing to facilitate the best use of both existing and new networks and the most efficient/secure data transfer depending on individual requirements
Service/ system concept
The system includes a small satellite dish deployed on the roof, side of a building or in a car park close to the care home/GP practices. The satellite dish is connected to a modem inside the building, from which a local network is established.
Within the care homes (Cornwall only), e-health software to facilitate multidisciplinary video consultations and monitoring of health metrics is installed on a tablet, which will be connected to the internet via the satellite network.
Within the GP practices (Scotland only), a router connects local devices to both the existing terrestrial connectivity and the new satellite connectivity, to facilitate best use of both networks depending on network congestion, data encryption requirements and other parameters.
The direct users (care home and GP practice staff) will be able to use the satellite connectivity to deliver enhanced digital health care for their residents (care homes) and for general internet use in addition to their existing, poor terrestrial connectivity (GP practices).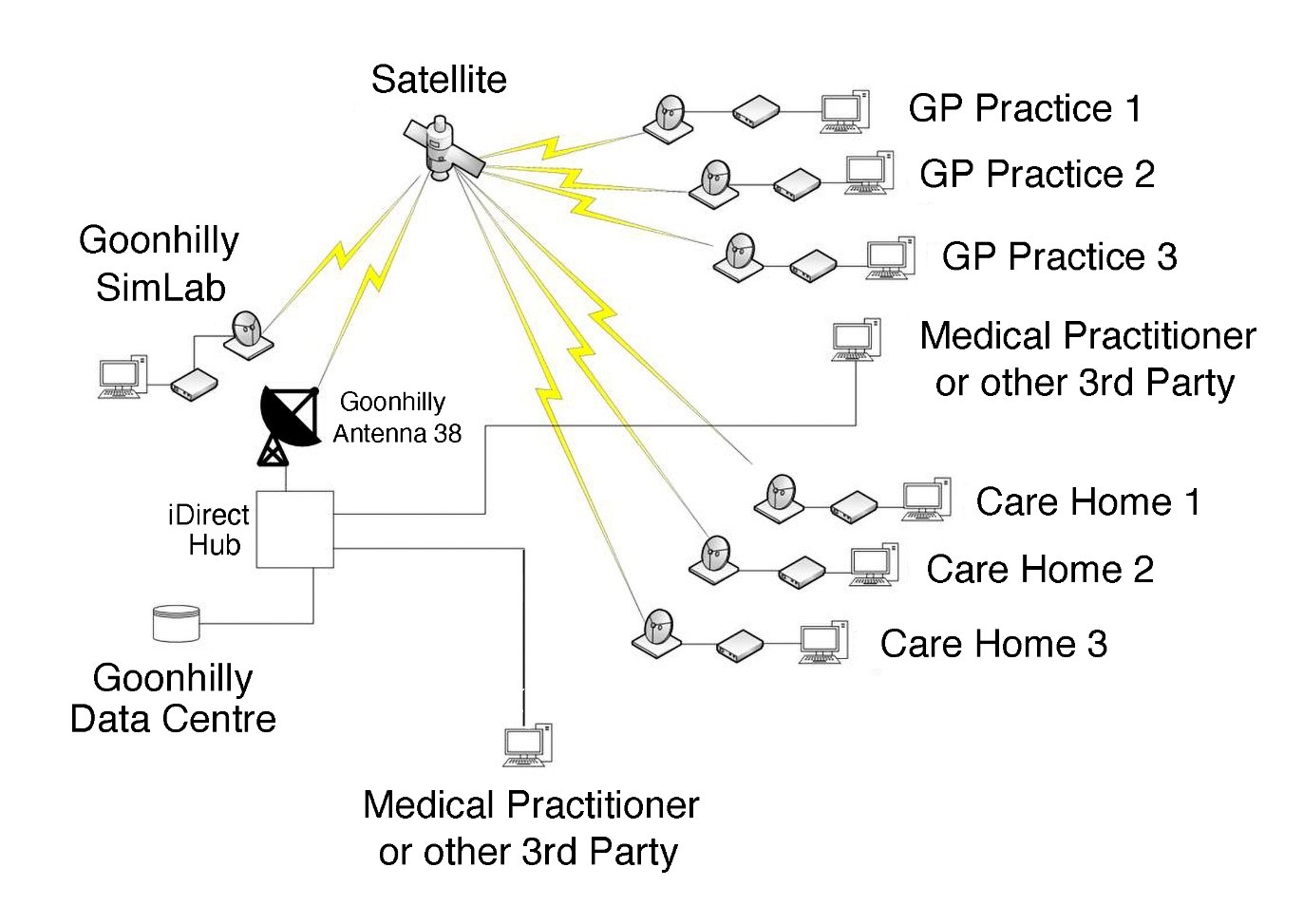 Space Added Value
Satellites can provide independent, secure, and resilient connectivity infrastructure, all of which are crucial for health care. Although connectivity via satellite is not a new concept, it is relatively little used within the health care sector. By validating the connectivity solution specifically within health care settings, the CHC project will be able to assess the suitability of satellite connectivity for a range of health care applications, quantify its benefits with regards to factors such as travel time of specialist staff, identify barriers to uptake and iterate a potential solution if required.
Current Status
The CHC project has now concluded. The following use cases were explored to find out how using satellite connectivity could benefit the health service in areas with little or no fibre connectivity.
Cornwall:
Care homes

Support for Unpaid carers
Scotland
Mental health

Diabetes

Medical Education
The following findings and recommendations have come out of the evaluation of the project.
Key findings
Human factors impacted significantly on the uptake of the digital opportunities afforded by the project

Organisational and individual behaviours highlight power dynamics within the health and care system that impair an innovative integrated approach to technological transformation activity and demonstration

Digital transformation strategy within care homes lags that in health care settings with notable differences in digital skill sets

The chosen device connecting to the satellite broadband matters and requires robust testing before deployment

An unstable satellite connection may interfere with remote video conferencing platforms

Younger members of staff (digital natives) were observed to act as "smart routers" connecting to other broadband networks when out of range or issues accessing satellite internet on the iPad

Anticipated issues with latency did not arise

The CHC solution could potentially provide connectivity via Satellite to remote areas without wired infrastructure or mobile network.

In terms of resilience, the solution could theoretically provide some connectivity resilience for areas already connected to the NHS network.

The relatively modest size of the connection currently available via the CHC solution means that each site would need a connectivity sizing audit to ascertain the number of users the CHC resilience solution could support if relied upon. The costs of the CHC solution may outweigh the benefits for the resilience use case.
Key Recommendations
The health and care inevitable drive to digital delivery in all areas of the UK (and globally) lends itself to further demonstrator projects. However, the pre-project preparation needs to focus on the organisational and human behaviours and readiness for transformational change.

Strategic engagement across local and national Integrated Care Systems (ICS) to understand priorities and plans for digital rollout, funding streams and the degree of integration between health and care providers is recommended prior to a further demonstrator

Device compatibility requires testing prior to a further demonstrator project.

Digital skills within the workforce are required for successful transformation and need to be prioritised prior to a further roll out of the technological solution

Digital natives within the workforce could act as champions of the digital transformation within care homes as they appear to act as human intelligent routers

GEO satellite connectivity whilst providing an adequate broadband service was unable to be fully tested. LEO satellite connectivity is known to correct latency issues and therefore any future demonstrator may wish to consider optimising LEO capability
Prime Contractor(s)
Status Date
Updated: 29 June 2022
-
Created: 26 January 2021