Objectives of the service
Climate change is impacting coffee taste, production and trade. Vinculum offers an innovative solution for an outdated, multi-billion euro industry in urgent need of digital re-invention. Our service consists of a data intelligence platform that uses AI, SatEO and alternative data sources to launch a new generation of novel risk transformation solutions to modernise the coffee trade while improving coffee farmer livelihoods and creating social impact on a global scale.
Users and their needs
A massive "data gap" for reliable, granular and independent information across coffee-producing countries is making the industry more vulnerable to climate change. Vinculum has created a novel solution that drastically reduces the cost of data collection and designed for actors across the value chain, initially focusing on:
Coffee Buyers: Climate and production insights connected to traceability and procurement systems to reduce operational costs and supply disruption risks.
Financial Service Providers: Trustworthy data to improve risk underwriting while reducing the cost of providing risk management solutions across the supply chain.
Coffee Farmers: Increase profitability by reducing the combined effects of climate change, market volatility and the rising cost of production.
Service/ system concept
We have designed an end-to-end solution that seeks to empower farmers while enabling innovative risk management solutions for actors across the value chain.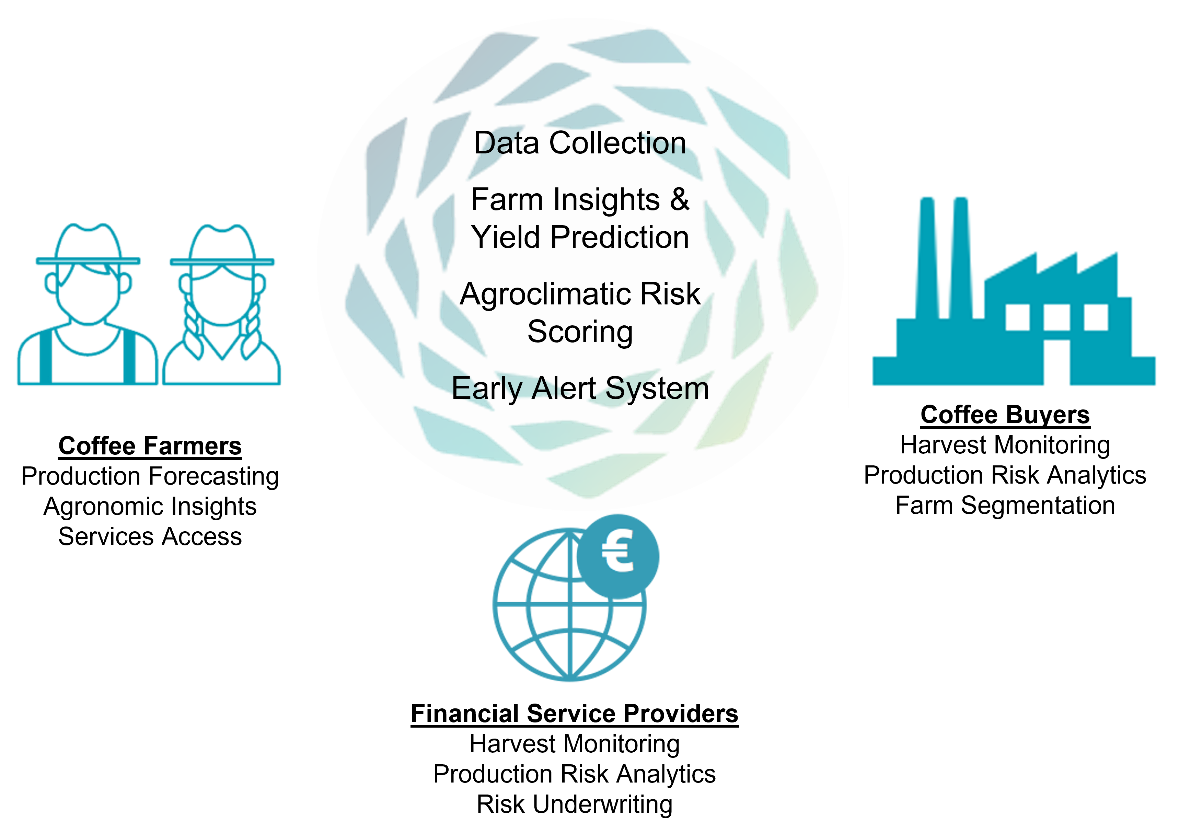 Image credit: Vinculum Technology, Project: CoffEO
Space Added Value
Satellite-based Earth Observation such as Sentinel-2 provide many advantages for coffee crop monitoring: robust, standardized and unbiased data. In terms of non-space technologies, drones are perhaps the most important source of competition. SatEO provides unparalleled capabilities to capture data at very large spatial scales, ideal monitoring capacities given the 2-year phenological cycle of coffee and facilitated normalization with remotely sensed information from other space and non-space assets.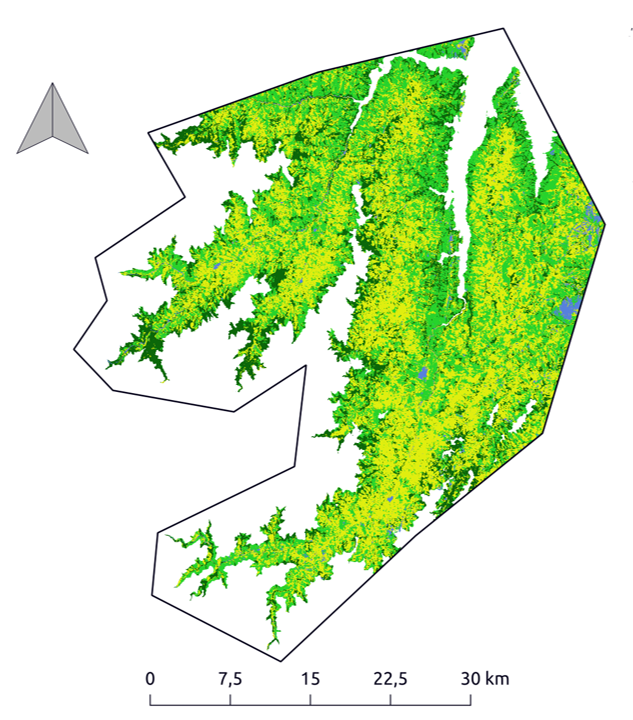 Current Status
The Kick Start is successfully concluded. The activity was performed in Latin America and all objectives were met with success. Activity partners were instrumental to deeply understand the needs and constraints of the potential user landscape, creating context for the accomplishments of the technical validations, and to define a business model that would bring actors together in the coffee industry. This activity is a pioneering first step for the coffee industry into understanding the business case of sharing and augmenting farm-level information with SatEO and machine learning techniques. We conclude that the technical and business benefits far outweigh the costs of business-as-usual.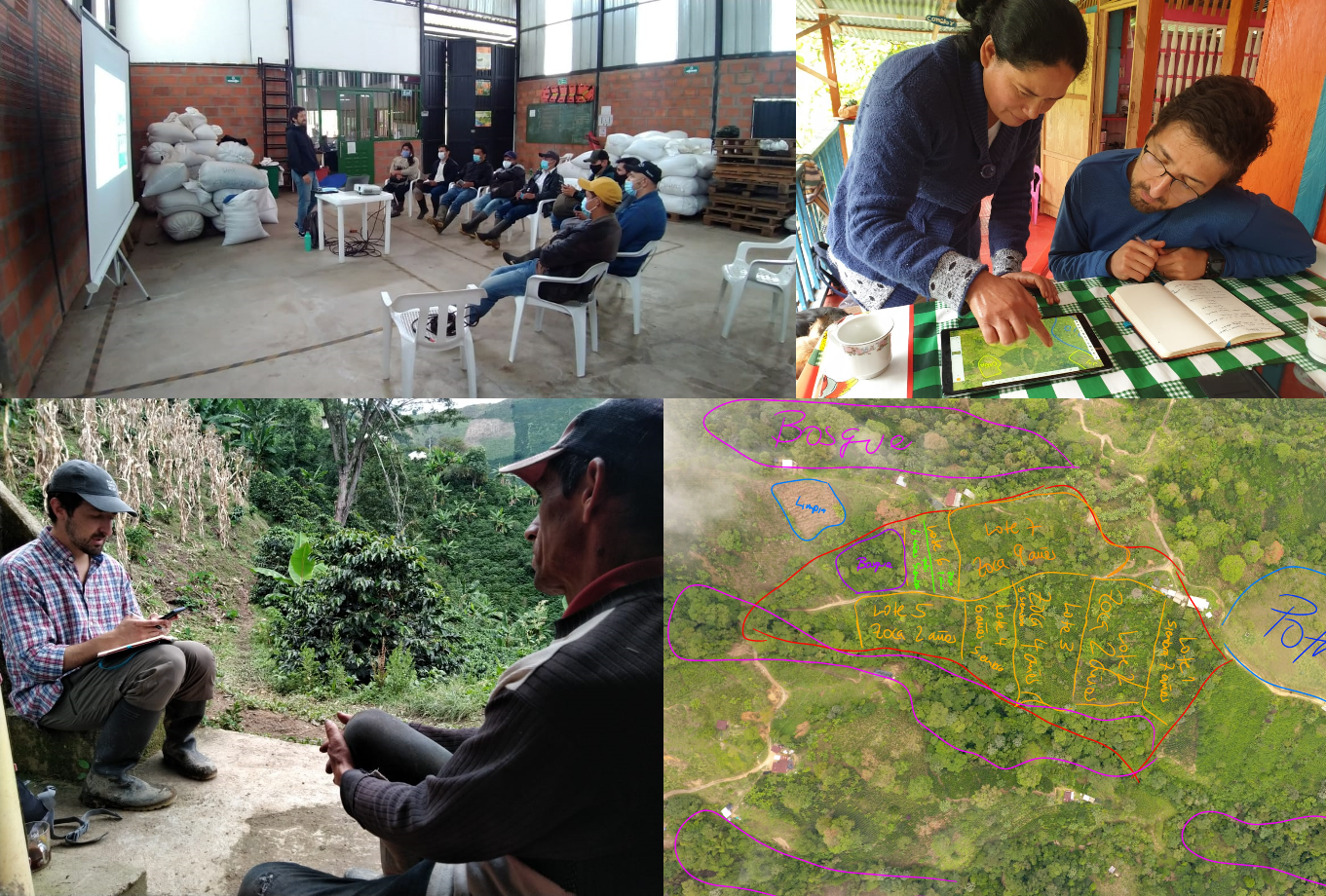 Prime Contractor(s)
Status Date
Updated: 08 October 2021
-
Created: 08 October 2021