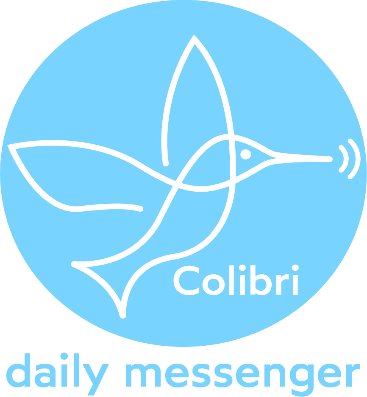 Objectives of the service
The objectives of the Colibri service are:
To demonstrate that people living in rural areas can get access to healthcare services through teleconsultation even if they live in a white zone (no or poor internet coverage) or in an area considered as a medical desert.
To propose an architecture of telemedicine services in white area zones based on a vehicle named Consultobus, and dedicated health spot in villages ("Telemedicine Relay")
To demonstrate the advantages of broadband satellite communication to deliver a full set of telemedicine services in rural zones both for nurses and doctors from teleconsultation to tele-expertise and tele-regulation
To demonstrate new and easy ways to use tele-assistance services for isolated people as well as efficient tele-monitoring services for isolated patient with special pathologies that needs a real-time supervision.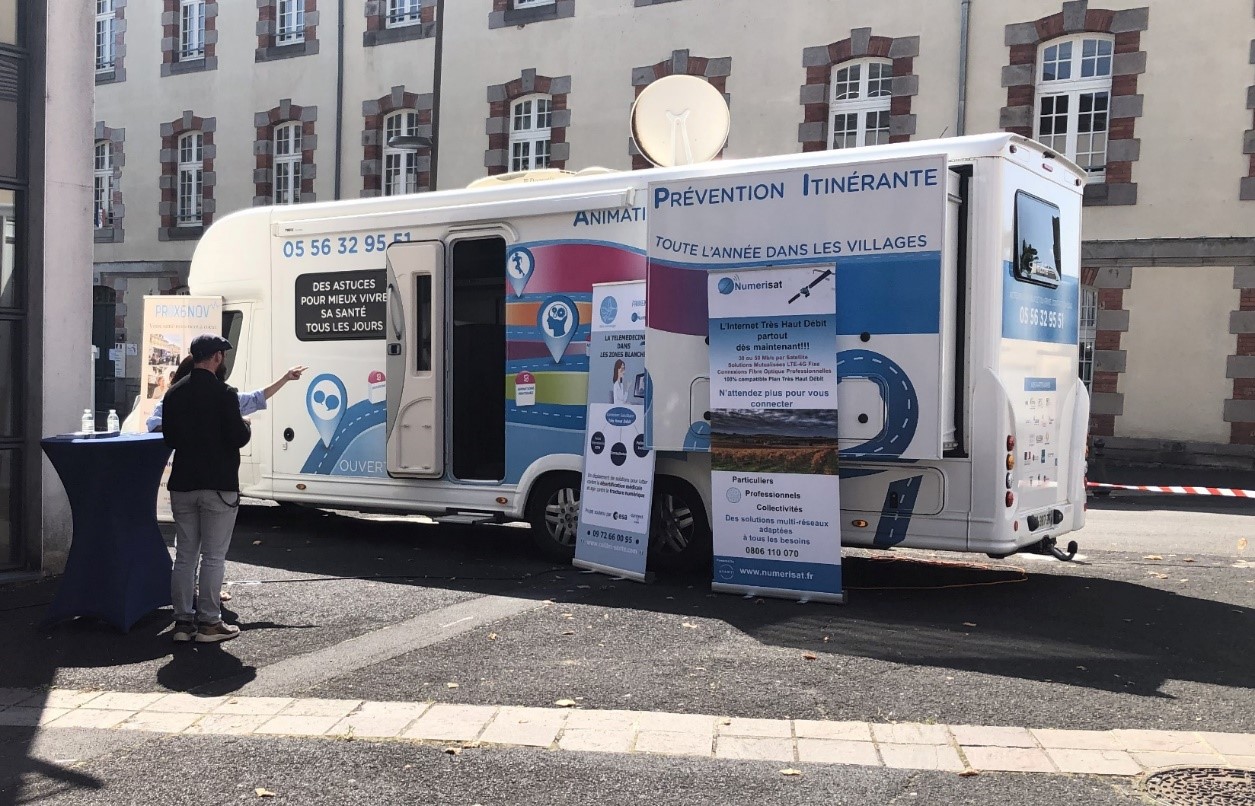 Users and their needs
The users and beneficiaries of the Colibri service include:
Isolated people (either geographically or in a medical desert or in a connectivity white area): senior people are the most penalised patients as they are not able to move easily. They also suffer from a very long waiting time before being able to get an appointment due to the lack of healthcare professionals in these areas. This is in particular the case for accessing specialized medical consultations (e.g. Ophthalmology, Cardiology, Dermatology) where the shortage of medical expertise is even greater.
Healthcare professionals working in rural areas: the number of doctors in rural areas is strongly decreasing creating a lot of medical deserts. The solution to face this evolution is to develop telemedicine services involving all medics professionals including nurses and pharmacists. The medical deserts are also often white area zones. So the development of E-health services needs both performant and cost effective telemedicine platforms and telecommunication solutions to provide efficient access to the services such as satellite broadband technologies.
Local communities (Villages or "Communauté de communes") facing the cases presented above situation are looking for sustainable solutions to offer proximity ealthcare services. This need has been reinforced by the Covid Crisis.
Service/ system concept
The Colibri service offers an end-to-end solution tailored to the user needs in order to support areas with limited or no internet connectivity and/or missing easy access to health services close to patients' homes. This service is possible thanks to the combination of all health resources available locally or remotely, and the coordination of actions between political, medical and social services.
In addition, Colibri is an opportunity for the population to access many digital services and optimise the bandwidth made available.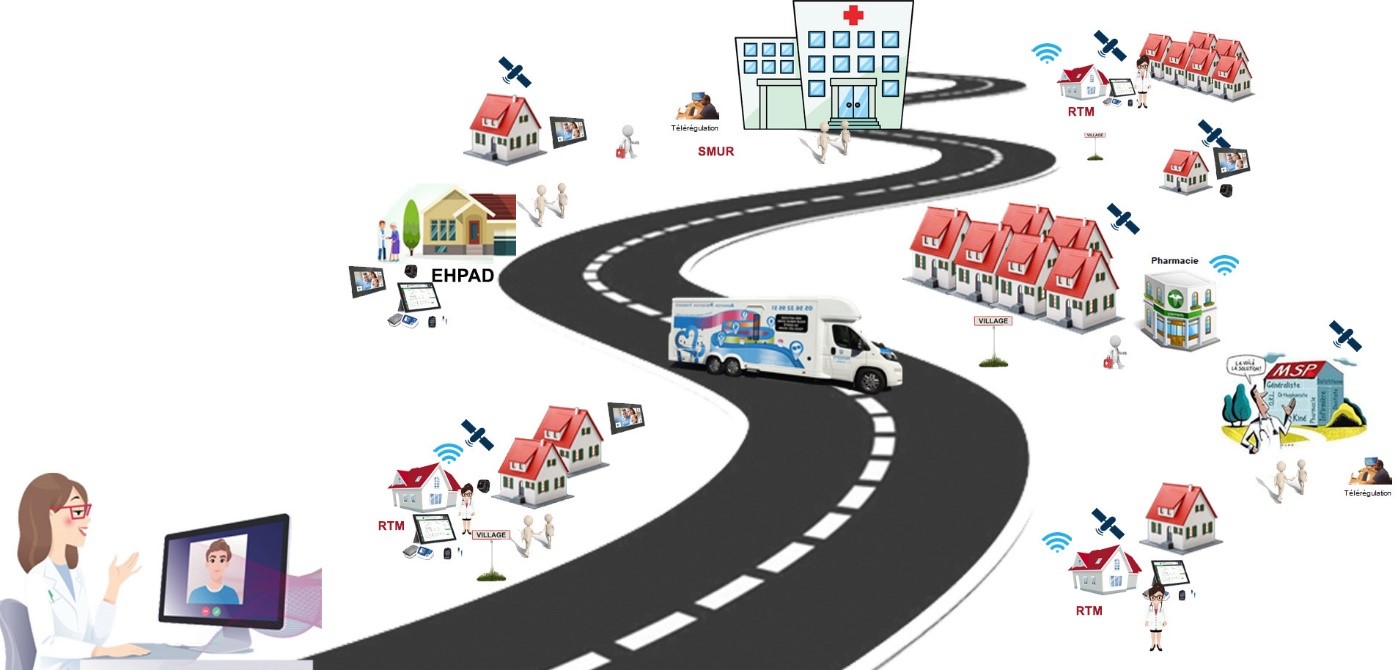 The different building blocks of the Colibri service include:
The Telemedicine Relay (RTM): The RTM is a location selected by the authorities of a small village / city (e.g. mayor). It includes a medical consultation room, where easy access is to (tele)medical services can be provided. It is equipped with digital devices (connected medical objects) and satellite telecommunication technologies, to ensure the transmission of health data in real time and in a secure way. The RTM can be positioned in order to serve up to a few villages.
The Consultobus: The Consultobus is a vehicle equipped with a satellite antenna and a 3G/4G and Wi-Fi connection system) and medical devices able to provide the same level of service as those of an RTM. It regularly visits small villages that are not equipped with a RTM.
Tablet and Telemedicine connected devices for isolated homes. Those products will be delivered to isolated people to allow them to have permanent access to various services (instant messaging with relatives, access to personalised services and 24-hour medical advice) as well as to monitor special pathologies.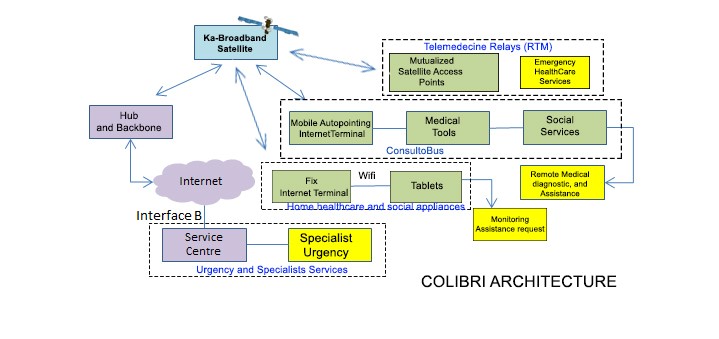 The Colibri service offers a portfolio of telemedicine solutions tailored to different user needs and allows to deliver full operational solutions both with the telemedicine products, broadband satellite telecommunication and medical teams trained to use the solutions. Those medical teams are composed of Liberal Nurses, digital advisors for telemedicine services named "BOSS" and "Doctors of Tomorrow".
Space Added Value
Colibri relies on the following space assets:
Satellite-based broadband Internet - 30 and 50 Mb/s services are provided using SES Network solutions for the RTM and Isolated sites and Ka-Sat for the Consultobus. Some connections can pooled and aggregated to provide services of 100 Mb/s and even higher.
Satellite navigation services are used to locate Consultobus vehicles and home devices.
Current Status
Following the activity kick-off in April 2021, the project team has been working on the consolidation of the user needs and requirements, in order to finalise the service and system architecture.
The specifications of the pilot sites are being finalised (technicalities and use cases) and about 20 potential sites are currently investigated in order to select the 6 pilot sites to be retained for the trials. Some connectivity tests have also been already successfully completed.
The Design Review meeting took place on 01 July 2021 and the next milestone is the Acceptance Review meeting, foreseen in October 2021.
Prime Contractor(s)
Subcontractor(s)
Status Date
Updated: 10 September 2021
-
Created: 10 September 2021