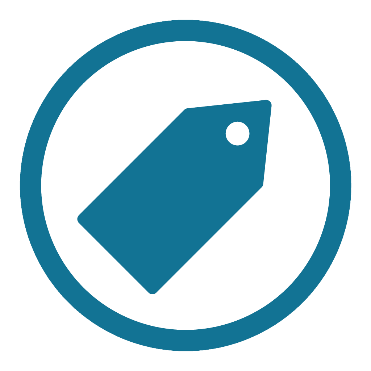 Objectives of the service
ConnieAI's solution operates to provide value for its users through a mobile app with detailed navigation. It also includes a "context engine", an AI component which provides guide content to users depending on their usage context (e.g. weather, time, and position). By integrating the Galileo satellite navigation system into ConnieAI's solution, the application is customized for highly accurate pedestrian positioning and navigation in narrow areas. For touristic applications, this is an optimal use, where more information of the users' surroundings is required.
For the zoo industry, detailed and customized navigation services are very limited due to mainly analogue means. ConnieAI therefore provides zoos with a solution that is customizable to their specific needs and with all relevant information they need to improve their visitor experiences, without having to develop or update their own software and application. By offering zoos a new digital navigation alternative, ConnieAI creates value for both its customers and the users.
Users and their needs
ConnieAI's solution offers the users (the zoo visitors) a higher level of customization for their needs and expectations of the visit. Using Galileo, ConnieAI provides highly accurate pedestrian navigation in the park, as well as the ability to access all the zoo's information and offerings as context-based services. Furthermore, the users' needs for good usability and multi-lingual content are covered.
For the zoo operators, the solution provides a new way of micro-managing customer flows through location data analysis and context-based information provision. ConnieAI offers the opportunity to provide zoos with a new kind of data-driven aid to rise their visitors' satisfaction level, to lower cost of maintenance, and to increase revenue by new digital service provision, and acquisition and retention of visitors.
Targeted users are tourists in Germany, especially visitors of zoos and cities.
Service/ system concept
ConnieAI offers zoo visitors a mobile, digital, interactive outdoor guide. It is built upon the contagt solution and ConnieAI enhancements which consists of the following parts:
Mobile Frontend: Tablet terminal and native smartphone apps/SDK with navigation functions for Android and iOS.
Hardware infrastructure in buildings: Bluetooth beacons (BLE) and tags with dynamic QR-codes/NFC-chips which can be placed on POIs.
Web-Backend/REST API: Customers can maintain their data, analyze user behavior (search, movement) and connect contagt with other systems.
A context-fencing engine that includes an AI which selects content that is relevant for the user. Context variables hereby comprise of geo-location, location history, user language etc.
ConnieAI DEMO includes the following new services for touristic settings:
3D-navigation map and on-site tested multi-data-fusion positioning including Galileo
Multi-stop routes for round-trips in zoos
Multi-language provision of content for foreign zoo visitors
Predictive analysis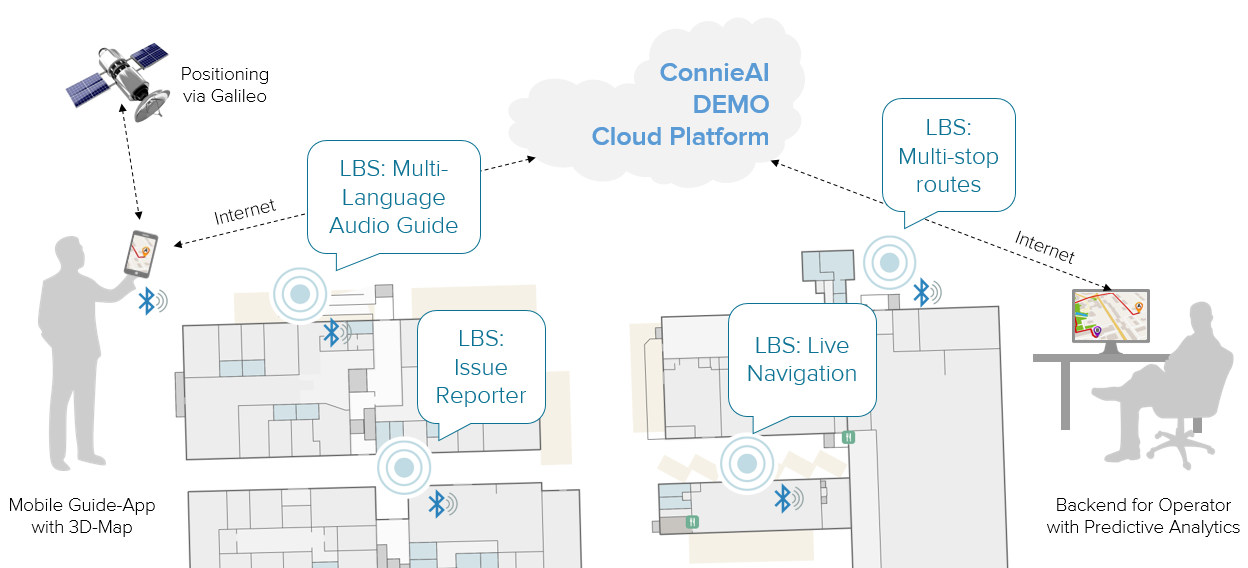 Space Added Value
The algorithms of the contagt Positioning System (CPS) combine several technologies to provide positioning (e.g. QR/NFC markers, Bluetooth, sensor fusion, GNSS etc.). For the zoo use case, ConnieAI enhances the satellite positioning algorithms with GNSS (incl. Galileo). Especially the combination of GNSS-based positioning with Bluetooth beacons in zoos with indoor/outdoor areas is a promising approach to create a powerful solution for both navigation and location-based services.
Current Status
The proposed features for the solution have been developed and internal tests have been conducted in zoos (Stuttgart, Karlsruhe) and in the city of Pforzheim. Results were evaluated. Factory Acceptance Test (FAT) and On-Site Acceptance Test (SAT) have been completed.
External tests with real end users have been conducted in the two pilot zoos (Stuttgart, Karlsruhe) and the results were evaluated and discussed with the zoos. Then test settings were transferred to potential related markets (city marketing departments). The testing took place in the City of Reutlingen and user feedback was integrated.
The project has been finalized successfully. First commercial customers for the solution were won.
Prime Contractor(s)
Status Date
Updated: 08 October 2020
-
Created: 30 June 2020