Objectives of the service
Climate change impacts coastal areas through the rise of sea level amplifying the impact of extreme natural events such as hurricanes and coastal storms. Sea level rise induces shoreline erosion, coastal flooding, water salinization and more, threatening the livelihoods, population growth, urbanization, and natural ecosystems. It drives thus significant economic losses and affects the built-up areas behind the coastline.

CORISCLIM is a coastal risk screening tool at global level to enhance your capacities, to anticipate and take actions to mitigate future coastal flooding risks wherever, to decide additional in-depth studies to revise land spatial planning and build coastal resilience.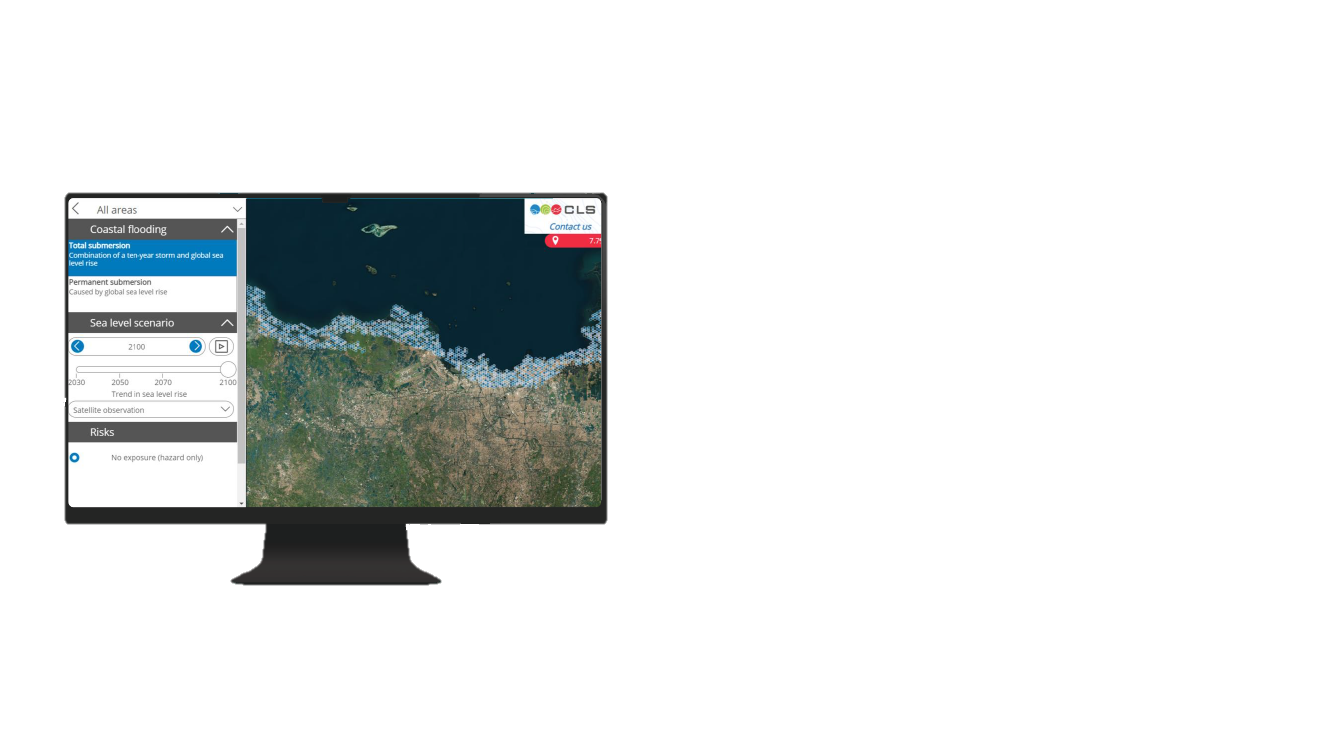 Users and their needs
If you are:
Coastal authorities anticipating future risks to protect the coastal communities, lives and property.

Coastal engineering firms & consultancies and companies managing the coastal zones and their risks.

Development banks or private investors funding climate resilience actions.

Climate Insurance firms evaluating future impacts on your clients' assets.

Environmental associations and organizations (NGOs) supporting climate change awareness and actions.
CORISCLIM is made for you. It answers your needs to:
Identify coastal areas potentially exposed to future coastal flood hazards due to mean sea level rise and extreme events with the most accurate information available everywhere in the world.

Prioritize and decide where to deploy your actions (insurance solutions, investments, financial support, lobby, awareness & stakeholder engagement, in-depth studies, …)

Communicate about future coastal risks with an appealing and easy-access tool to improve customer experience and support awareness and commercial promotional activities.
With CORISCLIM, you will
Assess the future risks at medium to large scale to prioritise and focus your actions based on multiple scenarios.

Be able to easily share this knowledge to support internal priority decisions.

Raise awareness of sea level rise impact and engage stakeholders.

Edit terms of references for in-depth impact studies or engineering expertise

Improve collaboration with practitioners and other stakeholders through an effective and impactful work supported by this tool.
Service/ system concept
The system and service architecture shown below enable to provide 3 service levels for the global mapping of coastal flooding due to sea level rise impact, accessible via an online visualization tool:
(1) Standard level - Free
Prognostics for 2030, 2050 and 2100, with or without 10years extreme events

Visualization only, zoom limit to 1 km

No subsidence, erosion impacts
(2) Advance level
Prognostics of Sea Level Rise per decade, 2030, 2040 2050, 2060, 2070, 2080, 2090 and 2100,

Resolution enhanced to 300m.

Visualization and access to products, with multi return periods of extreme events, (5, 10, 50 or 100 years), waves runup effect, subsidence, erosion impacts.
(3) Custom level
Same functionalities as advance level plus visualisation of external vulnerability maps considering local assets coming from customers or external databases.

Space Added Value
4 observing domains of EO satellites are involved in the CORISCLIM solution, the derived products are used as critical knowledge input to compute coastal flooding hazards.
Radar altimetry to monitor the ocean dynamics at world scale (sea level trends, waves, storm surges, tides)

Optical imagery to monitor coastal erosion at world scale and capture land cover/land use

LIDAR whose data are used for the Digital Elevation Model

Synthetic Aperture Radar to monitor land subsidence over Europe
Current Status
The project has started in February 2023 for 18 months.
The CORISCLIM service will be available early 2024 for demonstration, freely accessible on demand until July 2024.
The online platform will provide worldwide maps of future coastal hazards until horizon 2100 from the latest advanced research and satellite observations.
If you are interested to be a pilot user, please contact us.

Prime Contractor(s)
Subcontractor(s)
Status Date
Updated: 22 June 2023
-
Created: 22 June 2023