Objectives of the service
Beinn Bike is a tool that enables bike riders to find new and exciting routes where either their knowledge of an area, or their time available for planning, is limited. All that is needed is a few preferences such as ride distance, duration, elevation gain and/or technical difficulty and Beinn Bike will offer up the solution.
The current problem is that there are no routing algorithms available that generate new routes based on these preferences, and generally people do not have hours available to come up with the results by hand. In our modern, highly connected world, people expect the answer to be at their fingertips, which only Beinn Bike can provide.
The Beinn Bike solution enables adventure. This is achieved through a novel routing algorithm that can deliver routing options based on preferences inputted by the user. The system is currently available as a web application. The use of GNSS and Earth observation satellite data provides additional features such as ride time and insights into trail conditions (coming soon).
Users and their needs
The main user of this service will be any individual with an interest in cycling and technology. They will use the application for their own benefit to plan new and exciting routes that would otherwise be unknown to them without detailed planning. They want the best and most exciting routes possible, with the least amount of effort on their part, so that they can spend more time on the bike and less time in front of the screen. Other users include both private and public companies that may be interested in the data generated from the application. Public bodies may want to use it to understand population health, activity participation, land use and the effect of cycling on the environment. It may also be used to inform infrastructure development. Emergency services may also be able to use the data as part of search and rescue missions. Private companies may want to use the data for insurance purposes and determining the location of services (restaurants, cafes, bike shops etc.)
Worldwide.
Service/ system concept
After inputting their route preferences, the rider will be provided with a choice of routes that meet their specifications. The routes will be provided along with real-time weather conditions for the ride location and up-to-date trail information from Earth observation data. They will have the option to download the route file that can be used on smartphones / cycling computers / fitness watches for navigation purposes. After completing the ride, the route data will be uploaded to the Beinn Bike system, to improve the database for future users.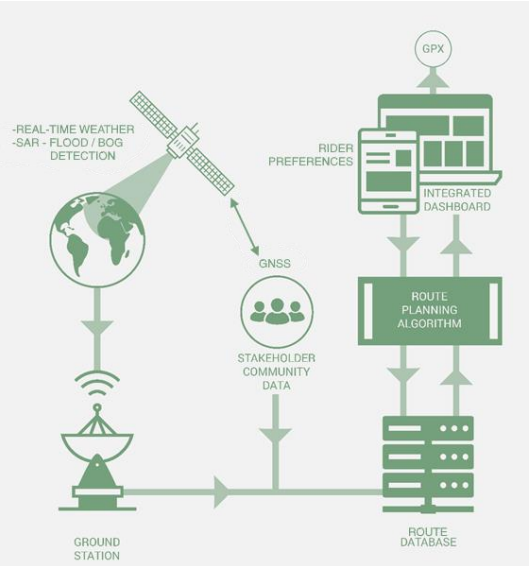 Space Added Value
The application uses two forms of space based data; GNSS positional information and Earth Observation data. GNSS data: When the rider uploads their ride, the data is processed such that trail-specific speed and timing information is added to the geographical database. It also ingests new route data that is not already available in the database and makes it available for future route suggestions. EO data: Weather, SAR and hyperspectral imaging space assets are used. Weather satellites are used to provide the latest weather forecasts for a route, including wind data. SAR can provide information on surface water; suggesting areas that are flooded or boggy. Hyperspectral image data can provide standard true colour images of an area, showing fallen trees or forestry work for example. It can also provide further information, by investigating the different bands, such as snow cover.
Current Status
There is a working version of the application for a test area in central Scotland. This is a web-based application. The project is currently being progressed following feasibility through the ARTES Kickstarter programme, which will see development through to a commercial product for Europe.
Prime Contractor(s)
Status Date
Updated: 07 March 2018
-
Created: 07 March 2018