Objectives of the service
The project's objective is to develop a service that estimates Gross Primary Productivity (GPP) and Net Primary Productivity (NPP) as indicators for stored Carbon in vegetation based on the Light Use Efficiency (LUE) model using remote-sensing imagery. We hereby make use of the relationship between GPP and NPP and carbon storage based on the principle of photosynthesis. The model results will be incorporated in a user-friendly interface in the form of maps, graphs and other visualization and information tool, providing clear and easily interpretable representation of the carbon storage within a study area. The aim is to increase transparency, awareness and provide information on past and present carbon storage in the context of greenhouse gas emissions and climate change. The service is intended to support the implementation of sustainable management strategies and facilitate the monitoring and certification processes of carbon offset projects. By providing a cost-effective, reliable and transparent carbon storage monitoring tool based on remote sensing data, we aim to support and simplify the monitoring of CO2 storage globally and for different spatial and temporal resolutions.
Users and their needs
Potential users are landowners or agribusinesses, project developers and carbon offset certification entities (NGOs, governmental entities, companies and individuals). User needs include:
The definition and positioning of a project area

Accurate estimates of carbon balance

An appealing, user-friendly user-interface with different access roles and service options

A simple and economic subscription plan
Though in the beginning of establishing the service the focus will be on the german speaking region and Europe, following a global approach, the service is aiming to target international users and entities.
Service/ system concept
Users will be able to select an area interactively on a map, get the carbon balance of their area of interest (AoI) in the form of maps, charts, tables, time-series and downloadable reports and will be able to integrate the map results into their website. Furthermore, additional features like plant health and comparison analysis shall be optional.
The system architecture is based on 4 main modules - the data acquisition, storage, processing and analysis and the client web application. All processes along the processing pipeline are automated.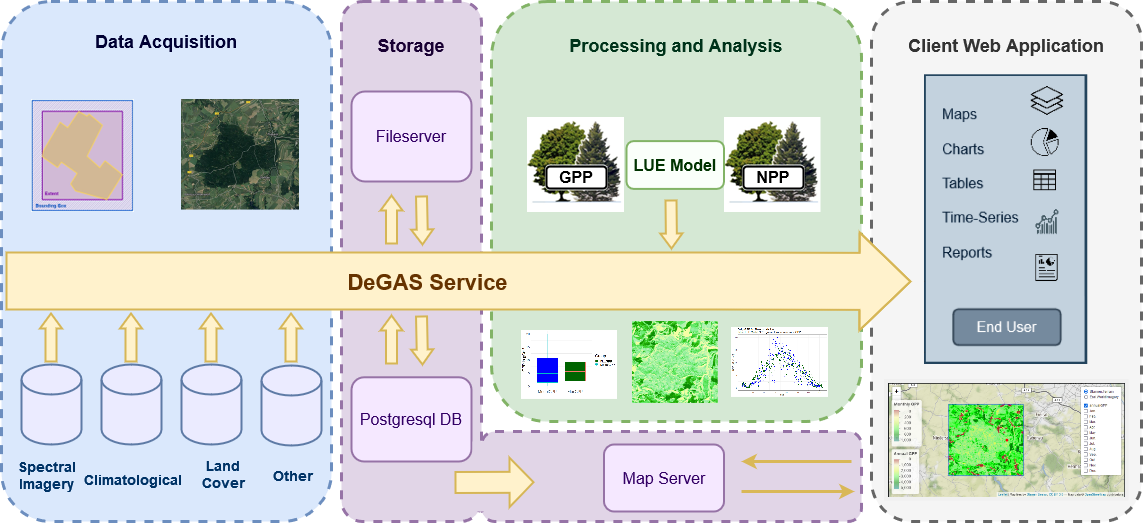 Space Added Value
Space assets used:
ERA5-Land hourly data from Copernicus Climate Change Service (C3S) Climate Data Store (CDS)

USGS NASA Landsat 5-9

Copernicus Sentinel 2

Copernicus Global Land Cover Layers-Collection 2
Added value:
One major advantage is the global coverage and applicability, which allows for continuous monitoring with large spatial and temporal coverage. With a spatial resolution of 10 to 30 m the service provides a more detailed analysis of a project area. Additionally, using remote sensing data reduces costs compared to ground-measurement-based approaches.
Current Status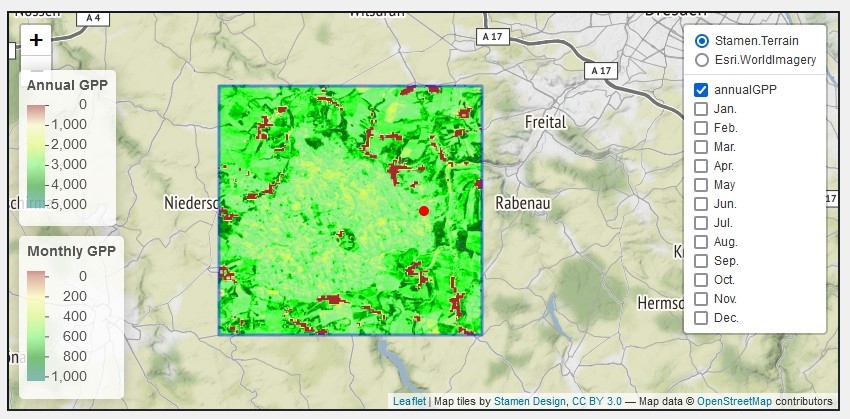 In the scope of the ESA Kick-Start project DELPHI IMM defined the user and customer segments, evaluated the economic feasibility and conducted a test analysis for the Tharandt forest area in Saxony, Germany. The FLUXnet GPP measurements of the Tharandt station for year 2014 served as validation dataset. The test model provides reasonable GPP estimates with a correlation coefficient of 0.83. In the next months we are planning on evaluating the model for further test sites with different forest types and biomass to gain information on the global applicability.
Prime Contractor(s)
Status Date
Updated: 24 April 2023
-
Created: 24 April 2023