Objectives of the service
DFMS4i targets the agriculture insurance market in developing countries, with a focus on Uganda. Agriculture insurance in developing countries is a key enabler to support smallholder farmers in transitioning out of basic subsistence farming to more resilient farming operations. Crop insurance or weather index based insurance could help mitigate weather-related risks (e.g. from droughts and floods). However, the uptake of agriculture insurance in developing countries is low, primarily because insurance premiums are unaffordable for most farmers.
Insurance premiums are strongly dependent on accurate, reliable, and up-to-date information on risks and events. While some insurance companies do currently use Earth observation (EO) data, technical constraints, such as coarse spatial resolutions; infrequent updates; lack of drought/flood event forecasting capability; and limited ability to verify insurance claims, limit uptake. Overall, this results in risk being assessed as high and significant operational costs, leading to the high premiums that currently hinder market uptake.
The DFMS4i project addressed this issue by developing products specifically targeted at agricultural insurance. As part of the overall Drought and Flood Mitigation Service (DFMS – www.dfms.co.uk) currently under development by a Consortium led by the RHEA Group with funding from the UK Space Agency's International Partnership Programme, DFMS4i products will provide timely access to geospatial information on drought and flood risks, compiled using on EO data (Sentinel), hydrology models, and in-situ data, improving the robustness and affordability of insurance products.
Users and their needs
DFMS4i services are targeted at insurance companies, assisting them in providing more attractive agricultural insurance services to agriculture industry stakeholders in developing countries, such as Ugandan smallholder farmers, farming cooperatives, agro-industry and the associated supply chain.
More spatially accurate, reliable, and frequently updated information on drought and flood risk (ex-ante) and situational awareness (ex-post) will help insurance companies better assess risks and event damages, and enables more efficient management and processing of claims following an event. This will reduce operational costs, which allows for lower premiums, making insurance more affordable and less dependent on public subsidies.
The key needs that insurers have are:
Identification of drought/flood risk areas, with high spatial resolution (e.g. field-level information);
Associated forecasting capability for drought and flood events;
Post-event, information on the location of areas under flood or drought, and in particular the location of areas most affected, in order to support insurance companies during damage assessments;
Capability to geo-locate crops to ensure that their location matches the area covered by insurance.
Insurance companies active in developing countries, with an initial focus on Uganda, are the targeted users.
Service/ system concept
DFMS4i will provide access to geospatial information on drought and flood risks, based on EO data (Sentinel), weather forecasts, hydrology models, and in-situ data. Expected DFMS4i products include drought/flood early warnings, drought and flood risk assessments, crop yield impact data, and post-event situational awareness. The high resolution and frequent revisit time from Sentinel offers more frequent information updates and finer, field-level information, that can be used to augment (and eventually replace) MODIS and other data sets currently used by insurance companies.
DFMS4i may support increased automated processing of insurance claims, by facilitating the automated sharing of insurance-relevant information between stakeholders during the post-event claims management processes. This could lead to lower operational costs for insurers.
DFMS4i is enabled by the DFMS system that has been designed as platform for data aggregation and integration, and could also provide a means for more information and data exchange between insurance stakeholders. The DFMS platform will provide open access to resources and software analytics that third parties can build on to provide other insurance-related products and services.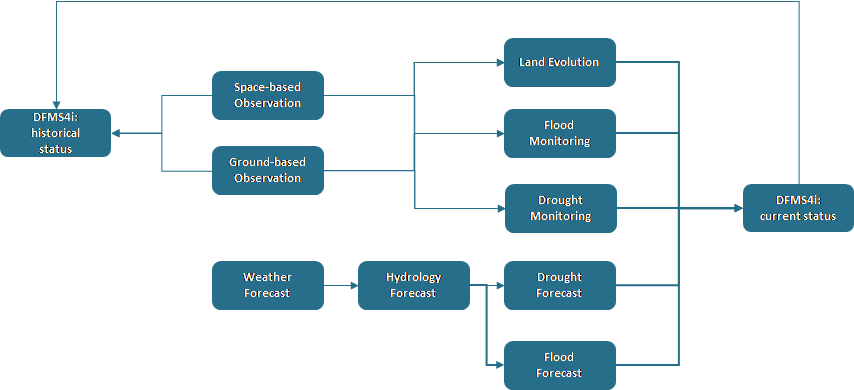 Space Added Value
The main space assets are Sentinel data. The main advantage of these data is that they can cover a large area (of often difficult to reach locations), spectral resolution is conducive for identifying, assessing and monitoring agriculture on a regular basis and are free to use. They can be used to support both risk assessment and loss adjustment activities. Sentinel-2 and MODIS are affected by cloud cover, and might have to be augmented with Sentinel-1 or other radar data.
Non-space alternatives such as aircraft, UAVs or sending people to evaluate the properties on a regular basis would be prohibitively expensive, although in-situ visits of loss adjusters will still be necessary to establish the veracity of claims in many cases. EO can assist in targeting these efforts.
Imagery at different spatial and temporal scales can provide information from species level right through to the wider area perspective; tracking cause, effect and change not directly possible with field work, particularly where areas are difficult to access on foot.
For example, NDVI is an indicator of vegetation health and may indicate the effect of a drought affecting vegetation. (image below: Example of NDVI mapping)


Current Status
The project started in December 2017 and was completed in July 2018. A follow up phase in which DFMS4i products would be implemented in DFMS and tested under real-life condition is being considered.
Prime Contractor(s)
Subcontractor(s)
Status Date
Updated: 18 July 2018
-
Created: 14 February 2018