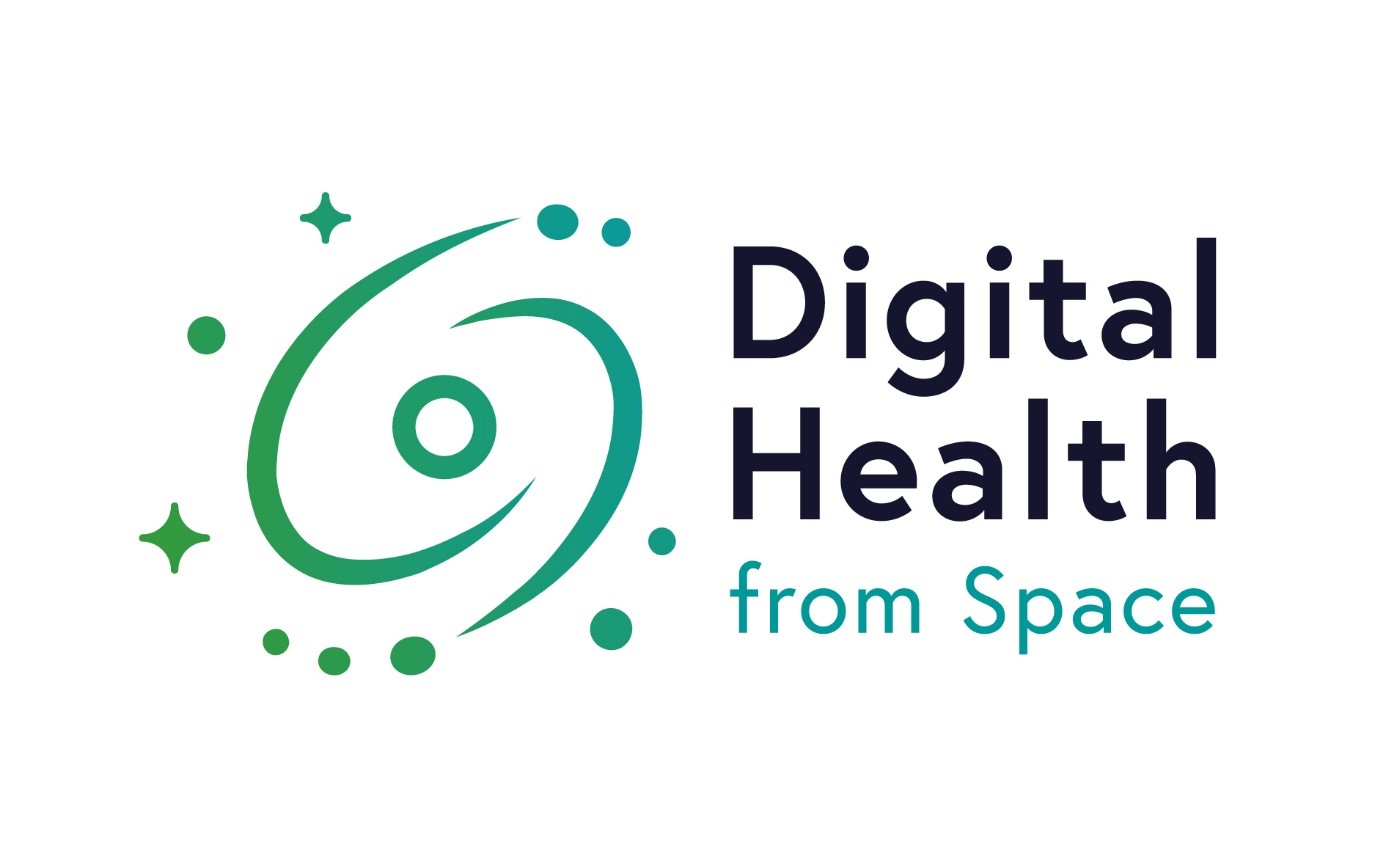 Objectives of the service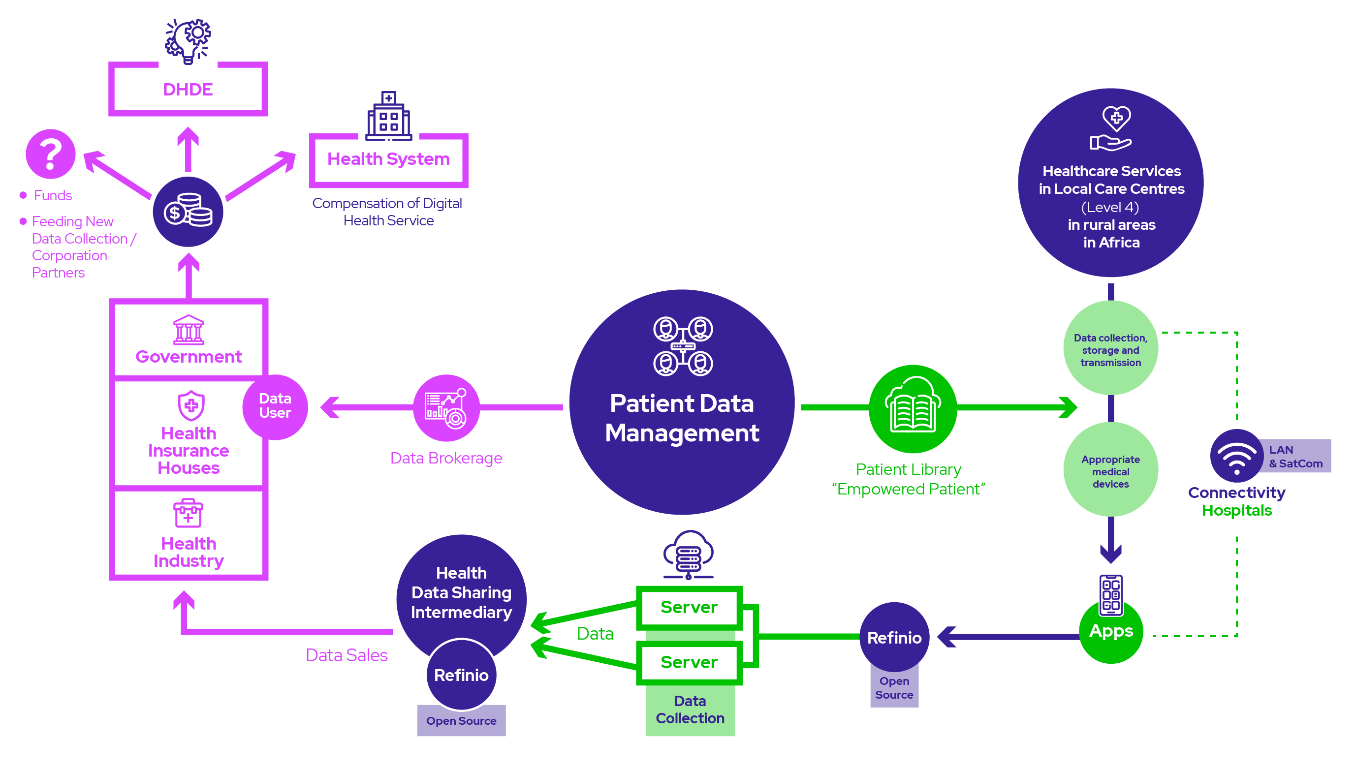 Healthcare services are an essential part of sustainable development goal number 3 "Good Health and well-being".
Chronic diseases like cancer, diabetes or repeated infections like malaria, tuberculosis, HIV involving substantially the late outcome of an involved patient results in increasing morbidity and mortality in this population. It decreases the socio-economical and socio-cultural background of the country. Frontline health workers and care institutions are asking to get integrated solutions for better management of these challenges.
With focus in Africa, SCE2 is considering relevant components to plug into existing health infrastructures, as well as new end-to-end solutions, starting with a first use-case related to the screening of Cervical Cancer as it is the most warranted need for women in developing economies according to the WHO strategy.
Quality and availability of healthcare services, especially in rural communities, is a big challenge in developing economies. This project is fostering connectivity and enable seamless interaction between primary and lower graded care centres. Satellite assets (SatNav,SatCom and SatEO) are the key elements to reach underserved areas as an important unmet need.
Users and their needs
ESA has established cooperation with Wish Foundation (India) to accelerate innovation through space assets and advance the provision of seamless and sustainable healthcare in developing economies. Therefore, targeted users were in Africa, starting with Uganda and in India, with a clear focus - for both countries - on rural areas, having 80% of the population there.
Three Areas of interest have been identified with respective user needs as described below:
Health information digitalisation

Smart monitoring of rapidly spreading infections (such as SARS and COVID-19)

Smart monitoring of country wide data related to symptoms of these diseases allowing rapid reaction for diagnosis and containment

Development of a Decision-Making System

Predictive Analytics Tool

Improving diagnosis and treatment

Allow health workers to improve clinical performance through real-time assistance with clinical decision-making and diagnosis

Monitoring all data pertaining to Ischaemic Heart Disease (IHD)

Last mile healthcare service delivery and enabling technologies

Use of tele-education and monitoring technologies primarily focusing on supporting elderly care

Enhance health service access to poor and unserved (rural) communities, including solutions to shift medical treatment from primary care to Home Based Care (HBC)
Service/ system concept
Ranging from the 'end user' lowest level, closest to the patients and for instance represented by midwives and nurses in a Village Health Team (VHT - Level 4), up to the highest level of national health care units like main hospitals/centres in main cities (Level 1), both the prerequisites and requirements at each of these levels are typically quite different, providing various challenges and opportunities for the beneficial use of space technologies.
Across all levels, though, there is one basic need which is also a mandatory element for all health needs and requirements expressed in all areas of interest: The basic need for bidirectional data exchange: (i) relevant personal health data, complemented by location and position of patients and VHT personnel from the remote places, and (ii) health instructions and map data to these remote places.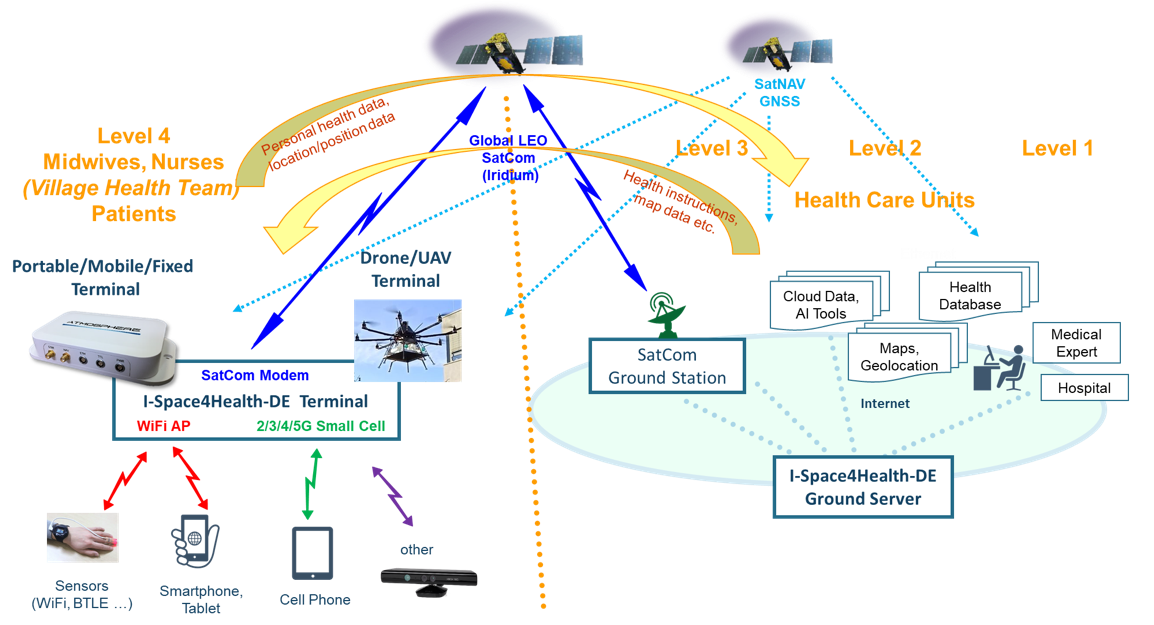 Space Added Value
Obviously, Satellite Communication has to offer significant value here due to its wide area coverage feature, especially in remote regions which are otherwise unconnected.
Combined with relevant position information globally available through Satellite Navigation and added value through various information derived from Satellite Earth Observation, such health data effectively become instantaneously accessible, meaningful and useful at the right place, with the right stakeholders.
Hence there are explicit calls for integrated applications and (better) truly global connectivity to ensure the underlying exchange of information in all formats (data, voice, pictures, video, etc.), and to make the information really useful for the respective users.
Current Status
Started 1st of July 2021, SCE2 conducted in the first 3months the initial project phase dedicated to Analysis and Consolidation of User Requirements through questionnaires sent to stakeholders in Germany (https://www.charite.de/en/), India (https://wishfoundationindia.org/) and Uganda (Salem Corp.), followed by regular meetings with WISH Foundation Teams.
Thanks to this initial work, SCE2 has considered three different types of services:
Healthcare service concepts definition integrating with existing solutions

Data assessment using artificial intelligence in satellite data

Data visualization incorporating data gathered from stakeholders
The next 3 months were focused on activities related to the System Requirements and Specifications, the Definition of the related Services and their respective Business Models.
Activities for the second half of the project were related to Health Data collection, management and sharing with patient consent, both from a business plan and a technical implementation perspectives, with a first use-case on cervical cancer screening.
The last 3 months of the project were focused on activities for testing the solution foreseen through a Proof of Concept (POC) done in Germany, developing the Business Plan for the Demonstration Project and preparing such Project.
DHDE Final Review occurred on the 15th of September 2022 and the Final Presentation was held on the 20th of September 2022. This event was public, attended by 30 people representing all types of stakeholders.
DHDE Feasibility Study has been declared successful and a Demonstration Project is in preparation.
Prime Contractor(s)
Status Date
Updated: 05 April 2023
-
Created: 12 April 2022