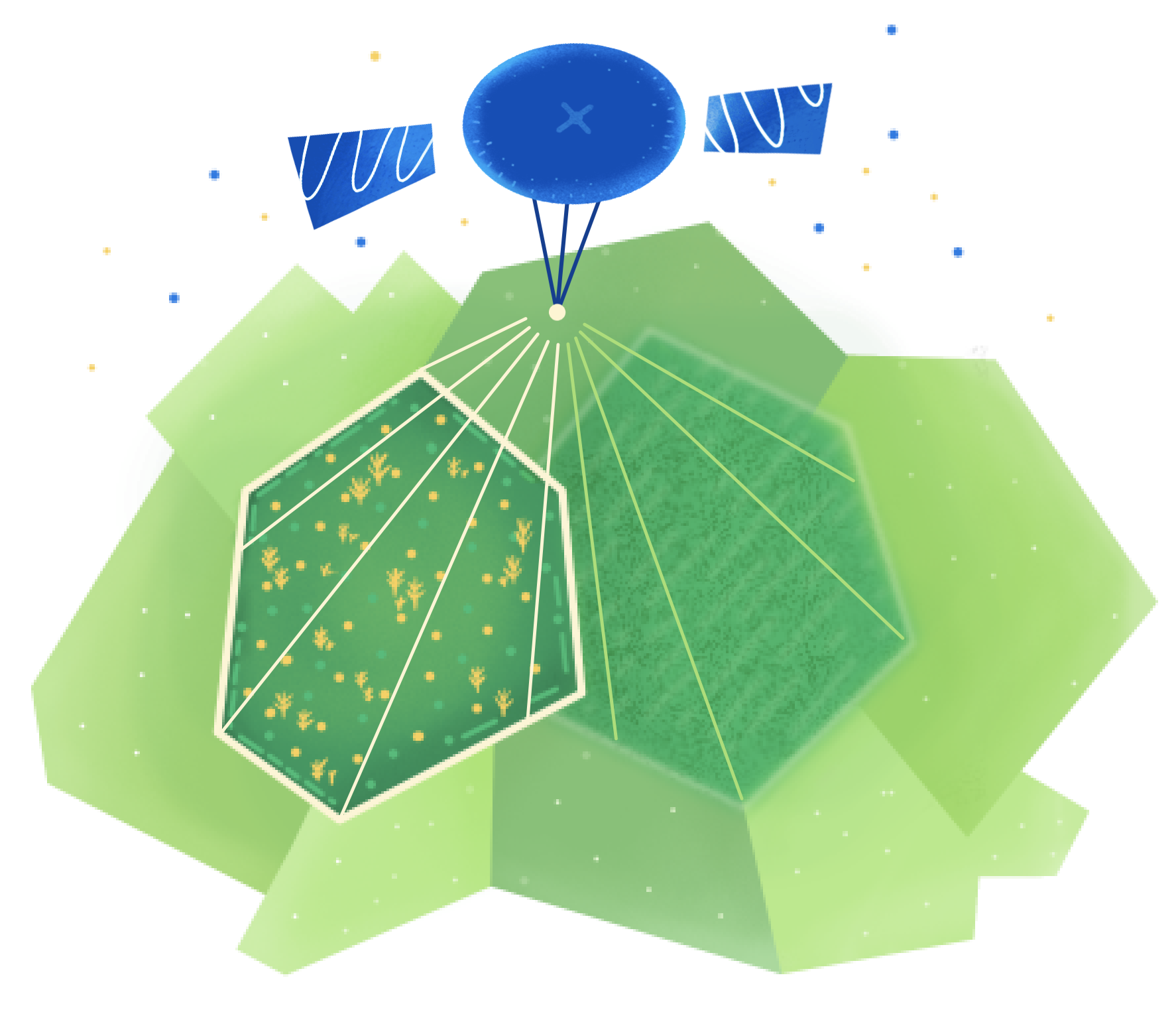 Objectives of the service

All precision agriculture services start with accurate field boundaries and seeded acres. Unfortunately, the problem is we're making critical decisions based on inaccurate data which is affecting the entire agricultural value chain from pre-production to retailers. Large scale boundary data is managed through cadastral maps and national agencies: AR5 (NIBIO) in Norway which date back to 1990s, LIPS in CAP (EU), CLU's in the US which are over 12 years old. As boundaries and seeded acres change continuously, this existing map data becomes unreliable and inaccurate. DigiFarm found in early discovery that over 20% of all field boundary data in Norway are inaccurate. DigiFarm solves this problem through developing deep neural network models for automatically detecting the highest accuracy field boundaries and seeded acres worldwide, using our model for deeply resolving Sentinel-2 from 10m to 1m resolution.
Users and their needs
DigiFarm's end users are farmers and growers while DigiFarm's paying customers are B2B and B2G partners across the entire agricultural value chain, ranging from FMS-providers (Farm Management Software), crop insurance, financial institutes (banks), soft commodity based traders, food processors/retailers, land management, government agencies (agriculture). Our models will help our clients (and users) optimize prediction capabilities, logistics, crop-yield forecasts, determining in-season crop-damage, reduce operational costs and increase revenue, creating stability to the sector. The primary application field is within agriculture and specifically precision agriculture, however, the data and models DigiFarm delivers have significant use-case and value-add for the entire agricultural supply-chain from pre-production all the way through retailers. The targeted primary market of users are the EU-regions while our secondary market includes North America, Latin America and Australia.
Service/ system concept
DigiFarm intends to work with B2B and B2G partners in the agricultural space. DigiFarm's services will be comprised of four key modules including:
Field Delineation Model: automatic detection of field boundaries and seeded acres
Crop Classification Model: automatic detection of crop type on a field, retrospectively and during growth seasons
Zoning: automatic identification of field productivity zones based on EVI/NDVI analysis over a 6-year period. Zoning is the baseline for Variable Rate Technology (VRT) for crop input optimization algorithms including: crop protection, seeding and fertilization.
Deeply Resolved Sentinel-2 imagery at 1 meter per pixel resolution in growth seasons and on-demand.
These services will be delivered through various API endpoints directly into our clients digital solutions, enabling them to run their analytics and algorithms on top of our baseline data. Here is a high level level overview of the system architecture: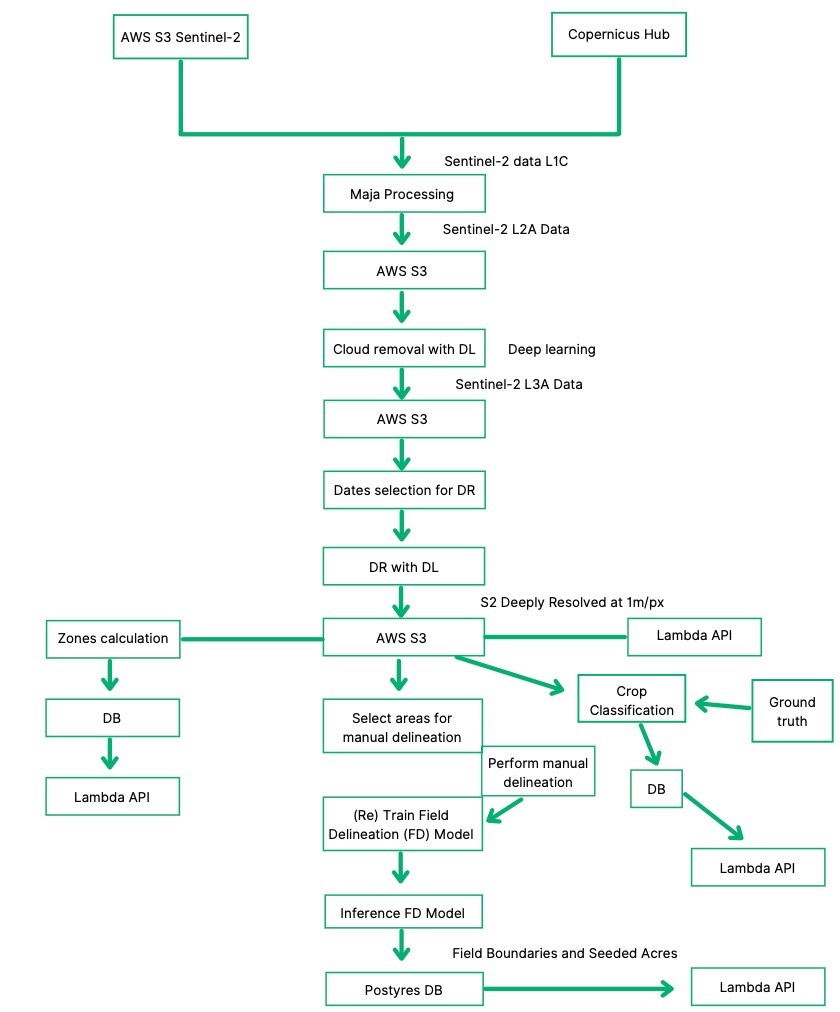 Space Added Value
A critical component of our model input is EO-data, in particular, DigiFarm leverages both Sentinel-1 and 2 data for all of our detection models, including field boundary and seeded acres, crop classification and zoning. The ability to have the high temporal (and spatial) resolution represents a key aspect of the ability for us to deliver highly accurate and timely models throughout the growing season, where EO-data is the most effective data source. DigiFarm has developed a proprietary deep neural network model for deep resolving Sentinel-2 downscaling it from 10m to 1m resolution, which is crucial for analyzing field sizes smaller than 2 hectares, which represents over 83% of the world's agricultural fields. The system can create multi-temporal data which has significantly improved the accuracy of our Field Delineation Model results and accuracy.
Current Status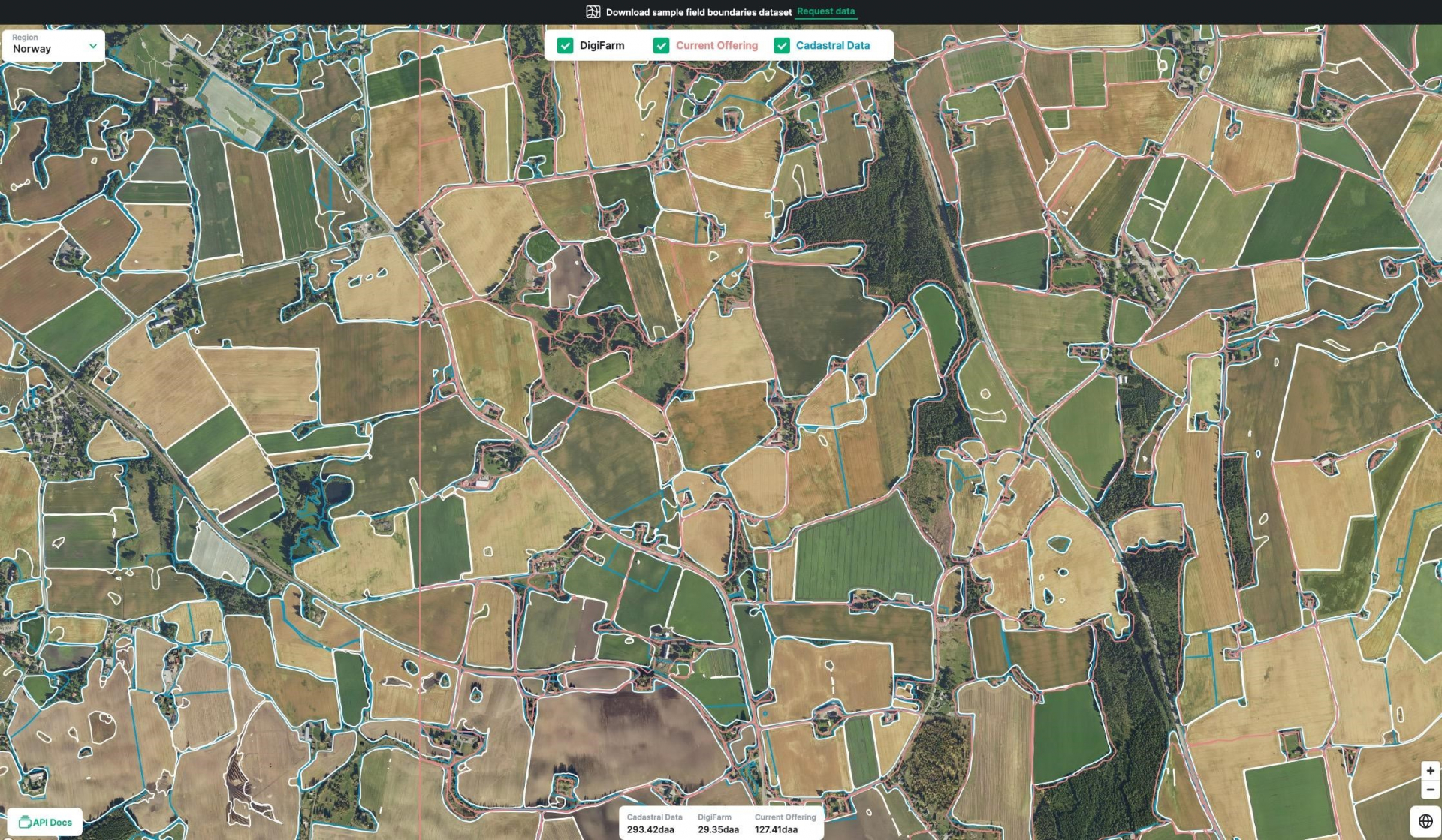 DigiFarm successfully completed the ESA Commodities Kick Start in June 2021 and has secured pilot projects across 7 countries including the US, Canada, Germany, Norway and Myanmar with Felleskjøpet, Corteva, KWS, Awba, World Wildlife Foundation (WWF) and CNH Industrial. An ESA Demonstration Project is intended in the short term due to interest from end users and promising Kick Start results.
Prime Contractor(s)
Status Date
Updated: 19 March 2021
-
Created: 19 March 2021