Objectives of the service
Designed by divers for divers, Dively aims at enhancing your experience while boosting your safety.
Because environmental conditions pose genuine risks to scuba divers, getting information relative to your selected diving spot is crucial. Dively can help you selecting and planning your next dive by providing you at a glance the most important information on the weather and other environmental conditions for that specific site. Dively also provides a user-friendly underwater 3D view of the Earth, featuring existing and potential dive sites, so you can get familiar with a dive site and plan an itinerary.
Users and their needs
Although Dively is aimed at all underwater sports fans, e.g. free divers, snorkelers, it was designed with a special focus on scuba diving, both professional and recreational.
Generally, divers need to:
Assess environmental conditions before starting a dive for increasing their safety;
Plan and discuss their dive itinerary;
Take note of the exit points and other safety aspects;
Report the environmental conditions of the dive in their logbook to help future planning.
In addition, dive professionals need:
Environmental data at a glance to:

Select dive sites;
Choose the right gear;
Make an accurate pre-dive briefing;
Help student fill out their log book;

Visualisation means to:

Show the dive itinerary;
Make an accurate pre-dive briefing;
Promote the dive centre with its surrounding underwater area.
On their side, recreational divers need:
Environmental data at a glance to:

Select dive sites;
Select dive holiday destinations;
Choose the right gear;
Fill out their logbook;

Visualisation means to:

Discuss and plan dive itinerary;
Explore new dive sites.
France, Germany and United Kingdom initially.
Service/ system concept
Dively acquires earth observation data from online archives and processes them into formats suitable for representation in mobile applications and on the web.
The user interface has a map as central element. The interactions with the map allow the discovery of dive sites and their characteristics.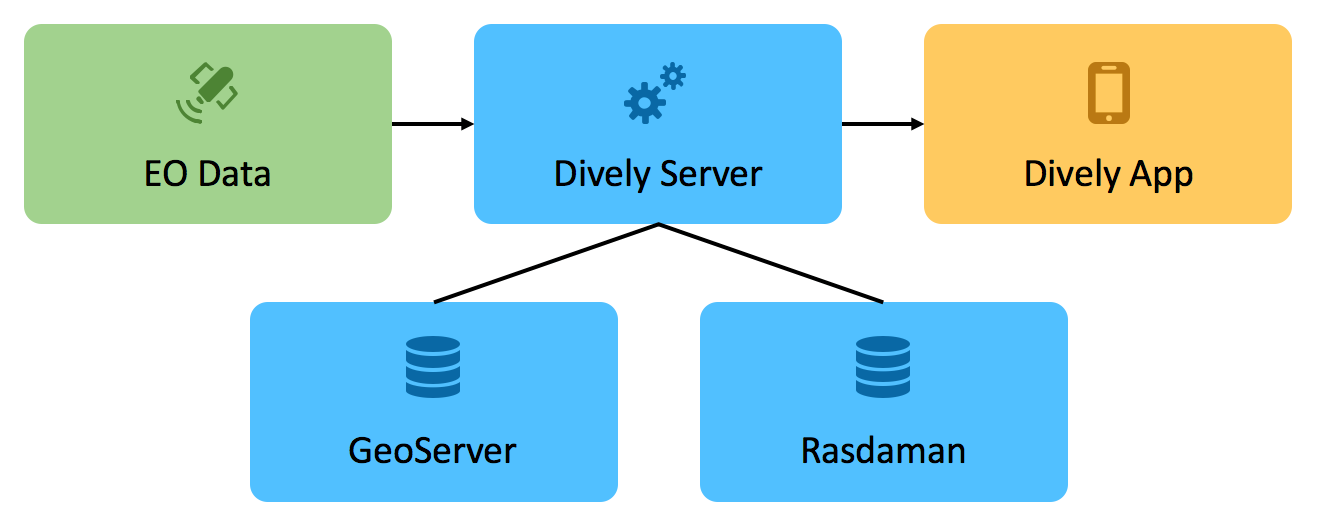 Space Added Value
The study confirmed that satellite-derived bathymetry is suitable for creating 3D underwater views useful to divers. In addition, the study assessed model-based forecasting fed with earth observation data for the provision of the environmental indicators. The main driver for using satellite-derived data is to achieve a larger coverage of dive sites than competitors.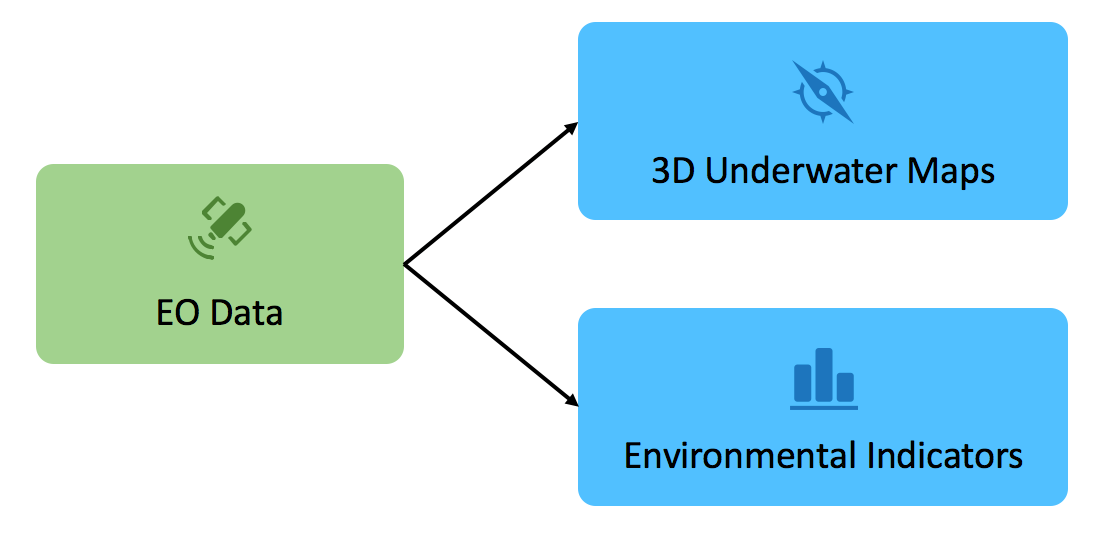 Current Status
The Dively Kickstarter Feasibility Study has been concluded successfully in December 2017.
The study was successful, in particular in terms of user engagement. This is shown by the 400+ responses collected in a short time via the online survey as well as the numerous pieces of feedback collected via social networks. This is further highlighted by the 100+ persons, who left us their email address for further updates or proactively wrote back with ideas. This confirmed that there is a large, concrete interest from users to see Dively become a reality.
Another very positive aspect of the study was the demonstration that solutions exist and can be efficiently implemented by Solenix for solving the key technical challenges. This led to an achievable system architecture that relies on established open-source systems plus bespoke software developments.
Moreover, the financial sustainability assessment showed that it is possible to develop and exploit Dively in a profitable way with the proposed business plan. Nonetheless, Solenix is currently considering alternative approaches in this domain. In particular, a business model including partnerships has been discussed towards the end of the study and talks are on-going with potential partners.
Prime Contractor(s)
Status Date
Updated: 19 December 2017
-
Created: 08 September 2017