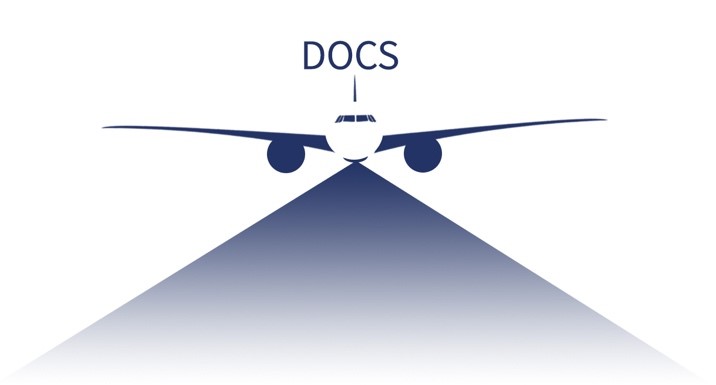 Objectives of the service

The ORCA (Optical and Rf Constellations on Airplanes) project plans to use commercial airliners as a platform carrying small remote-sensing equipment, which would image the ground as the planes travel on their regular routes. A constellation of such payloads, hitching a ride on the thousands of aircraft flights crossing the continents every day, provides coverage and revisit frequencies not possible with current satellite-based systems and at the fraction of the cost.
Climatic change and related phenomena, such as Forest fires or Urban Heat Islands, key applications targeted by ORCA, are major social problems, their monitoring and reduction is benefiting from Earth Observation, identified as "An invaluable tool for climate action" in COP26. However, the performance of current EO satellite and drone alternatives do not match the needs required for wide areas monitoring, in particular when combined high resolution and frequent optical and thermal data is needed.
ORCA provides a solution offering wide area (Country/Continental), high resolution, frequent optical and thermal data at low price. Simulations of an ORCA constellation demonstrated exceptional capabilities in terms of its coverage and revisit times. Even with a single airliner's planes (e.g. 100 airplanes), excellent coverage is realized over Europe.
The DOCS-2 project is the first step towards ORCA's commercial deployment, which enables a whole new range of applications such as affordable infrastructure monitoring, resource management, detailed monitoring of the environment and the atmosphere or forest fires monitoring. With over 30,000 flights per day over Europe alone – all of them potential ORCA-carriers – ORCA is 'the missing layer' from which SkyfloX aims to extract additional value. As the airplanes are 'sensor agnostic platforms', this hosts an untapped promise for countless Earth observation and telecommunication applications.
ORCA has been labelled by the Solar Impulse Foundation as one of the 1000+ solutions for the transition into a sustainable economy and received an European Commission Seal of Excellence.
The equipment will be fully certified, will not interfere with regular aircraft operations, and will be operated by the ORCA operator (thus, no intervention is required by the pilot or the airline).
Payloads can be adapted to the mission and upgraded/replaced at every maintenance of the airplanes.
ESA co-invested in the pilot project together with SkyfloX and its partners, which included major airlines Luxair and Transavia, as well as strategic aerospace players such as Germany-based Safran Engineering Services and Kampf Telescope Optics, Luxembourg's Euro-Composites and EmTroniX, and Swedish Spacemetric.
The team addressed ORCA from the technical, business and legal points of view, optimised the system design and operations and assembled and tested the first, Block I, payload and associated ground segment.
The Block I payload (shown below with its protecting cover), designed to be 'a minimum payload supporting a maximum number of applications', makes possible unique, co-registered optical(metric) and thermal (15m) multi-daily imaging, at a fraction of the current price in the market due to lower CAPEX (two orders of magnitude) and OPEX.
The Block I payload (shown below), designed in DOCS-2 to be 'a minimum payload supporting a maximum number of applications', includes co-registered optical (metric) and thermal (15m) cameras, which will enable a whole new range of applications, such as: pan-European, multi-daily land surface temperature measurement, Urban Heat Islands, Forest fires, infrastructure monitoring and several other commercial and governmental applications, disrupting existing, and opening new, markets, thus democratizing EO by allowing services that are either inconceivable or too expensive using existing alternative systems.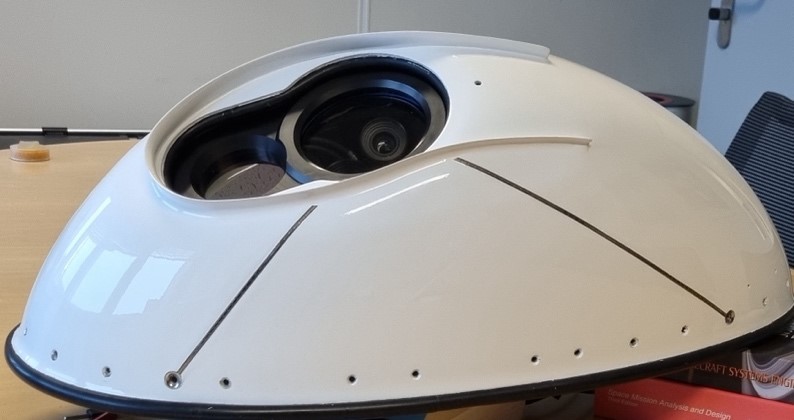 The coverage simulations show that , even with a single airliner's aircraft, excellent coverage is realized over Europe (such as with the 167 aircraft TUI Group fleet) or even with a smaller number of planes at Country level (with 46 aircraft of Aegean Airlines) in the examples below.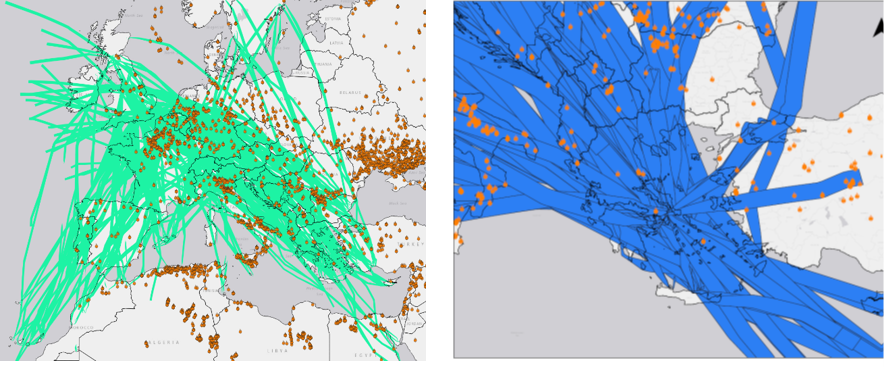 Co-registration of optical/thermal cameras (same area / angle / illuminations / shadows) in Block I payload, is a key advantage for fusing meter class optical and decametre class thermal data to generate a unique fused product of 3m GSD class : this is a valuable, unique ORCA product.
Shown below is such a fused image (using images from breadboard flight-test campaign over NL ) : superimposed on a basemap is a fused optical/thermal image, enriched with 5 m interval contour lines highlighting the shapes/sizes of man-made structures, helping to extract urban intelligence that is otherwise not visible either by interpreting only the high resolution optical or the lower resolution thermal orthomosaics.

ORCA is a complementary system to reference satellites such as Sentinels, and combination/fusion of ORCA and Satellite data will produce new products and services, adding value to both satellite and ORCA data.
Such services create cross-industry value:
Airliners will be able to extract unexploited value from their existing infrastructure

Constellation and application/service developers/users benefit from the new 'platform' through decreased cost, as it solves the costly launch and operations issue

A new market is opened for CubeSat and UAV payload manufacturers and equipment providers

A new source of data for EO service providers and value-added resellers
Transavia's Innovation Lead Brit Haarmans stated: "At Transavia, we consider this a revolutionary project, which will allow us to improve present-day earth observation. In this way, our flights can contribute to monitoring air quality, deforestation and pollution"
Sergiu Iliev, founder of Spacept stated: "We at Spacept strongly believe the ORCA concept presents a disruptive innovation in the EO data industry, where specifically for our application of infrastructure monitoring it would help enable our business model due to its low pricing, high revisit and high resolution".
In addition ORCA does not create space debris, leaving the precious orbits for the reference satellites.
Users and their needs
SkyfloX addresses primary Value Added Resellers as initial data users, accessing their wide range of end users and applications. SkyfloX cooperated with several such key companies in Earth Observation and Geospatial Analytics, including among others HEXAGON, Esri Deutschland, EarthLab Luxembourg, UTILIS, The Sniffers and the National Observatory of Athens, in order to better adapt its products to the market needs
Service/ system concept
An outline scheme of the EO service provision architecture addressed in this activity is shown below. A number of commercial aircraft are equipped with ORCA Payloads (capturing data), which are transmitted via satellite or terrestrial connectivity to a cloud facility for storage, processing, and distribution to the End Users.
The images are available as ready-to-use map-projected image mosaics from each flight, as separate exposures and as full-coverage mosaics where images from multiple flights are combined.
For forest fires applications Block I payload includes on board processing of the thermal images, extracting hot spot/fires coordinates for immediate alarm transmission via Iridium to relevant authorities.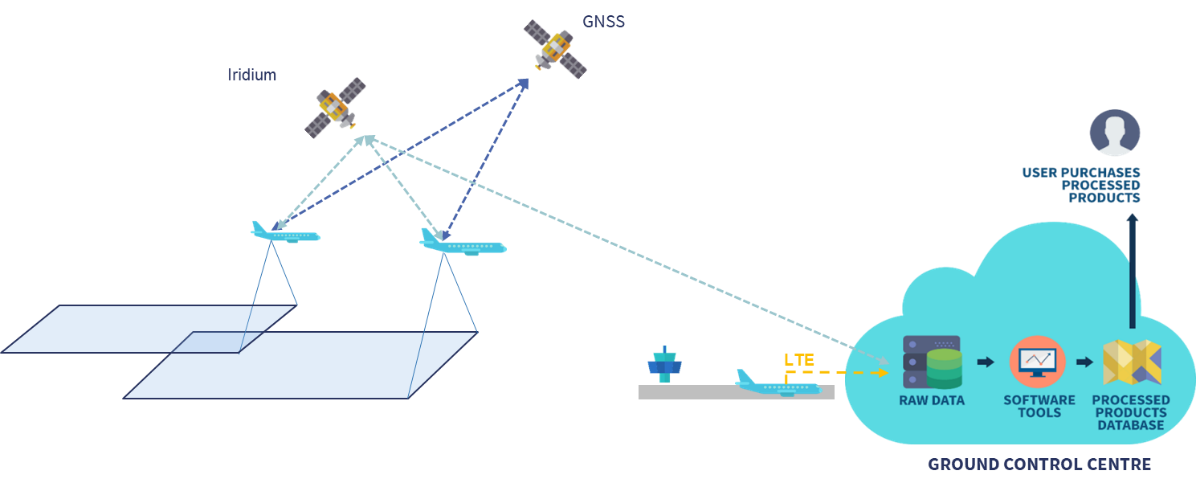 Space Added Value
The ORCA system uses GNSS and Satellite Communications services, as well as EO ground segment (image processing, handling tec.) technologies. ORCA uses/complements/enhances space-based earth observation data and coverage. The added value is that of combined higher spatial and temporal resolution as well as combination of optical/thermal imaging. ORCA can complement the spectrally rich Sentinels with a fast revisit constellation and additional capabilities.
Current Status
In DOCS-2 the concept ORCA (Optical and Rf Constellation on Airplanes) has been evaluated in detail and its technical and business interest was confirmed.
Based on End-Users/potential customers requirements, the ORCA system and its operations were optimised, and a Block I payload and the corresponding ground segment, were developed, built and tested by the DOCS-2 team.
Extensive tests and simulations confirmed the exceptional capabilities of ORCA. Block I payload produces multi-daily, Country/ Continental (Pan-European) natural-colour (metric GSD) and thermal (15m GSD) imaging, that are available for order and delivery within hours after imaging.
Certification and installation on commercial aircraft was addressed in detail in cooperation with several airlines. An official Supplementary Type application for the ORCA payload was filed at EASA, to be issued after a certification flight test.
Significant effort has been made in the business evaluations in preparation of initial investment series and commercial roll out. Also a wide range of potential customers have signed LOI's with SkyfloX expressing interest in ORCA products.
Pioneering work has been performed for ORCA in the regulatory area and SkyfloX clarified operations over 34 European states, stating at a minimum that overflight is possible. This is a major achievement of the project allowing the initial commercial roll out of ORCA, planed in 2024, pending a Series A raise.
Prime Contractor(s)
Status Date
Updated: 15 March 2023
-
Created: 18 December 2019