Objectives of the service
DryGro has developed new technology to produce an inexpensive, high-protein animal feed input using 99% less water than conventional agriculture. Using this technology, feed can be grown on arid land otherwise not useful for agriculture. The implementation of a predictive control system driven by a comprehensive data collection platform is necessary for this technology to operate reliably at scale in harsh environments.
This implementation of satellite-enabled IOT, earth observation, and numerical weather prediction is driven by the goal of creating such a control system with the effect of improving consistency, quantity, and quality of the animal feed being produced by DryGro's technology. A secondary goal of this work is the need to manage data to drive the R&D processes, create actionable maintenance requests, and identify future opportunities.
Users and their needs
The high protein animal feed DryGro produces serves as a direct soy replacement in animal feed markets. End users for this service are large-scale farms and feed mixers, but DryGro's customer could also include international commodity trading corporations.
Soy is an internationally traded commodity, and so DryGro's product must adhere to standards in quality as well as quantity to obtain the best market rates. Protein content and absence of anti-nutritional factors are of prime significance.
The market for DryGro animal feed is global in scope. Areas of specific interest are food insecure, have arid land unsuitable to conventional agriculture, and have industrialized meat or dairy industries.
Service/ system concept
The below diagram outlines the main system components, which cumulatively serve to maintain ideal agricultural conditions, alert maintenance personnel, and inform future business directions within the company: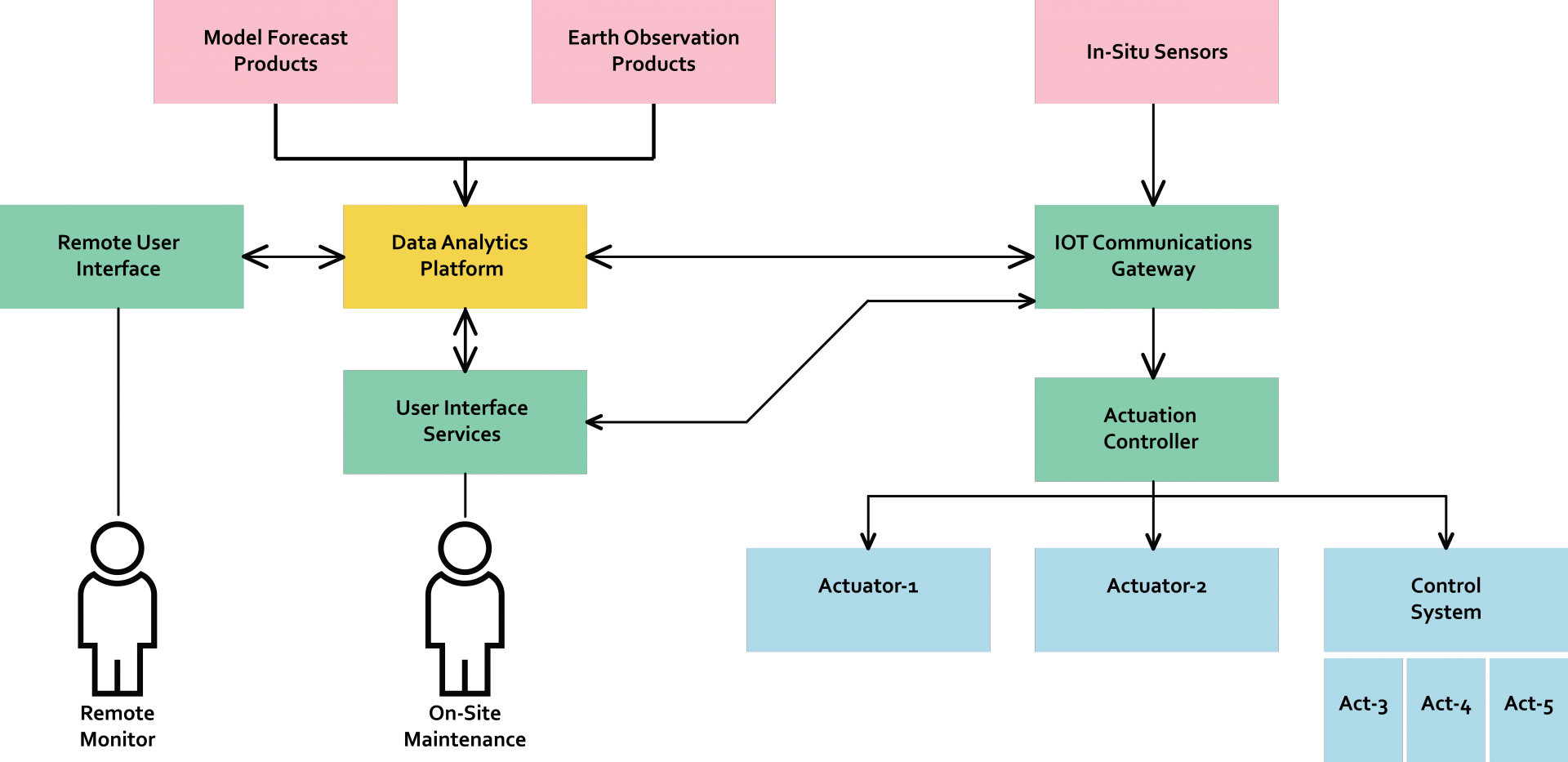 Space Added Value
Two existing space assets are utilized in the provision of this service:
Satellite Communications
Earth Observation Datasets
Depending upon the remoteness of services, satcom may be required as a backup communication mechanism. In certain very remote instances to which DryGro technology is well suited the service could be entirely reliant upon satellite communications for both data amalgamation and deriving a control narrative.
Earth observation provides a unique opportunity to reinforce on-site IOT datasets, generate enhanced local weather prediction, and identify future sites.
Current Status
Commissioning of DryGro's first full-scale field trial Mark-I is presently taking place in Naivasha, Kenya. Once this trial reaches full productivity several key performance criteria can be evaluated with customers and end users to further define the service requirements. This new stage of development is supported by the live Satellite-Enabled IOT system prototype, which quantifies in-field conditions and executes the control narrative.
DryGro is preparing to deploy a second, larger field trial fall of 2018 which would be added into the wider data collection and control system. Serving as an iteration on the physical system and opportunity to improve operational scale logistics, Mark-II will provide a separate point of validation for DryGro's technology, and the satellite-enabled IOT system specifically.
Prime Contractor(s)
Subcontractor(s)
Status Date
Updated: 11 July 2018
-
Created: 11 July 2018