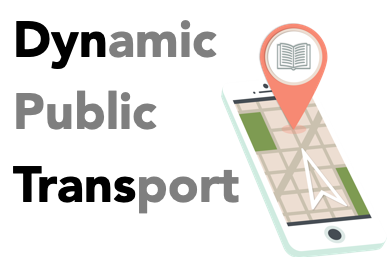 Objectives of the service
The Dynamic Public Transport System (DynTrans) is a concept for dynamic public transport systems based on existing transport networks and satellite positioning. DynTrans assists public transport providers and governmental institutions to increase the attractiveness of their public transport systems through satisfying the demand of passengers for individual transport capacities. DynTrans provides a taxi-like transportation service for the costs of a bus ticket to passengers. The system aims to develop a space based algorithm for managing flexible transport vehicles working within a public transport system in addition to existing bus and tram lines. DynTrans can be integrated in existing public transportation services with fixed lines, but makes use of small and medium size vehicles. It takes into account the individual demand of passengers and helps to close the gap between maximal individuality and transportation costs, where traditional transport systems cannot operate efficiently or are not able to provide an acceptable service level. Free moving vehicles proposed by DynTrans will assist fixed lines to transport passengers between stops in a more efficient way in terms of travel and waiting times.
Users and their needs
Users of DynTrans are all people using public transportation networks. Customers of DynTrans are companies providing public transport networks in cities as well as in rural areas. In the near future cities will continue to grow globally, so policymakers and transport planners will need to constantly consider new ways of managing public transport. An aging society with demand for unrestricted mobility requires alternatives to individual transport by car. Car traffic in bigger cities is becoming less important for the next generations people, while the acceptance and use of bicycles and different ways of public transport is permanently increasing. In addition, the system can also be extended to regional traffic and companies that serve this segment. The proposed dynamic transport system should serve as a model for future transport concepts. The primary objective is to provide additional services to existing public transport concepts leading to avoid empty trips or sparsely occupied vehicles for the operators on the one hand and long waiting times or crowded vehicles for passengers on the other hand. The users should be engaged by personal contact with policymakers and transport planners, where the concept of DynTrans should be presented to them in presentations and simulations.
In the beginning of the project the first customers and users will be from Austria, Germany and France.
Service/ system concept
DynTrans assists public transport providers and governmental institutions to increase the attractiveness of their public transport systems through satisfying the demand of passengers for individual transport capacities. It allows them to use their resources more efficiently in situations, where traditional fixed-line services do not meet the demand of its users. DynTrans schedules on-demand routes in an entire service area, where any stop point can be reached within a certain time window. Transfers to fixed lines or other shuttle buses are provided at specific connection hubs, where reasonable connection times are guaranteed. On-demand services provided by DynTrans can therefore be described similar to shuttle bus services, where passengers are picked up and dropped off on demand at predefined stops, where one or more important stops are marked as hubs, that can be served in specific intervals. If these intervals follow a fixed line service schedule, for example the departure and arrival schedule at a train station, the flexible lines also build a so called pulsed network to provide speedy transfers and simple connections.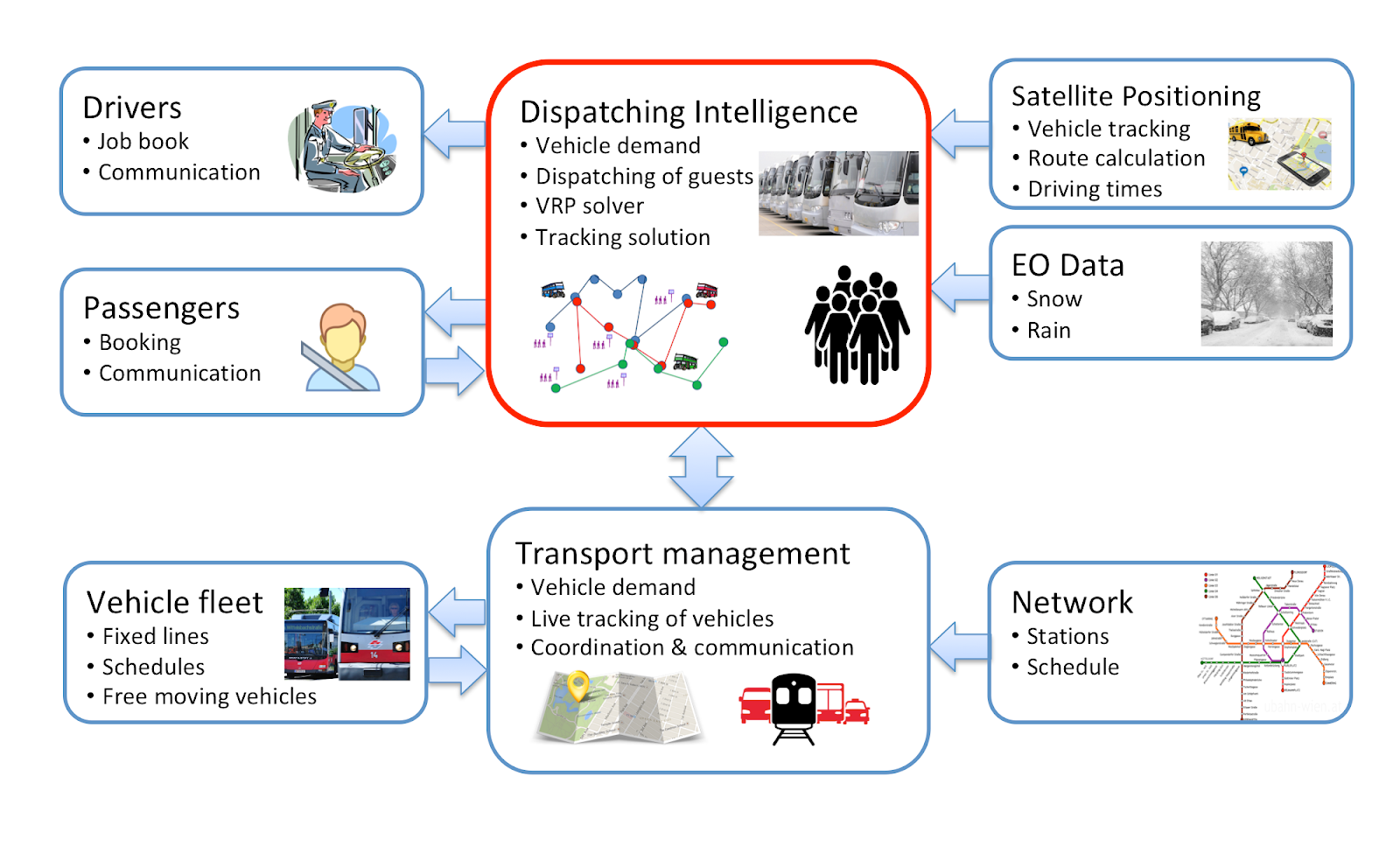 Space Added Value
The central space asset that will be involved in DynTrans is satellite positioning. Without the exact knowledge of the location of vehicles and passengers aiming for transportation, the algorithm can not calculate optimal driving routes. Furthermore accurate positioning is necessary to monitor the vehicles, to provide additional information to passengers, to detect deviations from the computed schedule and to improve the algorithm by learning from past operations. The location of the passengers requesting a ride using their smartphone application is a crucial component of the whole system. The reliability of the positioning service has to be very high, as the dispatching algorithm is based on passenger and vehicle locations. As another space segment the implementation of earth observation data is taken into account, as information about snow cover, heavy thunderstorms and similar weather phenomena can influence the calculation of optimal routes.
Current Status
The concept of DynTrans was worked out during a Kickstart Activity under the topic of "People Mobility". During this first step we got in touch with public transport providers which are very interested for developing a pilot service. We also got a quite good overview of initiatives running in the field of dynamic transport, like shared taxi services or autonomous driving public transport vehicles. We are ready to going into the next step of the project which is to demonstrate the "Proof-of-Concept" of our concept.
Prime Contractor(s)
Subcontractor(s)
Status Date
Updated: 20 February 2019
-
Created: 20 February 2019