Objectives of the service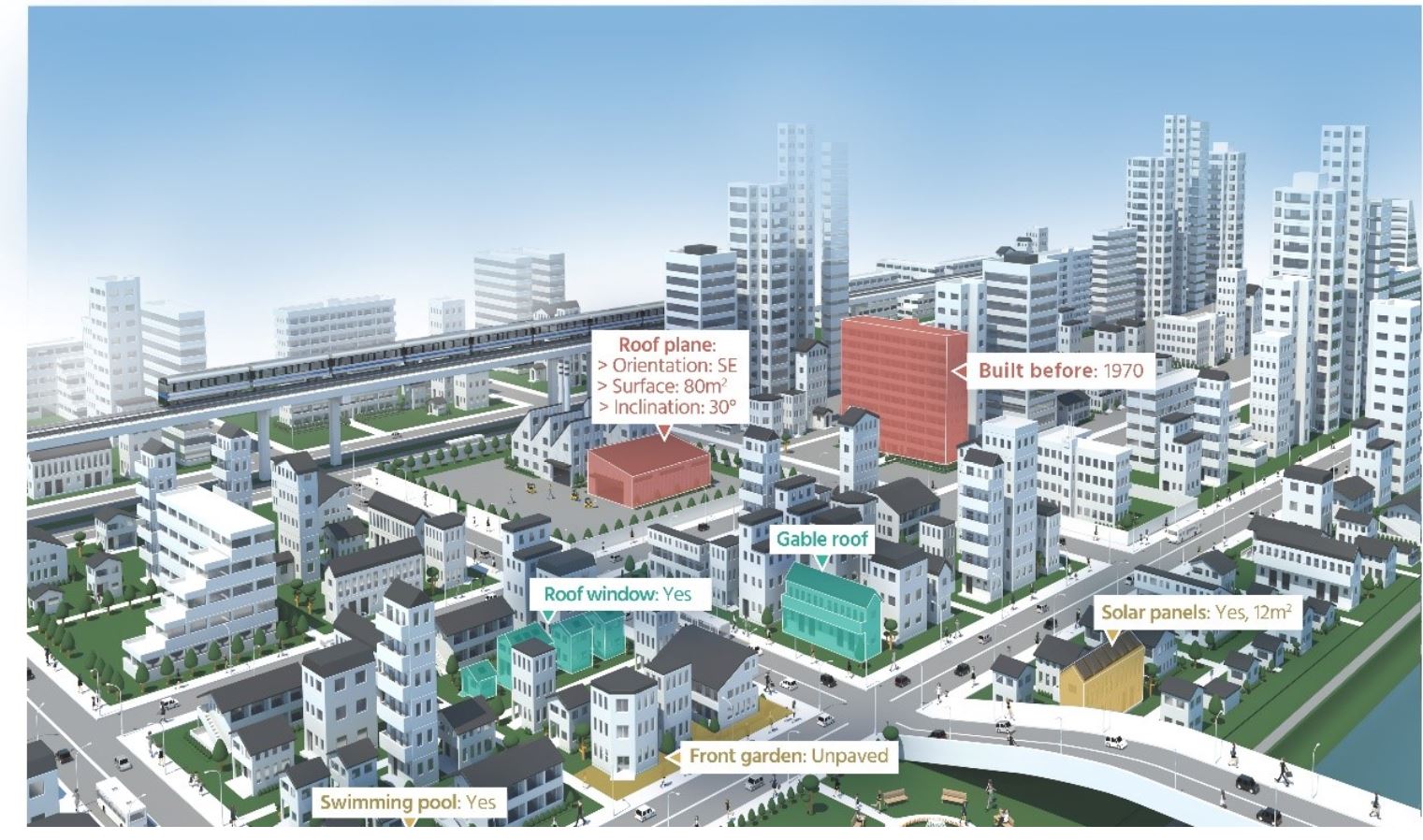 GIM is developing and maintaining Belmap, a 3D database of all buildings and addresses within Belgium and its neighbouring countries with a multitude of linked data variables. It provides the most accurate, complete and up-to-date location-related insights on buildings and addresses for the Benelux. In this project, GIM is extending Belmap using earth observation derived information exploiting advanced artificial intelligence techniques and creating the following 4 novel Belmap product extensions:
Belmap Greenfields: mapping of changes in the built-up environment through change detection on time series of Sentinel-2 earth observation imagery.
Belmap Building Age: classification of the age of buildings through change detection on series of remotely sensed images and historic maps.
Belmap Gardens: land cover within cadastral parcels providing information on impervious surfaces and presence of greenhouses, swimming pools and auxiliary buildings.
Belmap Roofs: classification of roof typologies and determination of roof characteristics (area, inclination, orientation), roof windows and solar panels.
Users and their needs
The Belmap Greenfields, Building Age, Gardens and Roofs modules are relevant in a wide variety of use cases in varying sectors such as for example:
Insurance and finance where building age, roof typologies and garden information are key in establishing the value of a property as well as for assessing fire and storm related risks.
Renewable energy where building age is essential for estimating energy efficiency of buildings and roof typology, roof characteristics and existing solar panels are required for estimating solar potential.
Utility and telecommunications where timely mapping of greenfield areas is important to ensure smooth operations in network planning, design, roll-out and maintenance and land cover should be known to estimate the networks' installation costs.
…
Service/ system concept
These new Belmap modules are developed by combining the Belmap buildings, cadastral parcel and road layers with a wide variety of remotely sensed data. The essential part of the processing logic is based on novel artificial intelligence techniques involving Deep Convolutional Neural Networks. For the building age and greenfield modules additionally time series analysis is performed.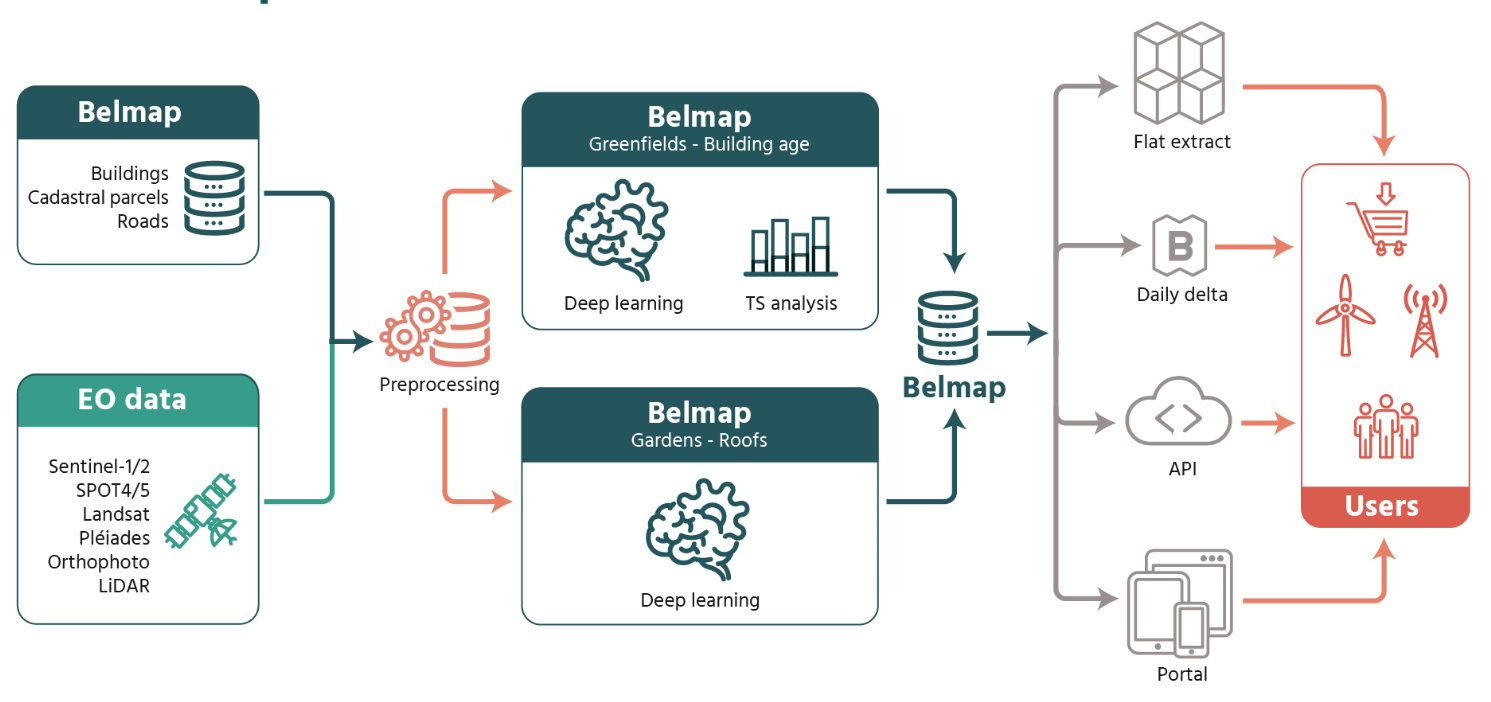 EO4Belmap high level architecture
Space Added Value
Imagery from earth observing satellites provide valuable data on the built-up environment hereby covering large areas at very high temporal frequencies. Sentinel-2 data is used to perform change detection and identify change hotspot areas. These hotspots are subsequently targeted with commercial very high-resolution earth observation satellites that provide data with a detailed spatial resolution that is suitable for mapping the urban landscape. For the Building Age product use is additionally made of the long archives of historic satellite imagery that provide a unique view on how the earth has changed during the last decades.
Current Status
The project has been successfully completed. All EO4Belmap extensions have been produced for the demonstration areas and have been validated by the key users with positive feedback on both the relevance of these data modules for their business as well on the accuracy and completeness of the results. The first modules have already been produced for the entire territory and have been sold to customers mainly in the insurance and renewable energy market segments.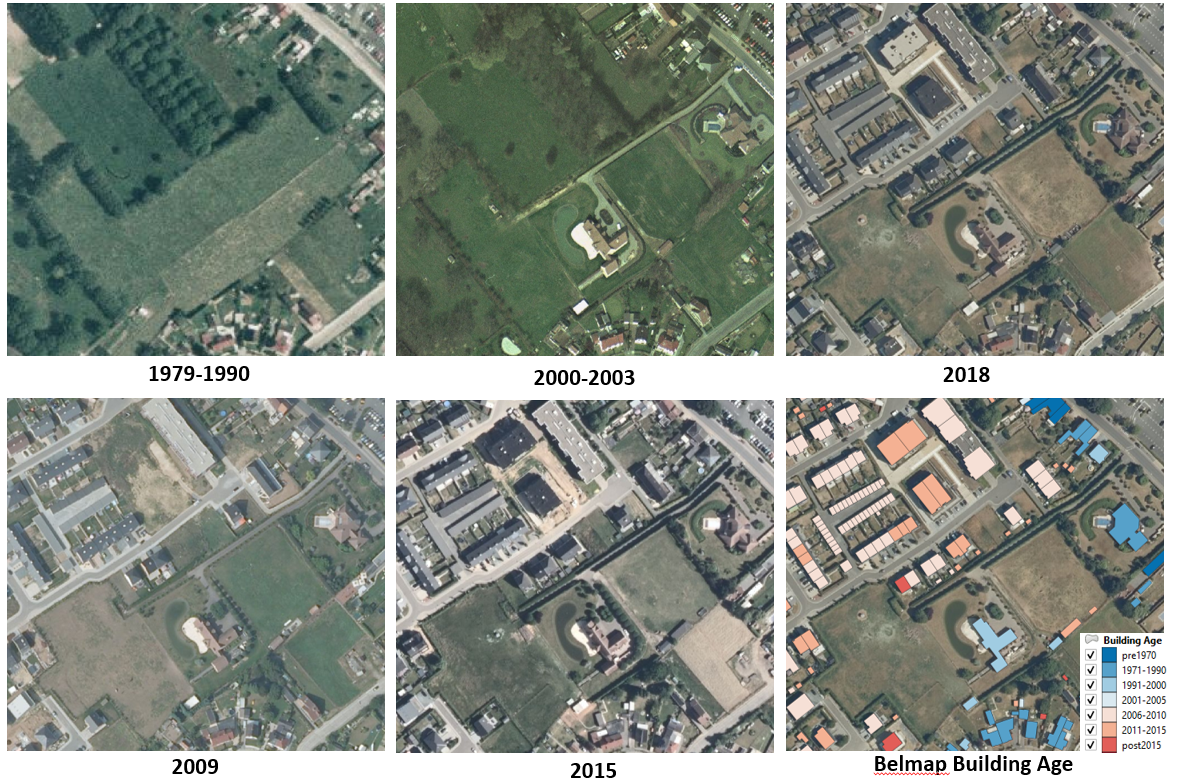 Belmap Building Age showing the age category of buildings that were constructed in the period 1970 -2018.
Prime Contractor(s)
Subcontractor(s)
Status Date
Updated: 14 March 2022
-
Created: 19 May 2020