Objectives of the service
Artisanal and Small-scale Mining (ASM), Abandoned Mines and Repositories (AMR), whether legal or illegal, are associated with negative environmental and social impacts. Despite regulations, bans, complaints, encouraging cooperatives and associations, in many locations ASMs are continuously and rapidly expanding out of control. At the same time, abandoned mines and repositories – contaminating water, soil, and infrastructures with dissolved metals and acidity – are often disregarded.
EPM's overall objectives are to provide customized remote sensing services aiming:
To map ASMs, monitor their expansions and assess environmental impacts;
To map AMRs, monitor mine/repository stability and assess environmental impacts.
Moreover, since regulators – within the national legal framework – are also responsible for ensuring compliance of Large Scale Mining (LSM), products verifying mining operations conformity are additionally considered.
Users and their needs
Six market segments, related demo users and key representatives of standard setting and certification bodies have been identified:
Regulators responsible for ensuring compliance of ASMs and LSMs with national legal frameworks: The Inter-Ministerial Committee for Illegal Mining in Ghana and the Environmental Protection Agency in Liberia are the selected demo users.
Non-Governmental Organizations working on national and international levels and including watchdog organizations that critically monitor mining activities: Global Witness is the selected demo user.
Consulting companies in the domain of treatment of mine wastes and remediation: WISUTEC is the selected demo user.
Multi-disciplinary consulting companies offering services in the fields of applied environmental and social sciences: earthtime is the selected demo user.
ASM certification bodies developing standards to transform ASMs into a sustainable and responsible activity.
Non-for-profit and membership organizations developing standards within the mining industry are to be approached as key representatives for technology and service validation.
Overall, key and common need is to gather objective, independent, accurate, updated information of the location and extent of mines, to monitor on-going activities, assess environmental impacts, and, as far as possible for LSMs, to backtrack mining history for chain of custody purposes.
Current countries: Ghana, Liberia, Afghanistan, Zimbabwe, Kyrgyzstan
Target countries: Mozambique, Madagascar, Australia, Chad
Service/ system concept
The EPM project will establish TransparentMining - a service package which offers three complementary services:
Galamsey is a local Ghanaian term which means illegal small-scale gold mining in Ghana. GalamWatch is a service – primarily meant for Regulators – to identify illegal ASMs and anomalous land cover changes – in primis associated with deforestation – which could be associated to coming illegal mining activities.
The current condition of abandoned mines and waste repositories – typically scattered in remote areas – is often unknown. Not rarely, the areas are prone to natural disasters - torrential rains, flash floods and earthquakes that trigger landslides and the destruction of tailings dams. AbandonedMinesWatch is aservice – primarily meant for consulting companies – to identify abandoned mines and waste repositories and monitor tailing dams stability and/or landslides movements in their surrounding areas.
Artisanal mines activities in conflict regions can be identified exclusively through remote systems since the access to those regions is prevented. MiningWatch is a service – primarily meant for NGOs – to provide evidence of on-going ASM activities particularly targeted to the estimation of extracted material.
Space Added Value
The service – TransparentMining – in its generic form, includes the Earth Observation data (blue boxes), the processing techniques (red boxes), and the products (yellow and green boxes), which, essentially provide two independent and interlinked information:
Monitoring(yellow boxes):
are generated from free of charge data, i.e. Sentinel-1, Sentinel-2, Landsat-5/-8 over large (i.e. country level) areas;
are based on time-series;
are generated using different techniques and sensors combinations;
have a spatial resolution of around 20m;
Mapping(green box):
are produced from commercial satellite, drone or terrestrial stereo data over specific areas;
are based on a single-date acquisition;
are generated using different techniques;
have a spatial resolution up to few cm.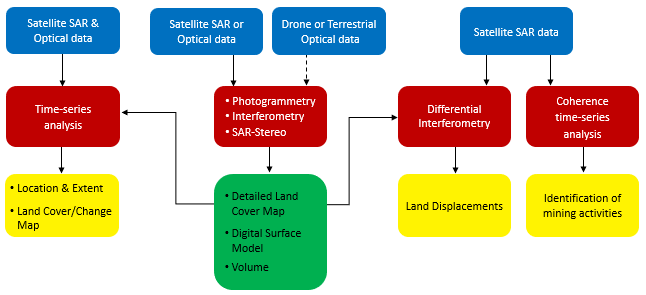 Depending on data availability, level of detail, and requested information, spaceborne SAR and Optical data, UAV or terrestrial stereo data are used to generate customized products relating to:
topography
land cover
land cover changes
land displacements
The choice to consider different technologies is dictated by:
the different needs of the identified users;
the requested level of detail;
the temporal sampling and duration of the measurements;
the remoteness of the area;
the accessibility of the area;
the available budget.
Current Status
Eleven pilots in collaboration with stakeholders representing the various sectors have been carried out in:
Artisanal and Small-scale Mining in Ghana, Liberia, Afghanistan;
Abandoned Mines and Repositories in Kyrgyzstan;
Large-scale Mining in Australia, Peru, Liberia, India, Brazil;
Dam stability in Uzbekistan.
Based on the results and experience gathered from the demonstration trials, following considerations are made:
Regulators - While from a technical perspective the service doubtless shows the usefulness and the benefits in terms of reliability, timeliness, know-how transfer, and cost of the information compared to the modus operandi, from an institutional perspective, the introduction of innovation is a long-term process.
Consulting companies are very satisfied with the service and conclude that the rewards are highly rated with low risk to them. Usually, they are working on a project basis, hence they see the service within projects collaboration.
NGO – The provided information is doubtless useful, and it demonstrates the importance in objectively documenting illegal mining operations and the social and environmental impact of mining companies. The targets of NGOs are often in remote or unsecure areas and the EPM service provide data in such areas that could not be easily collected by other means. Usually, they are working on a project basis, hence NGOs see the service provision on this basis.
Prime Contractor(s)
Subcontractor(s)
Status Date
Updated: 14 October 2019
-
Created: 14 October 2019