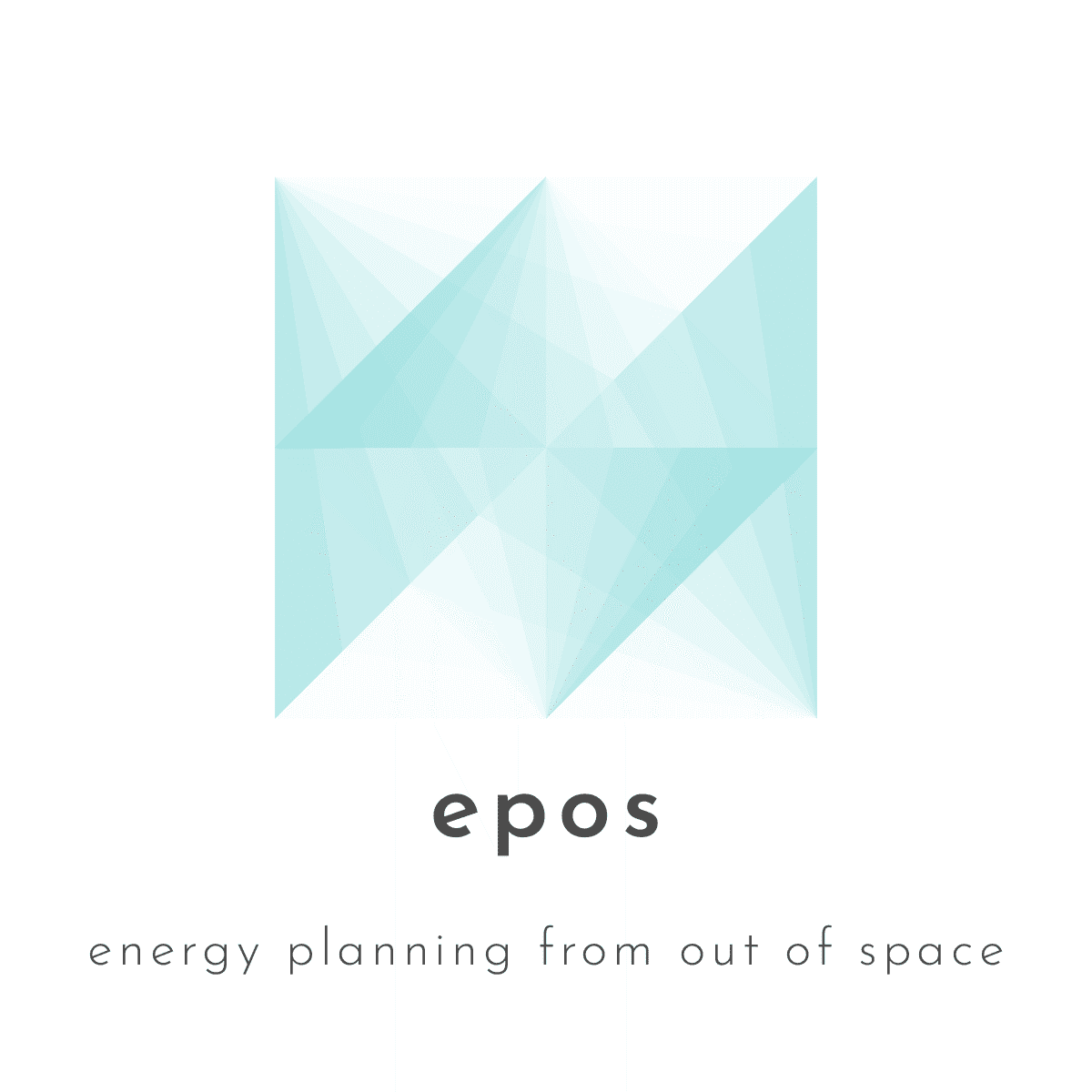 Objectives of the service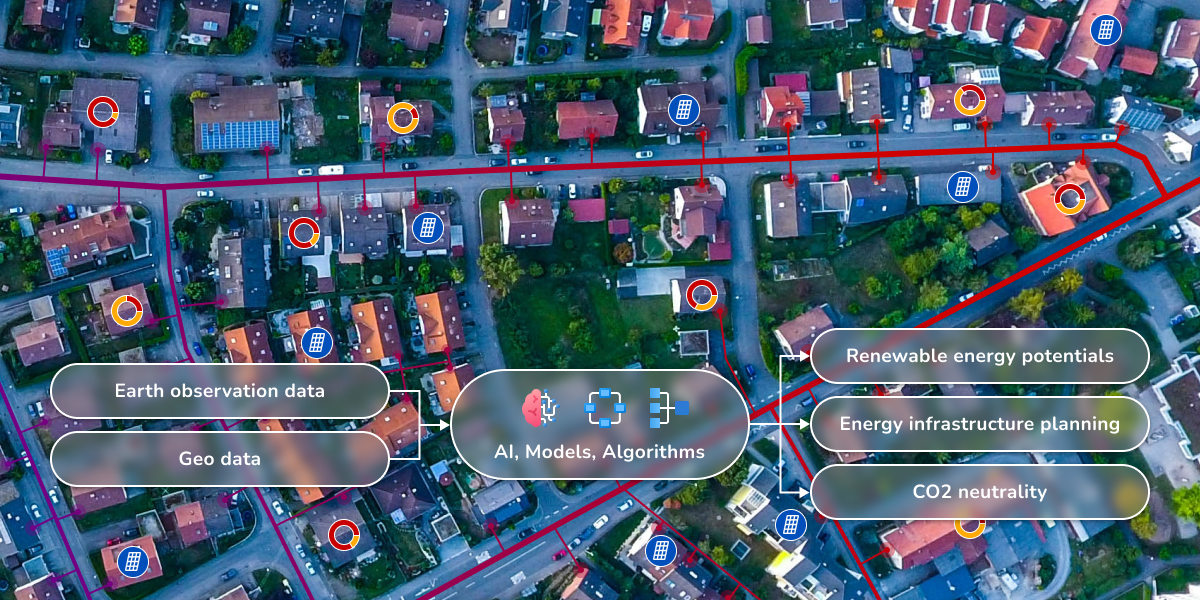 EPOS provides an energy planning software-as-a-service (SaaS) which is enabled by Earth Observation (EO) data and capable of impactful energy assessments in cities.
Transforming our energy systems in buildings and cities is a complex challenge that involves millions of projects, from small-scale installations like installing a photovoltaic system on a building rooftop to large-scale initiatives that aim to make entire cities carbon neutral. These projects often involve a multitude of stakeholders and require the evaluation of numerous options. Accurate data on energy inventory and information on the renewable energy potential of a given location is essential for designing new energy systems and evaluating ideas for achieving CO2 neutrality.
EPOS is a software-as-a-service solution that helps energy planners gather and analyze data, and conceptualise renewable energy systems using European Earth Observation data for energy inventory and site assessments for renewable energy potential. This enables planners to make informed decisions about the most effective and efficient strategies for transforming energy systems and reducing CO2 emissions in buildings and cities.
Users and their needs
EPOS users are planners and decision makers in the context of big energy projects such as climate neutral districts, cities or regions. These experts work in cities and their partnering institutions: energy service providers, energy utilities and grid operators throughout Europe.
All these stakeholders work towards a common goal: to prepare, plan and realise energy projects which are essential to reach climate neutrality within the next 25 years.
Their needs are - to a large extent - very similar and involve:
Collecting energy relevant data

Assessing and evaluating local renewable potentials

Exploring, developing and comparing different options to fulfil their goals
Service/ system concept
Users working on complex, iterative, and data-dependent projects can greatly benefit from Greenventory's software-as-a-service solution. It helps users save time and money by automating data collection and planning, allowing them to focus on their tasks more efficiently. Whether you're an engineer, decision maker, or energy planner, Greenventory's solution can help you get the job done faster and more cost-effectively.
The value proposition of EPOS is summarised as:
Time and cost savings through the automation of data collection and planning

Transparent, user-specific insights about the energy system

Fast evaluation of multiple (supply) options and technologies

Risk-mitigation for expensive decisions

Faster project (and process) execution

Easy to use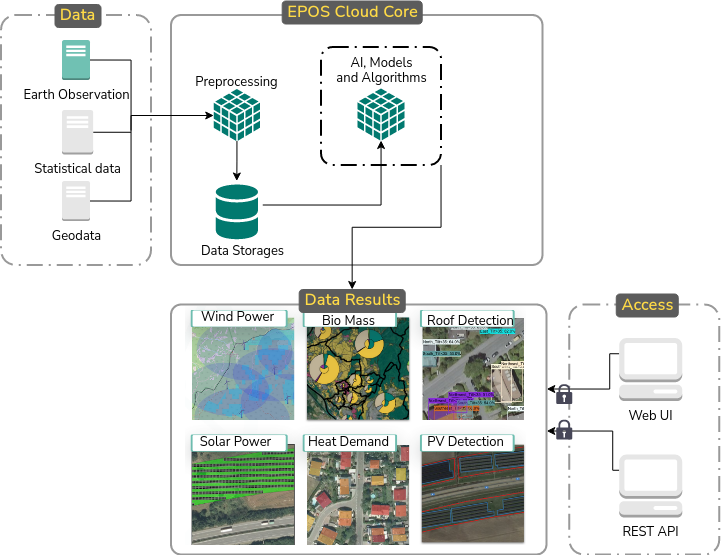 EPOS supports energy decision making on three levels:
It provides an inventory of the current energy system in terms of general (building) structure, demand typology, and installed renewable capacity

It evaluates renewable energy potentials for PV, wind, and biomass

It contains energy system models and planning algorithms enabling meaningful transformations
The EPOS system merges and transforms data and outputs into actionable insights for energy planning. For a selected region, geodata is collected from EO services, statistical datasets, and from mapping services like Open Street Map (OSM). Everything is preprocessed and combined into a harmonised database, which can be used in energy models to calculate energy indicators such as wind power potentials, buildings energy demands and specific unit costs. The EPOS platform supports the assessment of results via a web interface which can be further used to perform more detailed energy planning.
Space Added Value
By using and combining different sets of Earth observation imagery, the analysis of renewable energy potentials can be done globally and within minutes. The same goes for an inventory of the energy system, which can then be refined by user input. EPOS is applicable globally and comes out of the box with the data needed to get going. EPOS uses and combines: CORINE, ERA5 as well as SPOT and Pleiades from the Copernicus contributing missions. Climate data (ERA5) and land cover data (CORINE) are used to spatially evaluate the feasibility and yield of different renewable energy technologies. Visual datasets like SPOT and Pleiades are used to detect buildings, photovoltaics (PV) systems or solar thermal collectors.
Current Status
As part of the EPOS Feasibility Study, greenventory conducted 15 deep user interviews to understand persons, needs, and jobs to be done, and over 150 sales interviews to evaluate willingness to pay and iterate on potential pricing models. The study demonstrated that EPOS, a software-as-a-service solution, can effectively use the company's established energy planning and renewable energy potential estimation algorithms with Earth observation data from ERA5, CORINE, and PLEIADES. It also showed that there is a strong fit between market need, opportunity, and customer desirability that can be served by EPOS. Greenventory plans to build a demonstration system for a pilot service as the next step, leveraging Earth observation imagery to enable European-wide scaling of the solution.
Prime Contractor(s)
Status Date
Updated: 22 December 2022
-
Created: 14 February 2022