Objectives of the service
Live data is specifically relevant for two of four phases of what we call the adventure lifecycle: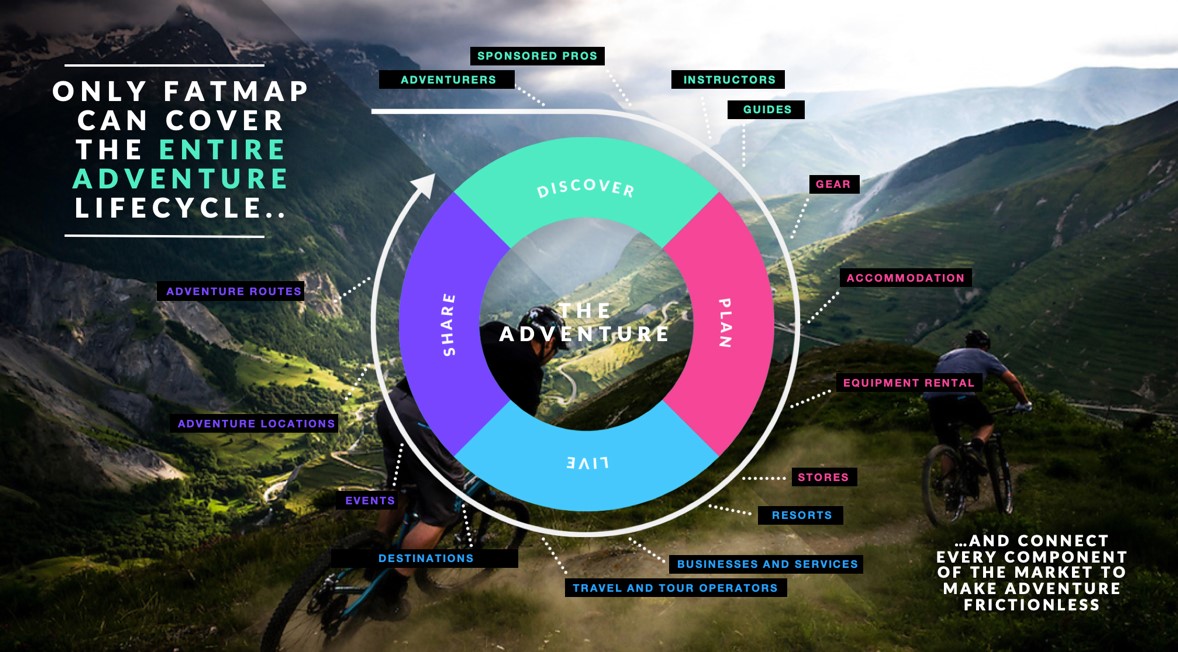 1. PLANNING AN ADVENTURE
When planning an adventure, outdoor enthusiasts need detailed live information to make sure that terrain and foreseeable conditions are adequate for the planned adventure and the skill level of the group. An example is recent snow conditions to judge on the trail and prepare the right equipment.
Avalanche risk model including latest avalanche forecast data to judge on safety aspect of route
Historic weather data to judge on trail conditions
Webcams to decide on most iconic and rich adventure route
2. LIVING AN ADVENTURE
During an adventure, having live data at the palm of your hand is critical in order to be equipped correctly and enjoy a great and safe adventure.
Examples:
Local weather to understand temperature, wind direction or cloud height in order to judge on trail or snow conditions
Opening times of the lift to get home safely
Webcams to quickly check current conditions at the destination
Users and their needs
User "Aspiring Pioneer":
Likely to plan out most or all of her trips. Definitely will have a bucket list and many future ambitions
Likely to have nearly all of their own gear, but with eyes on new purchases
Likely to live near or in the mountains
Likely to participate in mountain sports all year round/ multiple sports/ summer and winter
Experienced with traditional navigational tools
Experienced reading conditions and applying them to current/future plans
User Needs
Discover new places that will challenge her abilities
Understand the terrain so she can plan new and interesting routes
Understand terrain when on the mountain so she can adjust her plans
Combine condition and terrain info to make a plan
See where she is and what's in front of her
Share her achievements with her community
Operational challenges
Business Development: Obtain access to local data
Data Engineering: Harmonise different data sets in coverage, update cycle and display
User experience: Offer a consistent user experience based on inconsistent and sparse data
Our top 5 markets are USA, UK, FR, IT and DE.
Service/ system concept
The user will have access to contextual live data. Combined with our existing data sets of elevation, imagery, topography and routes, FATMAP offers use cases for better and safer adventures. Traditional outdoor maps are either low on quality or hardly readable for a non-expert and therefore limit the potential target group to map and geo experts. The correlation and contextualisation with a 3D map enables more users than ever before to use the data.
The data will be accessible on desktop and mobile. The mobile platform allows a preloading of the heaviest data chunks. This ensures that a user who is already in the Outdoors has to download a small percentage of the overall dataset only in order to have access to latest data displayed in a rich 3D context for easy digesting.
The system consists of three main areas. First, there is data aggregation from various providers (conditions, imagery, raw data for avalanche risk model) on the input side. Secondly, this data is ingested into our data pipeline. Depending on the source data format, there might be specific normalisation and contextualisation steps required. Thirdly, the user experience needs to be defined and iteratively optimised to display the data in the best possible way in the user interface to serve the needs of the consumers.
Space Added Value
We make use of a wide range of space technology and assets as part of the FATMAP platform and this project will expand our use as well as introduce a number of other space assets critical to the project.
Satellite Navigation: we use Gallileo alongside GPS and GLONASS for positioning on our mobile app.
Various weather and observation satellites to provide weather, precipitation, cloud cover, wind and other realtime/time relevant data.
We also use earth observation satellites (radar based and stereo imagery) to produce digital terrain and surface models that we use to produce 3D rendering as well as calculate computational mapping overlays such as gradient, aspect, flat zones and topographic mapping.
In the future and beyond the scope of this project, we will also integrate satellite communication based connected tracking devices to provide real-time tracking back to our platform even in remote areas, so that users can share their location with friends, family and in the event of an emergency, rescue services.
Current Status
The pilot stage has been completed successfully. All FATMAP Live pilot product features and platform elements have been transferred to the product and are accessible on the FATMAP platform.
The relevancy of live contextual data has increased since the start of the project in 2019. The FATMAP team is committed to build strongly on top of the foundation laid out by the joint project with UKSA and ESA. We are thankful for the partnership which has supported us to build a cornerstone of the future "Home of the Outdoors" platform.
Prime Contractor(s)
Status Date
Updated: 30 April 2021
-
Created: 25 June 2019