Objectives of the service
FertiSat project resulted in the service that offers variable rate application maps for nitrogen fertilization of cereal crops (wheat, barley, triticale, rye) based on analyses of Sentinel-2 imagery and surface runoff modelling. The maps are adapted to most types of controllers in agricultural spreaders and sprayers. Moisture conditions and phenology of cereal species are taken into account when determining precise doses of N fertilizer. One of innovative elements of the service are application maps for the first dose of nitrogen.
The solution is currently used by Polish farmers and will be also promoted in other countries with similar climate and soil conditions.
Users and their needs
There are 3 groups of users:
Farms involved in cereals production;
Associations of farmers;
Producers and distributors of agrochemicals and of the agricultural machinery.
The following requirements have been taken into account:
the service should greatly facilitate the decision-making on application of N fertilizers;
precise dosage should contribute to reduction of fertiliser usage and to increased yields, leading to higher profitability of farms;
significantly lower price of the service compared to ground-based solutions;
data formats should be adjusted to specifications of controllers;
user-friendly access to the service.
Service/ system concept
FertiSat application maps are based on the most recent satellite imagery and they can be easily implemented in agricultural machinery controllers. The service allows a farmer to analyze field conditions using a computer or a mobile device. Users get access to several functions of the service, including:
nitrogen variable rate application maps,
simplified nitrogen balance calculator,
field monitoring (vegetation and moisture conditions),
weather forecast.
The unique selling point of FertiSat are nitrogen application maps adjusted to specific needs of crops in various development stages (incl. during a very early stage of vegetation development). The nitrogen balance calculator algorithms are developed in line with the guidelines of the EU Nitrates Directive.
The comprehensive service facilitates farm management, optimal use of fertilizers and compliance with legal requirements.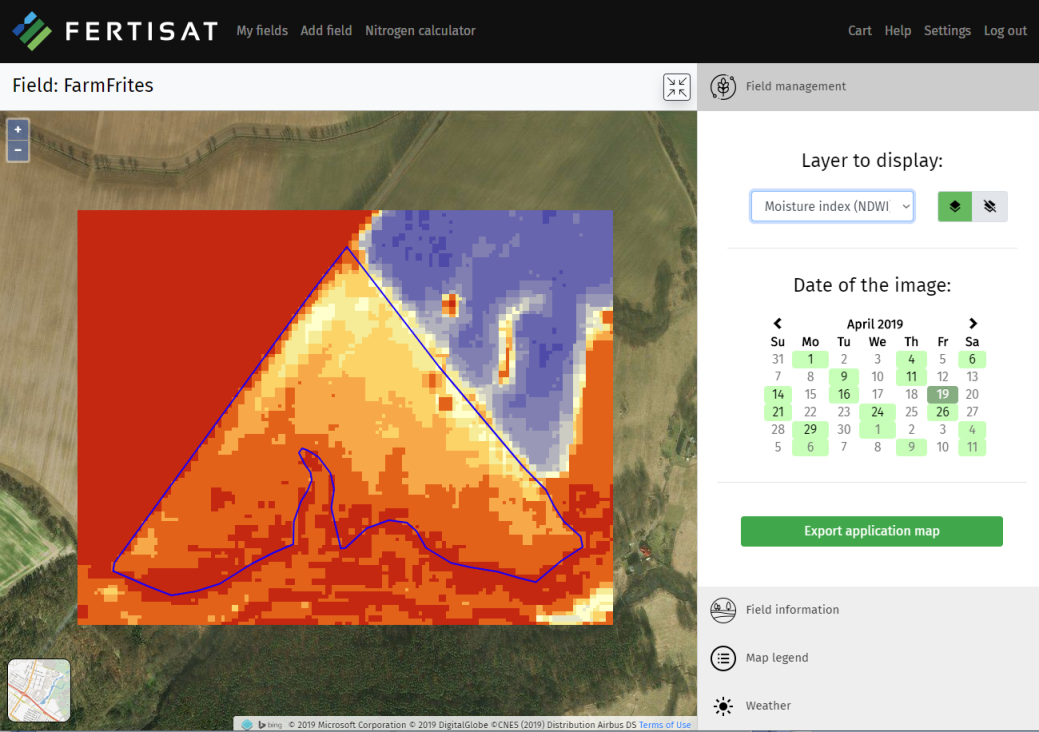 Presentation of NDWI values in FertiSat service for the selected date.
Field research
Field research and experiments during 3 growing seasons allowed for:
evaluation of relationships between spectral indices and cereal vegetation conditions,
evaluation of the within-field spatial variability of soil moisture, mineral nitrogen content in plants during various vegetation stages,
comparison of effects of variable rate application of nitrogen vs. uniform N application,
selection of best performing algorithms and their parameterisation,
assessing the benefits for users: for example, variable N maps allowed to use 19.5% less of nitrogen, which resulted in 35 kg of N / ha saved.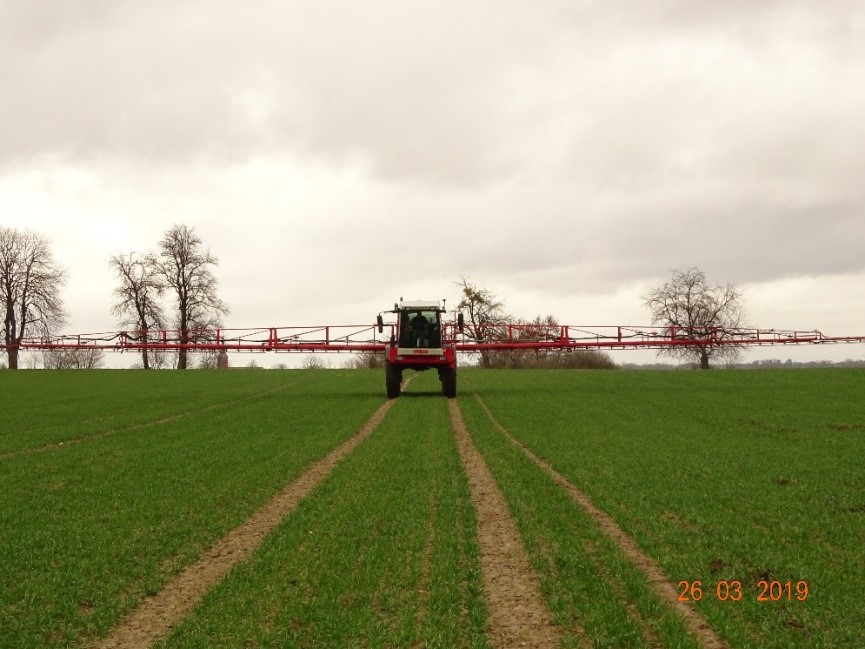 A sprayer during N application to winter wheat at a tillering stage.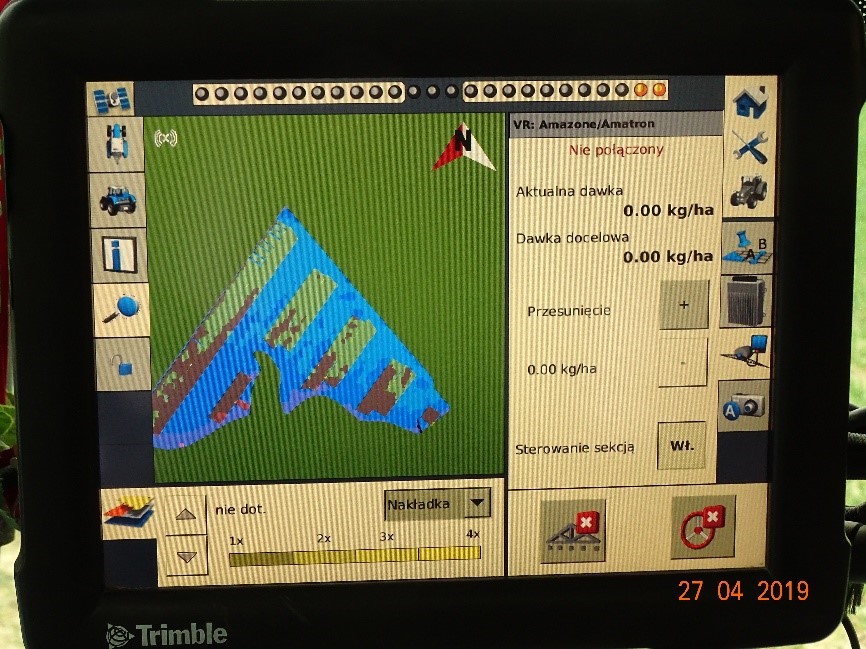 FertiSat map of variable N application imported to a display installed on a tractor equipped with a plate spreader.
Space Added Value
Space assets essential for the project implementation are multispectral satellite images. The service is based on Sentinel-2 data that provides necessary input for calculation of nitrogen contents in plants and their response to weather and moisture conditions.
Current Status
The project was launched in January 2017. Algorithms for nitrogen variable rate applications were developed, verified and implemented in the on-line platform during 3 consecutive growing seasons. The service is now operational and available commercially here: www.fertisat.com.
Prime Contractor(s)
Status Date
Updated: 09 January 2020
-
Created: 11 December 2017