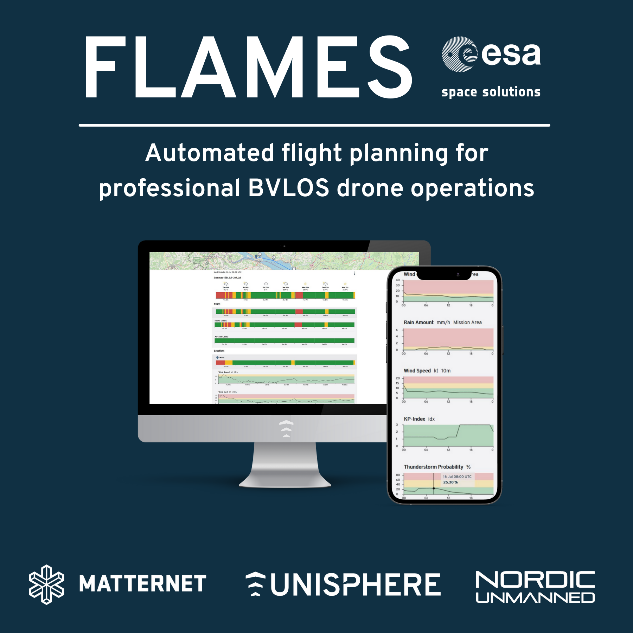 Objectives of the service
The ESA Space Solutions project FLAMES explored the possibility of highly automated flight management in two relevant user scenarios - maritime emissions monitoring and urban drone services.
For this purpose, high-resolution weather data, the Copernicus digital altitude model, aircraft performance models, and trajectory simulation were combined for the first time to create a digital twin of a drone flight. Based on this technology, a software solution for automated flight planning was deployed.
The software platform enables reliable and standardizable execution of drone flights as well as a significant reduction of human efforts in flight planning and preparation. This makes it possible to organize flight operations more efficiently and additionally increase the safety of each individual flight through the use of accurate and reliable simulation technology.
The implementation in the flight operations of Nordic Unmanned and Matternet confirmed the relevance of a technology-based software platform for automated flight operations. Key software elements from this can also be used at a later stage for the flight management of air cabs and HAPS.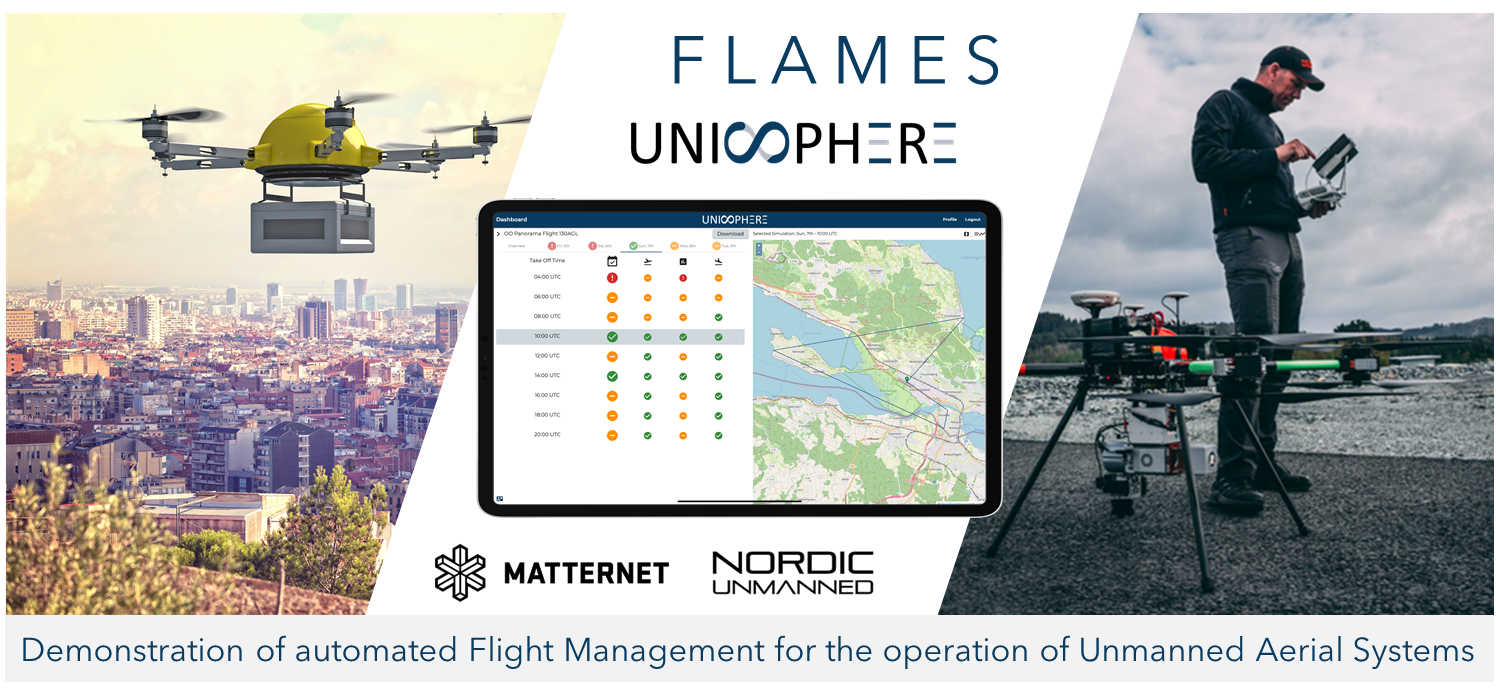 Image credit: Unisphere, Project :FLAMES
Users and their needs
Nordic Unmanned operates several missions in Europe to monitor emissions in the maritime environment. This involves flying over large areas, which are to be monitored over several days. The use case is an automated evaluation of various mission-relevant weather parameters at different locations to get a good overview of the weather conditions and thus increase mission planning and efficiency.
Advantages of automated planning are:
Optimization of time in the operational area for maritime surveillance missions.

Prediction of service availability to determine the most favourable flight time

Overall mission risk decreases due to continuous weather monitoring

Adherence to airspace regulations and defined flight sectors
Matternet offers an end-to-end drone delivery solution that integrates Matternet M2 drones, Matternet Station, and the Matternet Cloud Platform. Matternet offers its platform as a service to healthcare, e-commerce, and logistics companies worldwide. In combination with Unisphere's Software Platform for drone flight operations, it was demonstrated how the automation level of this overall service can be further increased. In the long term, the use of simulation-based flight planning and monitoring services will enable drone deliveries to be carried out in a fully automated manner. This will also allow users without an aviation background to operate drones safely and efficiently.
Other benefits include:
Accurate flight simulations enable longer flight times and flights in more challenging weather conditions

Software-based standardization of flight planning, enabling faster yet safer scaling of flight operations

Control center can monitor and control multiple flights in parallel

Service availability prediction makes drone deliveries predictable in the logistics chain
Service/ system concept
Service:
The Flight Management Platform allows operators to easily define, standardize and efficiently plan and execute their drone missions. The automated evaluation of flight conditions ensures that each flight is planned complaint to the company's processes & standards, which is crucial for professional aviation organizations.
Here's an example:
The Flight Forecast function allows drone operators to plan their flights for the next seven days. To do this, flights are simulated every hour, taking into account specific weather parameters, operational limits, and drone characteristics. As a result, 168 flights are simulated and automatically evaluated per update. Based on the weekly overview and the intuitive traffic light scheme, it is easy to find time windows with suitable weather conditions.
The cloud infrastructure enables Unisphere to ensure reliable scaling of the simulations, which is a prerequisite for sustainable growth considering the more than 4,500 flight simulations which are required per drone mission per week. During the demonstration campaign, a total of 1.4 M drone flight simulations were used to provide the automated flight planning service.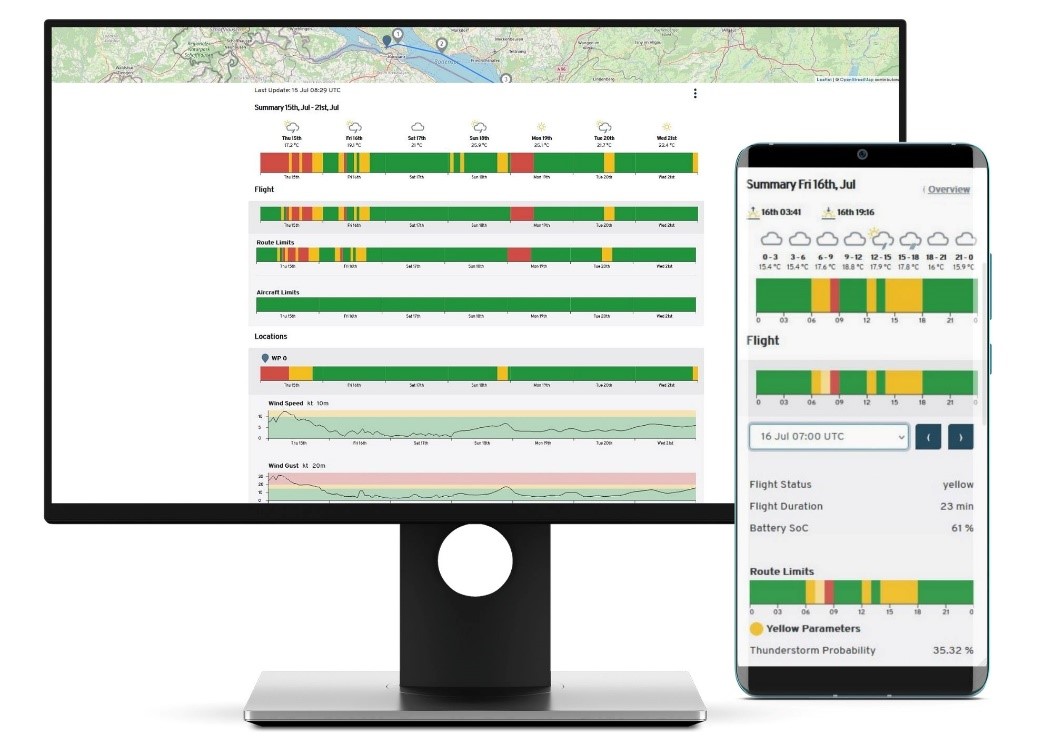 Space Added Value
In many cases, drones operate near the ground with lower vertical safety margins than manned aviation. In order to have a sufficient safety margin, a drone operator must know the exact terrain height as well as the height of obstacles along the route. Within project FLAMES, Unisphere implemented the EU-DEM v1.0 digital surface model (DSM) which provides a vertical accuracy of +-7m within a pixel size of 25m. This allows accurate and safe flight planning of routes near the ground.
Nordic Unmanned will integrate Satcom technology into their drone systems. Using a SATCOM system increases the operational capabilities by allowing flights that are out of the radio line of sight, which enables more complex and new types of flight operations.
Current Status
The project finished in May 2022, having successfully shown that simulation technology can be used to increase the level of automation in drone flight operations.
During the demonstration project, Nordic Unmanned and Matternet have conducted more than 500 BVLOS drone flights.

For providing the automated flight planning service, more than 1'400'000 simulations of drone flights were executed.
Prime Contractor(s)
Subcontractor(s)
Status Date
Updated: 28 April 2022
-
Created: 14 October 2020