Objectives of the service
As the world adapts to the challenges posed by climate change, governments around the world are increasingly focusing on green infrastructure. Gentian is a proposed service that provides remote measurement of the biodiversity contributions of green infrastructure, identifies potential sites for green roof retrofitting, and analyses how green infrastructure can assist with rainwater runoff and mitigate stormwater risks. The service puts information that is currently of limited availability and expensive to obtain, into the hands of decision-makers, facilitating the planning and monitoring of green construction.
Users and their needs
The key users of the service are currently viewed as falling into five categories:
Local government organisations: monitoring compliance with planning requirements, providing an evidence base for biodiversity creation and preservation, assisting with the creation of sustainable urban drainage.
National government bodies: providing evidence on policy effects at a national scale.
Green roofing companies: providing evidence on the performance of installed roofs, identifying sites for potential retrofitting.
Developers: evidencing compliance with planning requirements.
Landowners: providing evidence of compliance with policy and information on site biodiversity.
Service/ system concept
The Gentian platform processes satellite and other aerial images to map the location of urban vegetation, to provide detailed information about the health and biodiversity of vegetation, and to derive valuable information for town planners.
The system uses a combination of urban cartography files and earth observation images to identify buildings that are covered with vegetation, using machine learning algorithms. The algorithms detect roof areas that are already covered with vegetation and monitor these roofs to ascertain the ongoing health and biodiversity rating.
The key characteristics that users require to be measured include the potential for retrofitting buildings with green roofs, and the likely effect on stormwater runoff of green infrastructure installations.
It is intended that regular and automatic assessment will allow users to monitor large areas over a long period of time, with results available via an online platform in the form of reports or geo-localised datasets which users can easily retrieve or integrate in their system.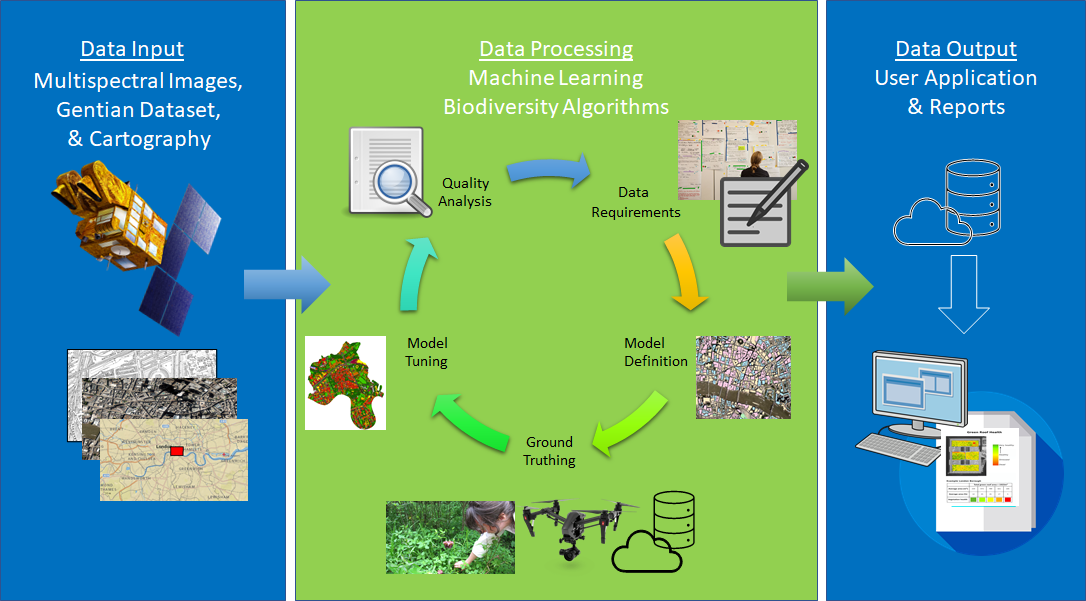 While the near-term focus of Gentian is on green roofs and urban biodiversity, it is anticipated that the technology developed will be capable of being applied to a broader range of environments.
Space Added Value
The Gentian platform works by providing monitoring on a massive scale. Cost and regulatory requirements make it challenging to deliver this outcome without the use of high resolution panchromatic Earth Observation data (currently procured from WorldView-3). In the short term, Gentian envisages using Aerial and Drone imagery to complement satellite data in order to validate results and to develop algorithms for the identification of key characteristics.
GNSS is used to capture the location and time that images and in-situ measurements were taken.
Current Status
The Gentian Feasibility Study is currently ongoing. User requirements have been gathered from key groups including green roofing companies, local councils, and national government bodies.
The system and service architecture is being defined, alongside the development of a full business plan.
The User Requirements Review was held with ESA on the 12th of February 2021, and the next milestone is the System and Service Design Review, currently on track for July 2021.
Prime Contractor(s)
Status Date
Updated: 21 June 2021
-
Created: 21 June 2021