Objectives of the service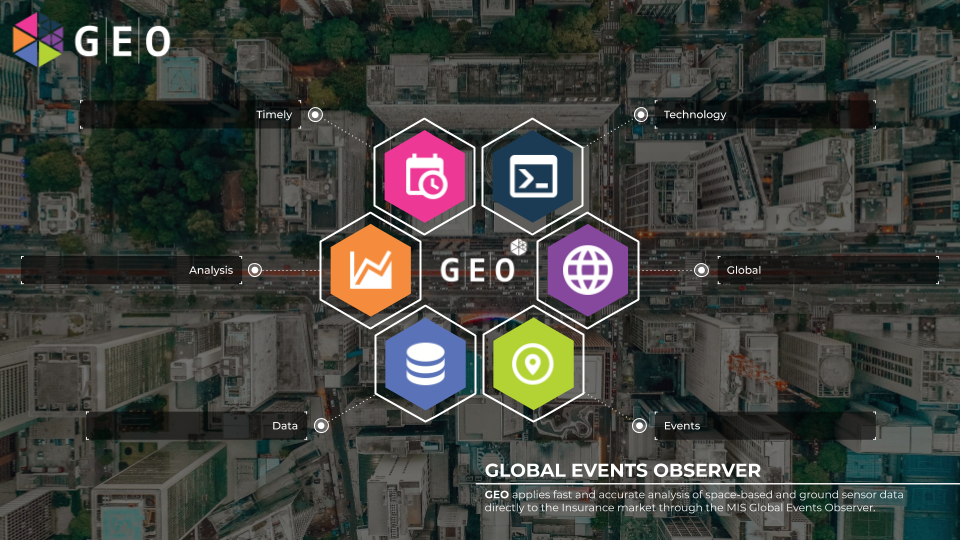 Image credit: Global Events Observer, Project: Roxburgh
The GEO service goal is to deliver actionable insight to teams working at every stage of managing risks at insurers. Currently, insurers select risks, price them, store them and respond to them with little to no insight as to the situation on the ground surrounding those risks. They are reactive in their analysis, oversight and reaction to those risks, which creates inefficiencies for them and time delays for their policyholders in mitigation or claims response.
GEO's objective is to remove the siloed approach to data and risk analysis and provide a holistic approach to mapping, storing and responding to events across the world.
GEO will provide a dynamic technological solution to improving the efficiency of the Insurance industry, with the potential to save billions. By accurately mapping and storing location details, risks can be better understood before they are accepted. Once written, an array of space and ground based data sources will provide rich, timely insight into the situation on the ground. Opportunities to take action and mitigate risks based on GEO's data, as well as rapid and targeted response to global weather, geopolitical and industrial events means costs and inefficiencies are reduced and policyholder service is enhanced.
Users and their needs
The target user communities for GEO are several different teams within insurers, businesses aligned to insurers i.e. brokers, and the disaster relief and humanitarian sectors.
These users are truly global, though since MIS are renowned within the £34bn Lloyd's Insurance Marketplace in London, having been their exclusive geospatial data and imagery analysis provider since 2016, UK insurers will be targeted initially alongside US and Australasian parent companies and insurers.
Claim Teams:
Early insight into damage post event to enable the payment of claims or posting of accurate reserves
An understanding of the exposure to their accounts as well as at individual location level
Precise time and date stamped information to ascertain time and cause of loss
Ingestion of data to automate the triggering of a claim and subsequent payment
Insurance exposure management team:
Ingestible data detailing exposure to events mapped against their risk portfolio for early and accurate intelligence about their exposure
Underwriters and risk engineers
Data to accurately understand the risk factors affecting a particular location
Data provided accurately and promptly to enable risk mitigation to be undertaken once a peril is identified
Humanitarian and NGOs:
Swift insight into affected areas and damage to infrastructure
Service/ system concept
GEO automatically harvests data from a wide range of space and ground network sources, processing and standardising as it goes, so that the user has access to near real-time event information around the world. Within minutes of an event being defined, a report will be made available on the platform, users will be informed, and spatial data will be available for integrating with the user's system, assisting with mitigating action and alerts. Analysis within GEO is integrated with Machine Learning, interpreting likely exposure under policies, locating and identifying damage that policies should respond to, and analysing possible business interruption.
The new platform gives users more power over what they can do, see, and act on. Through the company-user system, companies have the power to manage, query and act on their own policy data, filter event and location notifications, and task both their colleagues and third party experts with actions spanning the whole life-cycle of a risk.
GEO is hugely extensible through its microservice architecture, allowing new or third party data sources to be added effortlessly. It is an all-in-one solution for managing risk, exposure and claim data through a combination of space, aerial, ground and IoT data.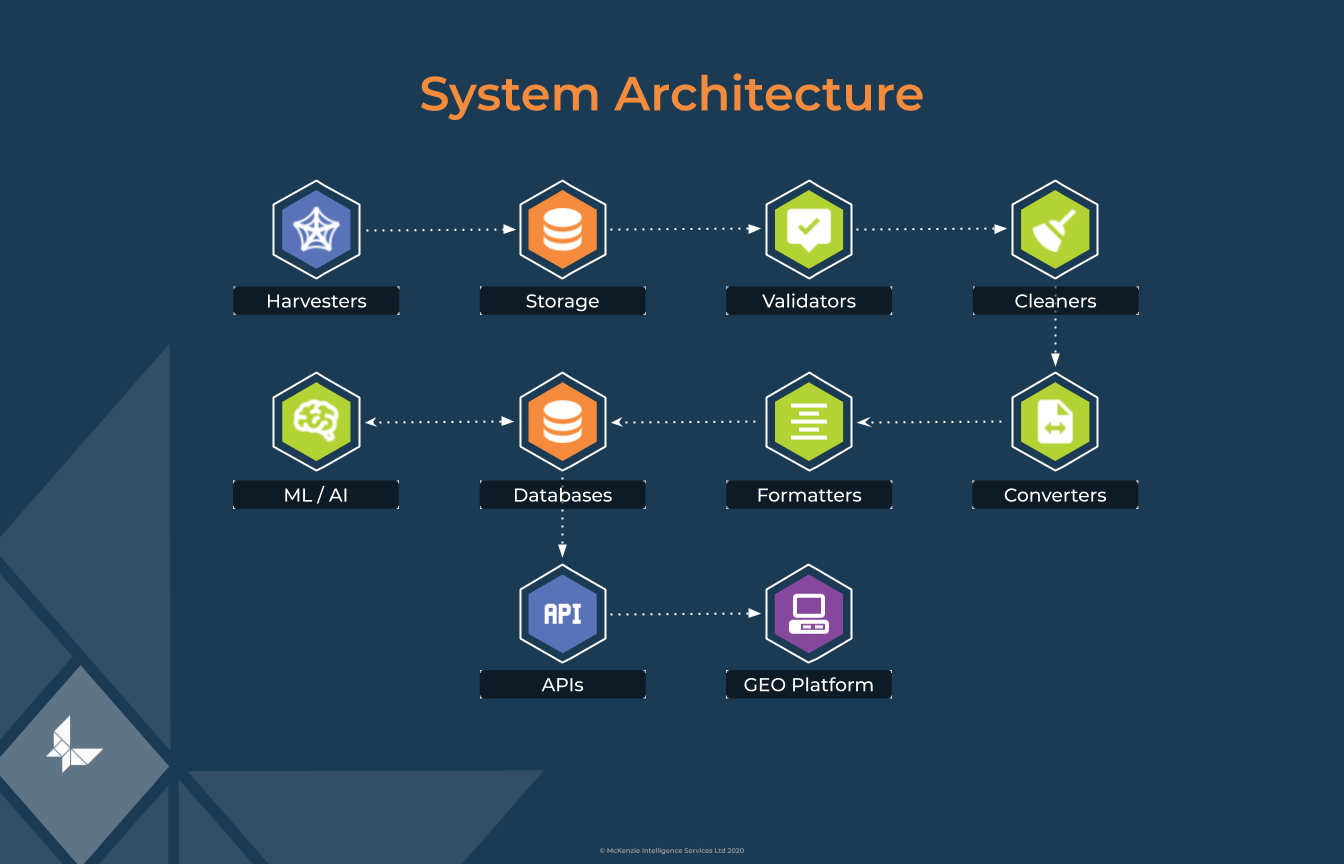 Image credit: McKenzie Intelligence 2020
Space Added Value
Space based data is at the heart of our mission, and we will be constantly scanning for emerging data and imagery sources that will enhance the capability of GEO. The system is also future proofed so that as more cutting edge space data sources become available, we can incorporate them.
High resolution imagery is essential for our clients to understand the situation on the ground and for us to perform analysis on, and we require between 1 Gbyte and 4 Gbyte per event. We have a valued partnership with Maxar currently.
We supplement this data with ESA Sentinel -1 for Radar data and Sentinel-2 for 12 Band imagery. Dependant on the task, this can be a single tile at 1Gb or multiples depending on the area to be covered. We also use LANDSAT-8 from USGS (United States Geological Survey), and ICEYE for SAR imagery.
Further downstream UK initiatives such as the SSTL/Oxford Space Systems SAR satellite is of interest in the longer term, and we continue to scan the market for innovative systems to deliver new space data products.
Current Status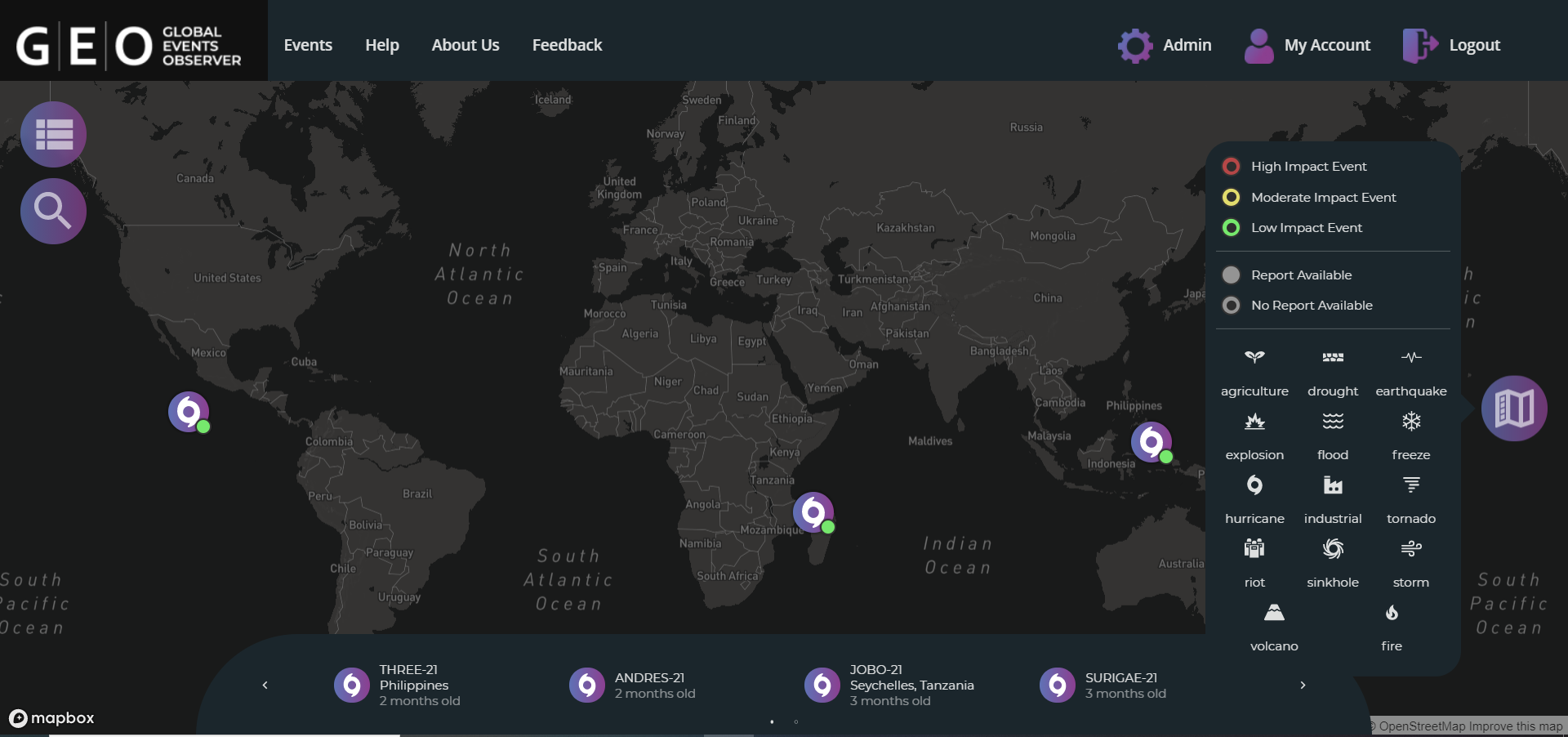 Image credit : McKenzie Intelligence Services
The FR milestone review meeting has been successfully performed remotely.
The Pilot Study and beta phase testing of the GEO system has been completed. This involved 16 users from various roles within the insurance market over a 5 week period. The user feedback has resulted in minor adjustments to the system interface and backend with "hot fixes" pushed live in the final week of July.
GEO officially launched to the market on 02 August 2021 with the close of initial sales to a major European insurance group as well as two additional sales, totalling £3.25m pa
The project has been completed successfully
Prime Contractor(s)
Status Date
Updated: 11 July 2021
-
Created: 07 September 2020