Objectives of the service
The objective of this project is to assist grape farmers and governmental authorities with the management of scarce irrigation water resources and on-farm nitrogen applications in order to promote sustainable optimal resource utilization, reduce input costs, protect the environment, and ultimately increase water use efficiency by means of operational satellite technologies. In other words: the development, integration and validation of sustainable end-to-end services for optimal utilization of water and fertilizers in vineyards in Western Cape, South Africa. The services will be based on the integration of established techniques and methods relying on space (satellite earth observation, satellite communication and satellite navigation) as well as terrestrial technologies.
These services will provide governmental authorities such as the Ministry of Agriculture, related Water Users Associations (WUAs), and individual farmers, with information on the overall consumption and optimal utilization of water and fertilizers. Consequential they will be empowered to achieve optimal resource utilization, reduce input costs, reduce the environmental impacts, and increase the yield and quality of grapes and wine.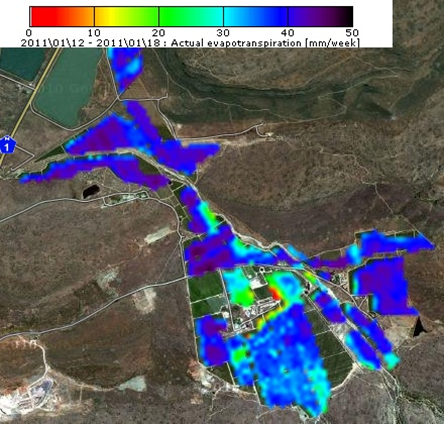 Users and their needs
Efficient irrigation water management and optimal application of fertilizers concerns two main categories of end-users:
Governmental authorities and organisations, such as the Department of Agriculture and Water Users Associations, being interested in quantified information on overall water consumption and use of fertilizers to, for example, better manage the reservoirs;
Farmer organisations, individual farmers and their advisors, who are interested in better understanding the spatial variations between different farms, agricultural blocks and within blocks.
The expected benefits of this project focus on increasing agricultural production while reducing water consumption at the same time. It aims to attain sustainable utilization of resources, reduce inputs costs, protect the environment and ultimately increase water use efficiency. Remote sensing is an objective, non-biased tool to provide quantitative information on water consumption. This will help decision making of governmental authorities when it comes to efficient management of reservoirs.
Extension officers can receive quantified information on actual crop water status, crop water needs, grape production and nitrogen status of individual vineyards to provide accurate recommendations to the farmers they are in charge of. Water Users Associations can use the quantified information on water consumption of vineyards, irrigation water requirements and crop water requirements in order to distribute irrigation water efficiently using water quota, and ensure equitable and fair sharing of irrigation water among the various farmers.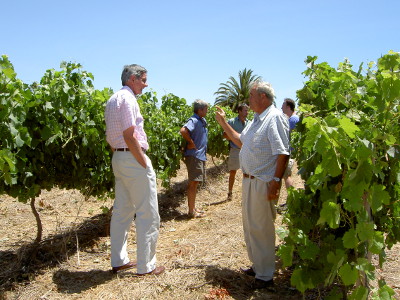 Service/ system concept
This demonstration project is largely based on an existing product developed for the Dutch farmers and referred to as "Boer in Beeld", which eventually became the FieldLook product (www.FieldLook.com). This service package provides irrigation information on a weekly basis in conjunction with information on crop growth and fertilizer status. New aspects of the demonstration project are the integration of in-situ observations, satellite communication and positioning elements. After the demonstration phase, the service is envisaged to evolve into a geo-platform to convey data towards a larger group of customers.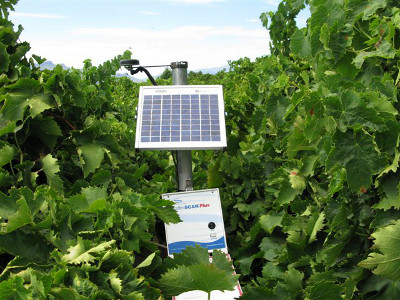 Space Added Value
The space assets mobilized for this project are:
Satellite Earth Observation: to run the existing energy balance and water balance algorithms of WaterWatch.
Satellite Communication: to transfer the remote in-situ field data to the processing centre of WaterWatch (NL).
Satellite Positioning: to accurately charter, geo-reference and register the vineyard blocks depending on the types of grapes as they require different amounts of irrigation water and fertilizers.
The foreseen added value of using different space assets (as opposed to using terrestrial assets) is:
Objective source of information;
Improved completeness and consistency of the results;
Rapid availability of the data;
Seamless integration with terrestrial assets;
Reaching remote or areas hardly accessible; and
Improved knowledge on variability in vineyards over space and time.
Current Status
The most visible outcome of the project is the website fruitlook.co.za, in which all data was disseminated to the end-users. Behind this website, a complex data processing structure was built, that allows efficient and fast processing of Earth Observation data from several sources. A dedicated team was assigned to produce weekly updates at the website. Furthermore a number of field measurements was used to validate the Earth Observation data.
The project ended in October 2011. Currently the team is working on the successor of GrapeLook, which is called FruitLook. FruitLook will be similar to GrapeLook, but will cover a larger area and include deciduous fruit trees. Most of the framework and models developed in GrapeLook will be used in FruitLook, but the dissemination tool (the website) will be improved to increase website speed and thus access.
Prime Contractor(s)
Status Date
Updated: 17 August 2011
-
Created: 15 February 2014