Objectives of the service
The Greenhouse Early Warning Service (EWS), is based on the application of Earth Observation data for risk mitigation and prevention in the greenhouse industry, specifically related to non-insurable risks.
Greenhouse owners are producing crops at large scales in a competitive industry. Greenhouses are used to create the most favourable conditions for products to grow. Several types of technology are used to enhance their business performance, e.g. climate regulating systems to control temperature, humidity and watering the plants. Supporting technology is essential to ensure efficiency and continuity of the business. Some challenges faced by greenhouse owners are:
Subsidence: Causing issues related to the structure of the greenhouse. This affects the climate control and therefore production and yield.
Algae blooming in the water basin: Outside water basins are used to water the crops. Algae bloom can cause problems in the watering systems which may lead to a decrease in yield
Energy leaks: Causing the climate control system of a greenhouse to compensate, resulting in higher cost for the greenhouse owner.
The EWS adds value by monitoring the above aspects of the value chain and help prevent/mitigate these non-insurable risks.
Subsidence, algae and energy leaks can be detected from space and this study investigates how to apply this technology and its impact on business profits.
Users and their needs
The end users of the Greenhouse EWS are the greenhouse owners. They will subscribe to this service via their advisors (in this case PinC Agro) or insurance companies having the role of service providers.
The needs of the greenhouse owners are reflected by the challenges they face in order to stay ahead in the market. They need to gain insight into the risks threatening their business, to take action to ensure that they can meet their clients' demands and stay competitive.
The needs of the greenhouse owners are:
Innovative solutions and technology in order to maintain a strong position in the market
Solutions to maintain effective business operations when exposed to risks
Preventing damage of assets caused by uncontrollable impacts
Service providers in this sector have the same need of staying competitive in the market, by providing services that benefit their clients (the greenhouse owners). Their needs are:
To continuously improve their services in accordance with clients' needs
To create innovative solutions for clients using the newest technologies (such as space data)
To create services which addresses the (many) different issues experienced by their clients
The greenhouse industry is a worldwide industry and some Dutch business owners have greenhouses all over the world. The target country to start with is the Netherlands.
Service/ system concept
This service provides alerts of business threats detectable from space to greenhouse owners, so they can prevent or mitigate (non-insurable) risks. Satellite data, location data and if applicable, ancillary data, will be processed in CGI's Space Validation Lab to provide data insights. By acquiring this service e.g. via PinC Agro, greenhouse owners are able to receive alerts on the subsidence of buildings or algae blooming in (open) water basins and potentially other detectable threats. In the underlying use case scenario, the greenhouse owners receive advice from PinC Agro on how to ensure continuity of their business and are then able to take action.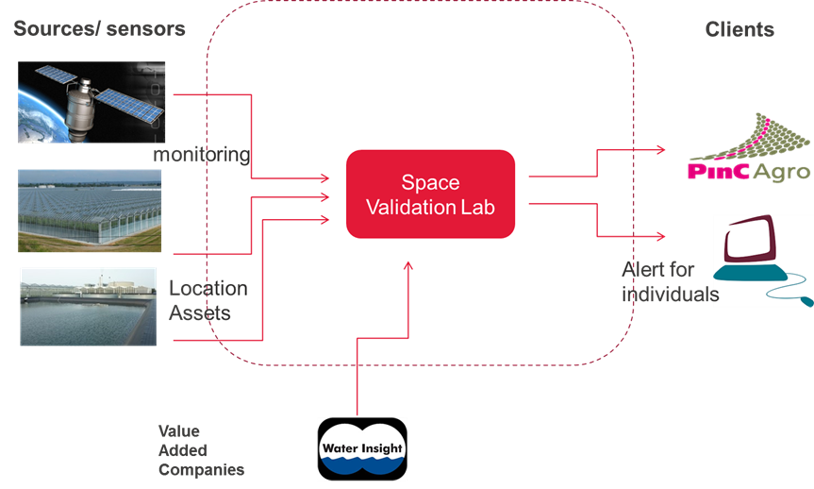 The Space Validation Lab combines and converts data into information, using CGI's Data Scientists' skills and third parties expertise in remote sensing. The greenhouse owners can configure the PinC Agro service to receive customized email alerts related to the issues he experience as affecting his assets.
Space Added Value
For this service, Earth Observation satellites are utilized, specifically optical and SAR imagery made available through the Copernicus data services and the NSO data portal. The advantage of imaging satellites is their ability to monitor large areas over time, which creates a continuous stream of information. Algorithms can be applied to imagery to detect issues which can cause potential damage to greenhouse owners business.
The imagery is combined with location data of greenhouses and water basins. The multi-temporal imagery is processed using state of the art algorithms to obtain data insights. Based on time-series analysis, an alert is reported when:
Algae blooms: Algae concentrations are above a defined threshold
Subsidence: Downwards movement of the ground is exceeding a threshold
Energy leaks: A localised temperature rise is above a threshold
Current methods used by greenhouse owners are manual and time consuming. Some utilize ground sensors, however the common approach is to manually inspect their assets. This method requires time and resources and the condition of their assets is unknown between inspections. Combined with the fact that greenhouses are continuously increasing in size, the sector is in need of innovative, low cost and low effort solutions to managing risks, which is what space data can provide.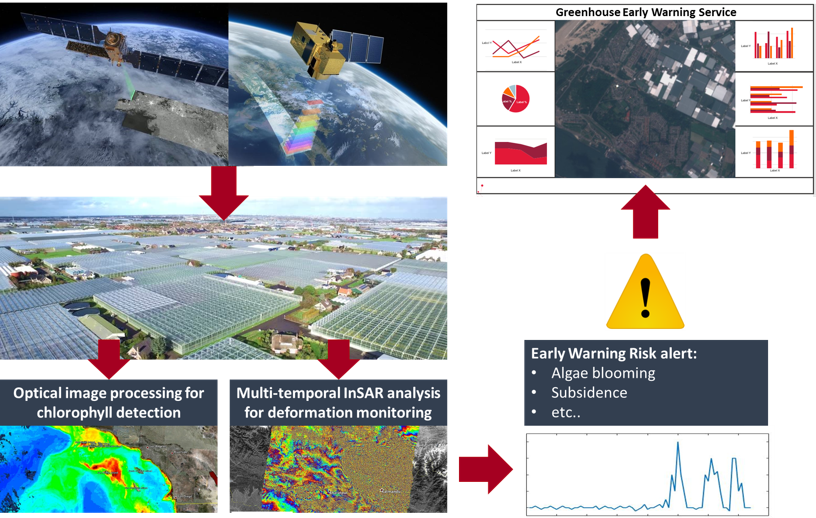 Current Status
The study has started in May 2018 and was completed in December 2018. The final review took place on 16 January 2019.
Based on the results of this feasibility study, two technically feasible and commercially viable sub-services have been defined: will go forward to the demonstrator phase:
Subsidence of greenhouse structures can be detected and monitored with SAR Interferometry
Temperature distribution within greenhouses can be detected and monitored with thermal satellite sensors. This also enables detection of energy leaks or other anomalies in temperature distribution.
Two other potential sub-services, algae detection and subsidence of water basins were not found feasible.
It is intended to go forward with a demonstration project for the development and demonstration of the two feasible and viable sub-services.
Prime Contractor(s)
Subcontractor(s)
Status Date
Updated: 09 April 2019
-
Created: 27 November 2018