Objectives of the service
The spread and type of assets under the control of the users within the heritage sector make the use of satellite applications incredibly valuable. The scale of coverage offered by earth observation and the unique measurement output offered by satellite navigation will provide a unique service offering which is currently not delivered to the sector. Change detection will take the inputs of earth observation and provide additional value by highlighting change. This in turn allows experienced engineers to then drill down into the detail to establish the causes of that change and prescribe a corrective course of action.
Users and their needs
- Better information on the structural integrity of structures and the stability of the surrounding ground
- Automatically detecting changes in environment, caused by storm damage or unlicensed building, with particular focus on remote locations
- Better understanding of structural movement of buildings in remote locations through in-situ sensor deployment with robust communication/data storage
- Non-contact and more frequent Coastal erosion monitoring to avoid high costs of site visits/aerial photography
- Mapping of vegetation and also any changes in vegetation e.g. Greening of semi ruinous sites, new tree growth in buildings and vegetation in gutters.
- Better understanding of Slope stability and movement of dunes and embankments via in situ devices and EO techniques
United Kingdom
Service/ system concept
The service will deliver the following three outputs
◦ Ground Motion (PLIMM) InSAR measurement in x and y to provide a context for behaviour of users' assets
◦ Change Detection using optical and radar imagery to alert users to potential issues e.g. change in vegetation growth or landslip precursor
◦ Coastal erosion monitoring service (Astrosat)
◦ Application services (PLIMM) using the installation of in-situ sensors (both satellite and terrestrial) to provide more frequent measurement data on strategically important assets.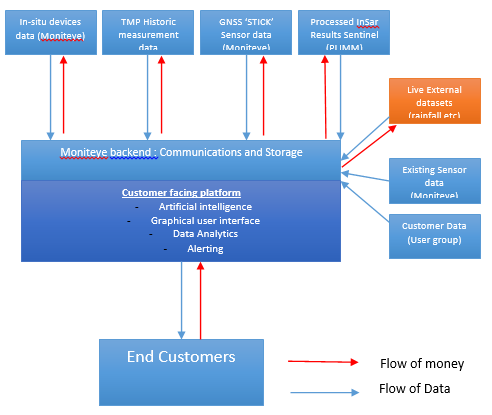 Space Added Value
Satellite navigation and Earth observation are the two pace assets that will be utilised during the delivery of the service. The low cost GNSS sensors developed by Nottingham Scientific LTD in conjunction with Moniteye will be able to provide X,Y and Z movement of heritage assets to mm accuracies. This measurement is currently rarely used within the heritage sector. In-situ GNSS sensors would provide movement data on a daily of even hourly basis allowing a much better understanding of a users' assets. InSAR Output developed during the PLIMM project will also be used to provide wide area ground movement data giving user a scale of data previously not accessible through terrestrial methods. Finally, combining optical imagery and change detection algorithms will enable users to be alerted to changes in the environment surrounding their assets. For example the system would be charged with picking up changes in vegetation growth that may be indicative of an increase in moisture within heritage assets.
Current Status
The consortium was able to extract valuable information on the burning challenges that face the heritage sector both now and in in the future. The small user group allowed the consortium to build a strong relationship enabling a deep understanding of the issues facing them. In turn the project was able to successfully introduce the user group to the various benefits of space applications within the heritage sector. Going forward Historic Scotland have indicted a strong intention to move forward with the activity. This will likely be carried out using the CCN mechanism.
Prime Contractor(s)
Subcontractor(s)
Status Date
Updated: 01 July 2016
-
Created: 01 July 2016