Objectives of the service
The optimised routing for waste collection which will contribute to collectors' ability to manage the waste streams more efficiently and hence more sustainability.
Key problems of the users
Lack of good and actual street maps
Lot of correction time of maps
Accurate information for planning
Dynamic information to be flexible
Solutions (which and how)
Using satellite imagery for actual data and make it vector for maps and routing
Scalability to other organisation or activities comparing collection and maintenance of public area.
Monitoring satellite data to set up prediction
Users and their needs
Waste collection companies are responsible for the collection of the household waste. Their shareholders are in this project a collaboration of municipalities (with their own governance and goals). In HelloBin these are the target users of the services (the dynamic routing, geo mapping and the geodatabase). Waste collection companies are already using Jewels routing software, the HelloBin service is an added value for their current service. The identified users' needs from the project are:
Efficiency
CO2 reduction
Accurate and actual data (combining dynamic data with static information)
Communication and involvement citizens
Monitoring and prediction biomass
Capacity planning
And the operational challenges are:
From data to usable information, vector it to maps

Thermal mapping
Biomass index

Link the static and dynamic data as fit for purpose
Netherlands, Germany
Service/ system concept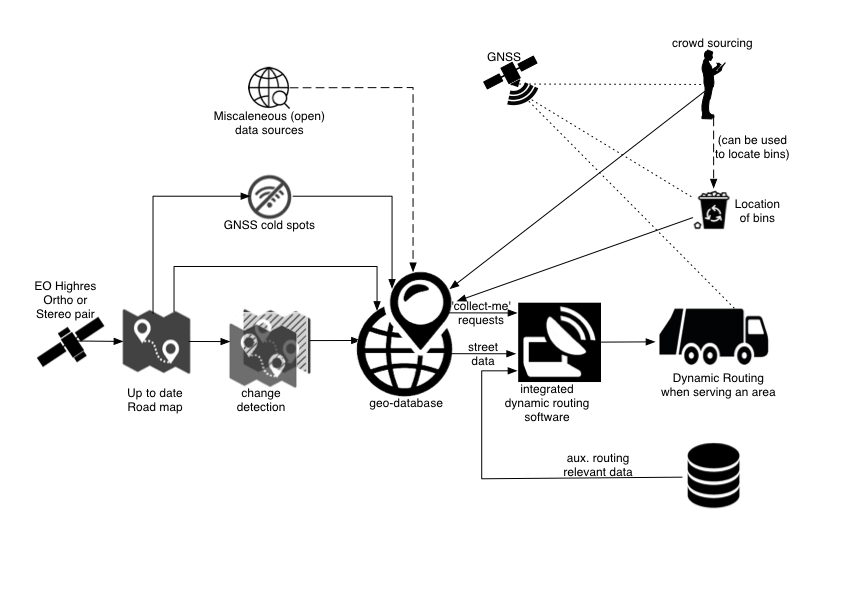 Space Added Value
Current Status
The project HelloBin realized the involved users that geo-data and specific satellite data can be of added value for their daily processes.
Actual and accurate information are essential:
to make the right decisions
to optimize and make workloads more planable
to have an efficient process.
The study confirmed that satellite EO data can be used to monitor the service area. The Thermal mapping needs a further and deeper technical study. Biomass estimation by earth observation is promising to plan efficiently litter collection. Satellite navigation systems are an added value for citizens to get more involved and to inform the municipalities.
Prime Contractor(s)
Subcontractor(s)
Status Date
Updated: 11 July 2018
-
Created: 18 January 2018