Objectives of the service
Humanitarian agents are often isolated in conflict regions, where local telecommunication infrastructure doesn't exist or has been destroyed. Strong security concerns make it essential that agents must have reliable communication links to other agents scattered around the region, and to their supervisors/coordinators.
The world's increasing political instability and spreading conflicts are raising security concerns within the humanitarian community. The work of these agencies has never been easy, but in recent years they are even becoming the targets of armed attacks by violent factions fighting in their zones of operation. Humanav Next is a step forward to guarantee the security of staff and assets.
The HumaNav Next demo project addresses the Aid & Development community's urgent need to increase the security of the humanitarian missions. It develops a fully integrated and reliable vehicle's on-board solution, providing:
• Geo-location, fleet monitoring, management and security
• Telecommunications: voice, messaging and data
This solution provides seamless world-wide coverage and full service regardless of the lack of any local infrastructure, by using Iridium SatCom and GNSS location. It will be adapted to humanitarian vehicles deployed in field missions in underdeveloped regions and conflict areas. All services will be available while driving.
Users and their needs
Target market: the Aid & Development community (Governmental and Non-Governmental Organisations): ICRC[A1] (International Committee of the Red Cross), WFP (World Food Program), UNHCR (United Nations High Commissioner for Refugees) and other UN agencies, MSF (Médécins Sans Frontières), WHH (Welt Hunger Hilfe), ACF (Action Contre la Faim).
Users: staff working in humanitarian interventions/operations. Two different users are involved:
• Agents deployed in the field and always appointed to a vehicle
• Supervisors / Coordinators at the agency's headquarters, acting remotely, by means of the web-based Novacom Platform: monitoring the vehicles' geo-location and coordinating the mission by the HumaNav Next's voice, messaging and data links to the agents deployed in the field
User needs: voice, data and messaging links, available world-wide and regardless of local infrastructure:
• Geo-location: to know the agents' position in real time, vital in case of problems e.g. car crash, hijack, etc.
• Voice calls everywhere: voice communication, continuously and seamlessly available in any condition, for coordination and for asking for help
• Data transmission everywhere: daily reporting is an essential part of many missions; these reports need to be delivered in time
• SMS and mail everywhere, anytime: key information is exchanged by email and SMS to pass precise information between agents and coordinators
• Integration and centralisation in the agents' vehicle: every agent is appointed to a vehicle but any detached equipment is often lost, out of battery or stolen
• Cooperation and resource sharing between different agencies
---
The targeted customers often have their main headquarters in developed countries (Europe and North America) but the humanitarian missions are mostly deployed in African, South American and Asian countries. However, conflicts such as the ex-Yugoslavian and Ukrainian conflicts have seen wide humanitarian missions also deployed within Europe.
Service/ system concept
The main benefits of HumaNav Next for the humanitarian organisations are:
• Highly enhanced staff security: reliable communication anywhere world-wide. The use of HumaNav Next can make the difference between life and death.
• Improved efficiency in every day work by upgrading data collection and transmission to state-of-the-art digital technologies. It is also possible to optimise the resource usage by coordination with other agents and supervisors.
• Mission optimisation by enabling resource sharing with other organisations[A1] in the field.
• Cost reduction: by replacing the very expensive use of HF radio and base stations by satellite voice communication.
HumaNav Next vehicle's on-board unit (OBU) integrates all telecommunication and geo-location services: voice, messaging, data, and geo-location. These are provided regardless of the lack of local infrastructure, either when the vehicle is stationary or when it moves up to 120 km/h.
The OBU uses hybrid telecommunication: 3G whenever available and Iridium SatCom when 3G is not available. The result is world-wide coverage at the lowest airtime cost.
The user accesses services using two interfaces:
1. A built-in on-board handset which is always present in the vehicle: default access point to the services.
2. A Wi-Fi hotspot to allow any duly identified and authorized user to connect a smartphone or tablet PC to the OBU and access all services.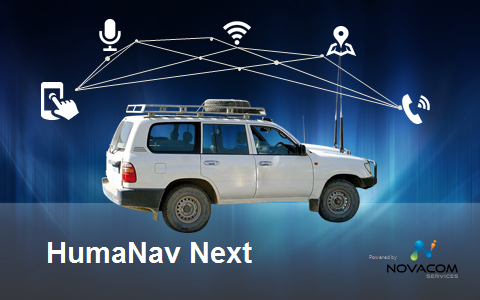 Space Added Value
HumaNav Next must provide service in remote regions or in emergency situations where the telecommunications infrastructure is poor or non-existent. The only reliable way of ensuring world-wide service availability is the use of space-based technologies:
-GNSS navigation to provide world-wide position tracking in near-real-time.
-Satellite voice, data and SMS communication with global coverage. The use of Iridium LEO constellation is required to provide HumaNav Next services:
• Short Burst Data (SBD), in order to transmit geo-location and tracking information
• Circuit Switched Data (CSD) and/or Router-based Unstructured Digital Inter-working Connectivity Solution (RUDICS) for bidirectional messaging, file and report exchange and M2M communication with a remote server
• Iridium native SMS
Current Status
The project ended in February 2021.
Prime Contractor(s)
Subcontractor(s)
Status Date
Updated: 17 February 2021
-
Created: 22 June 2016