Objectives of the service
More than 500 million farmers don't have access to insurance for their fields. They produce 70% of food worldwide yet, they are totally exposed to weather risks.
Traditional insurance has not penetrated the agriculture micro-insurance market due to high costs and complexity in distribution, administration and claims handling.
IBISA Platform as a Service enables Mutuals and Insurers to define, distribute and manage parametric insurance products for agriculture
We are unlocking the inclusive-insurance market for agriculture and enabling efficient and automated New Generation of insurance for Mutuals and Insurers
Unlocking this market brings food security, contributes to resilience and generates prosperity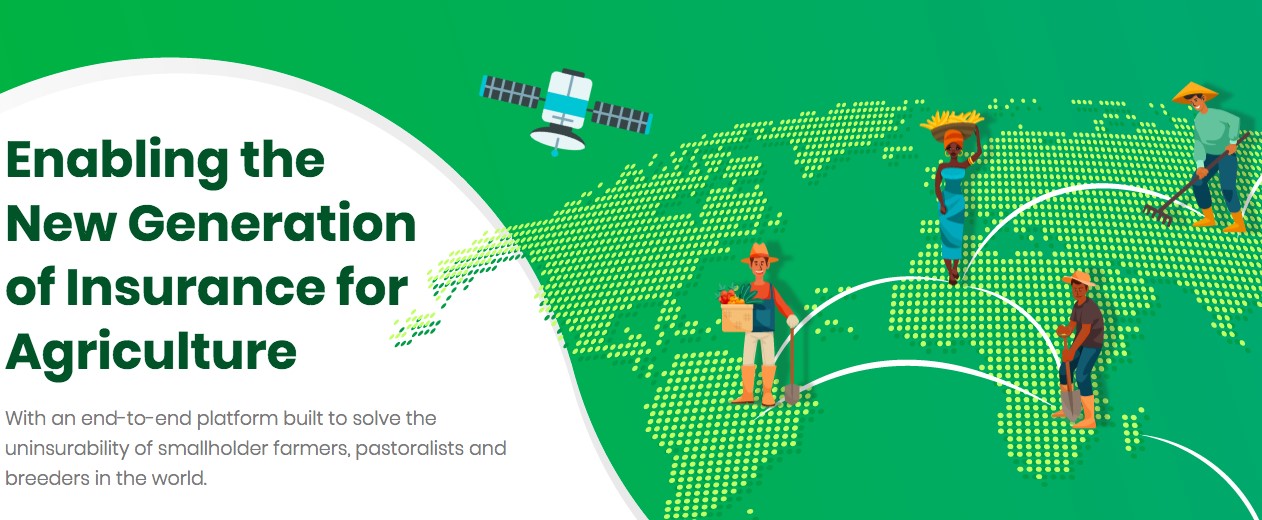 Image credit: IBISA, Project : IBISA Phase 1
Users and their needs
Together with our partners (local mutual and insurers) we target those farmers that lack the provision of credit, insurance and payment facilities in Latin America and Asia Pacific, Africa and Asia. 500 million agri-entrepreneurs worldwide. This represents 99.3% of low-income farmers in the 100 poorest countries. Of special interest to us are the women farmers who account for 60 to 80% of smallholder farmers and produce 90% of food in Africa and about half of all food worldwide.
Land size: any land size. The coverage model is based on a compensation damage that is proportionate to the farmers contribution by the farmer
Living conditions: IBISA ambition is to cover weather provoked vegetation deficits, be it for crops or for cattle grazing. Our 2 first deployments cover sedentary farmers in India, and sub-Sahelian semi-nomad agro-pastoralists in Africa.
Income level: any income level but most often very low. All existing traditional rural risk-sharing communities participate to the common solidarity
Farming practices: A recent article published in Nature (2017) based on statistics in India from 1981 to 2013 have shown that wheat yields are most correlated with vegetation indices and not so much with rainfall and with water run-off (streams) levels. Therefore IBISA has the ambition to be applicable both for irrigated and rain-fed cultures. We are crop agnostic. Our loss assessment done by groups and not individually helps reducing moral hazard.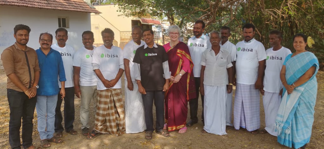 Image credit: DHAN, Project : IBISA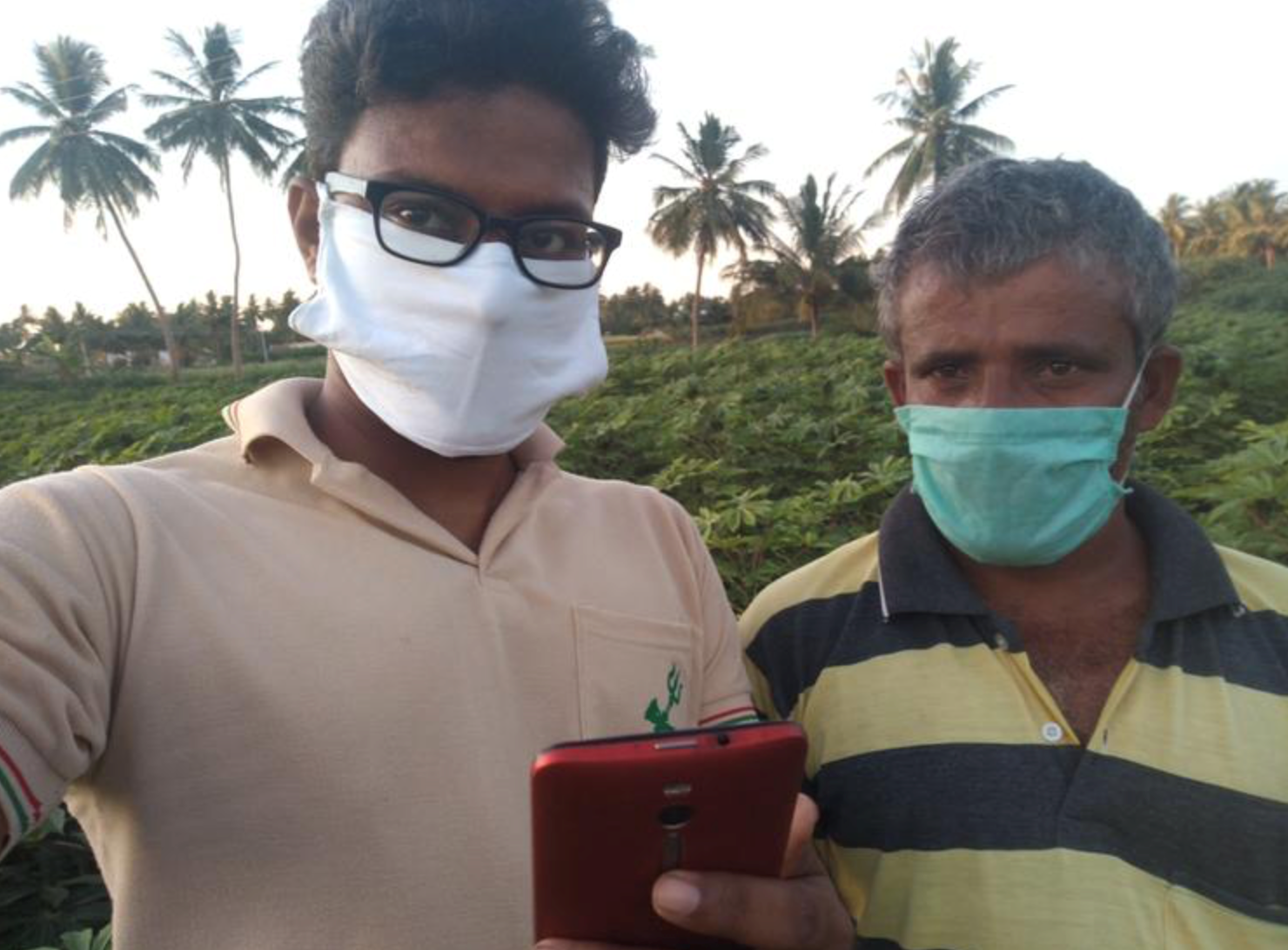 Image credit: DHAN, Project : IBISA (On-boarding farmers with IBISA App)
Service/ system concept
IBISA leverages leading-edge technologies: satellite earth observation, blockchain, risk modelling and a Gamified social collaboration platform to bring insurance everywhere in an easy manner
IBISA enables the new generation of insurance by:
Lowering administration and distribution costs through an efficient, transparent and automated blockchain back-office infrastructure and digital tools
Disrupting claims handling with an innovative loss assessment solution based in Earth Observation satellite data and human Crowd-Watching that is automated, scalable and reduces basis risks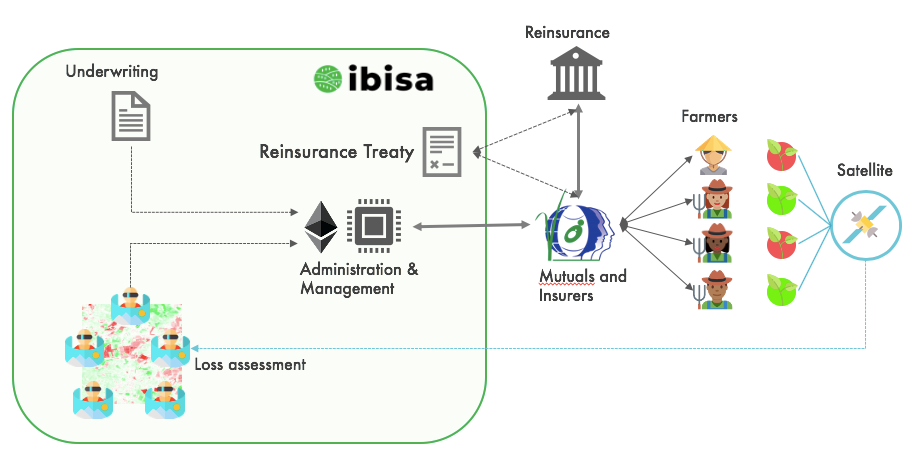 Image credit: IBISA, Project : IBISA Phase 1
Space Added Value
Unlike traditional insurance, which assesses loses on a case-by-case basis and makes payments based on individual client's loss realizations, parametric insurance offers policy holders a pay-out when a measurable indicator (such as soil humidity or vegetation index) triggers a payment to covered clients within a geographically defined space. Earth Observation products, 'tuned' to the requirements of IBISA, play a key role in the provision of index-based coverage.
For loss assessment IBISA combines the use of EO products with a "crowd-watching" approach, enabled by blockchain, to avoid the need of the very accurate EO assessments of traditional insurance.
In order to analyze these satellite images and extract the indexes, we have developed an approach that received an award in the Living Planet 2019 Symposium

Image credit: IBISA, Project : IBISA Phase 1
The EO segment of this project primarily relies on the resources being provided by ESA. IBISA takes advantage of the readily available and processed data, specifically from Sentinel 2 to run the algorithm used in computing the indices. Additionally, with the existence of the Sentinel Hub, a modern platform for distribution, management and analysis of satellite data., IBISA is able to automate the process and initiate execution in a timely and efficient manner that is key in the service they provide. Additionally, the True colour RGB composite images also being offered by ESA are integrated into the IBISA watcher platform to help the user during the assessment process.

An example of a True color and respective NDVI image being provided through sentinel Hub that IBISA has integrated in their watcher platform.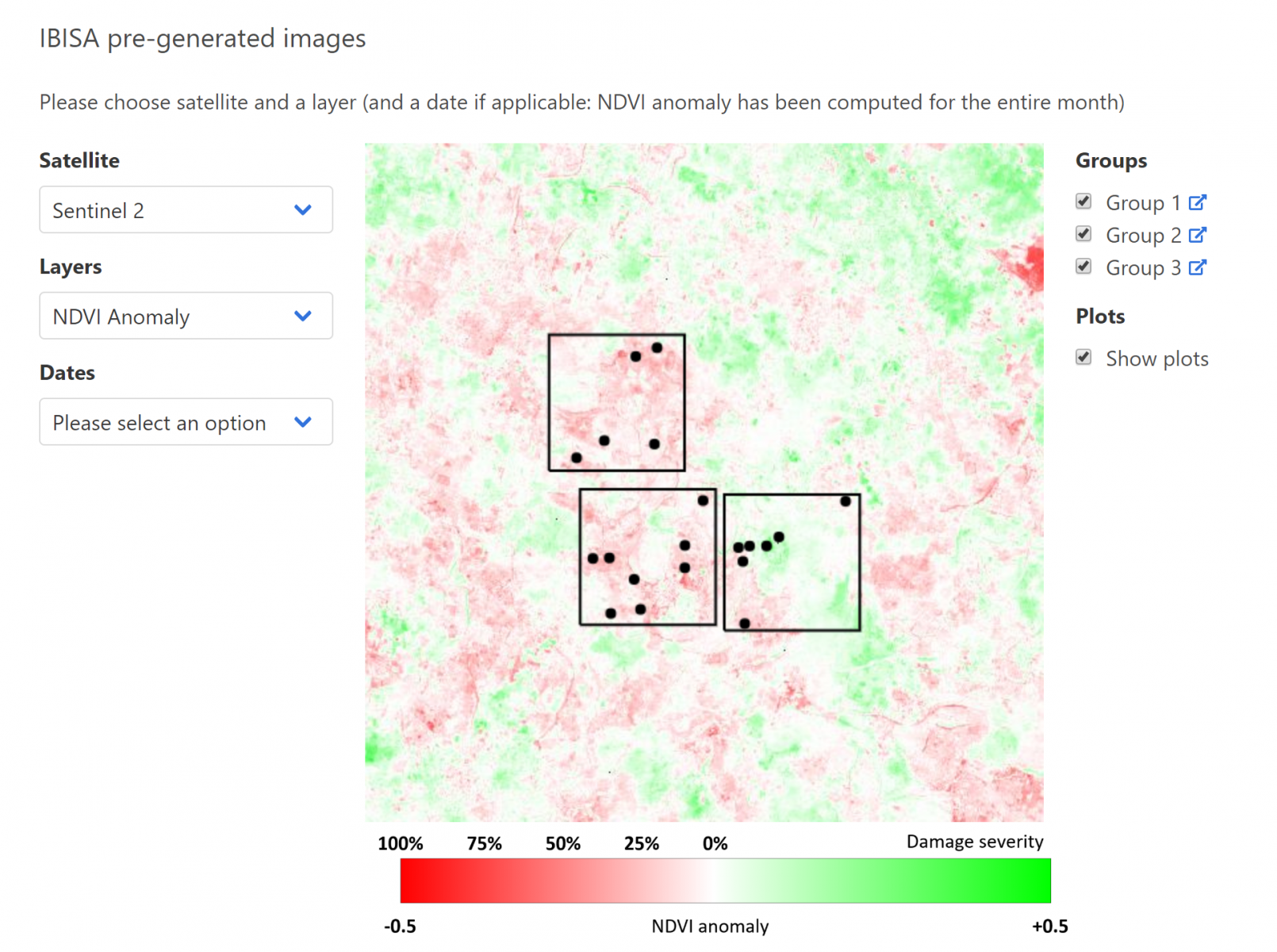 Subsequent NDVI anomaly image generated from Sentinel 2 data and provided to the watchers for the assessment
Current Status
Project Milestones:
Start date: 22nd July 2019
CDR: 28th October 2019
FAT: 20th January 2020
SAT: 3rd June 2020
FR: 29th July 2020
IBISA has deployed its prototype in a pilot project in Tamil Nadu, India with its local partner DHAN. 300 farmers are part of this pilot.
In a parallel track, partially self-funded, IBISA has started deployment in Niger with its local partner Réseau Billital Maroobé.
Prime Contractor(s)
Subcontractor(s)
Status Date
Updated: 24 June 2020
-
Created: 12 March 2020