Objectives of the service
https://youtu.be/w0NS2wLnCQU
Image credit: IBISA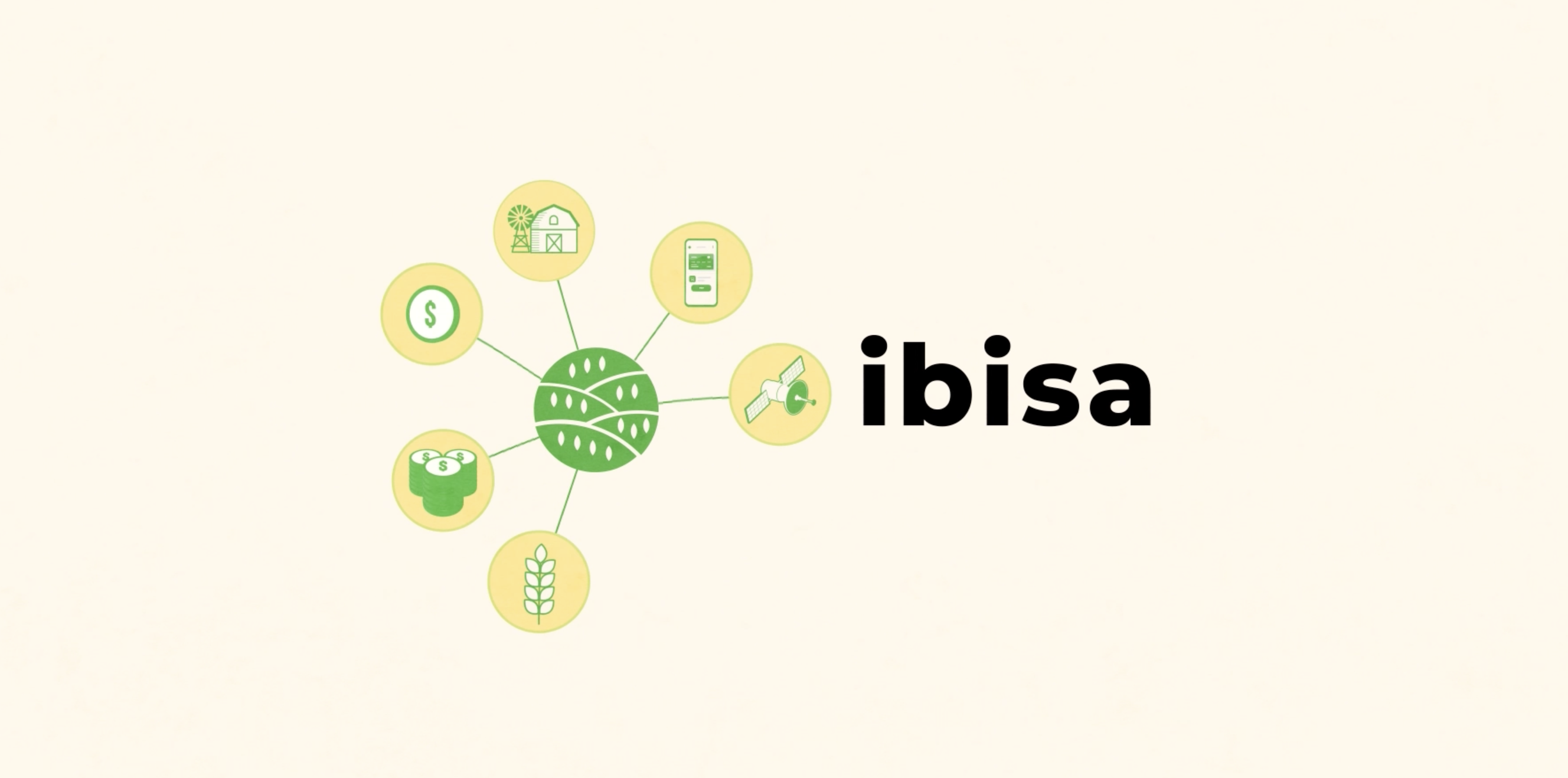 As climate and weather patterns shift, commercial losses due to floods, droughts, typhoons, temperature shocks, hail, etc. have been increasing.
More than 90% of agriculture fields worldwide are not insured against climate risks.
Extreme weather causes failed harvests. This pushes many farmers into poverty and decreases their level of food security. Low yields also cause business disruptions to food and beverage companies, hampers farmer's ability to repay agriculture loans, reduce or wipes out their capital to invest in inputs in subsequent seasons, etc. The entire agriculture ecosystem is at risk.
The financial impact across the value chain is not widely assessed and risks are transferred almost in totality to farmers despite of being the weakest part of the ecosystem.
Traditional insurance companies have not penetrated this market efficiently due to cost-structure and access to market problems that make it not viable.
Complex products that don't fit the needs, high operational costs, gaps in the value chain and difficulty to reach farmers are keeping the offer of agricultural insurance to a minimum level.
At IBISA we put the customer at the center.
We design, distribute and operate Climate insurance solutions for agriculture in a cost-efficient, scalable and innovative way.

Then we package them with other product features for specific segments.

We work with insurers, reinsurers and other local and global partners to deliver end-to-end products and solutions.

We use remote sensing, blockchain and actuarial technologies to design products that are cost-efficient, transparent, simple and adapted to the needs of our customers.
The result is affordable premiums, fully digitalized, transparent and rapid payouts.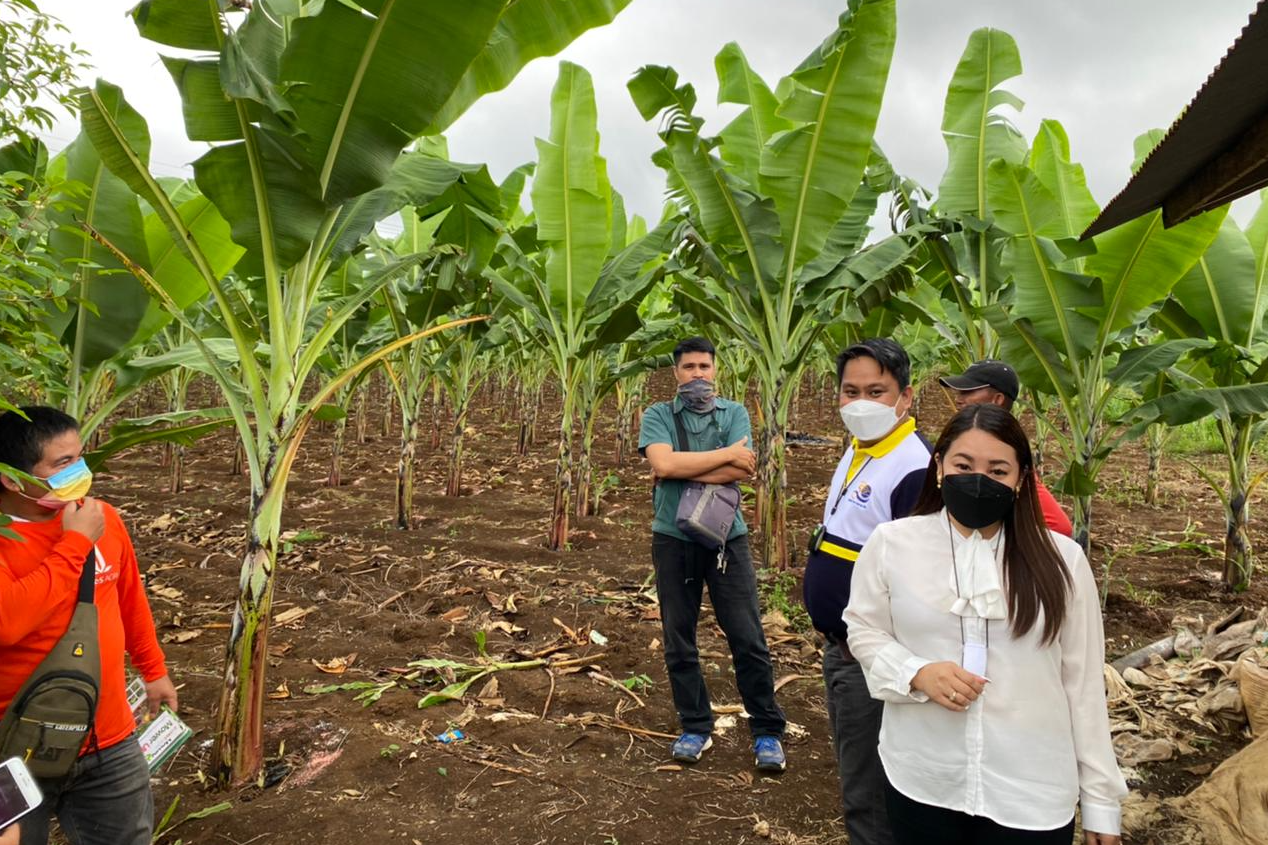 Bukidnon field visit (Philippines)- pictures from James Leyte (CIAT)
Users and their needs
The end beneficiaries of our solution are smallholder farmers and their families who also are the most affected financially after a weather shock. Harvests may be lower or completely wiped out as a result of a lack of rain, torrential rains or strong winds. But with such a damage, it is not just one farmer, but multiple farmers get affected. All such farmers are a part of a bigger ecosystem that comprise of input dealers, financial institutions and food companies.
The user segments of our product would be as followed:
Mutual insurers and insurers: cost-effective and automated climate insurance products that respond the needs of cooperatives and farmers.

Food and beverage companies: Low yields can cause business disruptions to these companies that source from farmers.

Financial Institutions: Low incomes tend to lead to high default rates on (agricultural) loans, which hurts them.

Agriculture Input providers: Low incomes also often results in a decrease in farm investment the subsequent year, which impacts input dealers and financial institutions.
Currently we are present in India, Philippines, Senegal and Guatemala.
Service/ system concept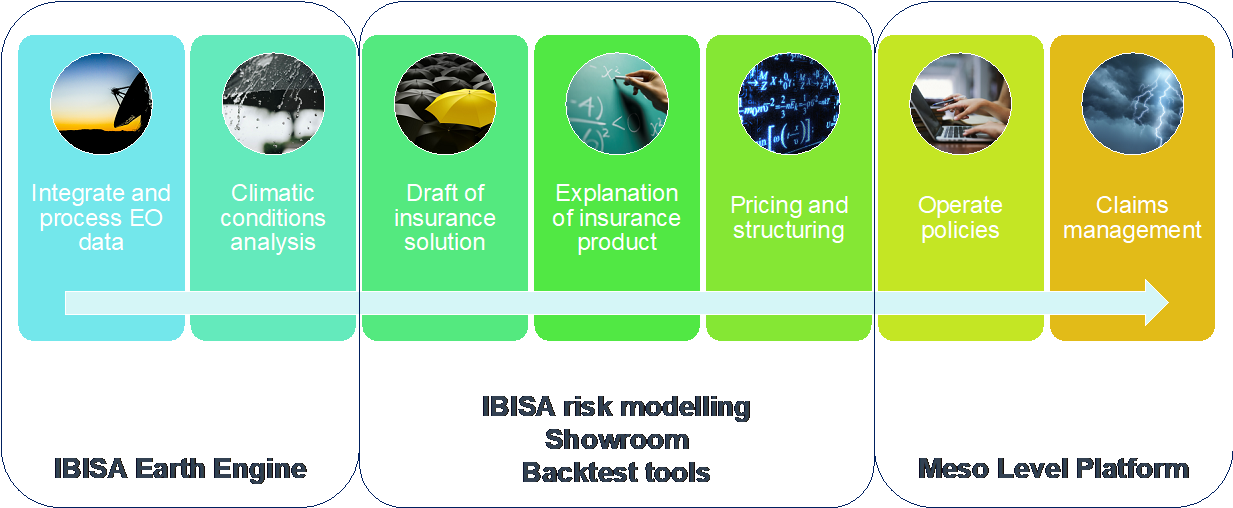 Image credit: IBISA, Project:
IBISA platform is based on 3 technological pillars:
Satellite Earth Observation, actuarial science, analytics and machine learning, and blockchain.
Our toolbox allows us to design very innovative insurance products, focused on modelling and structuring weather risks using satellite data.
We provide our customers a cloud-based solution for onboarding, policy management and business intelligence. It integrates the entire value chain in a single platform.
Finally, we assess losses using our unique and very innovative remote loss assessment engine.
With our innovation in product and distribution models we, for first time, dramatically lower the costs, enable scalability, transparency and remove frictions.
Space Added Value
IBISA it is developing its own Earth Engine (IEE) that contains the core of our Earth Observation data treatment and intelligence.
This is a ¨sine qua non¨ condition to enable automatic, seamless, scalable, and cost-efficient Climate insurance for agriculture.
IEE is a system that will make possible to access most important data instantly for the purpose of satellite data analysis. It contains two parts: data integration (providers and datasets) and data analysis and intelligence.
IEE includes extractions of data, filtering, processing of indexes, storing, formatting, API-sation of data and the core of our automatic assessment.
On the data intelligence includes all the scripts and tools to visualise and analyse a location, grid, shape, etc. using all the capabilities of the IBISA Earth Engine.
Space Assets used: ERA5, Sentinel-2, CHIRPS, MODIS, NOAA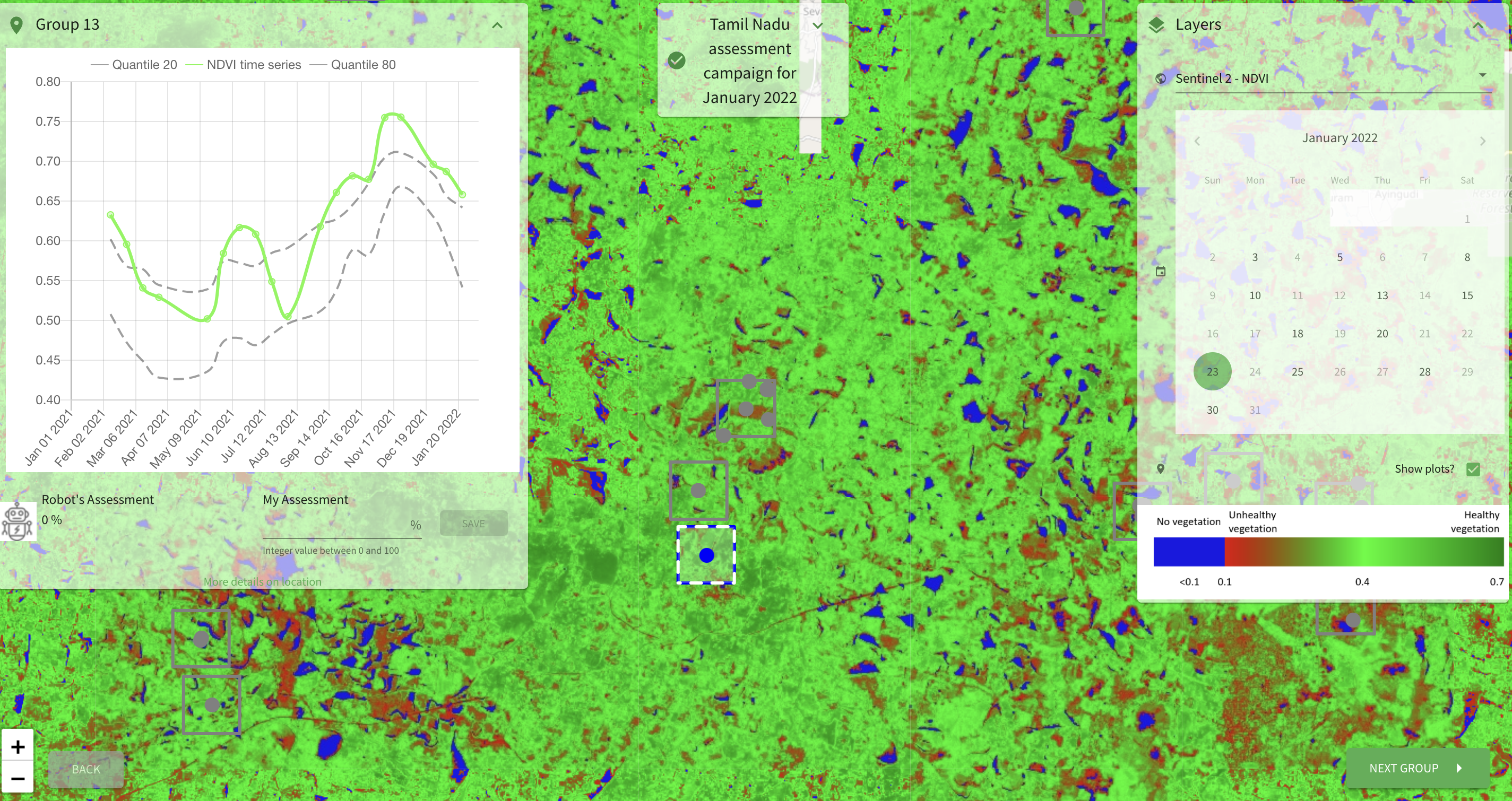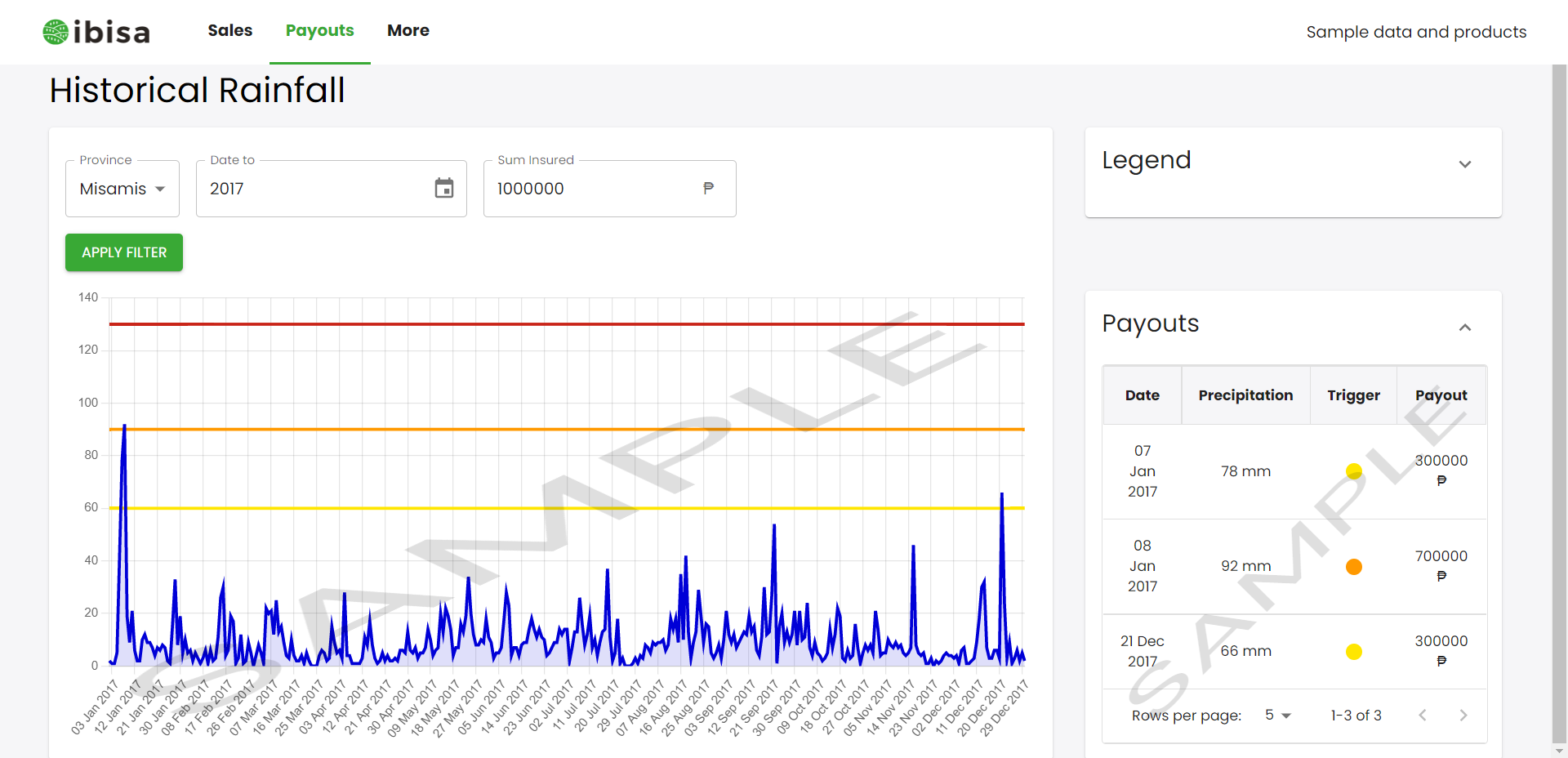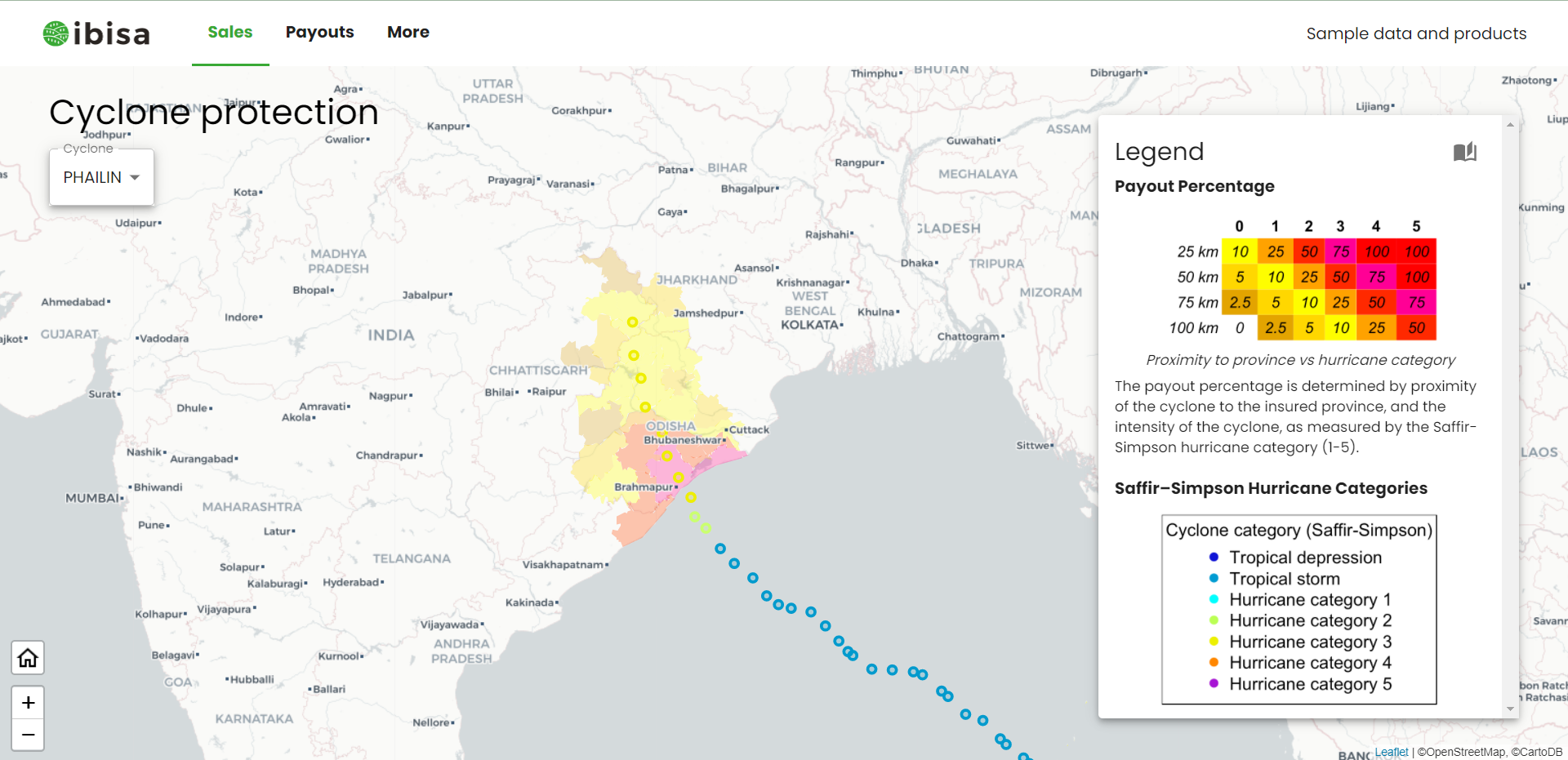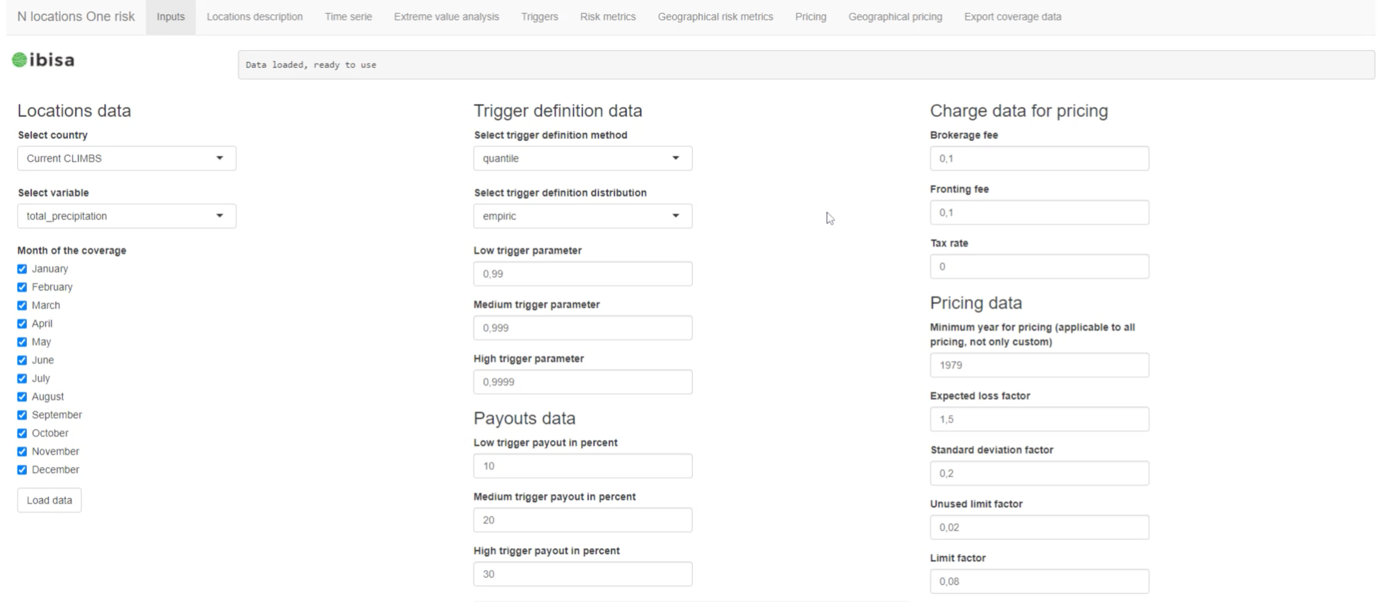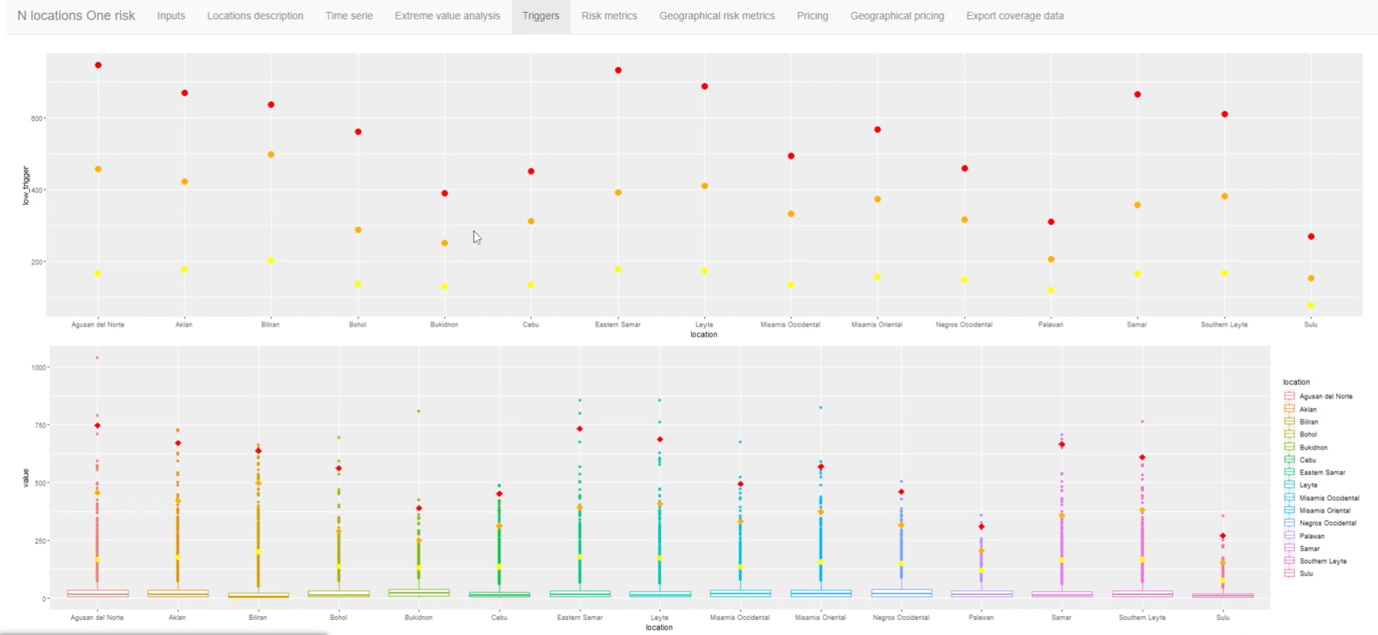 Current Status
Phase 2 durations: 18 months.
Currently at FAT Phase.
Prime Contractor(s)
Status Date
Updated: 26 October 2022
-
Created: 25 October 2022