Objectives of the service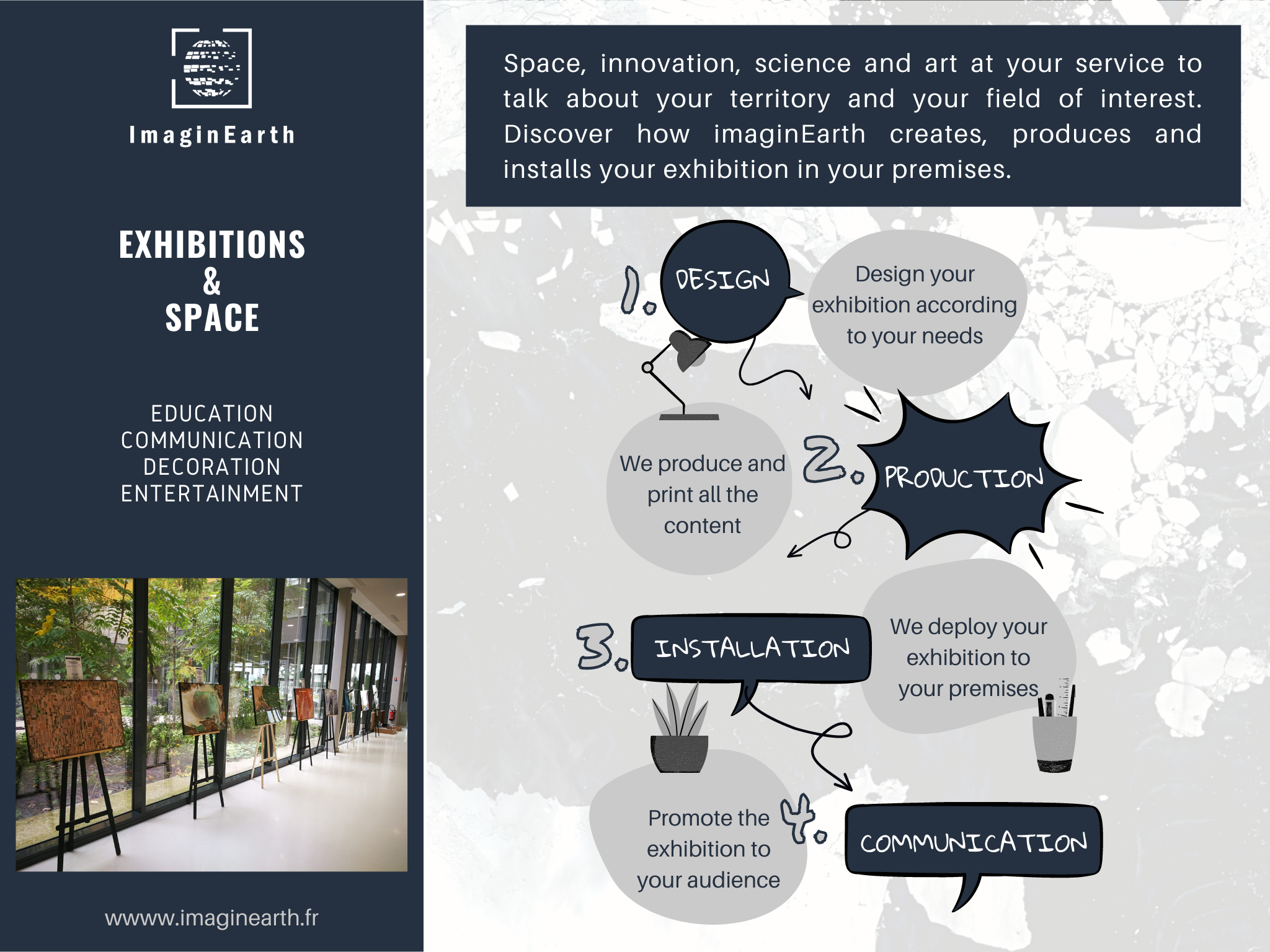 Images of the Earth are used for their artistic and educational quality for many years. These images are relevant to raise awareness on subjects such as sustainable development or natural resource management. Thanks to amazing shapes and colours, these images offer an original view of our planet and our ecosystem.
With already operational services on the market of Earth Photography, ImaginEarth developed a service offer to design, produce and deploy exhibitions highlighting (1) space technologies (e.g. Earth Observation), (2) themes such as sustainable development, natural resources or climate change and (3) territories.
The service is addressed to public authorities, schools and other educational entities, companies working in the field of event organisation or companies wishing to decorate or communicate using satellite images.
This service is designed to meet several needs in terms of decoration, animation and communication. The user can choose his images and several options to design an exhibition that meets his needs.
Users and their needs
As part of this IE4Education project, the aim is to develop a new activity to promote EO data through the organisation of exhibitions and events. The customer segments targeted and perceived as most important are the following three: Public authorities, Educational institutions and Companies in the event industry.
Based on interviews with a panel of 20 potential customers, the service was defined to meet their requirements. Among the conclusions shared by the different actors, the need for a turnkey service that is easy to set up is a priority. In addition, the customer must be able to design his own exhibition (selection of images, captions, practical aspects and logistics) to achieve his own objectives (decoration, pedagogy, communication, animation).
Service/ system concept
The service implemented by ImaginEarth aims to facilitate and industrialise the design, production and deployment of exhibitions in different places and for different actors. The challenge is to make the service very easy to use while offering content adapted to the client's objectives. For this, each exhibition project will be managed according to an adapted method:
Step #1 First contact between ImaginEarth and Customer.

Step #2 Customer's requirements (objectives, application domain, kind of images, etc.).

Step #3 Prototyping activities to present the exhibition content.

Step #4&5 Validation and technical/commercial proposal

Step #6&7 Production and delivery of the exhibition
A web application allowing the client and ImaginEarth teams to work on the content (definition of needs, creation, validation) is required to make the process efficient and user friendly.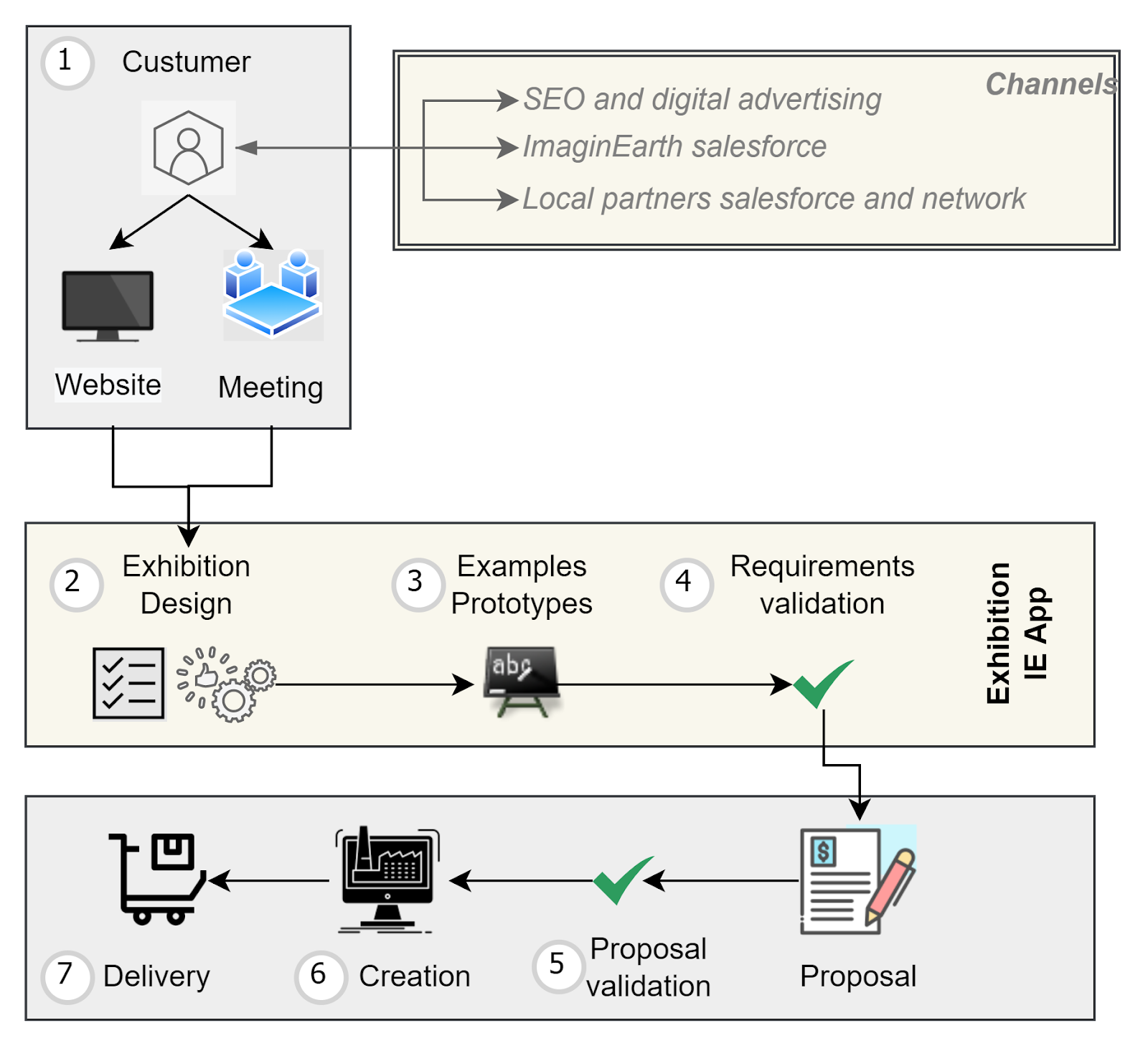 Space Added Value
The main Earth Observation product used to operate the service is Sentinel-2 L2A optical images. This sensor offers a very interesting revisit and coverage capacity to monitor all land areas. The 13 spectral bands include the red, blue and green bands ; they are used to create images with natural colours and a sufficient spatial resolution (10 metres for the RGB bands). These images highlight interesting issues related to sustainable development, environment, agriculture, urbanisation, etc. Spectral richness of these images can also be used to produce original creations with other spectral band composite products. In addition, other spatial data or products may be used to meet specific needs; we can mention for instance optical satellite images acquired by Sentinel-3 over a large area (country level) or Landsat images.
Current Status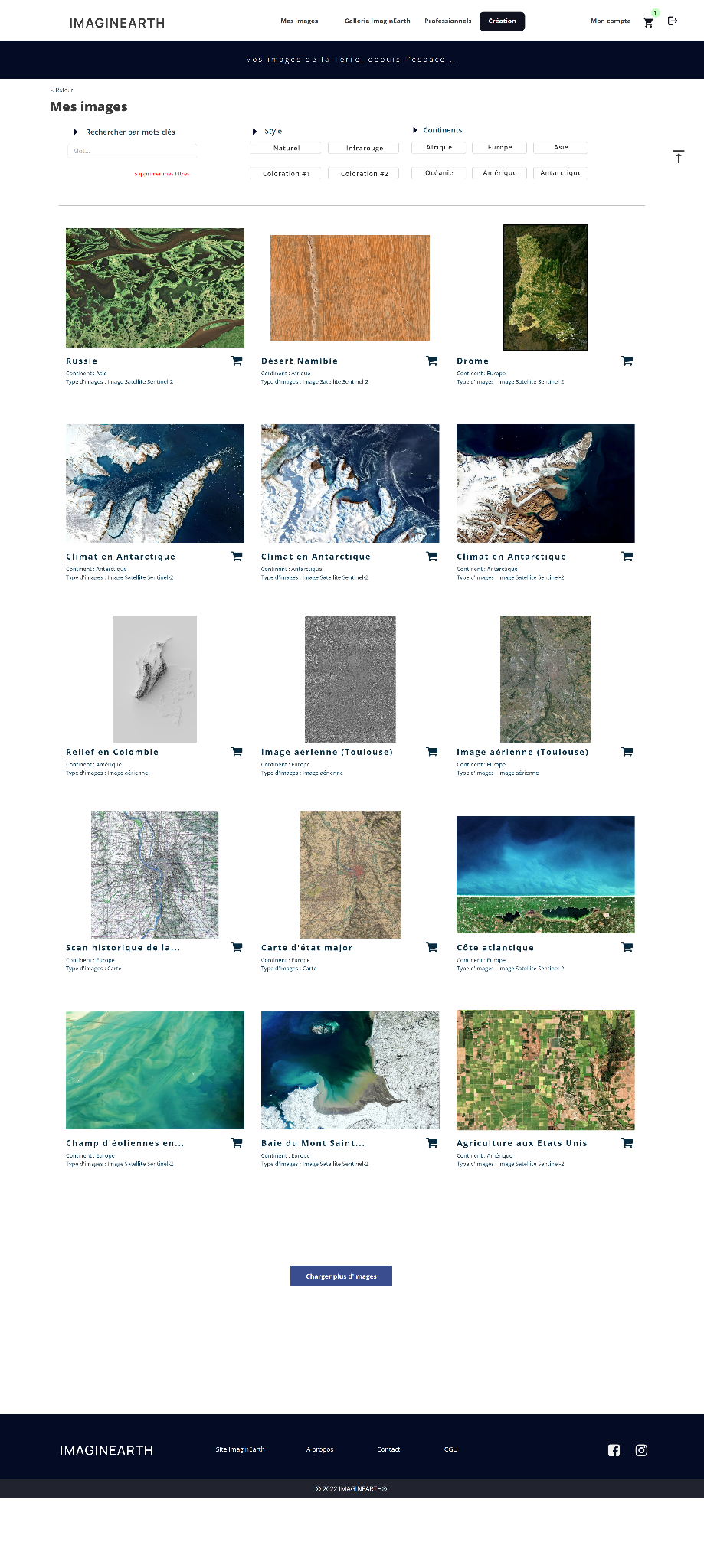 Nearly twenty interviews were conducted with various French actors working in the field of education, events or public authorities. These interviews helped to define the service by identifying custumer's pains, gains and needs. Based on these information, a first prototype have been developed with :
A dedicated web application to help customers create their own exhibition. The client can create an exhibition project by selecting images from a database, requesting new images and choosing options. Several types of images are available, including satellite images (Sentinel-2 and Landsat), aerial images, elevation products and maps. Each product is automatically generated by an operational processing chain

A business model adapted to the constraints of the market.
Prime Contractor(s)
Status Date
Updated: 11 August 2022
-
Created: 10 August 2022