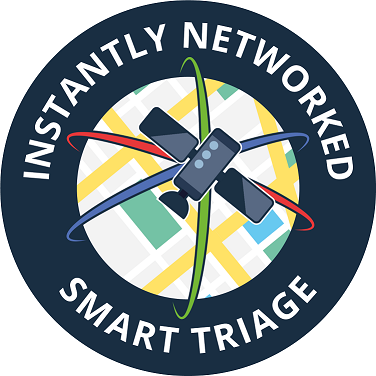 Objectives of the service

The emergency services require new methods for command and control of mass casualty incidents (MCI). For example, where the mass casualty incident is a marauding terrorist firearms attack (MTFA) police, ambulance and fire and rescue services need improved coordination in the strategic, tactical and operational command to preserve life and to keep the public safe. The objective is to provide an accurate representation in the digital realm of what is happening in the physical realm.
Users and their needs
Users comprise emergency services commanders and frontline officers attending a mass casualty incident (MCI). Those commanders and officers are drawn from the 'blue light' services: police; ambulance; fire and rescue services. They include first responders, decision makers at all levels, senior and less senior acting commanders, as well as authorised firearms police officers. Users operating in the 'Hot zone' and 'Warm zone' of a mass casualty incident need to be highly coordinated, better informed and clearly understood. Investigators working after the incident need a full audit trail for use during a public enquiry and other follow-up activities.
Service/ system concept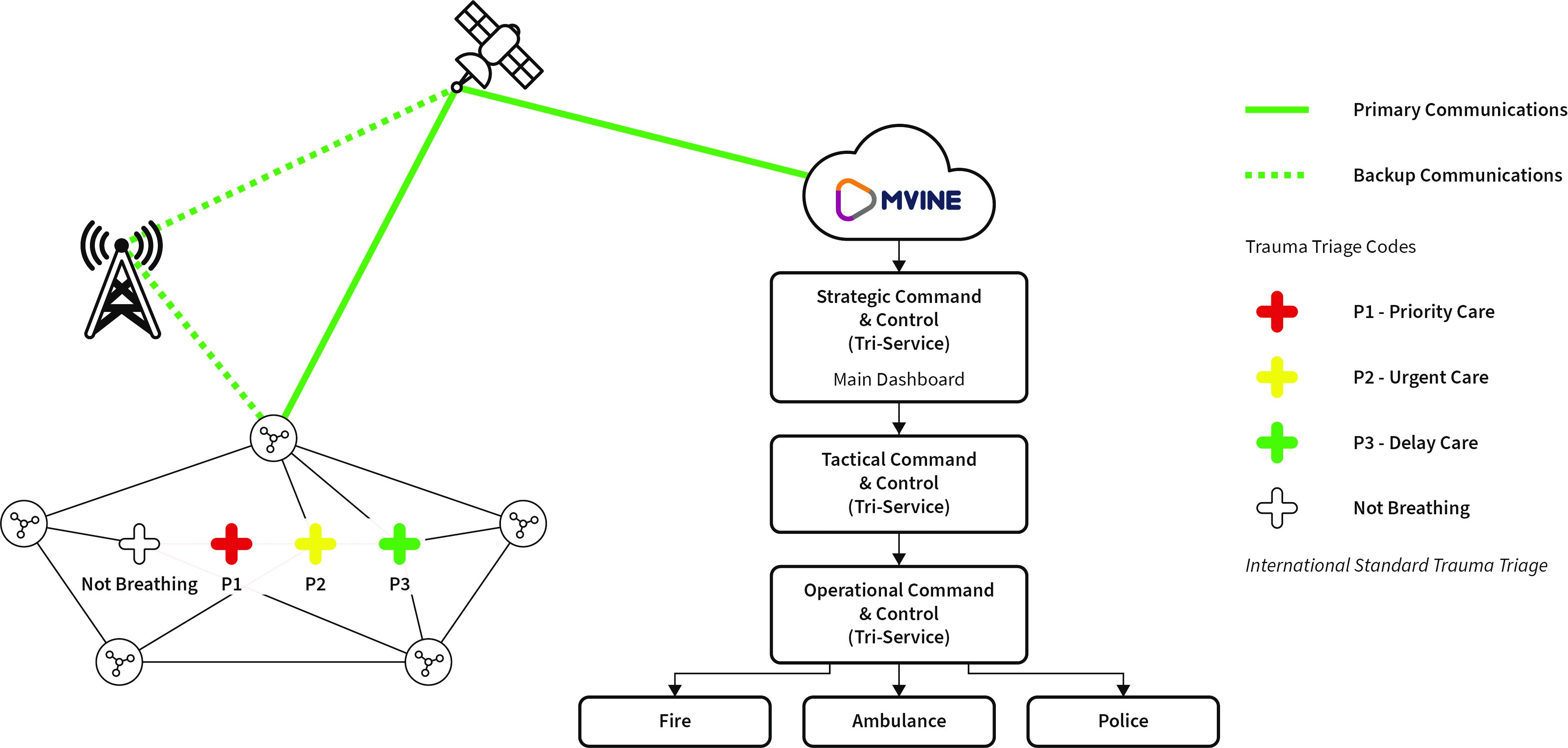 INST delivers the capability for emergency services commanders and frontline officers attending a mass casualty incident (MCI) to work in a more coordinated way, and to be able to count the number of casualties, to know where those casualties are located and to triage casualties based on the observed health condition of those casualties. INST uses satellite data communications as the core part of an ad-hoc multi-bearer mesh network to stream data in real time to presentation screens in strategic, tactical and operational command. INST records every data point and applies timestamps so that data is fully available, clear and understandable during and after the mass casualty incident.
Space Added Value
Existing and upcoming cross-linked satellite constellations in Low Earth Orbit are used, combined with terrestrial technologies, to form an ad-hoc mesh network for data communications which is instantly available, robust and highly secure in the context of a mass casualty incident. Space assets bring huge added value as terrestrial communication services may be unavailable (e.g. maritime), out of service (e.g. saturated), or no longer functional (e.g. damaged or destroyed in the incident).
Current Status
Currently, the INST project is on time and is progressing in line with the project milestones defined by ESA:
Kick Off Meeting 17 February 2023

A one-day workshop took place on Thursday 4th May 2023 (the LRF covers all relevant customer groups from emergency services: Police, Ambulance, Fire and Rescue)

The Baseline Design Review [BDR] was completed at the end of May 2023

A training exercise event took place on Thursday 6th July 2023 carried out by the Greater Manchester Police Tactical Firearms Unit and focused on a terror related mass casualty event. The tri-services were also involved (police, ambulance, and fire & rescue). A limited number of outside attendees were allowed, but a few members of the INST project team were privileged enough to attend and observe.

The aim of the exercise activity was for INST to see first-hand what a terror related mass casualty event response would look like so our hardware and software solution is tailored to the environment / location. This has helped build on the previous table top meeting we held at Old Trafford in May 2023 with the hardware and software requirements for implementation and the on-site testing needed to be performed for future milestones

The Critical Design Review [CDR] has been performed in September 2023 and the consortium is now working towards the Factory Acceptance Test (FAT) review.
This page is updated following completion of future milestones, so please remember to check back again for more news. Thank you for your interest in Instantly Networked Smart Triage (INST) project.
Status Date
Updated: 13 September 2023
-
Created: 18 June 2023