Objectives of the service
The project will study, how information coming from satellite assets can be utilized for the monitoring of cargo transports across the Baltic-Adriatic Corridor, in order to increase their safety and at the same time decrease the risk of damages.
There are many risks in cargo transport such as: weather conditions, driving through dangerous areas, as well as ensuring right transport conditions (such as temperature and humidity). In order to avoid financial losses transported cargo is insured. The insurer is interested in knowing whether transport activities are being conducted in a proper way. Therefore INSUTRAX will look at how insurance products for transport might be made more profitable through the use of cargo tracking tools and software.
This study will focus on cargo having huge value and/or having special transportation needs. Losses resulting from cargo damage in such cases can be large, thus there is a need for monitoring the goods.
A number of proposed hardware will be analysed as well as assumptions for IT solutions utilizing obtained data, and supporting the users in decision processes (as modifying transport route, reacting in alert situations) and in case of incurred damage, they will improve the cargo damage claim handling process of insurance companies.
Users and their needs
Due to several phases of the cargo transportation process three areas of interest can be determined: transportation route planning, transport route and condition monitoring, support in loss adjustment process. Software will hold a key role in each area, which based on integrated satellite data, external sources and devices installed in the vehicle or in the cargo, will allow to minimize the risk of damage occurring, damage itself and loss adjustment support.
During the study the requirements of Insurance Companies, producers and transport companies in regard to ordering transportation services, shipping and loss adjustment will be elaborated and the technical possibilities allowing to respond to the needs expressed will be analysed. This will lead to a device and software concept, of a solution which is intended to be used by the stakeholders in everyday work in order to allow for more profitable insurance products. A safety increase on roads, driver working comfort will be additional benefits.
INSUTRAX will concentrate on Polish users as they travel across the South-North Transportation Axis across Central Europe.
Service/ system concept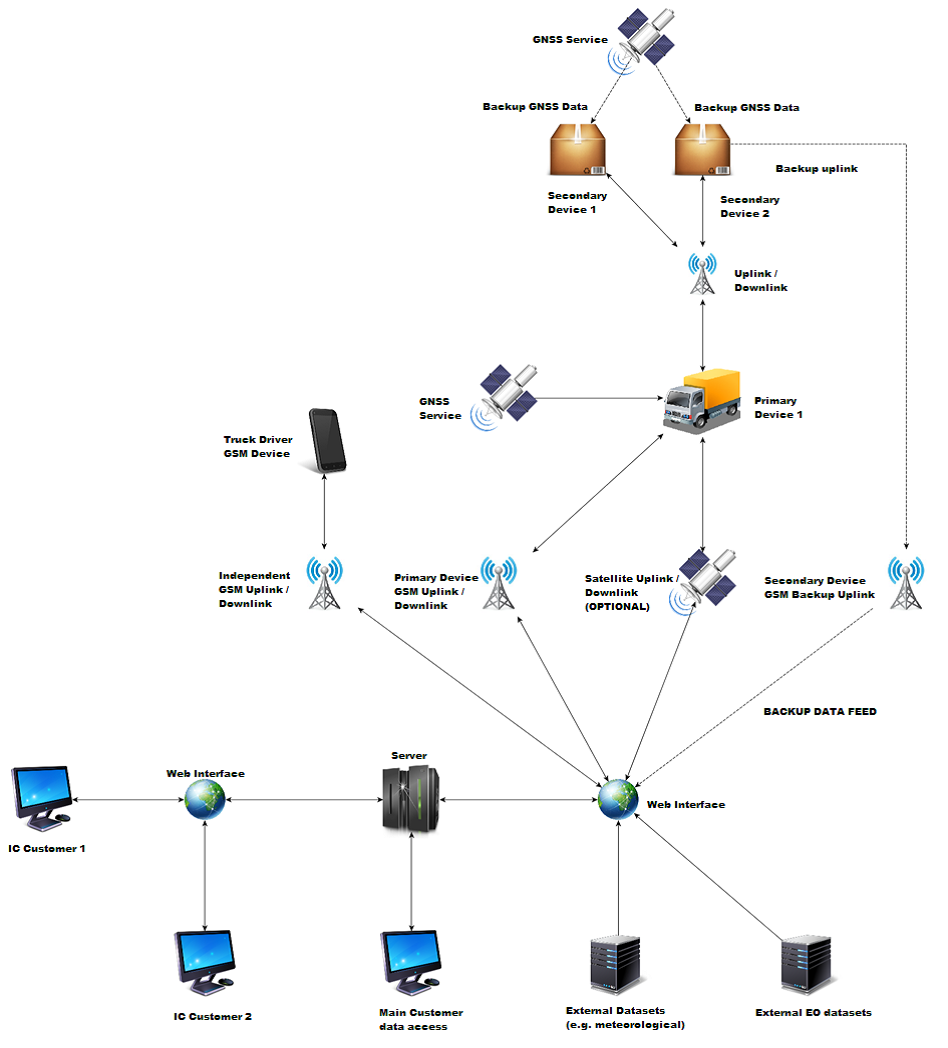 The system architecture includes two types of devices in the vehicle: the Primary Device (PD) to be installed within the vehicle and the Secondary Device (SD) to be mounted on the individual cargo pallets. The PD is used for primary communication with the server and data analysis. It uses GSM communication and in case of mobile network unavailability satellite communication. The Secondary Device (SD) is equipped with sensors that allow monitoring of transport conditions and communicate with the PD via wireless network. SD's built-in decision-making solution is needed to verify the communication link, and in case of error, wake up the inbuilt GSM and GNSS allowing independent tracking. This is also necessary for effective energy management, allowing SD's to work with an independent power source for a period of at least 7 days.
The data will be stored and integrated with internal or additional external data on the insurance company's server side.
A number of additional data sources have been identified.
Meteorological data can be used to forecast weather conditions on the selected route. Earth observation data can be used to identify conditions prevailing in areas where natural or man-made disasters occurred and support identification of dangerous sections of roads, including state of the road surface, trees along the road.
Space Added Value
The consortium focuses on usage of EO data, GNSS and satellite communications. The EO data will be used in planning the transportation routes including the external conditions such as high traffic, weather conditions, road damages etc.
GNSS data provides information about the actual cargo location during transport as well as the position and time information in case of events which may lead to the loss or damage of cargo. The satellite communication is investigated as a method of data transfer from trucks to producers as well as transportation companies.
Current Status
The feasibility study concluded on May 25, 2018.
The activity provided insides in the needs of the different stakeholders and technical possibilities. The benefits of implementing the system for the Insurance Company and their end customers (transport companies or manufacturers) were estimated as well as the costs and possible revenues. The estimated high development costs lead to the conclusion that the discussed business case will not be profitable enough.
Prime Contractor(s)
Subcontractor(s)
Status Date
Updated: 19 January 2017
-
Created: 19 January 2017