Objectives of the service
The objective is to provide an affordable and accurate online platform service for the agricultural land owners, foresters and the supply chain with an easy to use, affordable EO data service for the crop and forest management through a digital platform. This will benefit individual growers or forest owners with small areas under management, by providing commercially valuable and actionable decision support tools accessed via this online self-service.
Geo-spatial data products based on Satellite Earth Observation data can deliver valuable information on health status and crop/forest development throughout the season including yield/harvest prediction. However, these technologies and solutions are not affordable yet for individual growers or forest owners with smaller areas under management.
Rezatec and Eden Project plan to use Eden Project's consumer engagement model to drive the acquisition and review of ground data related to crop species already modelled by Rezatec. The activity foresees the development of a virtual and physical installation that will provide visitors of Eden Project and end users with (i) a curated environment in which to view the changing nature of forest and crop health and status through the year, and (ii) utilise Rezatec Landscape intelligence that will allow them to gather their own forest and crop data through the use of environmental toolkits.
Users and their needs
In the agriculture sector the main user challenges were to reduce costs, increase productivity and revenues and to manage arable land to its optimum potential. The targeted agriculture sector has a need for a user friendly, affordable technology that is compatible with other tools they use and that delivers actionable recommendation.
Within the forestry sector, knowing what is in a woodland is the first step in sustainable forest management, yet even a basic inventory is beyond the capabilities of some woodland owners. The main pains were time consuming ground surveys needed to estimate tree count and volume and tree health in mid-forest locations often being invisible to the forest owner, causing them potentially significant losses. Identifying and mapping tree species distribution has always presented a challenge for forestry companies, particularly when analysis is required over a disparate land areas or in locations where access is restricted. If Rezatec's satellite-derived forest species, timber volume and tree health mapping services can be made accessible to managers of smaller, disparate woodlands in an affordable way then they can address the challenges above effectively.
Potential end users:
Farmers, Agronomist
Owners of Small-Scale Softwood Plantation Operations
Owners of Deciduous Woodlands
Woodland Surveyors, Agents and Management
Eden Project
Service/ system concept
The system service architecture is made up of two groups of servers. Multiple cloud-based servers will deliver the portal, with each server optimised for its specific task and all critical services benefitting from full redundancy. Data processing is handled by a bank of high spec processing servers that run proprietary algorithms on the imported raw satellite information and generate geospatial data products.
The portal interface is designed to be an intuitive and effective mechanism for accessing and interrogating the data products. There are numerous features available to the end user. An interactive map with overlaid data products allows visualisation of the data in a familiar Google Maps type environment. User defined areas of interest that enable the user to only focus on regions that are relevant to them. Analysis tools that can present the data content in tabular and chart formats and that can be exported for use elsewhere. An interactive time slider that gives the user a way of comparing the evolution of an area over time by moving between time specific data layers. A digital sales process so the user can specify, manage and pay for the content of their area of interest on a one-off or recurring basis.
The agricultural and forestry geospatial data analytics services are planned to be provided through a web portal and companion mobile app., using frequently updated satellite data to benefit farmers, foresters and service providers working within the agricultural and forestry production chain.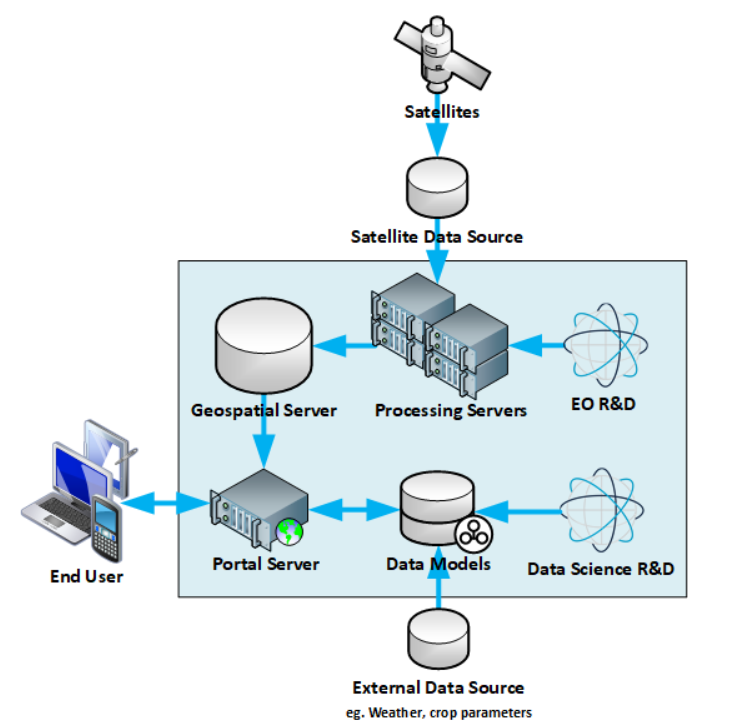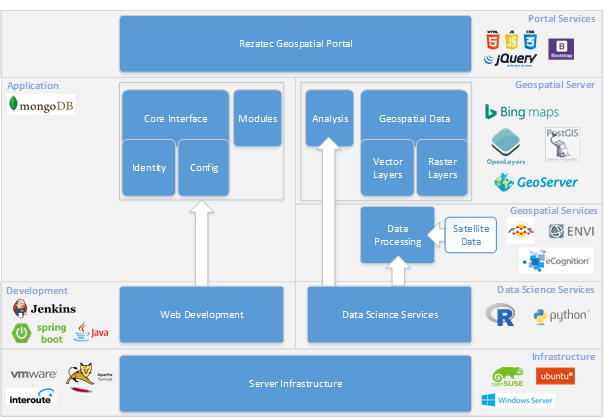 Service Infrastructure
Space Added Value
The Invisible Worlds feasibility study makes use of the following space assets:
Earth Observation (EO) data, to cost-effectively support assessments of climatic and crop parameters such as canopy cover, height and health using a mixture of sensor types including Synthetic Aperture Radar (SAR), Multi-spectral Optical Imagery and LIDAR. EO images will be sourced from a variety of satellite providers, according to the attributes required;
Global Navigation Satellite System (GNSS) devices for accurate geo-referencing of field validation locations
Current Status
We have successfully completed the feasibility study through engagement with potential stakeholders within Agriculture & Forestry sectors and the delivery of a permanent exhibit at Eden Cornwall showcasing Rezatec's geospatial portal applications & its use to the agricultural and forestry community. The feedback received from the potential stakeholders via engagement workshops & the exhibit has provided an understanding of the user challenges that can be addressed and how data services should be delivered to a large user group.
Rezatec is aiming to continue with a follow-on demonstration project to develop and offer a new service model, which is automated and requires no interaction from Rezatec sales / technical staff during the process. The solution will be validated with pilot users (stakeholders) for both agriculture and forestry markets. The solution will extend the reach of Rezatec's business to arable farmers and foresters with relatively small areas under management by offering cost-effective decision support services.
Prime Contractor(s)
Subcontractor(s)
Status Date
Updated: 09 May 2019
-
Created: 23 November 2018