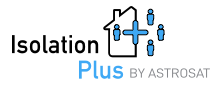 Objectives of the service
In 2020, the world was hit by a pandemic caused by a virus more infectious and deadly than any government had adequately prepared for. With much of the world's population locked down in their homes, local and national organisations had to rapidly adapt their services to help the most vulnerable. In the case of helping the vulnerable who were already known to the organisations this was a challenge but one that they could rise to. However, many people who may not have been termed as vulnerable before and who may never have required help suddenly found themselves in need, or one small step away from becoming very vulnerable. These people are termed the "Hidden Vulnerable" and they are people whom local organisations have long since struggled to find and reach out to. In the new normal or "Isolation Plus" phase, the question is: how can the hidden vulnerable be found and helped?
ESA BIC UK alumnus Isolation Plus uses satellite and ground data to produce new insights visualised at a granular mapping level to shine a light on the hidden vulnerable and empower local organisations to reach out to them and provide the support they need.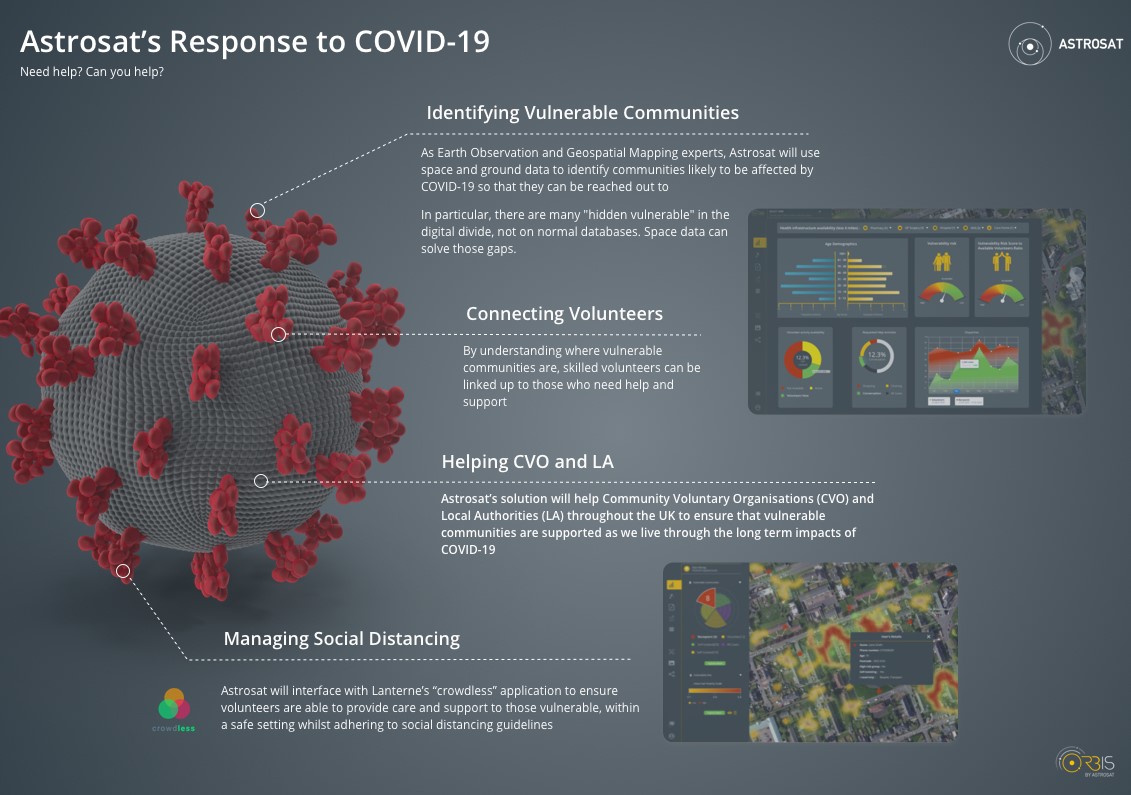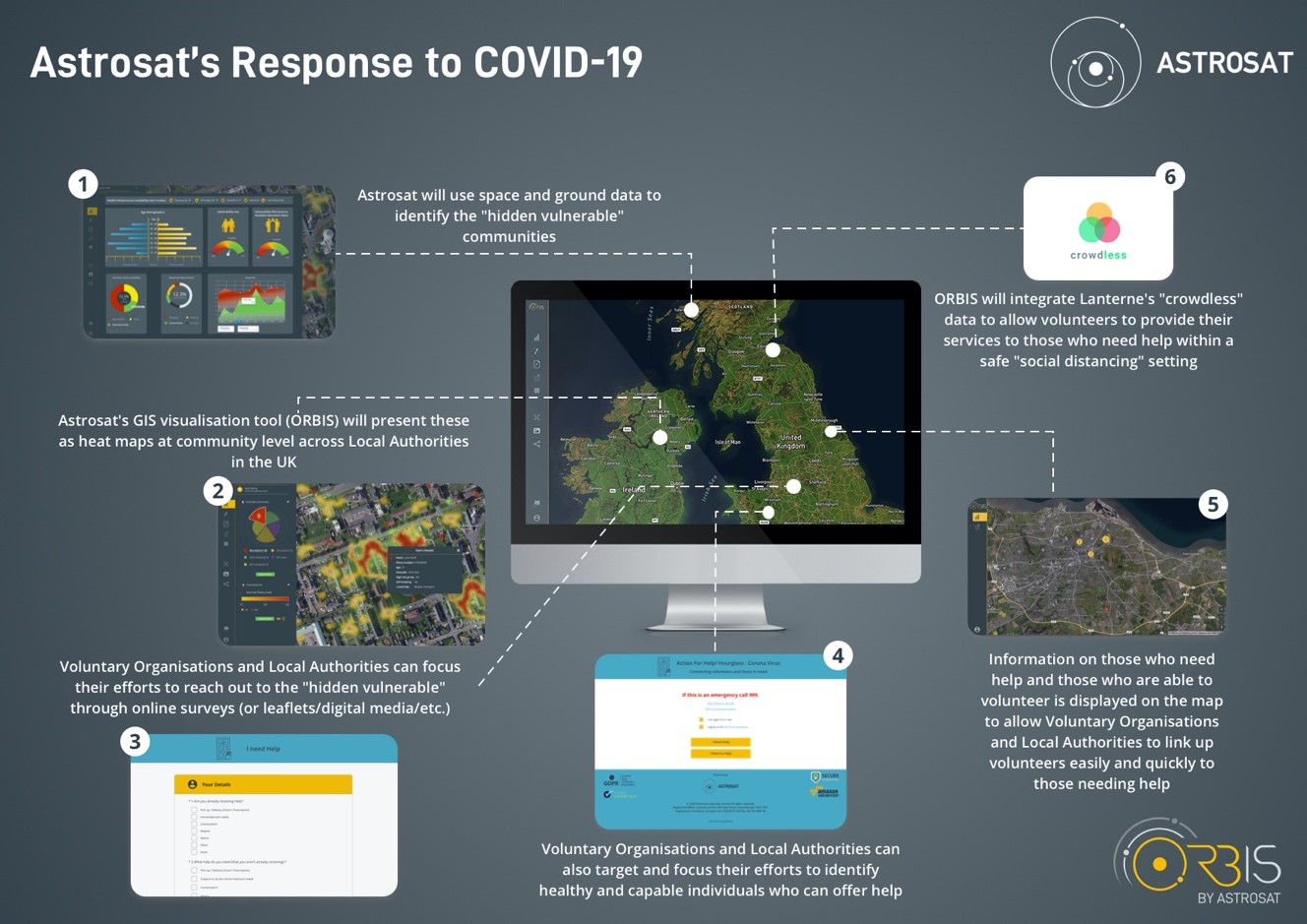 Infographic. Project: Isolation Plus.
Users and their needs
The product has been developed for Community Voluntary Organisations (CVOs) and Local Authorities (LAs). LAs have a responsibility for improving the health of their local population and for public health services in their area. CVOs have an obligation to support LAs, the NHS and their local Health and Social Care sector to ensure that they are sufficiently equipped with volunteers and services to those who are vulnerable and need help most.
CVOs and LAs struggle to find the most vulnerable in their communities because they often remain hidden. These organisations want to find those individuals and offer them the help and support they need. The operational challenges around this are that it is not known where such individuals may be in local communities and is therefore difficult to reach out to them. It is also difficult to ensure the hidden vulnerable are aware of the services available to them because they may have poor access to online information and help organisations don't know where to target leaflet drops to reach these individuals.
The Isolation Plus product combines satellite and ground data to produce data layers that help to identify where the hidden vulnerable are more likely to reside. The single point of access for this information makes it easier for CVOs and LAs to target and tailor their services to the areas most in need.
Service/ system concept
Identify hidden vulnerable: The solution identifies the hidden vulnerable at community level. This enables LAs and CVOs to target digital and non-digital outreach methods to those identified individuals within those vulnerable communities. These people can be included in the service provision response to the crisis so that their needs are met.
Centralised mapping of datasets: bring together stand-alone and disparate datasets into one place to provide a 360-degree view of the Covid-19 crisis. In addition to aggregating the relevant data, machine learning and artificial intelligence techniques will be applied to the data using a supercomputer facility to produce further useful insights, such as determining trends for how crowded shops are.
Linkup of Volunteers and Vulnerable: provide CVOs and LAs with the information they need about volunteers and the vulnerable to enable effective co-ordination of service delivery for the vulnerable via volunteers in their community. This includes, but is not limited to, food delivery, pharmacy access and remote social interaction.
Safer Environment for All: integrate with Lanterne's "Crowdless" application to provide end users with the ability to identify safe times and places for volunteers to deliver help to the vulnerable. This includes activities like taking them shopping, places to exercise to maintain physical and mental health and wellbeing so that it will reduce the risks of developing other isolation-related health issues, which could further impact the NHS in the long term.
Space Added Value
Isolation+ contains data products derived from a combination of Earth Observation (EO) satellite data with UK-based surveys and census data. It employs EEA Copernicus satellite-derived data products including Corine Land Cover (CLC), Urban Atlas and European Settlement Map to classify land use and residential areas. The ESA Sentinel-5P satellite products are used to measure air pollution. Data from the USGS/NASA Landsat archive (Landsat 4, 5, 6, 7 and 8) are used to estimate building age. Furthermore, AstroSat's machine learning algorithm is used to estimate localised fuel poverty levels using a synthesis of ground based data and satellite data, including thermal measurements of residential energy efficiency with Landsat 8 in addition to satellite-derived building age estimates.
Current Status
The Isolation Plus service was incrementally improved throughout the project life with new features added and refined as appropriate. The project passed the Baseline Design Review (BDR) milestone on 21 August 2020 and the Acceptance Test was successfully passed on 12 November 2020. The Final Review was passed on 7 April 2021.
Following an early adopter trial, the Scale Up trial began on 23 November 2020 with more users and formal tracking of a number of Key Performance Indicators and ended on 12 March 2021. Users are extremely enthusiastic about the service and the trials outcomes. These pilot trials successfully onboarded 14 organisations and 46 users and helped to identify further requirements through end user feedback. The pilot helped to demonstrated the ability of rolling out the Isolation Plus service more widely and the commercialisation plan is being implemented.
Prime Contractor(s)
Subcontractor(s)
Status Date
Updated: 13 April 2021
-
Created: 05 October 2020