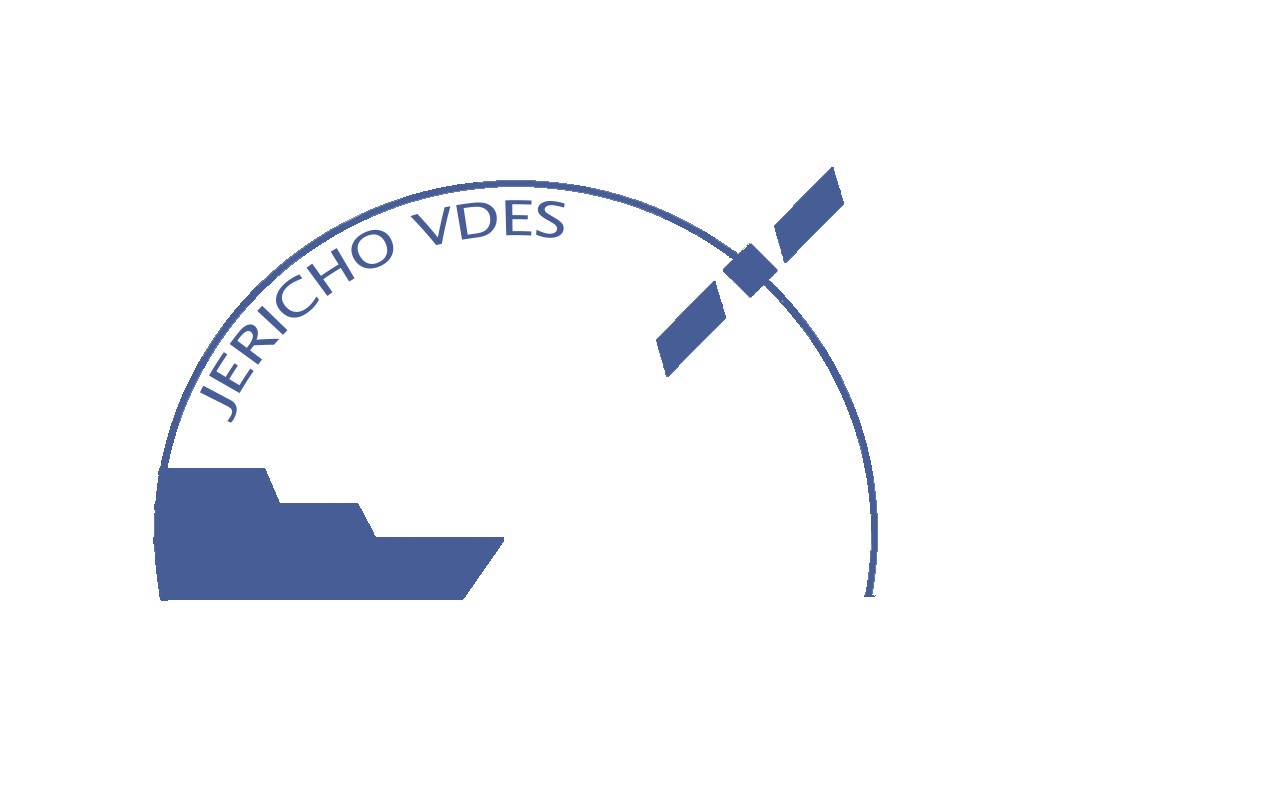 Objectives of the service
Main goal of this feasibility study is the assessment of the potential of future maritime applications in the context of VDE (VHF Data Exchange System). The principal aim of the feasibility study is the identification and specification of new viable VDES services, combining space and non-space assets. To achieve these goals meetings and interviews with professionals from the maritime security, sea transportation and maritime technical domain will be performed. At the end of the study, a proposal for the demonstration of the services will be provided.
The study focus on two services : Exchange of security Maritime Safety Information, with emphasis on polar regions and SAR (search and rescue) operation coordination. The MSI service introduces the VDES satellite segment as an additional way of Maritime Safety Information promulgation in global scale. The SAR service will allow exchange of search patterns during search and rescue operations and thus streamline the rescue process by means such as, visualization of the search schemes on the electronic map and using the VDES ground (VDES-TER) or space (VDES-SAT) segment to transmit search coordination data. Both services are directly connected with the maritime security worldwide standards. They both require cooperation with global maritime security entities, such as International Maritime Organisation and its committees.
Users and their needs
During the study, several users categories were involved:
Employees (Seafarers with ranks: Captain, Chief Officer other);
Government & regulators (Hydrographic Office of the Polish Navy, Maritime Administration Office, Local National IMO delegation and other);
Academia & R&D (Gdynia Maritime University, National Institute of Telecommunications);
Classification Societies (DNV GL, ClassNK);
Ship Owners (Arctia, Green Reefers).
Most important take outs as for the:
MSI service
Security based service which is of high importance;
Must be global standard, hence requires big legislation effort;
SAR service
Stakeholders having taken part in SAR operations are very interested;
Wide adaptation and implementation assessed as reachable, while no legislation effort is required to start.
Targeted users: Baltic Sea and Polar region countries and operators, North Sea countries and operators and global entities.
Service/ system concept
The proposed "SAR Service" enables the automatic unmanned exchange of action parameters between the Operator in the Maritime Rescue Coordinating Centre (MRCC) and the Navigators on board the SAR Vessels. The purpose of the service is to replace the voice transmission (between the MRCC and OSC) of the action parameters with digital transmission and also to pass them – in the correct format – to the electronic chart, on which these data will be displayed.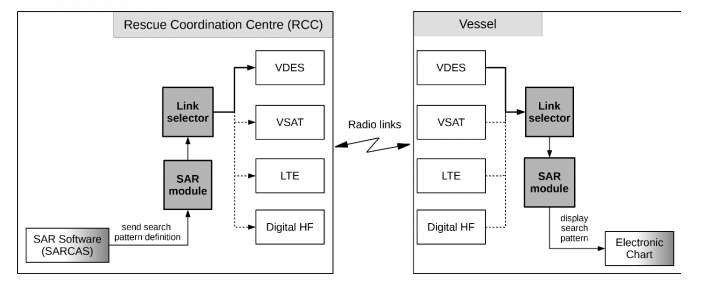 SAR Service architecture (VDES link selected as example)
Space Added Value
For both services assessed in the JERICHO VDE study, space assets, i.e. satellite communication and navigation, are crucial, as explained below:.
Satellite assets used for MSI exchange, with particular emphasis on polar regions:
Shore-to-Ship communications using satellite communications are used to promulgate MSI in reliable manner to ships located beyond the terrestrial VDES range.
Geocasting relying on GNSS is used to broadcast/multicast MSI to vessels in specific sea region where navigational warnings, weather forecast or other MSI related information must be delivered.
Satellite assets used for SAR operation coordination – on-scene search patterns exchange:
Ship-to-shore and shore-to-ship satellite communications are used for exchanging information with SAR service and reporting on scene actions conducted beyond terrestrial VDES range.
Ship-to-ship communications using satcom are used for data exchange between two ships involved in search and rescue operations conducted beyond terrestrial VDES range.
Current Status
The JERICHO project has reached its final phase, accomplishing the Final Review milestone. Main activities in this phase were focused on the preparation of the comprehensive service description, taking into account various aspects such as business viability, commercial potential and potential final user benefits. Valuable features of the proposed service can be identified as follows:
Full use of all the basic technical benefits of the VDES technology, especially the capacity extension resulting from the re-organised data transfer and the range extension provided by bi-directional satellite marine VHF radio interface.
Focus on the most important priority of saving lives at sea
Innovation in SAR methodology – especially by opening possibility of automated search patterns transmission to all vessels in the distress area and allowing for professional coordination of available resources and activities, resulting in SAR activities efficiency increase and cost reduction.
Versatility - proposed solution supports also text communication (the main SAR communication media at sea today) so would allow to maintain currently used methods and legacy tools. Theoretically VHF marine bands could soon become the main frequency range for all (data and voice) communication in distress
The use of existing elements of mandatory equipment (esp. ECDIS, VHF, AIS), minimising the complexity and cost of the new solution trials and/or mass implementation
VDES offers the possibility to evolve into unified SAR solution for every vessel worldwide. None of other currently available technologies has such potential (use so far limited only to specialised forces in few areas)
Efficiency increase and cost reduction of well managed SAR activities could be visible for all parties involved, from coordinating authorities to ship owners (taking into account the mandatory participation in SAR operations of all vessels in the vicinity)
Total cost of potential mass implementation could be significantly reduced taking into account the hardware lifecycle and possibility of just adding the required features to new generations and models of existing mandatory equipment.
Key conclusions from the final phase may be described as follows:
Practical implementation of VDES would bring the general benefit of allowing VHF communication capacity and range extension, especially after the satellite segment was added. The idea of bi-directional transmission between ships and shore via satellites, using VHF marine radio frequencies, changes dramatically the fundamentals and logics of current GMDSS radio communication setup.
The use of this new technology should then focus on the most important technical benefits (capacity, high speed data transfer, dramatic extension of range allowing practically up to global coverage) taking into account the fundamental priorities of shipping business. One of such fundamentals has always been the topmost importance of distress communication and efficient SAR activities.
The introduction of VDES with satellite interface gives a unique opportunity of developing compact and universal solution in SAR area – starting from distress signals transmission, throughout coordination of SAR activities including all or selected vessels in the vicinity, and finally up to completion of salvage operations.
The SAR Service proposed within the Jericho Feasibility Study scope is a practical and innovative example of such compact solution, linking at advanced level the technical benefits of revolutionary change in VHF marine radio interface (satellites allowing efficient and wide range ship to ship communication) with modern navigation aids (such as ECDIS) and focusing on one of the most important priorities in shipping – saving lives at sea.
Prime Contractor(s)
Subcontractor(s)
Status Date
Updated: 23 July 2018
-
Created: 17 October 2017