Objectives of the service
KORE is a precision agriculture service that uses Earth Observation data from Satellites (EO) and Unmanned Aerial Vehicle (UAV). This data has a high spatial and temporal resolution which is used to advise agronomists and farmers on effective land use.
By purchasing and processing EO datasets in bulk, KORE can provide the end user with cost effective and integrated data. All of the collected data is easily accessible and managed using the KORE agriculture portal. End users (e.g. farmer and agronomists) are trained on how to use the agriculture portal and how to collect data using UAV's. The data collected can be used to:
Produce maps showing crop health information of a farmer's field. This data can be analysed to give targeted crop advice.
Show which areas of land need more or less fertiliser. This information can be easily uploaded to tractor-mounted sensors which will fertilise different areas of land accordingly.
Identify how farmers can make better use of their land. For example, users can count how many potato plants are in a specific area of land.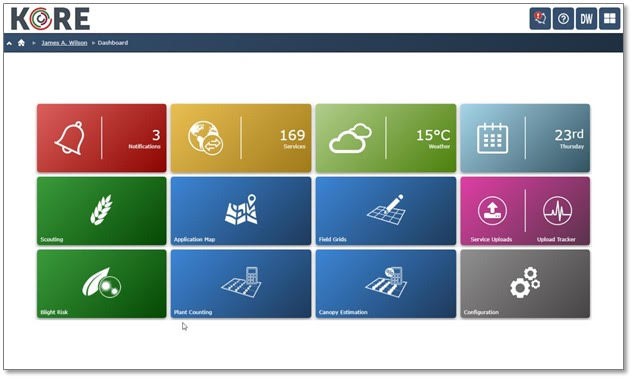 Screenshot of KORE agriculture portal (credit SoilEssentials)
Users and their needs
The prime customers of KORE are agronomists who act as advisors to groups of farmers. Farmers need the best possible advice from agronomists to help them manage their crops and exploit new precision agriculture techniques. The demonstration phase of the project has focused on three crop types:
Potatoes: This crop is widely grown throughout Europe.
Wheat: The largest cereal crop grown in the UK and Northern Europe.
Grassland: Covers the biggest area of land cropped in Europe.
The project can also be used to monitor other crop types.
KORE can help farmer's increase crop yields and reduce the application of fertilizers, pesticides and other crop inputs. Both these actions result in increased profitability for the farmer and allow higher yields to be produced whilst reducing environmental impacts.
The KORE project continues to benefit end users by increasing land knowledge, providing cost effective EO data and providing crop health information to advise agronomists and farmers.
Country of the targeted users for the demonstration in 2017: United Kingdom, Ireland, Netherlands, Ukraine, New Zealand. This was extended to: Denmark, Canada, Czech Republic, Finland, China, Germany in 2018 and 2019 with new opportunities created in Spain, Brazil, Lithuania, France, Italy, Ethiopia.
Service/ system concept
EO imagery is collected from a variety of sources including ESA's new Sentinel satellite series and commercial satellite constellations, UAV imagery and tractor-mounted sensors. An integration of data sources is made possible by the collaboration of ESA, SoilEssentials and Deimos Space. This guarantees a wide availability of EO data regardless of weather and cloud conditions. Farmers and agronomists can also use these data sources to compare a parcel of land over time.

EO imagery of farmer's field (using NDVI) captured in August 2015(left) compared to March 2016 (right) (Credit SoilEssentials).
The KORE service is web based which has benefits in terms of flexibility for upgrades and scalability. It offers online access to a suite of mapping and monitoring services at a fraction of the price of existing farm data management systems. This makes it a viable option for smaller farm businesses. The main benefits for the farmers adopting KORE are:
Increased productivity by identifying and analysing crop information.
Reduced risk of over fertilization and related pollution of the soil and ground water.
Improved disease/pest management and treatment monitoring.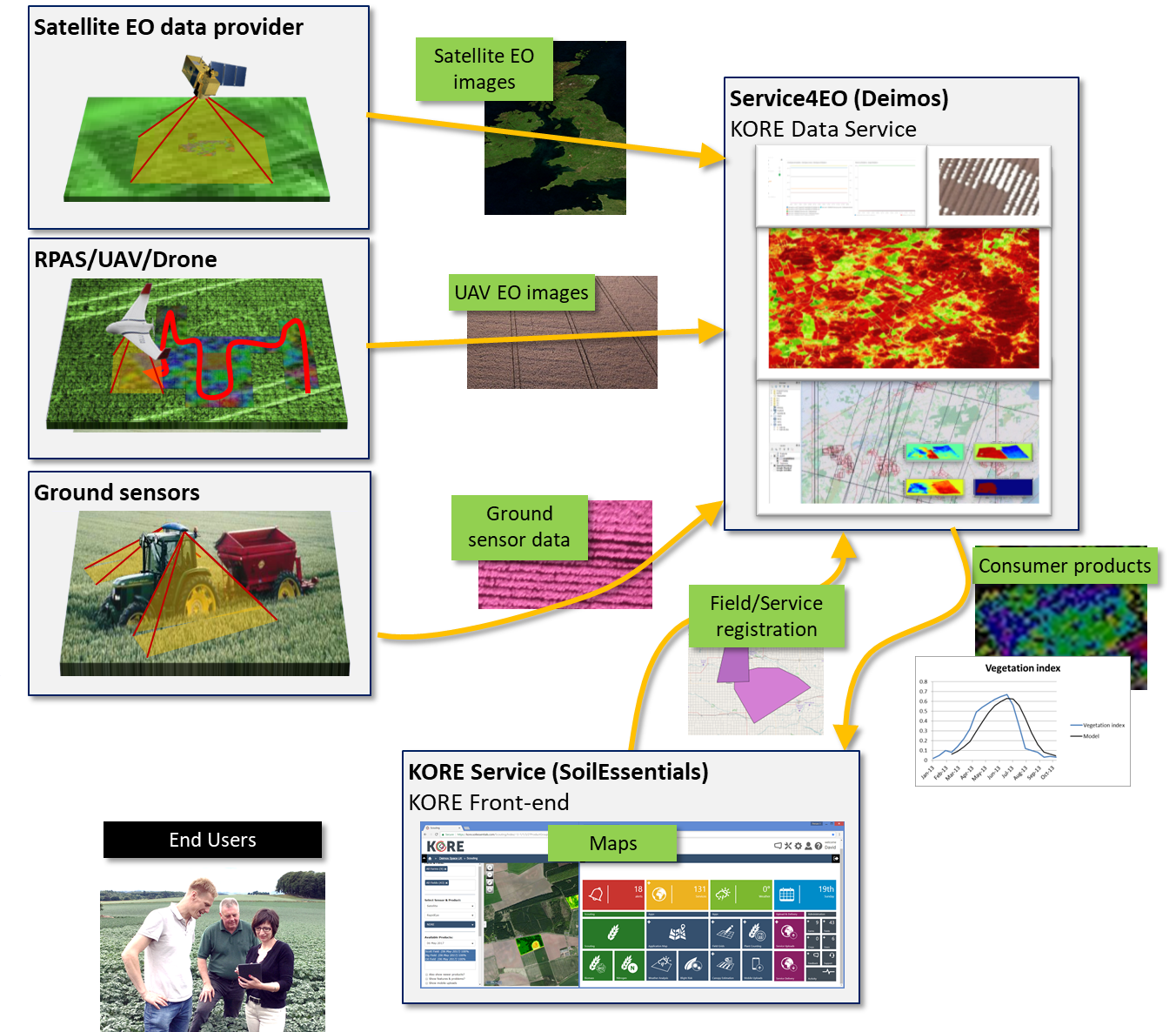 System architecture of KORE (Credits Deimos and SoilEssentials)
Space Added Value
KORE uses two existing space-based assets:
Location information from GNSS satellites are used to log the UAV position during survey flights. In this way, imagery acquired by UAV can be accurately geo-located and can be used to create correct and complete mosaics of the imaged fields.
Imagery from EO satellites is the principal means of observing fields. If a more detailed survey is required or persistent cloud cover prevents acquisition, then a UAV acquisition is triggered by the KORE user.
While not being the purpose of the project, some farmers and agronomist are using Satellite Telecommunication at their office to get internet access and to connect to KORE.
Current Status
The KORE project has successfully collected and acted upon user requirements to steer the system architecture and data collection strategy. A web service was developed and tested during 2015 and 2016, with a group of agronomists and farmers taking part in training sessions.
In 2017, KORE has been successfully demonstrated with users spread over 5 countries: UK, Ireland, Netherlands, Ukraine, New Zealand. With 154 farms and 1,000 fields in the system, the KORE system has processed satellite imagery over an area covering more than 7 million of ha
The commercial launch of the service took place at Agritechnica (Hannover) in November 2017. Since 2018, the partners are:
Operating and marketing the service through its new official website: https://www.soilessentials.com/product/kore/
Building interest and raising awareness of KORE at industry/trade specific shows and conferences, most events being international events (24 presentations in 2018 and 2019)

Cereals show, Smart Farm, Potato days, Agritechnica, Data Dragon School, Irish National Ploughing…
ESA living Planet Symposium, IGARSS, World Soils User, European Conference on Precision Agriculture, ESA PhiWeek, FOSS4G…

Continuing to improve the system by adding new features suggested by the users which were demonstrated in 2019:

Addition of new satellites sensors (Spot 6,7, TripleSat, Gaofen3, Gaofen1, SuperView)
Addition of an artificial intelligence framework to improve existing services (plant detection and counting) or create new agronomy services (biodiversity monitoring)
Addition of new yield products (capacity analysis and forecast) with advanced yield forecast tools for potatoes (size distribution, optimal harvest time…)
Addition of multiple configurable dashboards
Addition of the scalability capacity, demonstrated over several million of hectares
Addition of KOREConnect, to directly connect the tractor to the KORE service

Extending its market in Europe and other continents, with a customer database multiplied by 3.

Europe: United Kingdom, Ireland, Netherlands, Denmark, Ukraine, Czech Republic, Finland
Oceania: New Zealand with users since 2016
Asia: China with a deployed version of KORE and promising opportunities
America: Canada, Brazil, with opportunities emerging in Central America
Africa: a version of the KORE Back-end has been sold to be deployed in Ethiopia.
The ESA project ended with very successful demonstrations and the KORE commercial activities are now carrying-on since 2020 over the 5 continents.
Prime Contractor(s)
Subcontractor(s)
Status Date
Updated: 07 January 2020
-
Created: 12 November 2014