Objectives of the service
Modern brands and organisations rely upon interacting with their audiences through on-screen experiences delivered, more often than not, over the mobile-web.
These experiences often feel impersonal, irrelevant and lacking in excitement - in the struggle to reinvigorate these communications it is clear that Context is King!
The Landmrk Context Expansion project sees the creation of a rules engine that draws on rich third-party data sources to add thematic and contextual dynamic data into user facing campaigns for large entertainment brands.
Hyper-local weather data, space data, earth observation data and a host of third party data sources combine with geo-location to power these unique experiences.
Users and their needs
The pilot campaigns that were launched as a result of the Landmrk Context Expansion project are indicative of the end users of these types of experiences.
Warner Music Group, a major record label that represents 20% of the global music industry and Topsify, a pioneering music curation service ran pilot campaigns.
The end users from these campaigns have been from 90 different countries globally with a target audience of between16 and 40 years of age.
Non-technical users that work at businesses of this nature are now able to build space data powered campaigns from scratch that utilise the Landmrk Rules Engine and integrate data feeds in real-time.
Service/ system concept
The Landmrk platform provides the basis for campaigns that integrate the Landmrk Rules Engine. These campaigns incorporate location-based data that provides content unlocks based on their proximity to certain physical locations, or alternatively the basis for the contextual experience for an end user.
Beyond this, a suite of microservices are used to provide custom computational features, extending the abilities of the platform without needing to rework the battle-tested platform core. These microservices analysed a participants location data and made several concurrent asynchronous calls to third party APIs and data repositories, including ESA-provided services like SpaceTelescope.org
The experience is delivered as a client side, multi-page web application, fetching data from serverless endpoints acting as proxies for source APIs.
Information collected & processed
User's current location, including postcode, city. region and country
Points of interest close to the user's location
Current weather conditions at the user's location and other connected locations
Current location of the ISS in orbit
Predictions of the next ISS flyover at the user's location, the time and duration
Points of interest that the ISS is passing over
After the Landmrk Context Expansion Project, the following enhancements were achieved: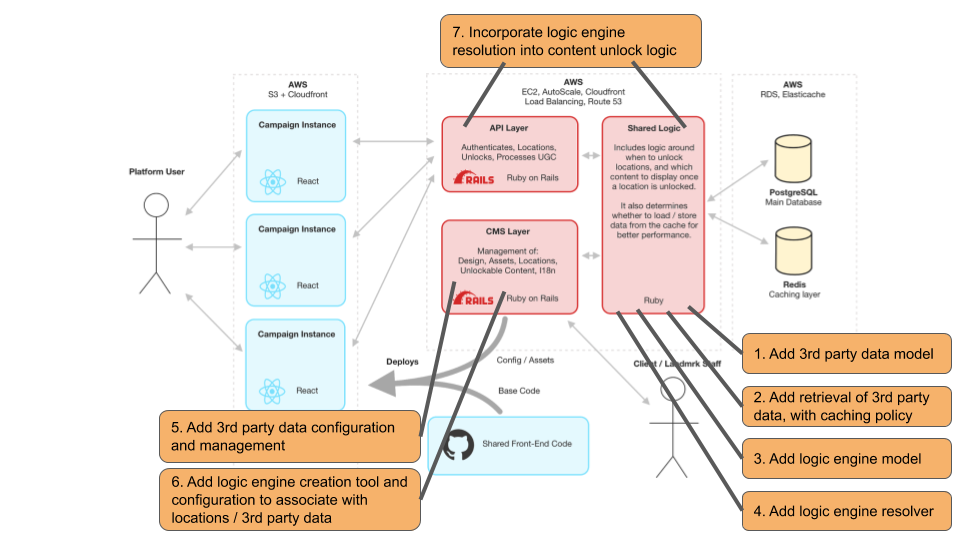 Space Added Value
The addition of live data feeds from areas such as hyperlocal weather, Satellite tracking etc. can enhance the location based elements of the platform to create groundbreaking campaigns for Landmrk's clients.
The data from these services can be handled using the Landmrk Rules engine, developed to ingest third party data sources. This allows the platform to perform conditional operations that can show, or hide content at "hotspots" on the platform.
No similar opportunity exists for ingesting space data, providing the Landmrk platform with an operational advantage over competitor platforms and social networks services using location-based content provision.
The added value of using space data/assets to achieve the objectives of the service can be described thus:
Dark Sky
The Landmrk Platform has a dedicated integration for Dark Sky, a hyper-local weather API that collates downstream data from weather monitoring stations and satellites in the form of current and forecasted weather conditions. By integrating this data with our proprietary rules engine, the Landmrk platform can make intelligent decisions on whether to unlock campaign content based on, say, the current temperature or weather forecast.
NASA Media API
The NASA Media API retrieves stunning satellite generated imagery as the backdrop for our digital collectibles that are available to end users of the experiences built on the platform. Pulling in dynamic, web-suitable imagery using the API allowed us to enrich the digital collectibles being offered with thematically relevant media.
NASA / The ISS
An open-source TLE parsing library to pull near-real-time positional information on the ISS from NASA is used to influence user experiences based on their context (see https://spaceflight.nasa.gov/realdata/sightings/SSapplications/Post/JavaSSOP/orbit/ISS/SVPOST.html)
Using this raw TLE data, our algorithm converts the position into a Geolocation coordinate that we can subsequently use to calculate, for example, the user's distance from the ISS, or when the ISS will next pass over the user's location.
Current Status
The context expansion project ran from April 2019 to June 2020. Across this period two successful pilot campaigns have been launched by Landmrk that have been supercharged with contextual data.
Big Beat Ignition: Space (Warner Music Group)
Astronaut Songs: Stories From Space (Topsify)
To celebrate the release of Big Beat Ignition: Space electronic music fans were given the chance to create unique space stories.
At midnight on the chosen day each week; the platform sprang into action allowing fans to get the first listen of a new track from the forthcoming release.
Upon unlocking the new music fans were gifted with a Space Data powered keepsake. These dynamically created images were unique for every person that took part in the experience.
These images contained Big Beat Ignition imagery and had space data woven into their design.
Astronaut Garett Reisman worked with Topsify to create a personally curated music playlist reflecting on Reisman's space memories at SpaceX and NASA - Astronaut Songs: Stories From Space.
Landmrk worked with ESA and Topsify to produce an experience which would allow fans of music and space to receive their very own personalised badge with unique space-data, including hyperlocal weather, distance to the ISS, launch site coordinates and a T-minus countdown to the launch of the Crew Dragon spacecraft.
Users also received their own launch track from the playlist which was assigned based on their distance to the ISS.
Prime Contractor(s)
Status Date
Updated: 14 July 2020
-
Created: 14 July 2020