Objectives of the service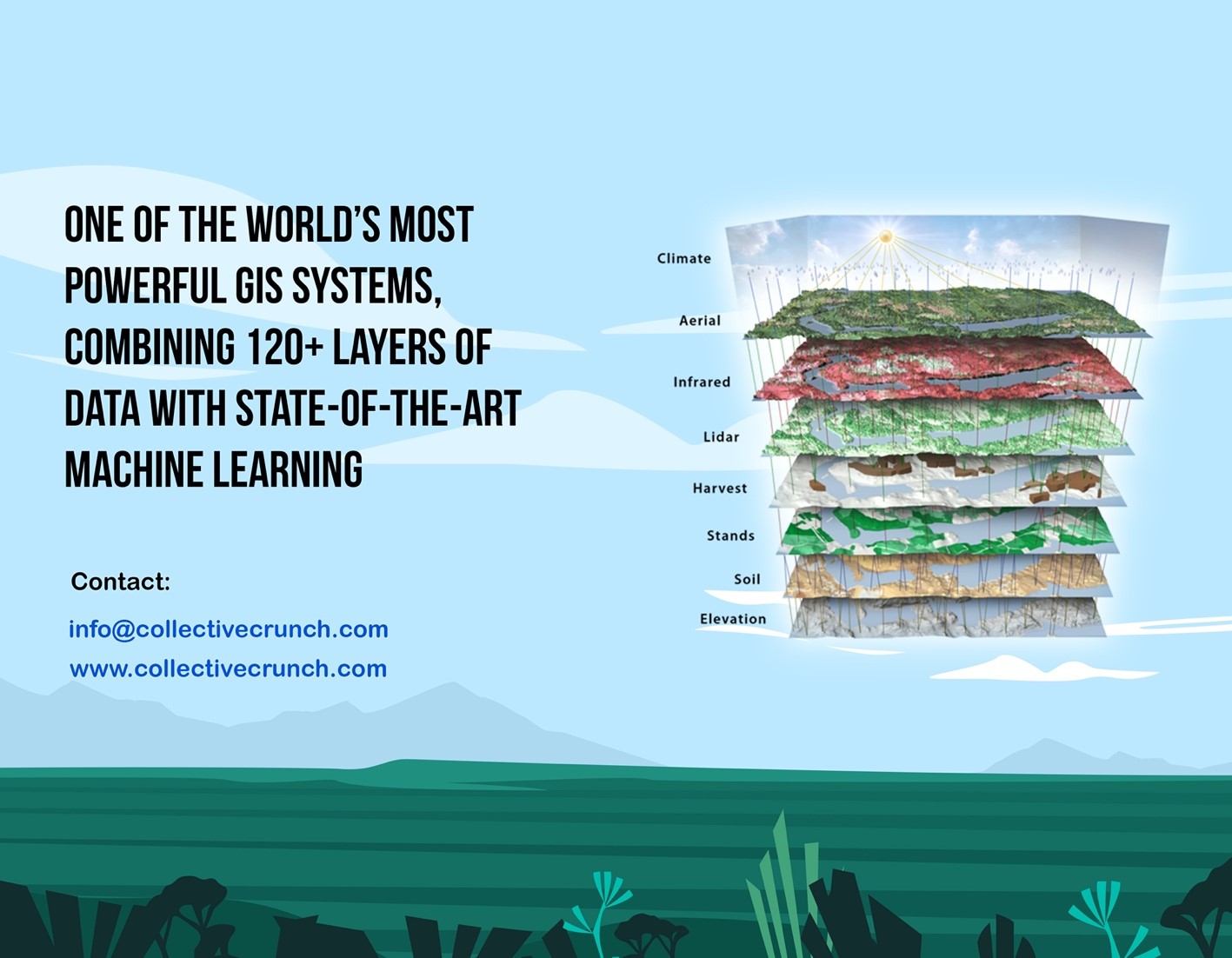 Linda Forest is a powerful industry-specific GIS solutions focusing on the forestry industry. CollectiveCrunch's product is delivered via a SaaS platform. Using Linda Forest our customers make better buying and selling decisions, use wood-based raw material more efficiently, and overall reduce their costs. Linda Forest can be adopted to new opportunities such as prediction of risks from climate change. It integrates all available data, be it Satellite Earth Observation data, Lidar, process data like harvester data, cadastre, … anything really. CollectiveCrunch applies state-of-the-art AI to understand interdependencies in the many GIS layers.
The objective is to arrive at better understanding of forest inventories, reducing the need for visual inspections and improve understanding, management and resource utilisation from forests.
As part of the ESA Demonstrator Project Linda Forest was adopted from a development-stage generic analytics platform to a mature product platform with specific use cases (forest inventories for valuation, reporting and planning purposes, shrub detection for seedling health) and propositions for target segments (buyers and sellers). From a commercial aspect the project covers market and customer discovery and the adaptation to new markets.
Users and their needs
The customers are forest owners and large sellers of wood resources. Such firms need to plan harvests, manage their forests and manage risks. In the past forest management involved field visits to verify inventories and plan activities. Such manual processes are expensive and inaccurate, reducing profitability of the organisations. More accurate and cost-effective solutions are needed to maintain profitability and ensure their commercial viability, employment and social objectives.
The second group of customers are large buyers of wood resources, who need to target forest resources they need, be it species, maturities or quality to ensure profitability of their production.
Target users are initially in the Nordic countries of Finland, Sweden and the Baltics. Longer-term projections include market entry in Canada, Brasil and Russia.
Service/ system concept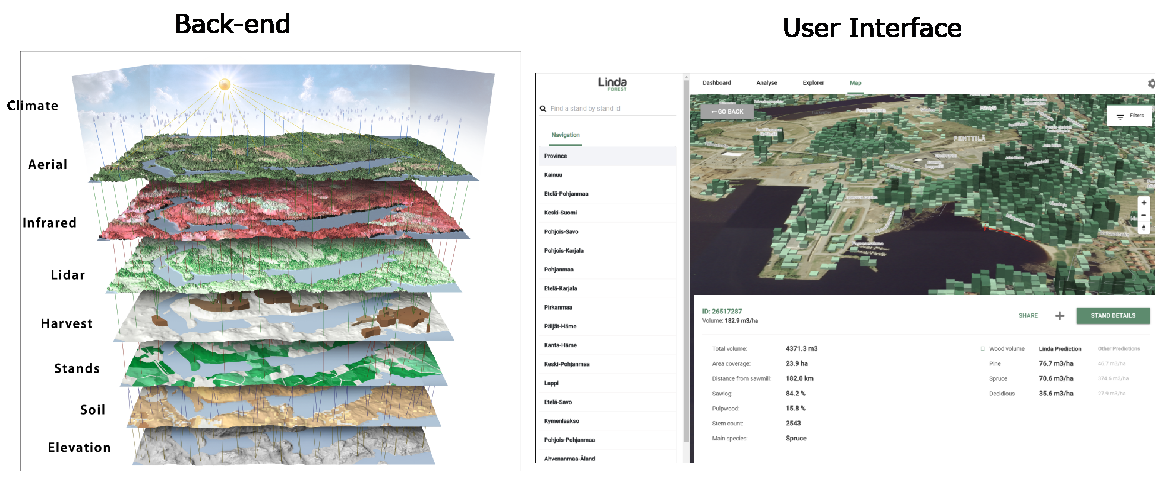 The user accesses Linda Forest through a standard web browser. After authentication the user specifies his or her area of interest, say a region of Finland that is within their field of interest. Zooming in the user can analyse forest inventories (by species, age, quality), identify areas that require forest maintenance work and plan harvest operations based on forest inventories given by Linda Forest.
The backend contains all data sets and the analytics to identify interdependencies and predict forest inventories. The AI-based models created by this are used for prediction of forest inventories in areas where such data is not (or not fully) available. The front-end system contains all relevant predictions of forest inventories and is accessed via the browser-based user interface.
Space Added Value
Linda Forest utilises a wide range of data sets originating from earth observation:
optical data from Sentinel 2
optical data from Copernicus Land Monitoring
Digital Elevation Models
Forest Cover Maps
Sentinel 2 time series
High-resolution optical images from Planet, Airbus and ESA DIAS
Hyperspectral images, such as Sentinel 2 infrared bands
Copernicus Climate Change Services, climate reanalysis data
Current Status
The Project concluded in April 2021 with the Final Meeting. The pilots were successfully operated with several customers in Finland and Estonia. The pilot customers have since adopted the solution operationally. Moreover, we won additional customers in these countries and in Sweden and other Baltic countries as the Demo project closed.
CollectiveCrunch's plan is now to expand to other countries such as Canada, Russia and Brazil.
Prime Contractor(s)
Status Date
Updated: 05 June 2021
-
Created: 05 June 2021