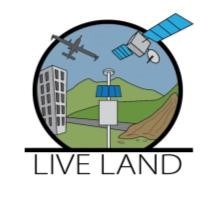 Objectives of the service
Transport operators across the UK face significant challenges in detecting, monitoring and forecasting landslide and subsidence hazards across their networks. Incidents resulting from these hazards, occurring along or within the vicinity of road and rail corridors, can have a negative impact on society and local communities, especially in remote locations and challenging terrain. As a result, owners and operators of transport infrastructure increasingly need to understand these hazards, to better manage their exposure, mitigate risk and improve planning and response to incidents when they occur.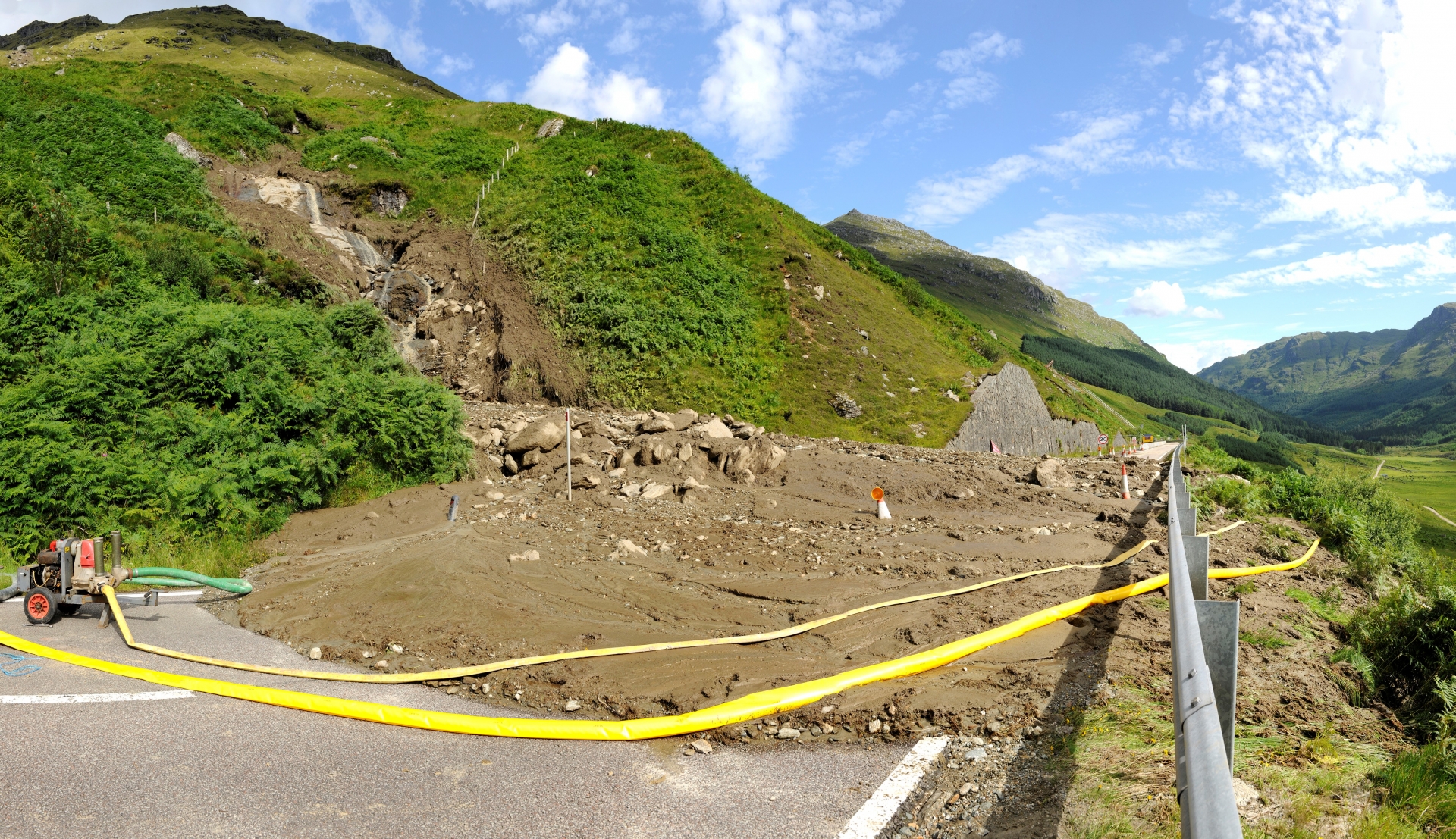 Landslide at The Rest and Be Thankful. Reproduced with the permission of the British Geological Survey ©NERC. All rights Reserved
The LiveLand demonstration project developed and demonstrated a number of unique monitoring solutions that met the requirements of two prominent Scottish transport operators: Network Rail (Scotland) and Transport Scotland; from regional landslide and ground stability measurements captured by satellite InSAR (earth observation) data, to hazard forecasting models using geological and meteorological data, and the development of cost-effective, multi-sensor GNSS devices for in-situ monitoring.
These solutions provide information on hazard potential and activity along and in proximity to rail and road assets.
The main user group target for LiveLand services are owners and operators of road and rail transport infrastructure networks that, in addition to commercial interests, have a number of statutory and social responsibilities to fulfil. In particular LiveLand is targeting the geotechnical asset management teams within these organisations.
A number of unique monitoring solutions that address the requirements of Network Rail (Scotland) and Transport Scotland have been developed and demonstrated within LiveLand. The transport operators are interested in a service that allows them to identify and optimise maintenance and improvement activities, and plan routes that reduce the risk of disruption due to geological hazards and associated remedial action. Key user requirements for transport operators include the following:
Improve landslide forecasting at regional and network level
Monitor slopes and subsidence hazards across networks in a cost effective manner
Provide a forecast that (a) indicates the probability of increased likelihood of landslide occurrence in the 1-5 day timeframe to prioritise resources and mitigate impacts and (b) a medium range 15-30 day warning.
Provide reliable monitoring capabilities of specific, often remote, sites to alert transport operators to any geohazard activity or subsidence.
LiveLand has been demonstrated in 'at-risk' sites across Scotland.
Once the technology and service delivery have been operationally proven LiveLand is expected to expand across the UK, with the potential for further expansion into Europe and beyond.
Service/ system concept
LiveLand offers a three tiered approach to geohazard monitoring; where each tier provides a distinct service that offers information on landslide and ground deformation hazards at either a national (network-level), regional or local level.
Hazard Targeting (Tier 1)
Landslide service provides network-level landslide susceptibility data that incorporates analysis of slope aspect to provide information on areas susceptible to greater exposure to environmental conditions (e.g. prevailing weather).
Ground Deformation service provides network-level ground deformation hazard data in the form of the GeoMOVE™ dataset.
Hazard Forecasting (Tier 2)
Landslide Hazard Susceptibility Forecasting service has developed an innovative landslide forecasting methodology. This has included research and development of two complementary approaches: (1) improving methods for short-term landslide forecasting (1-2 days ahead) and (2) trialling a new 'heads-up', medium-to-long range warning methodology.
Hazard Monitoring (Tier 3)
Tier 3 GNSS service provides in-situ local site monitoring in areas susceptible to ground motion, using a cost-effective GNSS device able to provide from centimetre (real-time) to millimetre (long term monitoring) level accuracy and precision displacements.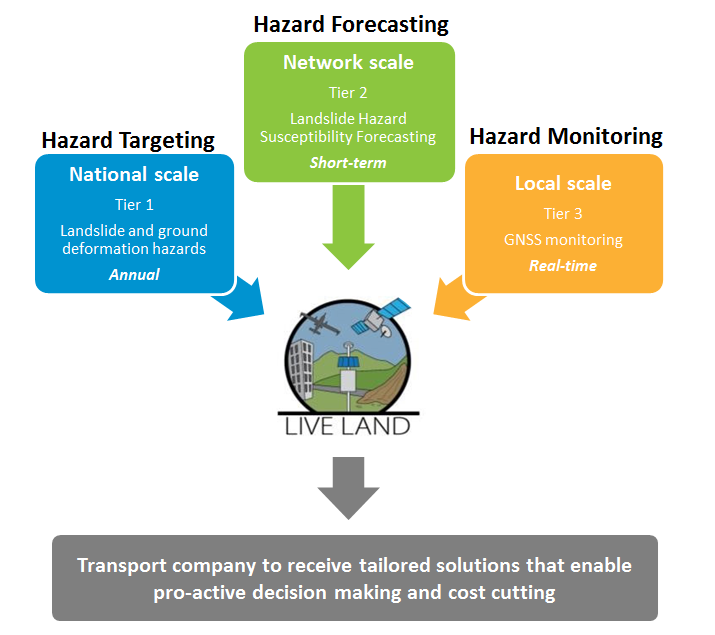 All services are provided as part of a combined and integrated LiveLand service or as a single offering, but still under the LiveLand brand. One of the unique aspects of LiveLand is the ability of the tiered services to be combined into a 'turn-key' monitoring service which enables end users to access the individual services within LiveLand as required.
Space Added Value
LiveLand combines data collected from a number of space and geological assets:
Earth observation radar data from ERS, Envisat and Sentinel-1
Weather forecasting from earth observation radar satellites
GNSS technology within the NSL "STICK" units
Geology, geomorphology and landslide susceptibility from the BGS GeoSure dataset
There is no known service currently available that provides a similar integrated solution for providing network-to-local level for prediction, monitoring and alerting of landslides and ground deformation information to the transport industry. However, there are some established in-situ monitoring solutions such as tilt meters and piezometers that are regularly used for monitoring rail tracks in areas of known ground motion.
Given the unique integrated offering of LiveLand and the inclusion of potential landslide hazard susceptibility forecasting solutions we aim to meet the long term requirements of users and contribute to an effective geohazard response plan prior to an event.
Current Status
LiveLand started as a feasibility study in 2013/2014 and progressed into the demonstration phase which ran from Jan 2016 - Mar 2018.
Prime Contractor(s)
Status Date
Updated: 20 February 2018
-
Created: 21 August 2018