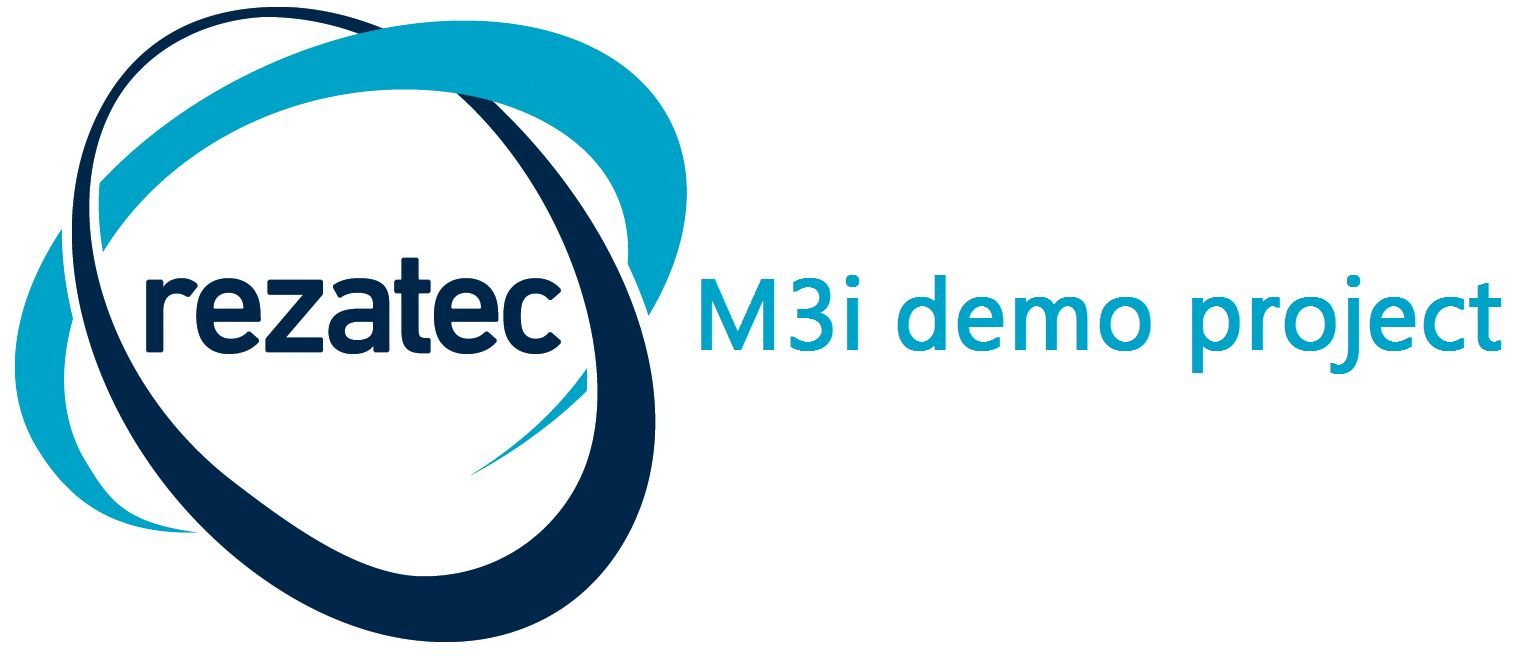 Objectives of the service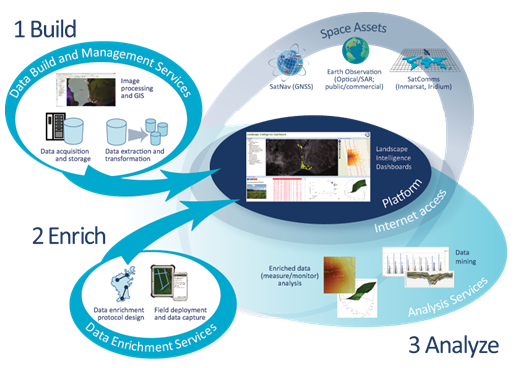 M3i has three key steps for converting source data – much of it conforming to the 'big data' characteristics of large volumes and a wide variety of sources and formats – into actionable intelligence about a Landscape of Interest (LoI):
Build
a) We create and aggregate initial maps of the LoI, derived from whichever sources are available;
b) We collate, index and warehouse the data; and
c) We deploy the warehoused data in a form which is useable and valuable to clients (eg. assessing the impact of critical land classes on landscape investment decisions).
Enrich
a) We enrich the mapped information through a range of methods, including ground surveying and data accumulation, crowdsourcing, and high-resolution remote sensing;
b) We deploy the enriched mappings in a form which is useable and valuable to clients (eg. interpolated peat depth estimates across a LoI);
Analyse
a) As an ongoing service, we analyse and monitor the LoI, using previous mappings enhanced by new datasets as they are released and collected;
b) We provide additional services such as risk mapping and alerting (eg. soil erosion risk); and
c) We provide extracted information for loading into clients' Business Information Systems (BIS).
Users and their needs

Targeted user communities and their uses for M3i are:
Commodity Sourcers (eg. CPG Manufacturers, Estate Managers), who use M3i to:
a) Provide evidence of sustainable sourcing;
b) Collect and verify sustainability data provided by their growers and suppliers;
c) Assess new supply opportunities;
d) Analyse supply chain resilience.
Commodity Sourcing Industry Groups, who use M3i to:
a) Establish and maintain industry methodologies and standards;
b) Provide and measure sustainability benchmarks.
Water Utilities, who use M3i to:
a) Provide land-user guidance regarding effects on water management and quality ;
b) Monitor and predict water quality;
c) Manage water losses.
Biomass Burners, who use M3i to:
a) Provide evidence of acceptable levels of carbon debt;
b) Collect and verify sustainability data provided by their suppliers;
c) Show that biomass has not been extracted from prohibited land types.
Conservation Investors, who use M3i to:
a) Inform on current investments;
b) Assess new investment opportunities.
Conservation Land Managers, who use M3i to:
a) Publish activities to investors and stakeholders;
b) Monitor encroachments and fire risks.
Commercial Concession Operators, who use M3i to:
a) Provide fast assessment of investment opportunities;
b) Provide evidence of regulatory compliance.
M3i is a global service. For the Demo Project, three pilot implementations are being executed in the following sectors and countries:
Water Utility pilot – South West Water, a UK water company;
Tropical Conservation Investors – Infinite Earth, a Singapore-based sustainable economy investor with one of its projects operating at Rimba Raya Conservation Reserve, Indonesia;
Estate Managers – John Clegg & Co LLP, a UK-based woodland estate management company.
Service/ system concept
M3i information is provided to the user in the following stages:
Pre-processed data: initial data views for validation and expectation-setting;
Enriched data: data from field surveys and from ground-based instrumentation, transformed into useful variables for analysis;
Primary analytical information: typically associated with aspects of landscape structure and function; and
Secondary analytical workflows: indices associated with landscape integrity/degradation, risk and sustainability.
An example of this for a water utility is shown below: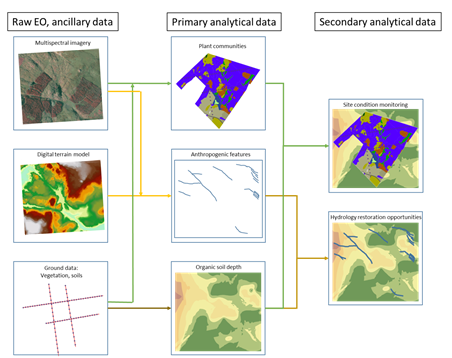 The M3i analytical information shown above is further described as follows:
Primary analytical data:

Peat depth (spatial interpolation of field measurements);
Plant community attributes (predicted distribution of indicator species; indices of vegetation vigour)
Soil moisture, water table level;
Delineated drainage features (360° illumination);
Flow direction and accumulation (extraction of hydrological indicators from digital terrain models);
Land use classification (modelling to create mapped land use classes).

Secondary analytical data:

Restoration opportunities and degradation indices (eg. weighted metrics integrating peat depth, flow analysis and drainage features to identify degraded locations near deep peat soil);
Water quality risk indices (integration of topographic analysis and degradation indices to identify location likely to reduce water quality).
Space Added Value
M3i strategically combines the following three space assets:
Earth Observation (EO) data is used to cost-effectively scale measurements of factors such as extent, depth and intactness of soil types over wide and potentially remote areas that are otherwise expensive to measure or inaccessible from the ground. EO images are sourced from a variety of satellite providers, according to the attributes required, with the expending availability of Sentinel data being a key data source;
Global Navigation Satellite System (GNSS) devices for accurate geo-referencing of the ground data used for calibration of the EO-based signatures; and
Satellite Communication (Satcom), to collect and send ground data from remote locations without mobile telephone network coverage for time-efficient centralised calibration of the EO-based signatures.
Current Status
This M3i Demo Project followed on from Rezatec's Peat Spotter Feasibility Study (2014) and has completed in March 2017. Through this project Rezatec sought to develop and commercialise its M3i (map, measure and monitor) service to provide dynamically updated data products which map, measure and monitor land based assets for customers in the water, forestry, conservation and agribusiness sectors. This service has been successfully delivered in the project time plan and has generated commercial revenues across the target verticals ahead of business plan.
Water utility pilot: UK-based water companies are seeking a cost-effective, repeatable water quality assessment service for different catchment areas. South West Water, a large UK water company, was the user implementation piloted and has procured follow-services.
Forest Estate Management pilot: Forest managers and owners require a remote forestry mensuration tool to reduce survey costs and deliver continuous monitoring. This implementation focused on UK forest management, with John Clegg & Co, a woodland estate specialist who has now become a sales partner for the M3i proposition.
Tropical Conservation pilot: The M3i platform was successfully deployed for a sago palm plantation in Sarawak, where peatland health and crop productivity are of particular concern. Follow on services are expected in year 1 of the business plan in this area.
Prime Contractor(s)
Subcontractor(s)
Status Date
Updated: 12 April 2017
-
Created: 07 July 2015