Objectives of the service
Avoiding adverse weather is a major concern for general aviation (GA) pilots. Weather is a moving phenomenon, and, together with the moving aircraft, not easy to assess for pilots. Even with the availability of accurate weather forecasts for an area, questions, such as whether a given aircraft will be able to fly in between two moving storm cells, or whether it will manage to safely land before a heavy rain starts in the destination airport area, remain a safety challenge to GA pilots. As a consequence, one of the main causes of weather-related accidents and incidents in GA is when pilots inadvertently fly into adverse weather conditions, such as clouds, icing, storm, or heavy precipitation.
Meandair provides pilots with flight trajectories allowing to navigate around bad weather. Given an accurate short/mid-term weather forecast, the developed suite of algorithms covers queries regarding safe flight routes between two waypoints. The forecast is in the form of a moving weather radar pattern representing moving clouds, precipitation and winds aloft. The pilots' queries are additionally parametrised with departure and/or arrival times and with the kino-dynamic constraints of the aircraft which should fly the route. The support provided by the Meandair Service is available for both the flight preparation phase, as well as during a flight.
Users and their needs
The target user group of the Meandair service are general aviation (GA) pilots flying long distances for both leisure and business purposes.
The needs of the users can be split into the flight preparation phase and the flight phase:
In the preparation phase:
Pilots want to visualise interaction of their future flight plans with the most accurate moving weather forecast.
Several hours before the flight, pilots need repeated monitoring of changing weather conditions (in the context of their flight plans).
In a case of a detected interaction of the prepared flight plan with adverse weather, pilots need to adapt their flight plans so as to make it safe again according to the changed weather conditions.
During the flight:
Pilots want to see current and future situation of the weather in 3D together with their current position and flight plan.
Pilots need to adapt their current flight plans according to the changing weather conditions.
The main operational challenges are:
To reach good market penetration in a such conservative area as general aviation.
To convince the pilots that automated routing is reliable and efficient for their use.
The service targets users in the European countries.
Service/ system concept
Routes generated by the Meandair service cover full 4-dimensional information about the flight including fuel consumption and flight cost assessments. The target distribution channels to get the service to the end-user include:
software application for mobile devices; and
application programming interface to the core service.
Using the Meandair service, pilots will benefit from convenient flight planning and automated calculation of safe flight plan alternatives together with a visual inspection of interactions of their upcoming flight with the forecast adverse weather will enable pilots to make safer and faster decisions about their upcoming flights. During a flight, pilots will be able to rely on flight plan safety monitoring which will warn them about upcoming weather hazards, and upon detection of such a danger, it will rapidly provide insights into available avoidance alternatives.

The system consists of ground and satellite weather data sources processed by the Meandair servers. Weather and routing information is further processed to accommodate for low-bandwidth SATCOM communication and provided to end-users via mobile device apps. The automated routing feature uses the weather data on the ground on the Meandair servers in order to provide the flight plan updates during flight.
Space Added Value
To deliver its value to the target end-users, Meandair's service will rely on three space assets:
Satellite communications network facilitating communication between the computational cluster and the aircraft; and
Global Navigation Satellite System, providing aircraft's actual position to the Meandair client front-end; and
Earth observation meteorological satellite weather data, an important data stream used to locate adverse weather and aggregate it into an accurate space-time atmospheric model.
The required weather and flight plan data can be hardly communicated using any other existing technology than satellite communication because of the altitude coverage it requires. Existing terrestrial cell phone networks mostly do not cover common cruise flight levels.
The Global Navigation Satellite Systems (GNSS) are used in practically all airplanes nowadays. The ground-based radio navigation systems can be understood as an alternative technology, however the Meandair service needs a precise an up to date 3D position of the airplane in-flight. Such functionality can be achieved only by GNSS.
Meandair's service depends on global, precise, and up-to-date weather information and the best forecasts available. Modern weather forecast systems use data assimilation from various weather observation data sources including ground based radars, weather balloons, and meteorological satellites. Although weather forecasting can be done without satellite-based earth observation data, these are crucial piece needed to improve accuracy of the forecast quality, especially for the upper layers of the atmosphere.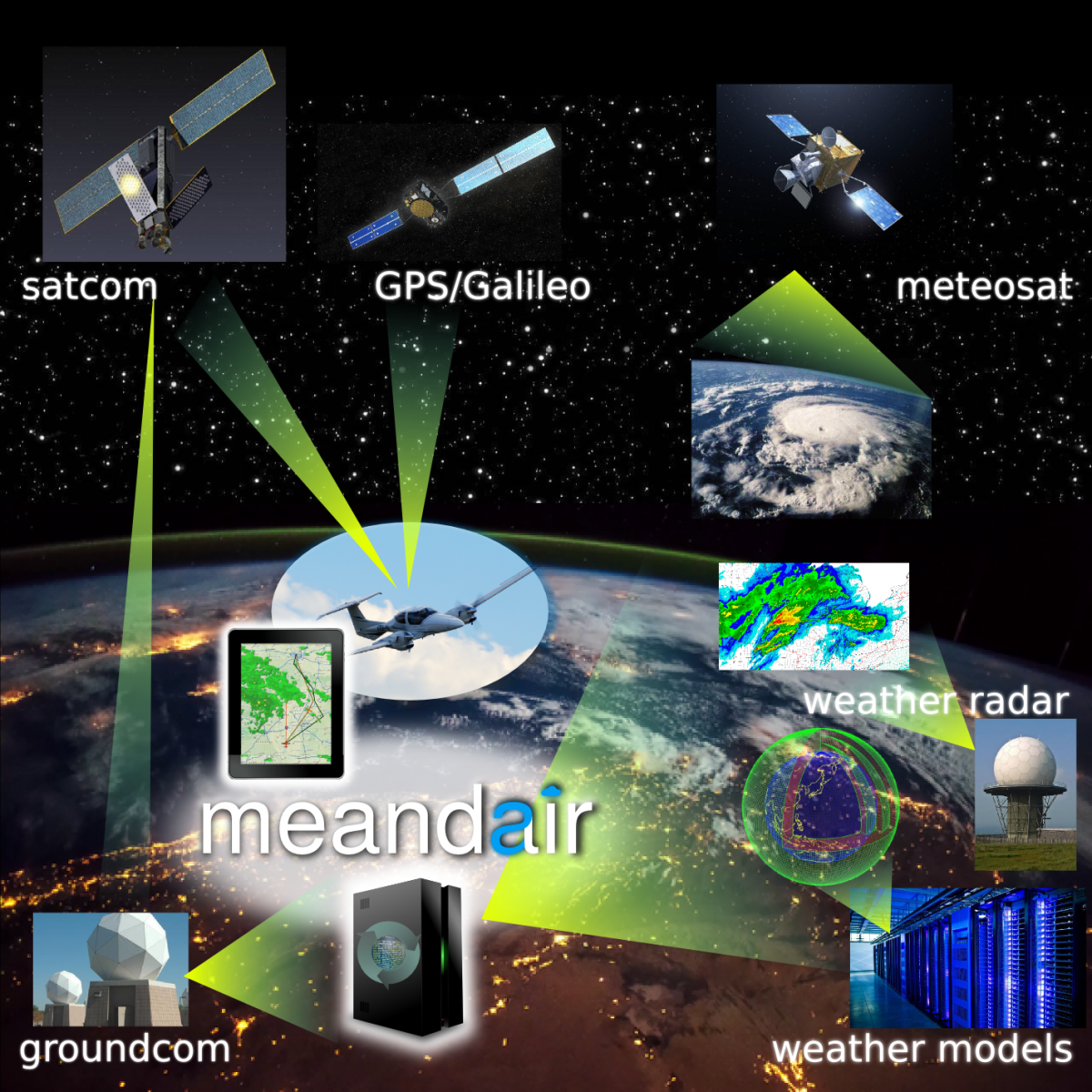 Current Status
Since the System and Service Definition Review (SSDR) milestone, which took place at ESTEC in April 2019, the MEANDAIR team delivered all the final deliverables and documentation. The Final Review meeting was held on 02 May 2019 at ESTEC with a successful conclusion that the results are satisfactory and sufficient to proceed towards a demonstration project to be launched in the course of 2019.
Prime Contractor(s)
Subcontractor(s)
Status Date
Updated: 27 May 2019
-
Created: 13 March 2018