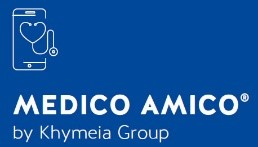 Objectives of the service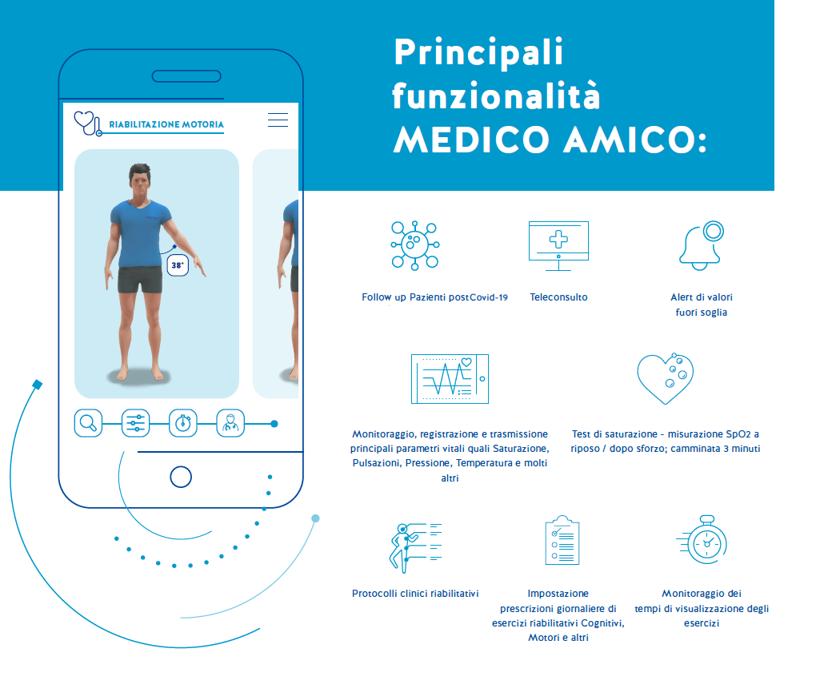 MEDICOAMICO includes a set of tools to put patient and doctor in communication in practical but very efficient mode. The application can run on IOS/Android devices or web browsers.
The main feature is the ease of use of the interface studied in ergonomics and functions to be used also by older people, but without sacrificing all the features necessary to clinicians to adequately monitor and support the patient in the rehabilitation path at home.
The app allows simple connection to external devices, multi-user videoconference and remain open to integrations of new rehabilitative modules.
MEDICOAMICO has been designed and to be inherently safe for patients.
All users, doctors or patients, can access the portal only by invitation.
The invitation to the doctor is created by the facilities themselves (hospitals or clinics) thus ensuring their skills and professionalism to the whole system.
Patients are invited by doctors or the facilities themselves.
Users and their needs
We identified 3 main scenario applications for which MEDICOAMICO can be used:
Scenario 1. Public-based Integrated Territorial Health Services. During the COVID management and future telemedicine-based world: to continuously track their health conditions during the development of the disease; to promptly identify the need for hospitalization; to follow them at home even after hospitalization; to deliver and prescribe drugs, simple respiratory tests, and exercises while at home.
Scenario 2. Hospitals (public and private) providing rehabilitation services. During the COVID management and future telemedicine-based world: to permit the continuity of rehabilitation services. After COVID Emergency: to take advantage of the digital infrastructure build during the emergency and to continue using it for organising and providing long term monitoring of health conditions in patients identified at risk, while at home, and to organize telerehabilitation services in order to reduce costs and to augment the sustainability of health services in a continuously growing percentage of ages population. For private hospitals, to permit the continuity of rehabilitation services to their client patients.
Scenario 3. Physical therapists, neuropsychologist, speech therapists and other medical professional figures operating privately. During the COVID management and future telemedicine-based world: to permit the continuity of rehabilitation services to their client patients and continue to work remotely.
Service/ system concept
HOSPITAL/CLINIC FACILITY
The server at the clinic/hospital provides the following services:
hosting patient/medical database;

organizing and collecting patient data collection (measurements / performance / exercises).
The hospital/clinic server makes available a dedicated web platform to a registered and logged medical User. The web platform allows for:
patient activity scheduling (measurements/exercises/activities);

persistent chat with all the patients;

data/Results Review form each of the patients.
DOCTOR / PHYSICAL THERAPIST APP (or web interface)
Though a web app or a Web interface the doctor is able to
monitor patients' status;

manage Videoconference 1-1;

manage videoconference (classroom type) with a number of patients;

manage patient chats;

schedule patient activities and patient measurements;

receive alerts about possible out-of-range measurements of one patient;
PATIENT
Through the patient app, the patient can:
participate to a videoconference with doctor / therapist;

participate (under invitation) to a teaching-room;

perform scheduled tasks (exercises). Every day the application offers to the patient some exercises to do. A vast set of activities is available, with regards to motor, orthopaedic, cognitive, speech therapy rehab areas. The application con connect to small, low cost BLE devices acquiring motion data during motor rehabilitation.

perform measurements of vital parameters (SpO2, pulse rate, blood pressure)
Space Added Value
Internet provided to end-user is not always available as 4G or as FTTC/FTTH solution. Remote locations, especially in the mountains or in isolated areas, are not covered by these services. Moreover, due to isolation and scarcity of clinical facilities, these are the places where telerehabilitation and telemedicine services in general would be mostly needed for the resident population. Space-provided internet though satellite based connection is the solution to provide these advanced ICT services to these areas.
Current Status
The app permits audiovideonference; patients management by clinician; the prescription of off-line protocols and exercises for motor, cognitive, and speech theraphy rehabilitation; the possibility for the patient to work together with the clinican or by him/herself. Rehab activities makes use, when necessary, of wearable motion detecting devices.
The app is ready, fully functional, validated and is being used by more than 100 patients in 3 different clinical pilots. One clinical pilot from San Raffale Hospital in Milan on 30 Post-Covid patients has been concluded in February 2022, and results regarding usability, clinical outcome ameliorations, and feasibility of the usage of Medico Amico have been submitted for publication on Journal of Rehabilitation Medicine.
The app is fully GDPR compliant.
Prime Contractor(s)
Subcontractor(s)

Status Date
Updated: 13 April 2022
-
Created: 20 May 2021