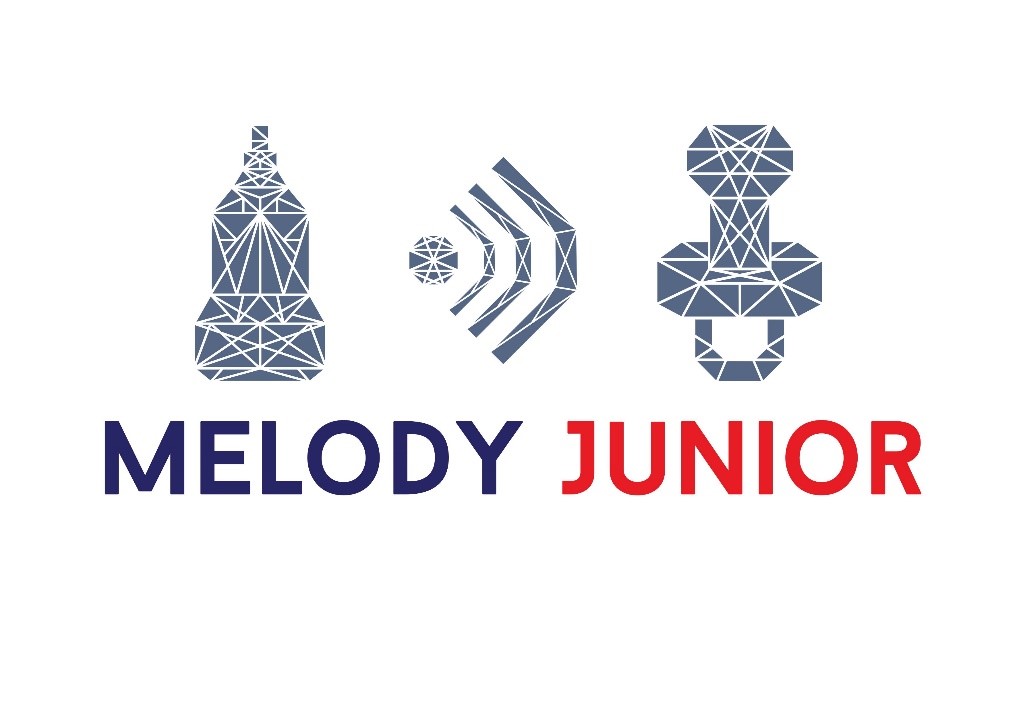 Objectives of the service
MELODY is a robotic telemedicine solution, which allows a medical expert to remotely perform an ultrasound exam on a distant patient in almost the same conditions as for a conventional ultrasound scan. To date, while it has proven to be effective on adults already, children cannot benefit from this solution. Needs are the mostly the same and some adjustments are necessary to make it suitable for paediatric use. This activity aims therefore to develop and validate a solution allowing children to also benefit from remote ultrasound scan. The activity includes a clinical trial carried out to evidence the benefits and support the application to CE marking required to bring the MELODY solution to the market.
Furthermore, with the challenges triggered by the COVID-19 health crisis, it is essential to promote tele-expertise solutions. MELODY is a valuable answer to respond to several problems:
By using the MELODY remote system, hospitals can benefit from the expertise necessary to carry out diagnoses very quickly at any time of the day.
Being MELODY a Telemedicine solution, it allows patients' remote diagnosis independently from travel restrictions and lockdowns conditions.
At the start of the CV19 crisis, many appointments were cancelled to limit contaminations as well as to decrease the pressure on the hospital infrastructure and staff. However, patients suffering from other illnesses than COVID-19 must still be followed to avoid a worsening of their condition. MELODY allows such patients to remotely continue having access to imaging capabilities and care.
The need for specific ultrasound expertise often requires patients to travel. The MELODY solution allows a better use of expertise.
MELODY is an additional barrier to limit the spread of the virus. Indeed, precautions should be taken to avoid contamination of experts and unaffected patients requiring diagnosis.
Although, CT scan remains the gold standard imaging technique for COVID-19 pneumonia for adults, the ALARA (as low as reasonably achievable) concept implies that unnecessary radiation doses shall be avoided for paediatric care. In this context, the use of CT scans for initial diagnosis and follow-up of children with COVID-19 diagnosis can be substituted by ultrasounds as a safe and reliable alternative to x-rays.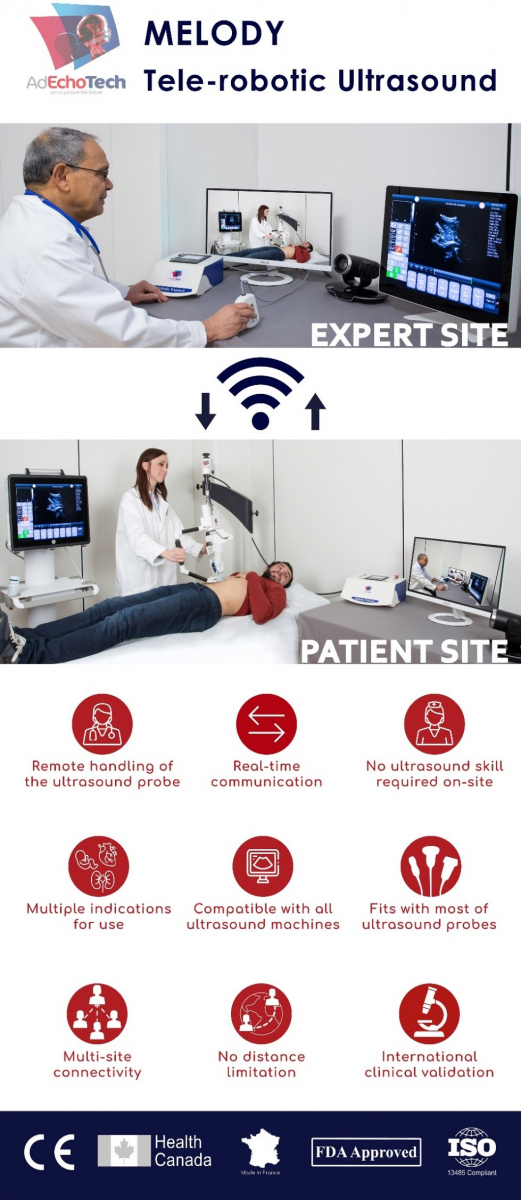 Concept of the MELODY and MELODY JUNIOR solutions
Users and their needs
Ultrasound is widely used for children care because it is non-invasive and non-irradiating imaging technique. Medical desertification limits access to ultrasound for this population of patients, who is regularly transferred to another hospital or will get a scanner examination instead (very irradiating). Tele-ultrasound appears to be a relevant solution but still has to be validated for children.
For example, in the frame of this activity, the Centre Hospitalier Intercommunal de Créteil (CHIC), France, is the service user. The CHIC has the particularity to be a regional hospital hosting a reference centre for rare respiratory diseases. At the start of the CV19 health crisis, the CHIC rapidly faced the lack of paediatric experts able to perform ultrasound scans, which complicated the management of emergency situations.
The CHIC, like many other institutions facing the same problems, would need to have a solution that can be used for both adults and children offering the following advantages:
Distribute expertise over a wide territory, remotely
Get a second medical opinion faster and enhance long-distance cooperation
Reduce waiting time before getting an ultrasound examination
Reduce the need for patient transfer and improve patient care
Reduce risks of contamination by limiting the spread of the virus.
Avoid exposure to x-rays as ultrasound is non-ionizing technique, which can also be used for many pathologies.
Service/ system concept
The MELODY solution relies on robotized mechanical arm able to hold an ultrasound probe connected to an ultrasound machine. The arm is fully controllable remotely, so as to provide the expert sonographer with the ability to manipulate the probe in real time through an internet connection. Ultrasound images are transmitted from the patient site to the expert site through any form of telecommunication (it can be ground or satcom based). Thereby, MELODY helps make areas less isolated where there is a shortage of experts and improves patient care without moving the patient or the expert.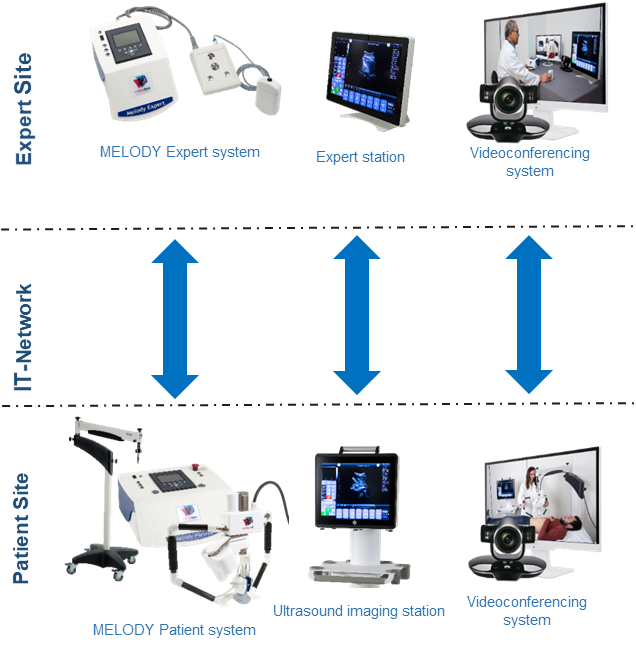 Figure 1 MELODY System Architecture
An expert site is linked to a patient site through an IT-Network:
The expert site is equipped with one MELODY Expert System, one expert station and one videoconferencing station.
The patient site is equipped with one MELODY Patient System
Space Added Value
MELODY has been designed as a result of several years of R&D in the field of space medicine. The initial concept came from the need to be able to perform remote ultrasound scans on astronauts. The AdEchoTech company was born to transfer this technology to the Earth market and in 2015, CNES (French Agency for Space Studies) joined the company AdEchoTech as a shareholder.
Since 2012, AdEchoTech has been involved in several ESA projects:
T4MOD - Telemedicine for reMote Operations in Distant areas,
TESSA - Tele-Echography for ESA
TRANSAT – TRANSlation capabilities for Advanced Tele-echography
TETRISS - Tele-Echography Trade-off study for ISS
Within these projects, the ability to use the MELODY solution with a satcom system was successfully demonstrated.
Current Status
The main objective of the MELODY JUNIOR project was to bring to market a product enabling the remote performance of ultrasound scans for children, and guarantee them a continuous, safe and reliable access to medical imaging during the COVID-19 crisis.
Following a short development stage to adapt the baseline MELODY solution to paediatric care, AdEchoTech carried out an 8-month clinical trial as part of the pilot utilisation campaign. Two complete MELODY Junior solutions were installed in the premises of 2 hospitals in the Paris suburbs: the "Centre Hospitalier Intercommunal de Créteil" or CHIC and the "Centre Hospitalier intercommunal de Villeneuve Saint-Georges" or CHIV. The trial was successful: 40 children aged 1 to 10 years were included, considering 3 different cases (abdominal, cardiac and thoracic). The first patient was included on 22 March. The solution worked as expected and the pilot campaign demonstrated at tele-ultrasound can safely and effectively be used for children imaging.
Based on the results from this project, AdEchoTech will seek to get the CE marking (mandatory to commercialise a medical technology), allowing the utilisation of MELODY for paediatric care. This certification, which requires some technical documentation and the approval by a notified body, is expected by March/2023 .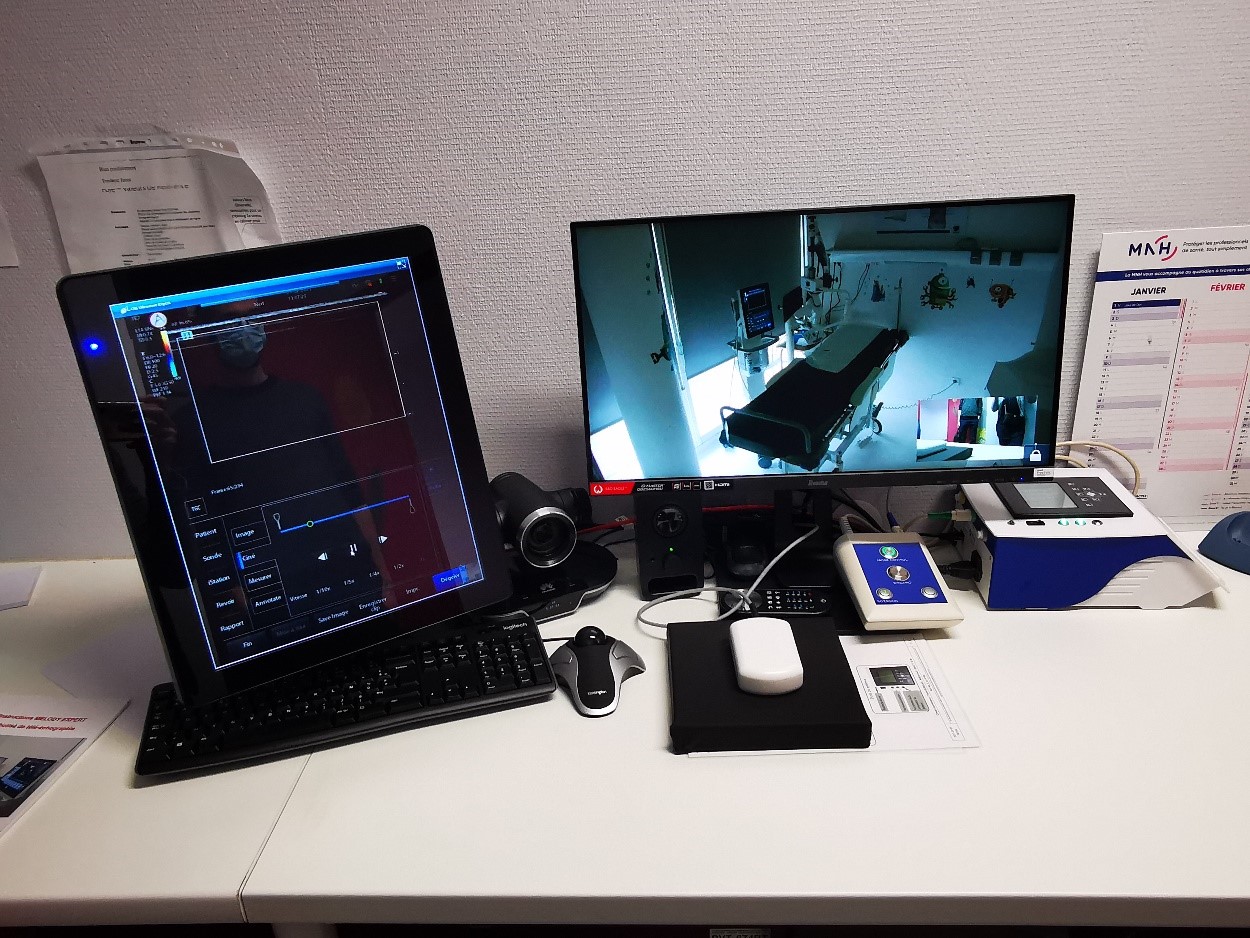 Figure 2 Expert site At CHIV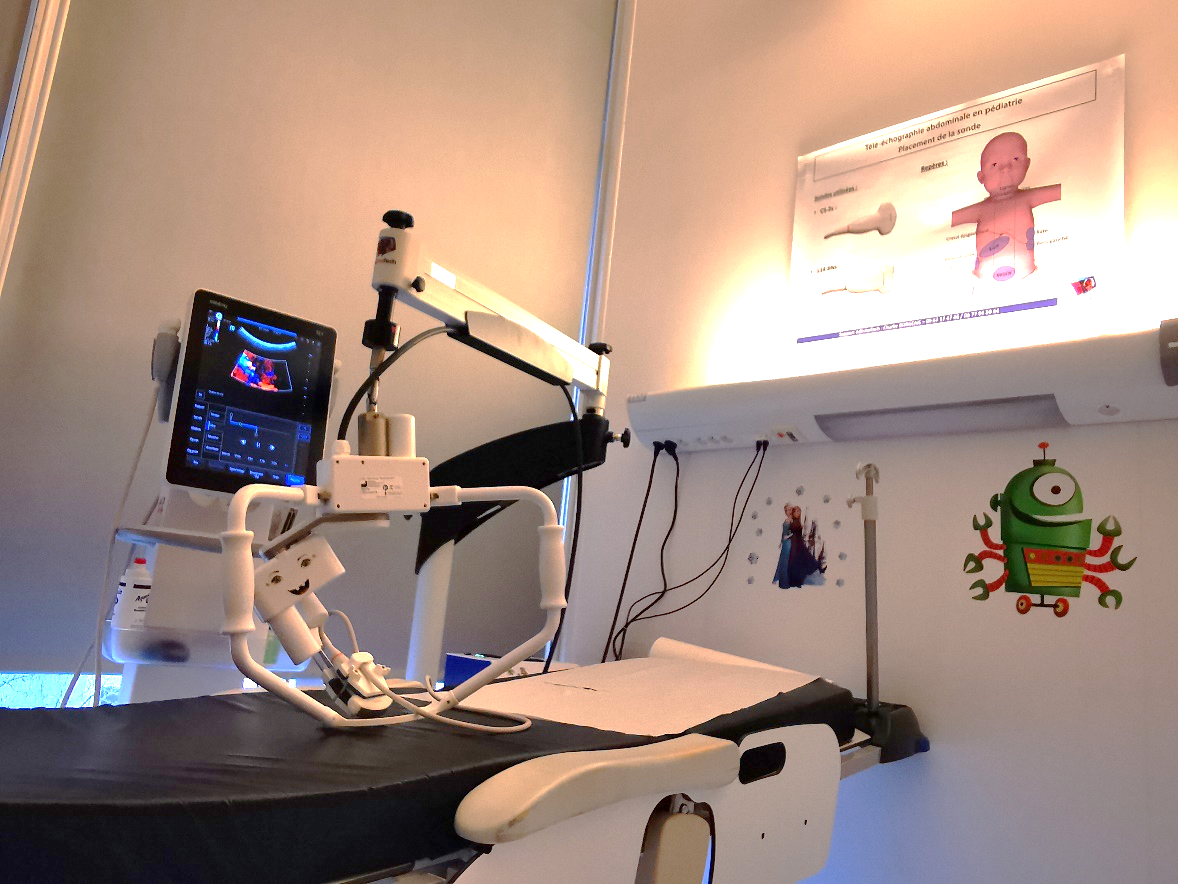 Figure 3 Patient site at CHIV
10 experts and 5 assistants were trained in the use of the device.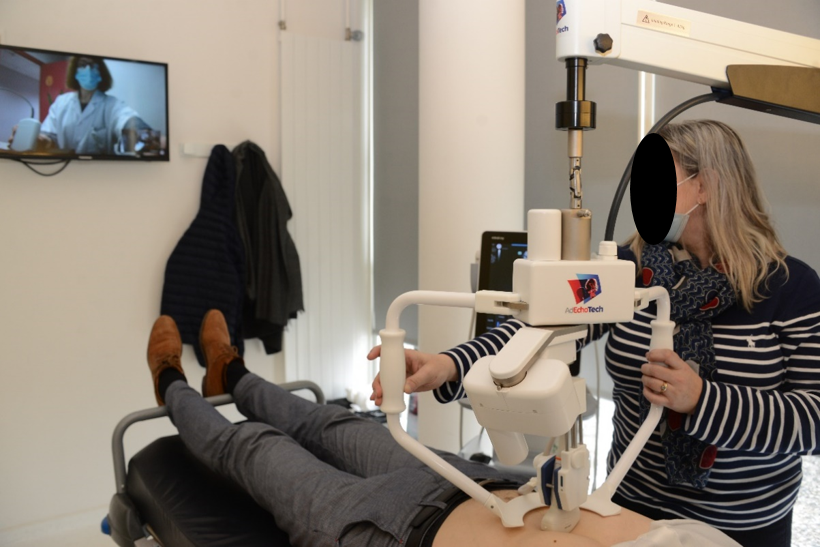 Figure 4 User training: Patient side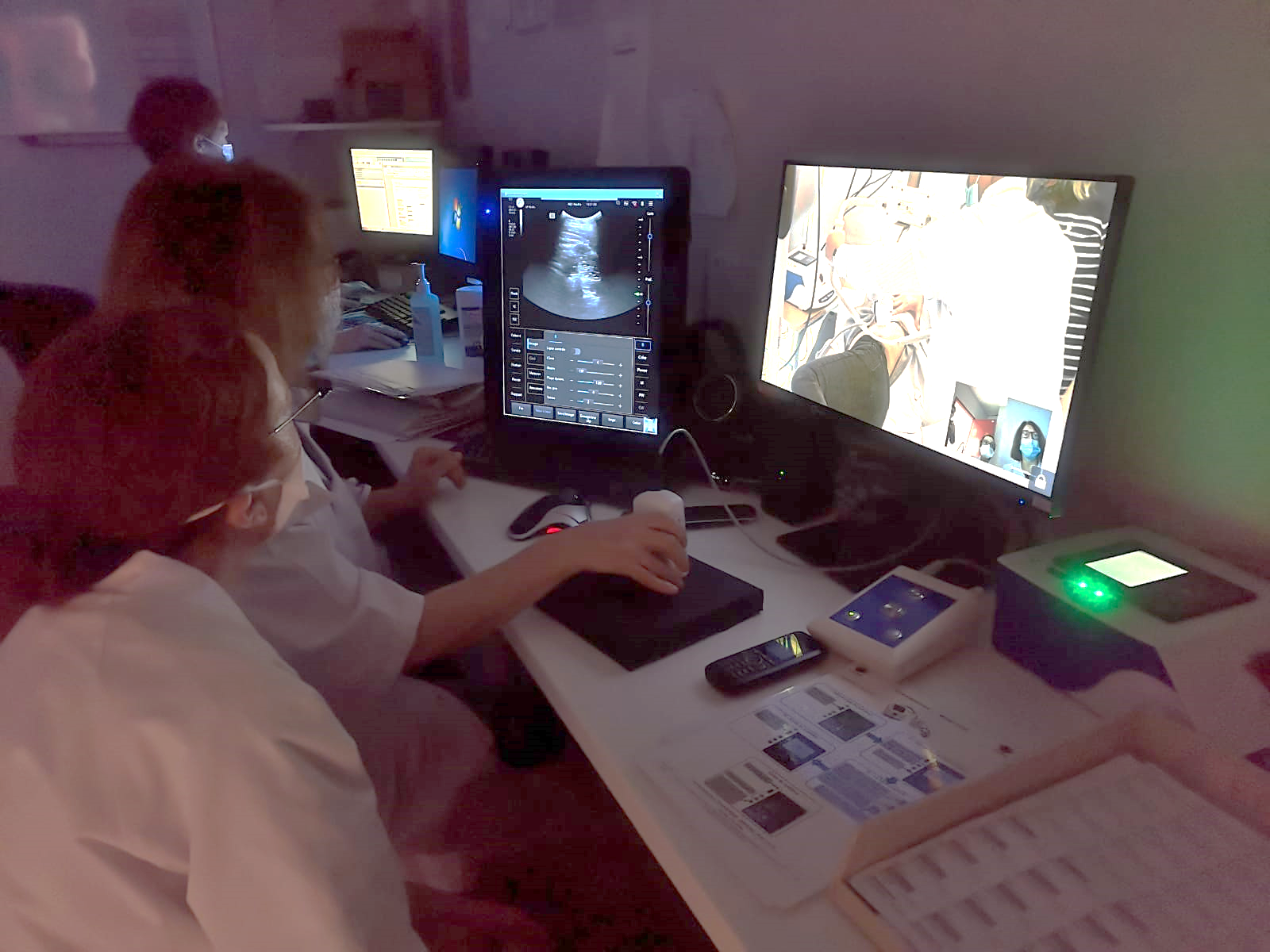 Figure 5 User training: Expert side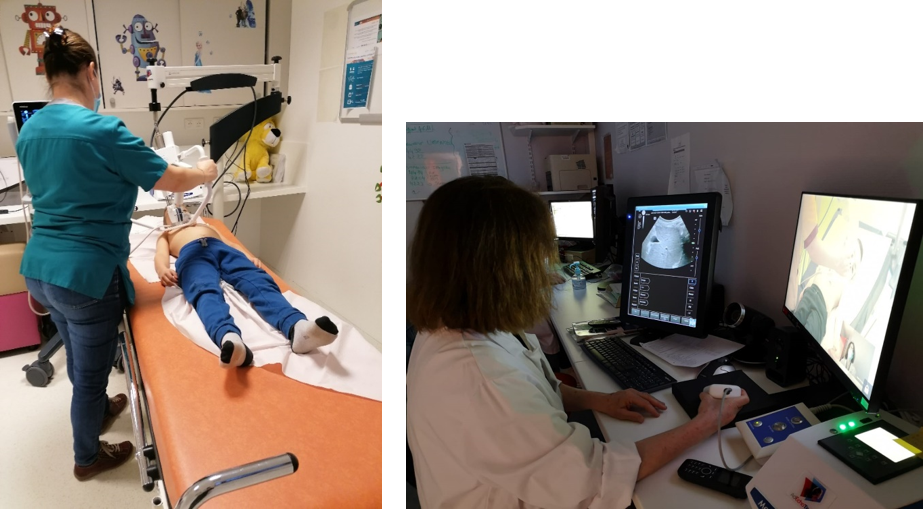 Figure 6 Telerobotic Ultrasound Scan on a Child
Prime Contractor(s)
Subcontractor(s)
Status Date
Updated: 15 February 2022
-
Created: 10 February 2021