Objectives of the service
The MiLoW-RRS service covers the integration of high resolution weather forecasts into outdoor routing and navigation solutions by combining maps, elevation profiles and route descriptions in dynamic spatio-temporal user interfaces. By utilizing a special combination of space technologies and space derived data the service provides a unique user experience for weather based tour planning and offers accurate weather forecasts and snow cover information for complex mountainous terrains. The service significantly improves the usability of the trip planning process for outdoor enthusiasts by making all relevant tools that are needed for complex weather-based itinerary planning, ranging from day trips to multi-day outdoor activities, accessible in a single place. The context-adaptive service includes personalization features to inform users about time slots with suitable weather conditions for selected tours and covers warnings when unexpected bad weather hazards will occur along the planned routes. The web-based service can be accessed on any device and provides updated weather forecast and snow cover information in next to real-time.
Users and their needs
Outdoor enthusiasts are people with a passion for actively and regularly spending time on outdoor activities ranging from hiking and biking to mountain climbing and ski touring. Travel operators organize outdoor activities ranging from day trips to multi-day itineraries. Both user groups plan trips in complex terrains and over a varying span of time and have the following needs:
Gathering information from different sources to obtain required information.
Combining and interpreting information to derive additional meaning
Making decisions based on the information available.
At present, information have to be gathered from topographic map providers, weather forecast services or tourism destinations with different levels of quality. In addition, users need to have sophisticated knowledge to interpret and combine information to derive further meaning and they need to find ideal routes that take the personal level of fitness and skill into account, as well as elevation gains and the very specific micro-local weather situation along selected routes. All these needs pose a demanding challenge that most users are not capable of dealing with and existing services do not address these needs.
MiLoW-RRS closes this gap by providing complete assistance in the planning phase and on tour for users worldwide.
Starting off from Central Europe, the service is offered to users worldwide
Service/ system concept
The service is provided to outdoor enthusiasts and travel operators through the Outdooractive platform. MetGIS acts as a 24/7 service provider in the background and delivers the required weather and snow cover information through a set of sophisticated APIs. The detection of snow coverage is provided by a snow processor module developed by DLR. End users access the weather-based route recommendation service through web based products and mobile applications for Android and iOS. The one-stop-shop user interface integrates all required information to enable users to immediately understand the weather conditions along a route as they are expected to develop over the span of a day or multiple days by visualizing weather information in a spatio-temporal context using maps and elevation profiles of the selected routes. With powerful recommendation and decision support features, users can more easily identify outdoor activities with suitable weather conditions in certain geographic regions and time frames and they are guided with suggested alternative routes in case of unexpected weather changes when they are on tour.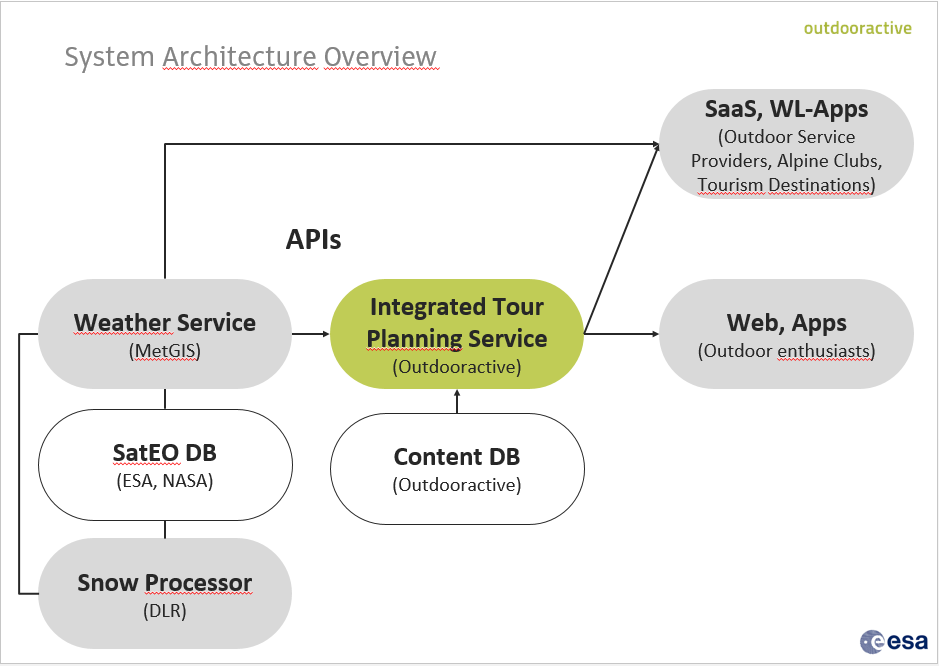 Space Added Value
In order to provide reliable and accurate micro-local weather forecast information for mountainous terrains, Earth observation data from meteorological satellites such as NOAA are essential to obtain global weather data model parameters ranging from atmospheric pressure systems, cloud coverage and temperatures to precipitation.
In combination with high resolution digital elevation models derived from the SRTM mission, the effect of terrain and elevation on local weather conditions can be better predicted.
In addition, snow cover information is retrieved from Landsat and Sentinel-2 multispectral satellite data that provide higher resolution than for example offered by MODIS.
For guidance and decision support during outdoor activities, the GNSS capabilities (GPS, A-GPS, GLONASS, Beidou and Galileo) incorporated in a broad range of end user devices with Android or iOS operating systems are critical success factors for accurate positioning in the range of 5-20 meters, which is required to provide a good user experience with the service. Alternative mobile network-based, handset-based or SIM-based methods to determine the location of a user in outdoor terrains have a large uncertainty threshold and do not provide the required accuracy expected by users.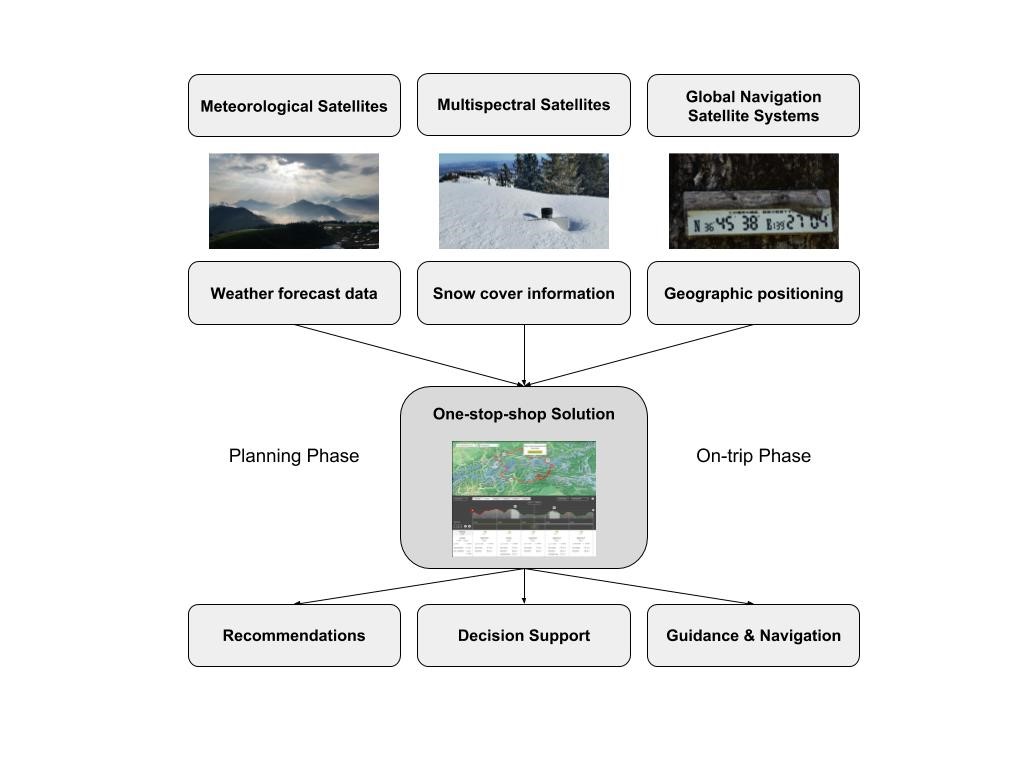 Current Status
The Kickstart Study has been completed in December 2017 with the Final Review held in January 2018.
Following the thorough analysis of the technical feasibility and the development of a promising business model approach to ensure the economic viability of the service during the Kickstart study, the Outdooractive-led consortium with MetGIS and DLR will develop the Minimum Viable Product (MVP) of the service in the framework of an IAP demonstration project expected to start in the second half of 2018.
With the clear goal of transferring the concept into a successful operational service solution that will be provided to outdoor enthusiasts (B2C users) and travel operators (B2B customers) through the Outdooractive platform and its commercial distribution channels, the consortium partners are committed to bring the benefits of space technologies and space derived data to a broad range of users so they can have better outdoor activity experiences following their passions and professions.
Prime Contractor(s)
Subcontractor(s)
Status Date
Updated: 23 July 2018
-
Created: 23 July 2018