Objectives of the service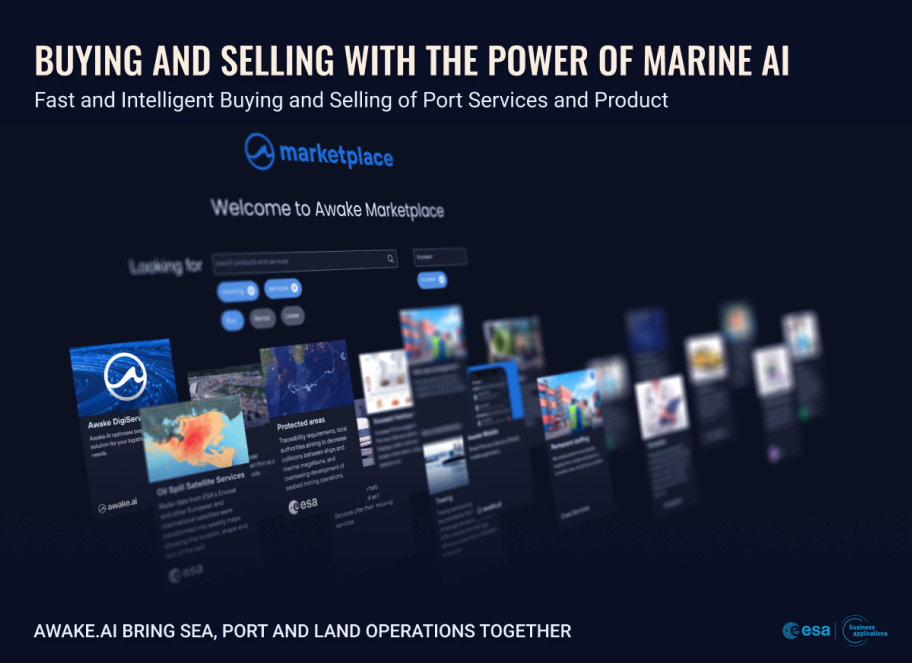 Awake.AI is the thruster that is helping maritime operators move towards smart & optimized shipping.
MTrader project enables trading of maritime port services and products, while the launch of Marketplace with the support of ESA will enable more efficient, recurring and even automated trading for ships making port calls.
Marine ports have not seen this powerful Marketplace with services & products for the whole port activities. With the utilisation of space-based assets, advanced digital services can be offered, such as:
Oil spill detection
Air and sea weather observations and provision of forecasts
Ship arrival predictions through machine learning
Smart weather warnings
Detection of sea ice coverage
Local and space-based observation of ports and their surrounding areas
Air quality monitoring (ports)
Additionally, through powerful APIs, the Awake platform enables other companies to build and host digital products on Awake's Marketplace.
Users and their needs
The targeted user segments are port authorities, terminal operators, shipping agents, shipping lines, port service providers and cargo owners all over the world.
These segments share common needs such as:
Faster, automated trading of recurring port calls as well as other operational needs
Visibility to services quality and ability to participate in quality improvements
More efficient trading through increasing the competition and co-operation in port services and products
Access to new digital services tailored for ports
Transparency in the delivery of services & products with modern mobile tools
Precise, trustable weather information from multiple sources like satellite data, weather services and data from installed local sensors
Service/ system concept
The main functionality of the Marketplace is trading of:
Services
Digital and physical products
Digital content
Some of the fundamental user functions are to maintain the products catalogue, maintain organisations profile page, update user accounts, performing trading with varying levels of permissions and do reporting and financial settlements.
Marketplace is built on top of Awake's maritime platform for ports that has been developed in the past 2 years. Therefore, MTrader's Marketplace is a modern cloud hosted, microservices based scalable, highly available and secure solution.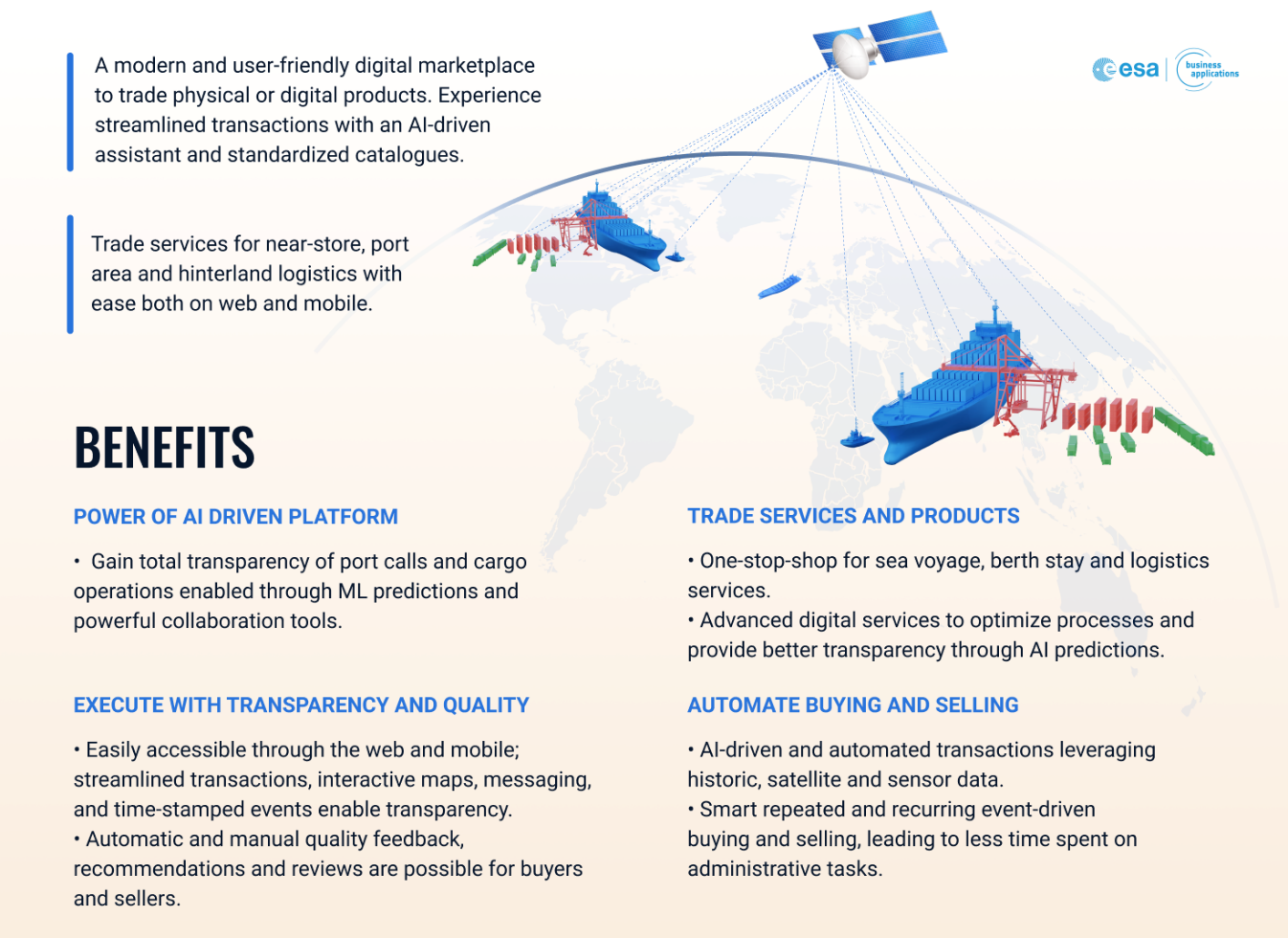 Space Added Value
MTrader will utilise data provided by the entire Sentinel fleet (ESA) as well as Earth Observation data from other satellite data providers. Additionally, AIS (terrestrial and satellite) plays a significant role in the project which will also require Satellite Navigation data for the delivery of its advanced features.
Current Status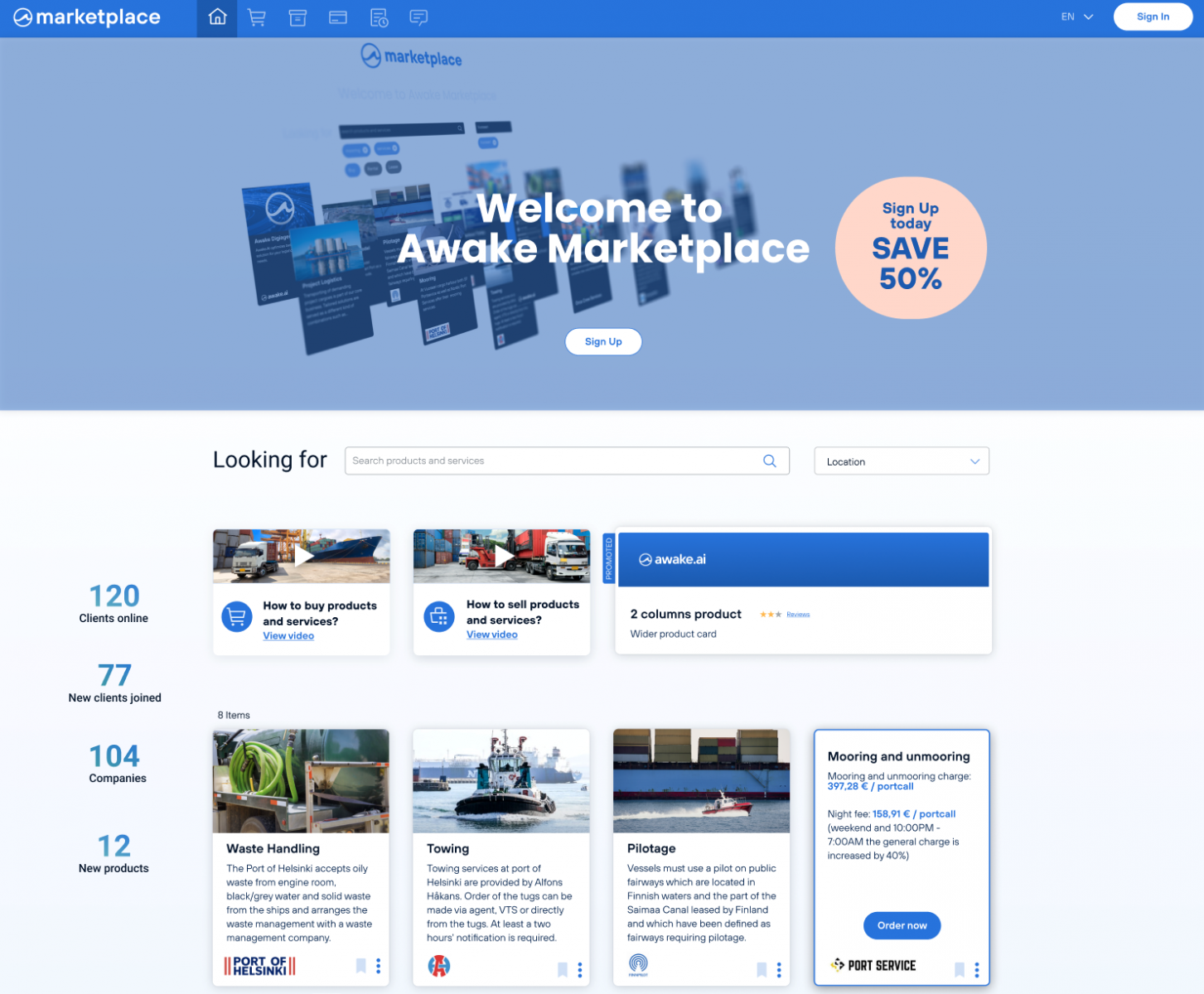 This is an image from the public homepage of the Marketplace.
The project is proceeding according to schedule. The capturing of User Needs and Requirements (User, System) was accomplished successfully in spring 2021 while at present the system's architecture design is in place. A lot of attention is given in the development of the commercial sustainability of the proposed service. Therefore, aspects such as the provision of strong financial indicators, credible forecasts and establishment of new engagements to ensure market penetration are in place. The future activities will involve laboratory verification of all the technical aspects of the solution prior to running a pilot in real ports.
Prime Contractor(s)
Status Date
Updated: 26 October 2021
-
Created: 26 October 2021