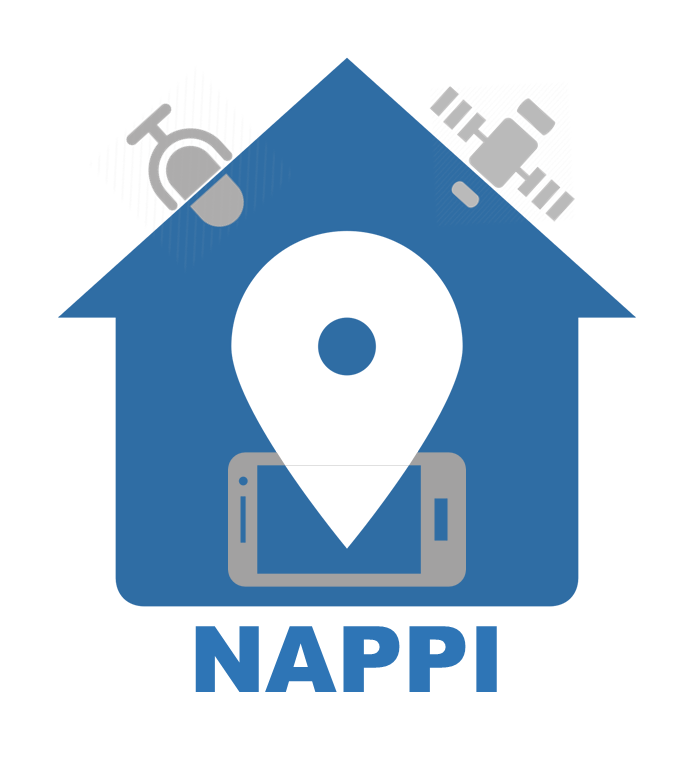 Objectives of the service
In the coming decades, Europe will face the challenges of a comprehensive demographic change. The population aged 65 and older is expected to double between 1995 and 2050. Research suggests more and more that the limited external-home mobility has widespread and harmful effects on the elderly and as a result accelerates the aging process. It is therefore necessary to provide more support in a new and innovative way so that elderly people have the ability to remain mobile.
Navigation inside public infrastructures is therefore a field that can make an important positive impact to the life of elderly people. However, many older people have the growing difficulties in navigation due to declines in their cognitive, perceptual, and motor skills, not to mention the physical impairment, loss or reduction of visual and acoustic abilities.
With the centimetre localization precision and tailored man-machine interaction model, NAPPI aims to provide a novel solution to reliable autonomous navigation of elderly in public infrastructures.
Users and their needs
The ageing population identified as elderly around or above 70 is less capable than younger people of
using road and direction signs
remembering the location/way
estimating distance
orientating themselves
planning a long trip
The questionnaire feedback indicates that the NAPPI service is also strongly demanded by younger user groups. The identified needs of users in order of importance include:
Precise navigation/path guiding in public infrastructures
Map display adjustment based on user's preference
Audio assistance
Indication and navigation using landmarks
Large input fields and input keys
The identified NAPPI customer segments that demand NAPPI service for their visitors and staffs include
exhibition/trade fairs
hospital
nursing homes.
The needs of customers in order of importance include:
Mobile app for users to facilitate orientation and location within their campus indoors and outdoors.
Precise location
Map and database easy to integrate
Display of points of interest
Different barrier-free routes
Notifications of appointments (alarms)
Routing to appointment room (alarm location)
Mobile app adoption for different user groups (staffs and visitors)
Asset tracking
Spatial data analysis
The operational challenges include:
Combination of satellite, acoustic and inertial sensor technologies
Integration of mapping and customer's enterprise-resource-planning system.
Tailored user interfaces and interactions for different user groups.
Germany
Service/ system concept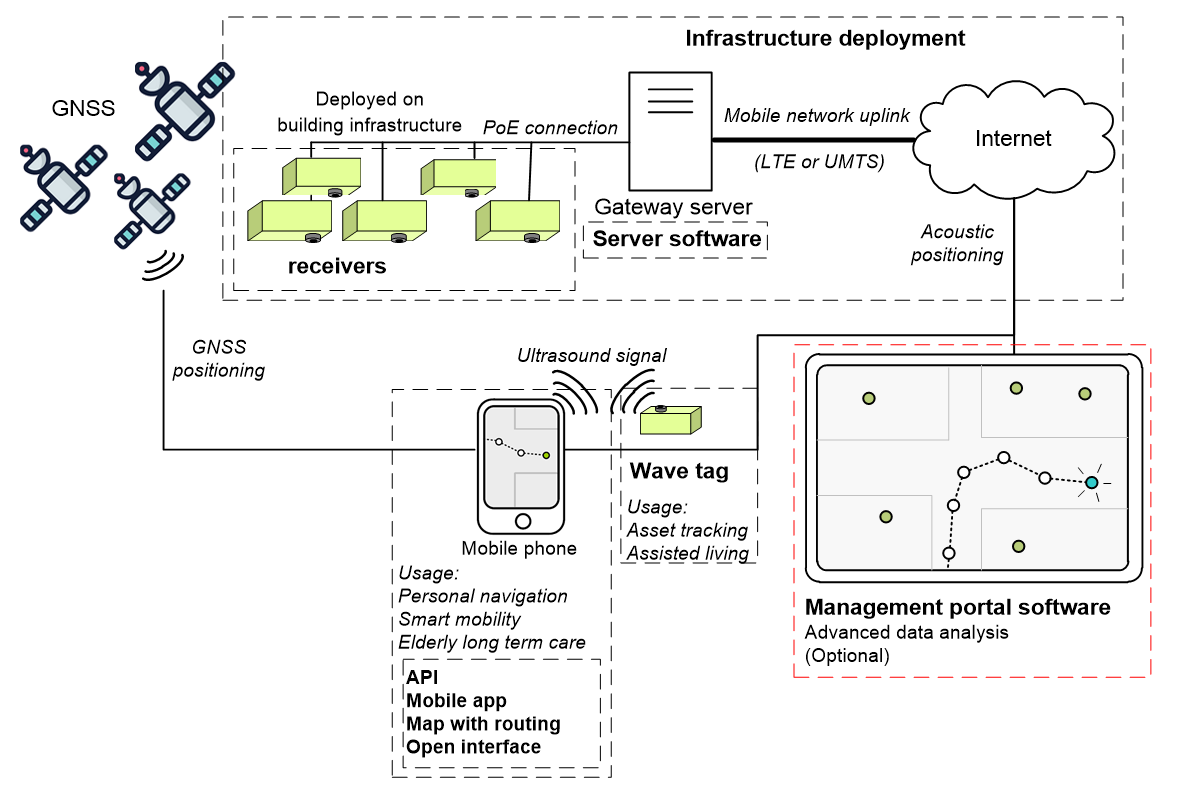 NAPPI offers four main features:
An acoustic indoor localization solution as the core of NAPPI with high precision (~20 cm) and reliability, which consists of a mobile app for mobile phones and stationary acoustic receivers network deployed in the public infrastructure. The mobile phone emits inaudible acoustic sounds which are detected by the receivers. On a server, the position is calculated using advanced algorithms and displayed on the mobile phone. No additional hardware is required for the user.
A data fusion algorithm platform combines the acoustic system with GNSS and the mobile phone sensors to not only provide seamless navigation service when switching between indoor and outdoor environments but also to enhance outdoor localization precision using GNSS and the mobile phone sensors while the user is out of range of the acoustic network.
An easily adaptable open interface including OSM based navigation/routing functionalities offers straightforward adaptability and extensibility. The NAPPI platform can be quickly adapted in customers' existing applications.
A tailored man-machine interaction model for the different user groups. In addition to the acoustic indications, the app also guides the user acoustically and visually along a route by advertising a description of landmarks.
Space Added Value
The NAPPI navigation solution utilizes GNSS positioning, acoustic, and inertial sensor based positioning to provide a combined high precision navigation service in indoor and outdoor environments. It is essential for path routing in public infrastructures with large outdoor campus. E.g., for the use case of hospital and nursing homes, the visitors not only have a clear view about the optimal routing to the destination rooms indoors, but also are aware of the best building entry choice for the shortest path when starting a navigation scenario outdoors.
In addition, the GNSS positioning along with GNSS parameters are crucial for achieving a seamless routing during indoor/outdoor transition through a fusion process. The GNSS parameters are used to evaluate the reliability of the GNSS positioning data, which is crucial for the fusion process.
Current Status
During the NAPPI project, we have identified the user groups and potential customers of the NAPPI service and their demands and requirements through questionnaire feedbacks, market analyses and close contact with discussion. These identified needs have been used to design the NAPPI service modules.
In addition, preliminary experiments and test installations in the premises of potential customers have been carried out during the project. The technical feasibility has been successfully verified.
To assess the market validation in-depth market analyses for all the customer segments have been conducted. Based on our analyses, we have prioritised the segments and developed a market uptake strategy that focuses on hospitals as our primary market. A sustainable roadmap for service implementation and exploitation in the hospital segment has been developed.
We plan to apply for a follow-up ESA demonstration project in the hospital segment to confirm the validity of the NAPPI service in an operational user environment.
Prime Contractor(s)
Status Date
Updated: 03 August 2018
-
Created: 03 August 2018